If you are a yogi seeking to grow your yoga business and broaden your impact, I'm sure you've been wondering about course creation. While there are lots of resources on creating online courses, you need something specifically about how to create a course for yoga teachers. You've come to the right place!
Here at Yoga Nomads, we've been helping yoga teachers of all skill levels and niches to grow their yoga business for greater financial freedom and location independence. If you've been craving to travel the world, work from home with your children, or just reduce your in-person workload, creating an online yoga course could be your vessel to freedom while still doing exactly what you love. After all, 2020 showed us that we should always have an online backup plan.
Why Build a Yoga Course?
Location Independence
Imagine cultivating your passion for yoga while living in Bali, traveling Europe, or living Van Life throughout North America. Now this reality is more accessible and financially feasible than ever before. Building a unique and valuable online yoga course means you can teach from anywhere in the world without having to depend on showing up to a studio multiple times a day.
Reach More Clients
The power of the internet is the compounding potential for impact. If you truly want to help people reach their yogic goals (flexibility, weight loss, strength, spirituality, stress-relief, etc.), an online course will expand your potential influence far beyond your hometown or even home country.
Professionally, this expansion of clients is also extremely beneficial. You can only have a given number of people at an in-person class, whereas the cap for an online course is basically limitless. If you're like me, and you thrive off the energy of meeting people in real life, you can crossover this client network into seasonal or annual yoga retreats in different parts of the world.
Maximize Time
With an online course, you can teach fewer classes and have more time to expand your spiritual and yogic practices, among other hobbies. Because you don't have to be physically present in the studio, your teaching time is maximized and stashed away in video format. This can also offer more freedom to continue expanding your practice. You can forge new connections and explore different teaching styles during your in-person teaching endeavours while still building your online community.
Passive Income
There is honestly no better feeling than waking up to find that you've made money while you were sleeping. This is one of the basic premises of passive income. You can work toward financial freedom by building evergreen content that pays you passively. In other words, you create it once, but it continues to pay you for years to come. No more trading hours for dollars. We all know time is more valuable than money. Online courses have liberated countless people from the 9-5 grind so they can spend their time doing what they love.
Grow Your Following
Open up (digital) doors of opportunity for your yoga business with an online course. If you look at yogis like Meghan Currie, Tara Stiles, or Adriene Mishler (Yoga with Adrienne), their millions of followers may seem simultaneously intimidating and alluring.
The reality is, everyone started somewhere. Even if you don't strive to be a big yoga influencer, you will develop a solid core following with consistency and just being authentically yourself. Developing your own course will offer your audience even more value and connection with you as a teacher.
How to Create Your Online Yoga Course
Clarify Your Course Topic and Niche
Find a Unique Selling Proposition
Structure and Outline your Curriculum
Record Your Lessons
Choose a Platform
Market Your Course
Clarify Your Course Topic and Niche
How to Assess Your Skills and Choose a Topic
Grab a piece of paper and jot down 5-10 words that best describe your yoga teaching style. What are you most skilled at? What area do you have the most experience in? These are your key marketing terms. When designing a course, it's important to stick to what you know. You can always develop more skillsets and expand your focus in the future, but it's best to start with a core topic.
Assess your existing clients and think about the type of person who is drawn to your classes. Are they primarily beginners? Are they advanced fitness aficionados? Are they spiritual seekers who connect with your teaching on a soulful level? These details will help you find your primary topic and audience.
It helps to visualize a few of your in-person students as archetypes for the type of target customer you wish to attract to your online course. What is their age range? Gender? Interests? Yoga skill level? How do you speak to them? What results are they looking for?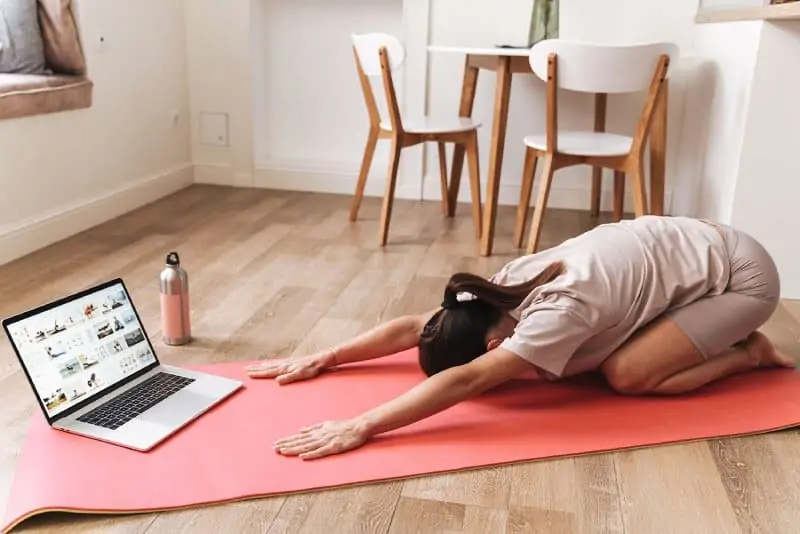 Define Your Yoga Niche
You might have heard the saying "the riches are in the niches". To stand out and portray yourself as an expert, it is best to define a niche. This doesn't mean pigeon-holing yourself, rather it is simply a way to access your target demographic with your specific expertise.
For example, instead of just beginner yoga classes, you could focus on beginner yoga for people with back pain. This niche still accesses a huge audience (think of how many people have back pain!) but addresses a central problem that they face. Your online course offers a clear solution.
On the other hand, a meditation yoga teacher could niche down on the topic of stress relief. Their marketing and course sequences revolve around releasing tension in the mind and body. You might advertise "improved focus" or "greater productivity" as potential outcomes from your yoga course as a result of helping people relieve stress in their daily lives.
Download our 100 Yoga Niche Ideas to get some more inspiration.
Find A Unique Selling Proposition
A unique selling proposition (USP) is basically what sets your online yoga classes apart from all the rest. This is your time to shine! Think about your USP as the special benefits your clients get from coming to your yoga classes rather than anyone else's. What keeps them coming back to you?
Examples of USP for Online Yoga Classes
A Unique Selling Proposition could be anything related to price, quality, topic, results, bonuses, or delivery method. Take your niche and add a unique spin on it that makes it worthwhile for the customer. Here are some examples…
Affordability: 12 week yoga course access for only $10/week (one time payment of $120)
Quality: I have over 10 years of experience teaching yoga to children in one-on-one and group settings.
Topic: This prenatal yoga course is specially designed for first time mothers experiencing lower back pain.
Results: Cultivate more confidence and a deeper connection with yourself during this 5-week yoga and meditation course.
Bonuses: Sign up now and receive a free downloadable meditation journal to track your progress.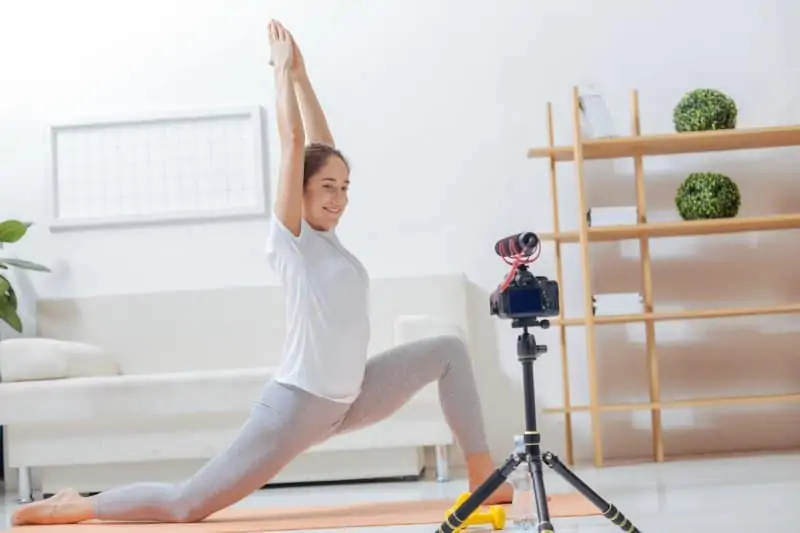 How to Discover Your USP
As you can see, a USP is really a marketing tactic to attract your target customer. But don't use hollow words! Make sure you actually deliver on what you promise. To discover your ideal USP, take your niche selection(s) from above and ask yourself:
What do students most often compliment you on after your in-person classes?
What unique background or expertise do you have that other yoga teachers may not?
How do you deliver classes in a way that makes your niche audience keep coming back for more?
How do you relate to your students?
What brought you to yoga in the first place?
What results have your students experienced after your classes?
How to Structure and Outline Your Curriculum
Now that you've determined your niche and USP, it's time to get creative. Most online courses contain 6 to 12 lessons in their curriculum. Each lesson should be anywhere from 20 to 45 minutes, depending on the topic, sequence, and objective.
Write the Objective
Think of the objective as the guiding North Star to your course creation. Just like setting an intention at the beginning of any yoga class, this objective sets the intention for your entire course.
What are students going to get out of this experience? Write a concise 1-2 sentence objective that can be displayed on your sales page and quickly explain the benefits of the course. For example, the objective of my beginner's yoga for back pain course would be "we will strengthen the core and build spinal flexibility with beginner yoga flows that help reduce back pain."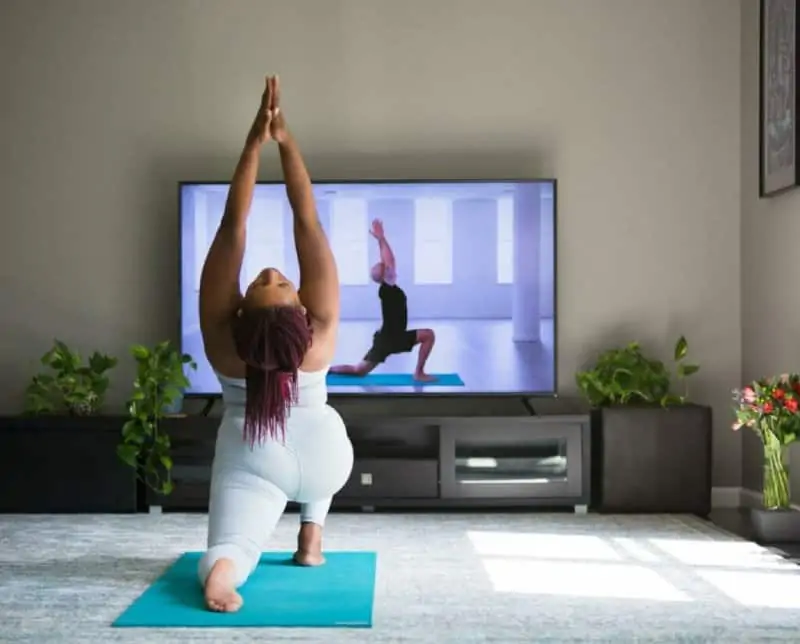 Create an Outline
Start by creating your Course Overview document, which you can use to guide your video progress and also provide to students. This will explain what they will learn in each lesson and how it links back to the overall objective of the course (remember: people want results!)
Your course structure can be focused around specific body parts, certain mental goals, or inspirational themes. For example, Yoga with Adriene has a 30 day yoga journey called HOME and each day is based around a theme, such as Recognize, Intend, Awaken, Activate, etc.
Each topic outlined in your Course Overview will be a video of its own, so make sure the topic is broad enough to create 20-45 minutes of content, yet also narrow enough that it's not overwhelming. As opposed to an in-person class, online courses often focus more on instructional videos that help the student feel a more hands-on experience in correcting their form, understanding breathing techniques, etc. You can deep dive into topics that deliver maximum value, like explaining how to support the spine during twists or how to prevent back injuries.
Write Script Guides
While you shouldn't script out every word you say, it is useful to create a guide for your instructional videos. One easy way to start is by voice recording yourself during one of your in-person yoga classes. You can also sit down with a friend who asks you specific questions related to the course and you can record how you answer them.
The most important thing is to remain natural and talk conversationally. You don't want your course to sound rigid or overly scripted, however you need to stay focused on the objective and avoid rambling. You might feel silly or awkward at first, but don't worry! After a few takes it will be easier to relax and get comfortable on camera. Just imagine you are teaching to a class of engaged students.
How to Record Your Online Yoga Course
You don't need to be a professional videographer to create an online yoga course. However, it helps to have high quality video, audio, and lighting. If you have a DSLR camera, go ahead and use it to create your course. Thankfully, smartphones can also shoot in HD and even 4K video quality these days. There is also no need to spend a fortune on equipment; here are some accessible and easy-to-use gadgets to set up your DIY yoga recording studio.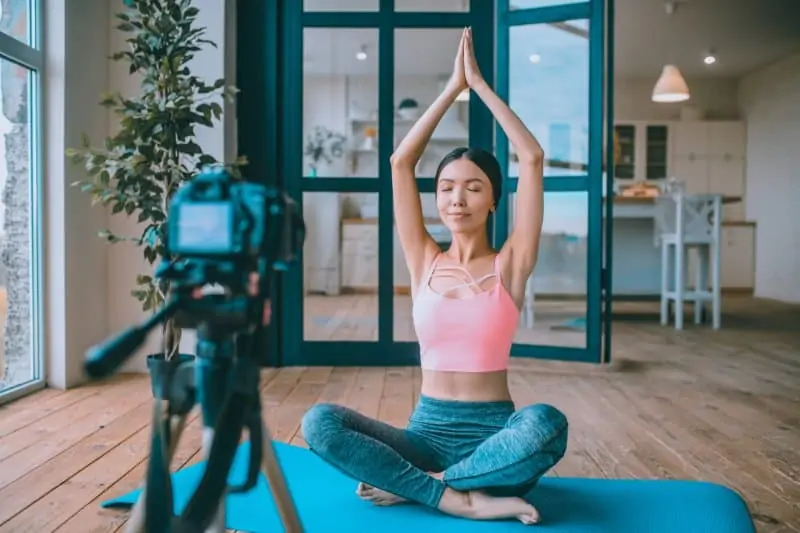 Sound
High quality audio is one of the most important parts of your yoga lessons. Nobody wants to listen to scratchy, ear-aching background noise, nor should they have to strain to hear what you're saying. A compact microphone like Rode VideoMicro can easily be mounted on top of your camera, phone, or tripod and connected to the recording device.
You could also opt for a Lavelier microphone that clips onto your shirt for high quality audio as you move around and teach.
It is also helpful to integrate voice overs into your videos while you are performing asanas and demonstrations. The best option for voice overs is a USB podcasting microphone that allows you to add audio after recording visuals.
Video
Whether filming on a smartphone or camera, you want to use 4K if possible, or HD (high definition) 1080p settings at 30 fps (frames per second). Mount a phone on an adjustable tripod like the UBeesize aluminum tripod stand or use the Ubeesize 67" camera tripod with a bluetooth remote. The remote makes it simple to start and stop your videos from the mat. You should record only in horizontal landscape position (no social media style videos) for the best viewer experience.
Lighting
Just like an in-person yoga class, lighting is everything for creating the ambiance and vibe of the course. Try to keep your lighting consistent throughout the modules by recording in the same space every time. Diffused light is always the best, however you don't want windows behind you that make you look like a shadow. You also don't want harsh synthetic lighting that washes you out and makes the video appear too bright. For a happy medium, you can use adjustable ring lights or dimmable LED lights that mount to your tripod or camera.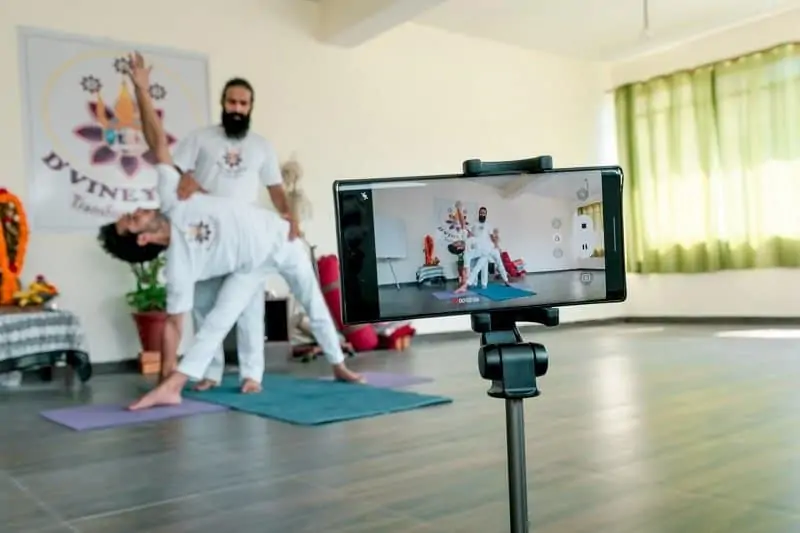 Setting the Scene
It is vital to keep your audience in mind when designing the backdrop for the yoga course. Set the scene based on their specific needs and interests. A spiritually-minded audience will enjoy lots of tapestries, zen paintings, or Buddhist decor, whereas a fitness-minded audience would probably feel more at home with a clean gym type of setting. Some yoga teachers rent or borrow a studio space for recording their course, as this looks more professional and may have better lighting than your home.
Be sure to center yourself and your mat in the frame of your scene. Any props or equipment (blocks, straps, weights, etc.) can be placed in an organized fashion to the side. Avoid too many distractions in the background so that students can focus on your content.
Editing and Music
DIY video editing is easier than ever with apps like iMovie and Splice. A more advanced editing software is Adobe Premiere. If video editing intimidates you, it is easy to outsource the work to freelancers using a site like Fiverr or Upwork.
In the editing process, you'll find that awkward silences or white noise don't really flow with the yoga instruction. It's best to add mellow, low-volume background music that fits your theme and makes the videos feel more relaxed and fun. Find royalty-free music on Epidemic Sound or YouTube's Audio Library.
Storing Your Footage
Trust me, you do NOT want to spend all the time and effort on your yoga course only to have the files disappear into thin air. Technological glitches happen and you need to be prepared. An external hard drive is a must to keep your video footage safe and backed up.
Best Platforms for Selling Yoga Courses
A course platform is the baseline framework of how your course is delivered from your computer to your students on the internet. Essentially, it is the foundation of your success as an online yoga teacher (and we all know the saying "build your house on a solid foundation"). Choose your platform wisely, as it can be quite difficult to switch once you commit. Also, be aware of added fees and commissions that may cut into your earnings. Here are the most popular platforms based on pricing and features…
Budget Option: Patreon
Patreon is a community-based platform designed to give fans direct access to creators and artists of all types for a monthly fee. The tiered system allows you to create specific rewards and bonuses for different tier levels (for example, a $5 tier, $10 tier, and $25 tier).
This is a less-structured way to go about creating your course and may be more difficult for students to navigate. However, it is still a lovely way to start building a paying audience without much up-front investment. You can offer everything from exclusive videos, behind-the-scenes instructionals, and live Q&As, to downloadable asana PDFs, meditation Mp3 recordings, or physical merchandise.
Affordable Option: Podia
Podia (we use this one!) is a customizable platform with loads of features for any type of course you want to create (drip courses, course bundles, etc.). You can easily upload images, audio, PDFs, MP3s, quizzes, and more to optimize your students' experiences.
Over 50,000 creators use Podia as their course hosting platform, and the feedback is really great. Everything is flexible, custom, streamlined, and – best of all – simple for even the least tech-savvy creator.
Teachable starts at $39 per month and includes a super intuitive course builder, access to an existing range of students (people who already have purchased other Teachable courses), as well as beautifully designed sales pages.
The platform is consistent and responsive whether on a desktop, smartphone, or tablet. It can also be integrated with just about everything. For more engagement, you can create quizzes and discussion boards for your students. Teachable also handles payments (and lots of other things) for you, making it a simple all-in-one platform for the beginner online yoga teacher.
Advanced Option: HeyMarvelous (Namastream) or Thinkific
HeyMarvelous (previously called Namastream) caters specifically to the online yoga course niche. This means it is a smaller platform and more directly related to yoga teachers and yogis. They include everything from personalized coaching to team feedback to building a branded virtual yoga studio.
The pricing is steep at $125 per month, but they don't take any commissions or transaction fees from your earnings. They also offer Namastream Film School to help you create exceptional yoga course video modules.
Thinkific is a super popular course platform for yoga teachers and all types of other creators. The features are similar to Podia or Teachable but with more flexibility and customization. For example, you can easily change the colors and fonts of your course to match your brand. You can also design sales pages, create student support communities, and track student progress. The uploading and hosting of content is very straight-forward and simple. Pricing options begin at $49 a month.
How to Promote Your Online Yoga Course
So you've created an epic, beautiful yoga course targeted to your niche audience and loaded with value! Now what? You need to market the heck out of your creation!
Building your E-Mail List
E-mails are the currency of modern course marketing because they give you a more intimate and direct channel to your customer. Make sure to get emails of your in-person students at every class! These can be useful marketing tools in the future.
Ideally, a yoga course "funnel" could start off with a social media post that eventually convinces the customer to click through to a "lead magnet." This is typically a freebie like a video or eBook, which they need to enter their email to receive.
Once you have their email on your list, you can deliver valuable information, insights, guides, and inspiration via weekly newsletters that build up credibility and interest in your online course. ConvertKit is by far the best platform for building an e-mail list because of the endless features, easy opt-ins/opt-outs, tagging of subscribers, funnel designs, and more.
Here's what we recommend:
Sendfox – the most basic email marketing tool and has a free option. Sendfox is great for Karma businesses — We use it. It is simple, but you may outgrow it 🙂

ActiveCampaign

– this is the tool we recommend for any yoga teacher who wants to earn an income from their yoga/wellness business. It's very easy to use, and they have great features to help automate your email marketing efforts. They offer a free trial starting at only $29/month afterward.
Content, Content, Content
Delivering free content might seem counterintuitive if you are trying to make money with an online course. In fact, it's quite the opposite! Valuable content is what attracts customers in the first place. Just like you want a "free sample" of new ice cream flavors before you buy a whole cone, think of your free social media content as the "free sample" or sneak-peak into your yoga course. The more free content you deliver, the more dedicated your audience will become. Teach them what you know to build credibility for your course, create a connection with you as a teacher, and entice them to sign up and learn more!
Free Content Ideas:
30-second Instagram Reels (ex: a timelapse flow or a simple "how to" asana instructional)
TikTok videos explaining brief topics (e.g.: neuroscience of how yoga reduces stress)
Downloadables (e.g.: free printable week-long meditation journal)
YouTube sequences
Facebook Live Q&As
Pricing Your Course
Some yoga classes start at as low as $5 or $10 for a single lesson. When you start looking at a whole course (12-14 lessons/classes), a monthly subscription fee of $20-$40 may be a better option. Some online yoga classes offer unlimited streaming for $50+ a month, while others may cost $100-$500 or even $1,000 for lifetime access to a very in-depth course.
Don't fall into the trap of undervaluing yourself, as a low price tag may be associated with low value to the customer. Think about how much the same content would cost in person and how much more convenience and value you are adding to a customer's life by offering it online.
Estimated Revenues from Selling an Online Yoga Course
Can you really make a living as a full-time online yoga teacher? If you are strategic and determined, the answer is a resounding yes!
Revenues from online yoga courses range from $100 to $4,000 per month and beyond. Because you are creating a digital product, the earning potential is virtually endless as long as you continue to grow your audience.
Your success and profitability will depend on your marketing tactics and the VALUE you bring to your community. Put your best foot forward and make your yoga skills shine amongst the crowd. We look forward to seeing your course come to fruition. Namaste!