Teaching yoga is probably your dream job if you're passionate about yoga, wellness, and helping others. You can go to sleep at night feeling inspired and invigorated by a career that brings more peace into the world. After all, each student you impact has the capacity for a ripple effect of positivity and joy.
But in spite of all the warm zen feelings, the reality is we can't all be monks teaching only in exchange for good karma. Even yoga teachers need to make a living and you're probably wondering if it's possible to do so while staying true to your ethics and passion.
The answer is an undoubted yes! But your success truly depends on your work ethic, business savvy, and commitment to community. After all, yoga studios and the yoga industry would not exist without hardworking entrepreneurs and a community of blissed-out yogis!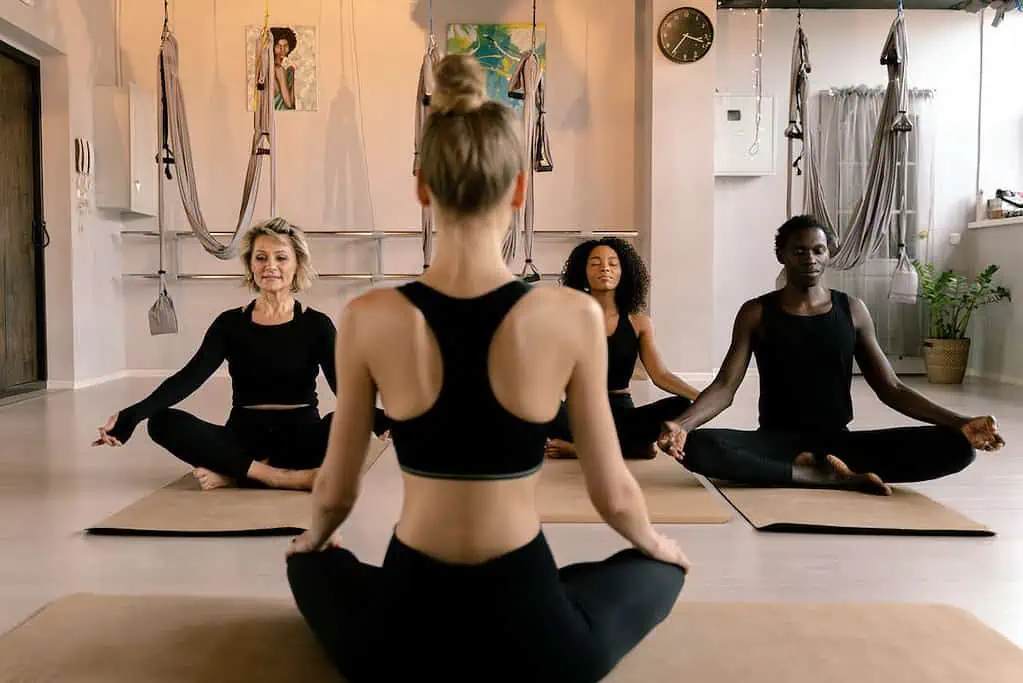 Building a yoga career doesn't happen overnight. Thankfully us yogis have learned the beauty of patience, mindfulness, and pushing our boundaries on the mat.
Thankfully, yoga is an $88 billion industry (as of 2023) that continues to grow every year.
Let's look at some stats:
10% of the US population practice yoga (that's about 34.4 million people)
Yoga grew in popularity by 63.8% between 2010 and 2021 and is still growing today.
There are around 7,000 yoga studios in the US and 100,000 yoga teachers registered with the Yoga Alliance.
As our society seems to grow more sedentary and more stressed by the day, your expertise is more need than ever before. And yes, of course you can be paid extremely well for that expertise. You can also wind up running between 5 yoga studios trying to teach a hundred classes a week just to pay your rent (trust me, I've been there and it sucks).
Here's the lowdown on how much you can really make teaching yoga and 7 ways to upgrade your yoga instructor salary while doing what you love.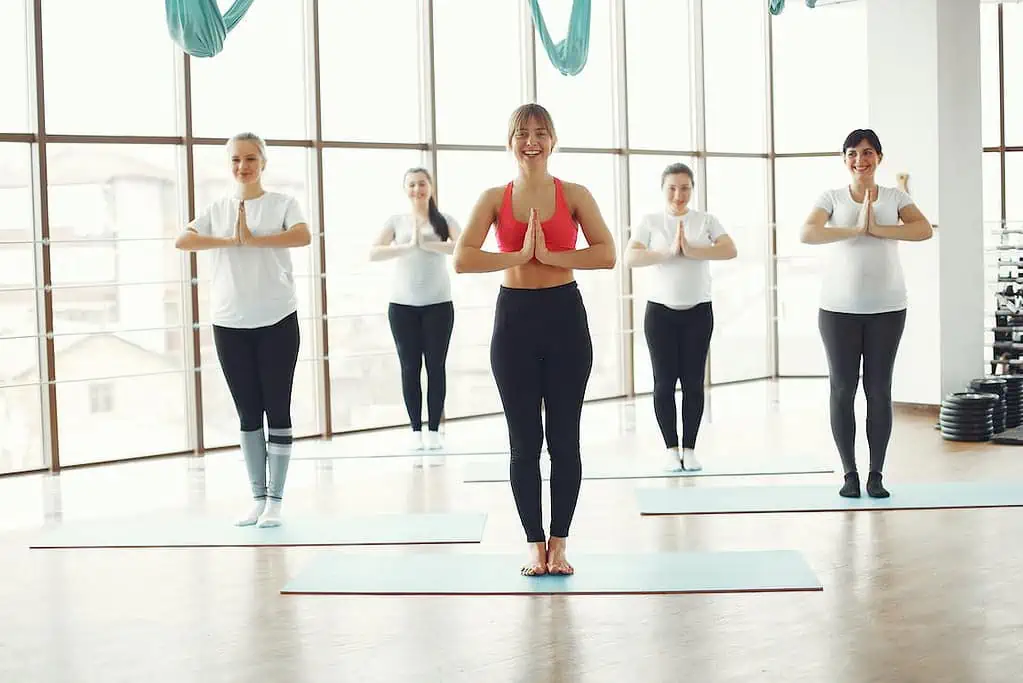 Average Yoga Instructor Salary
Yoga teacher salaries vary greatly from yoga studio to yoga studio, as well as from teacher to teacher. This could be because a lot of people teach yoga for the joy of it, rather than to earn money creating a large different in each individual yoga instructor's salary.
But, no matter what job you are doing, everyone deserves to have enough money in their bank account to pay rent each week whether that comes from teaching classes, private classes or hosting certified yoga teacher trainings.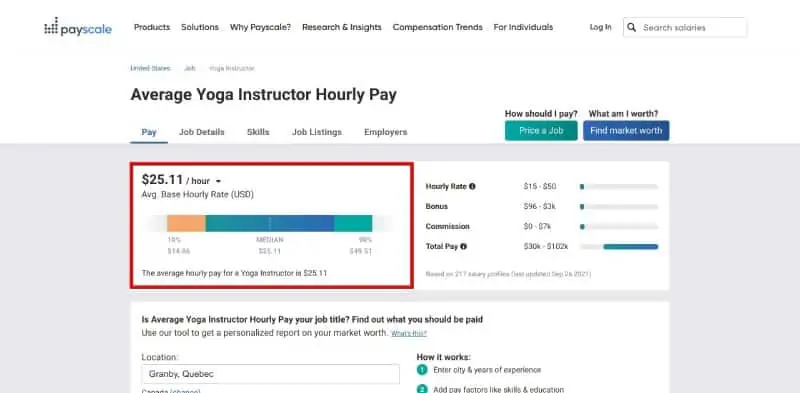 So, what can full-time yoga teachers expect to get paid for their job?
The average national salary in the US is $13,000 to $100,000 per year. It's important to adjust salary stats based on how many classes are actually being taught, not based on a 40-hour work week (because I don't know about you, but I will never teach yoga for 8 hours a day, 5 days a week… that sounds exhausting!
In other words, yoga teachers are making somewhere between $7.25 and $69.25 per hour. Whew! That is a massive range, huh? A lot of this depends on the teaching experience of the yoga instructor, as well as the studio and location that the yoga instructor is working in.
Let's look at some national averages before we dig into the details of why there is so much variability amount yoga instructor salaries.
Average Hourly Rate: $25 per hour
Average Per Class Rate: $30 to $90
Average Rate Per Student: $1-$3 per student
Average Salary: $20k to $60k per year
Factors that Affect Yoga Instructor Salary
According to Yoga Alliance, there are over 100,000 registered yoga teachers (RYTs) in the U.S. How are you going to stand out? There are hundreds of factors that affect how much you can actually make as a yoga teacher, but here are the most notable:
Location, Location, Location
Just like real estate, the market size of the yoga industry in a given area you will drastically affect your income level as a yoga teacher. Are there yoga studios on every corner or are you working with the main studio in town? Do you want to teach in a city or a suburban or rural area? Are people affluent or more working class? What is the median household income for your area and do people have disposable income for yoga classes?
California has some of the highest paid yoga teachers in the country (along with the highest cost of living), whereas middle-of-nowhere Mississippi tends to be on the lower end (but it's super cheap to live there). Look up the average salaries and rates for your area and talk to fellow yoga teachers to get a better idea of how much you can market your skills for.
These days, in our technological society, a lot of yoga instructor jobs are now online. Whether you are working for your own online yoga studio, or holding online yoga classes for someone else, the online world is a location with the potential to reach a lot more students.
But, of course, you will need to gain confidence in email marketing, search engine optimization and tech equipment if you decide to take this path!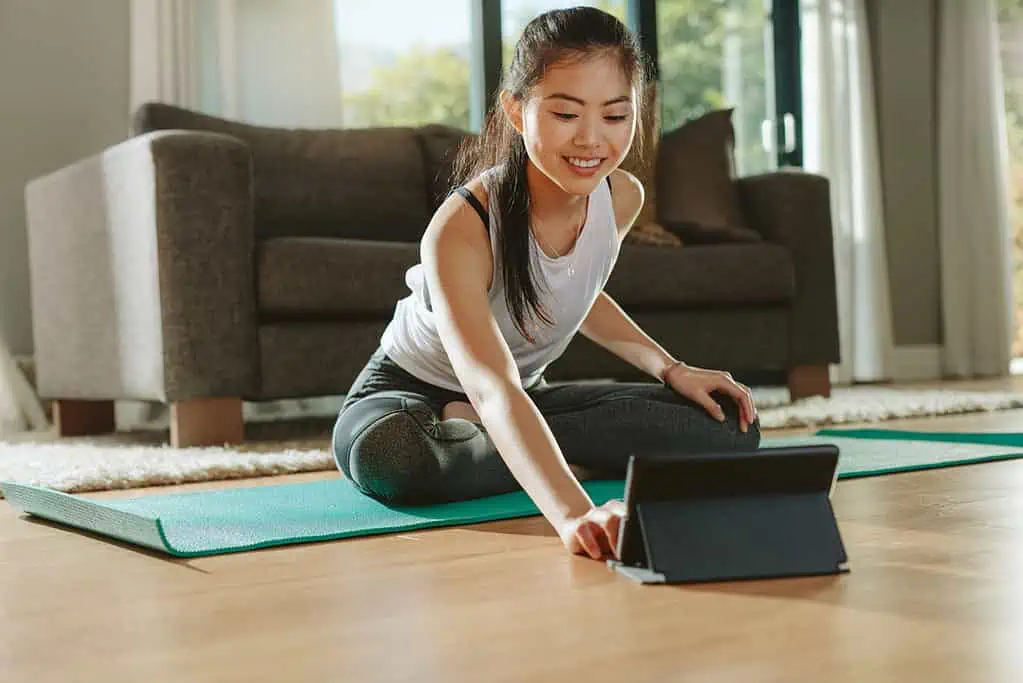 Other indicators of a booming local yoga industry might include:
Large amount of studios per square mile
Ranking on "healthiest cities" lists
Large number of gyms and specialized fitness franchises like Orange Theory
Natural food stores, juice bars, etc. (you know, all the stuff us yogis are into)
Presence of wellness businesses such as spas, massage therapists, natural beauty shops, acupuncture, saunas, and more
Part Time or Full Time?
What capacity do you actually have for teaching on a weekly basis? Trust me, teaching 5 classes per day every day of the week is exhausting and not sustainable in the long-term. If you want to be a full-time yoga teacher, your salary will be determined by how many classes you teach, your rate per class, and the types of income opportunities you build outside the classroom (more on that in a bit).
The reality is that 67% of yoga teachers teach less than 10 hours per week. Most teachers have other jobs in related fields like massage therapy, acupuncture, meditation, or making yoga content. Many yoga teachers simply want to keep yoga as their dreamy side gig, rather than a full-time hustle. The choice is ultimately up to you.
Do You Have a Niche?
In my experience, niche yoga teachers- and niche anyone for that matter- tend to make more than the average generalist. While it helps to be a generalist in terms of your skillset (yoga, meditation, business, marketing, networking, etc.), it is most beneficial to be a specialist in terms of your target yoga clientele.
Just like a product business has a specific customer they want to target, your service-based yoga teaching business should have an ideal demographic that you market to.
Are you amazing with kids and gravitate toward teaching children's yoga? Is your teaching style extremely soothing and relaxing for people who are trying to de-stress? Can you help people lose weight with your extra upbeat, fast-paced classes? Or do you love the one-on-one experience of teaching private yoga sessions with your clients? If you feel unsure, you can download our huge list of niche ideas here. As you can see, the possibilities for a niche are endless and choosing one will definitely affect your income level.
Experience Level
It's no surprise that more experienced yoga teachers tend to make the most money. The 2016 Yoga in America study found that half o yoga teachers have been teaching for more than 6 years.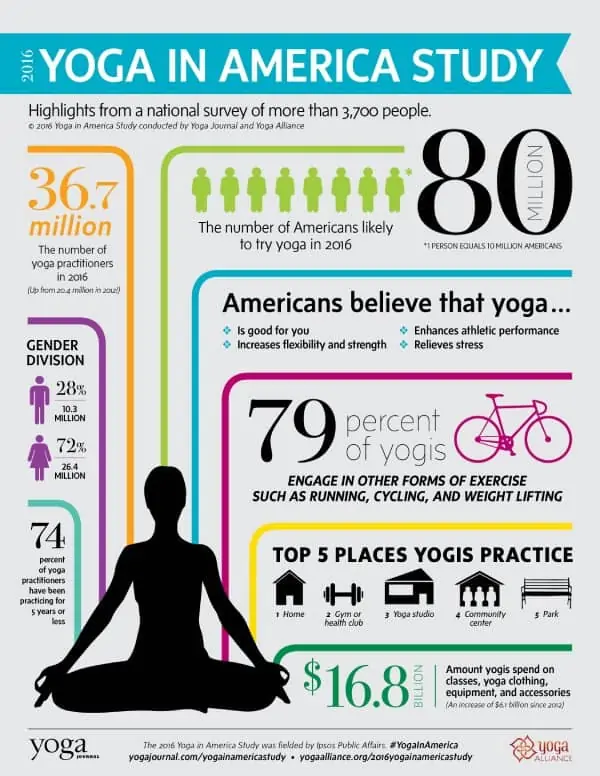 But experience isn't everything. You could teach in a studio for 5+ years and quickly be surpassed by a newbie who is charismatic, business savvy, and willing to negotiate for his/her rate.
Newer teachers tend to be on the lower end of $20 per hour, whereas 1-4 years average $24-$25 an hour, and over 10 years average about $34 per hour. Like all of these stats, keep in mind that factors like years of experience don't actually include how many classes they were teaching per week, what additional training they underwent, how they were marketing themselves, etc.
Experience may include how many group classes you have taught, the type of yoga teacher training you have completed and how many hours of teacher training you have completed. As well as considering if you offer yoga therapy, or yoga as a fitness class.
Quality of Teaching
In the Yoga in America study, all audiences surveyed agreed that the best yoga teachers need to have:
A warm and friendly demeanor
Clarity in their instruction
Knowledge of yoga poses
Well, duh! I can only hope that is true for all yoga instructors out there. But that is only the bare minimum. If you want to make among the top earners of yoga instructors, you will have to up your game and go above-and-beyond the standard.
Do you hang out after class and answer your students' questions? Do you prepare cool towels after each hot yoga session? Do you connect with your community online and in-person with a genuine desire to help and serve?
Ironically, a lot of these "business" attributes actually go back to the Yamas and Niyamas, along with all the processes personal development that the yoga community values so highly. As we work on ourselves, we can simultaneously grow our earning potential.
Business Model
About 50% of yoga instructors are independent contractors, sometimes referred to as freelancers. These yogis are responsible for their own business management, taxes, insurance, contracts, clients, and marketing. They do not technically work for the studios they teach at, rather they are contracted out for their services.
On the flip side, some 35% of yoga instructors are employees (the other 15% are likely classified as either studio owners, content creators, or miscellaneous). Employees receive more benefits and have less overall responsibility than an independent contractor, however they may be beholden to their studio and expected to perform tasks such as front desk management, janitorial duties, marketing, and more.
The model you choose is entirely dependent on what kind of life you want to live, how much you are willing to learn about business, and how much freedom you want. You may start out as an hourly wage employee and freelance on the side. As your business grows, you will likely want to transition to independent contracting for more opportunities to grow your income.
Do You Know How to Market Yourself?
In my experience, the business side of yoga is the most directly correlated to which yoga instructors are super successful and which are struggling to teach 20 classes per week and sleeping on their friends couch. Making money as a yoga teacher is not sacrilegious or "selling out", it's a vital piece of the puzzle for sharing your gifts with the world. The highest earning yoga instructors are amazing marketers that sell their services through a diversity of strategies that we'll discuss below.
If you know how to market yourself, your yoga career will skyrocket. If you don't know anything about business or marketing, the good news is that you can learn! A short course in marketing will help you to stand out amongst fellow teachers. You can create a simple website that will help by highlighting that you are an experienced instructor, with a certified yoga instructor certificate and all the skills you need to guide yoga students through a special yoga class.
The investment in these courses will allow you to expand your audience and earn more income in the long run. Start with our FREE VIDEO TRAINING here!
Can you make a living as a yoga instructor?
This is a nuanced question with a nuanced answer. "Making a living" means something different to everyone and largely depends on where you live, your lifestyle, your expenses, and how much you work.
As you saw with the numbers above, you can make a living teaching yoga. Many yoga instructors make $20-$60k per year and absolutely love their career. But this doesn't necessarily mean all of their money is coming from solely teaching individual classes.
We have a few other suggestions of how you can bump up your average salary without having to live in one of the highest paying cities in the world.
7 Tips on How to Make More Money as a Yoga Teacher
If you're really looking into how to make more money as a yoga teacher, we have this big article here just on that. But here are some pointers:
These days, the real secret to being in the top tier of high-earning yoga teachers is pretty obvious: monetize online yoga. You only have so much time in your day and therefore only a certain amount of in-person classes you can teach. Plus, you don't want to burn out in the first few years of your teaching career. If you aren't tech-savvy, there are also dozens of ways to grow your income in-person as well.
The most successful teachers have a thriving online community and following in addition to their yoga classes at private yoga studios. They also teach specialty workshops, private lessons, and retreats.
An online yoga studio, membership program, YouTube channel, social media following, merchandise, blogging, personal training services, health coaching, and healing arts businesses are all possible strategies for diversifying your yoga income. There are so many opportunities in this thriving community!
The biggest earners I know use these tips to grow their income every year:
1. Know Your Worth and Negotiate Your Pay Rate
Common Misconception: Yoga teachers don't negotiate their wage or get "raises", they only make money "per mat" as they grow their class sizes.
Reality: Yoga teaching is like any other job or business, your earning potential is based on your ability to know your worth and negotiate. Begin by figuring out the starting pay scale in your area. Most of the yoga community is very friendly and you can easily explain to fellow instructors that you are trying to start out your teaching journey and would love to know what sort of pay range you can expect in the area.
At a gym or small studio, that rate may start out at just $30-$35 per class for a brand new yoga teacher. Perhaps $45 to $50 for a more established studio. Specialized and experienced teachers with more training are more likely to charge $50 to $75 per class. You will always sound more professional and confident in negotiations if you know your base rate and can confidently discuss finances.
Don't forget to leverage your assets. If you have a following (online or in the local community), use those numbers on your resume and charge accordingly. If you excel at marketing, consider doing the e-mail or social media for your studio. As you grow your classes, you can negotiate a higher per mat rate (usually $1-$5 per student) or raise your private class rate as your services become more in demand.
In the long run, the process will pay off. You may get rejected or second-guess yourself, and you may need to lower your rates at first, but with experience, marketing, and a growing following, you can eventually negotiate $100 or more per class. Remember, always advocate for yourself and honor your needs!
2. Ask for Guidance
Common Misconception: Teaching yoga is an independent undertaking and you have to figure it all out on your own.
Reality: The "me against the world" mindset usually leads to burnout, loneliness, and lower income. From experience, I have found that interconnection is a vital part of success as a yoga teacher. When you need help, ask for it.
Studios obviously don't want unenthusiastic, stressed, or unhappy yoga teachers. As business owners, they are selling a service and they want it to be as high quality as possible. That means they are more than willing to help you feel more inspired by your teaching.
Studio owners are yogis themselves and are usually happy to guide you on your path. Whether you need help with mental health, marketing your classes, or anything in between, don't be afraid to ask. Often times they will even invest in growing your expertise by putting you through trainings or offering more opportunities to teach at events.
Successful yoga teachers see each other as collaborators rather than competitors. The old saying goes, "a rising tide lifts all boats". As yoga teachers collectively improve their craft and attract greater followers, the industry as a whole continues to grow and thrive. A scarcity mindset won't get you very far.
You can lean on your fellow yoga instructors, bounce ideas off of each other, and exchange advice.
3. Think Like an Entrepreneur
Common Misconception: You have to be in a yoga studio every day of the week to make money as a yoga teacher.
Reality: Maybe that was true back in the day, but a combination of an entrepreneurial mindset and being business savvy are both vital skills for the modern yoga teacher. Once you start thinking like an entrepreneur, the doors of opportunity into the yoga world swing wide open.
Taking entrepreneurship training or investing in business coaching is a great place to start. Then, it's all about creativity and work ethic. Some yoga instructors earn well above 6 figures per year by incorporating their entrepreneurial mindset with their passion for yoga!
How can you capitalize on your unique skills and build a mini yoga empire that inspires, connects, and helps others? How can you use your teaching experience to make money outside of the classroom?
4. Offer Private Lessons
Common Misconception: "The bigger my classes, the greater my income."
Reality: As a yoga instructor, offering private lessons is a great way to connect with your yoga students on a deeper level. This helps to build rapport and trust between you and your students.
Just like personal trainers do it in the fitness industry, a yoga instructor can do the same in the yoga industry. You can choose to work out of a yoga studio (which may involve renting a room space), teach from your home or your student's home, or even take the yoga practice outside on a sunny day. Many yoga schools offer yoga teacher training courses focused on alignment, and perfecting asanas. Take this knowledge with you and apply it to individual sessions with your students!
You may even get paid more for teaching private classes with one student, than you would with a class of ten students.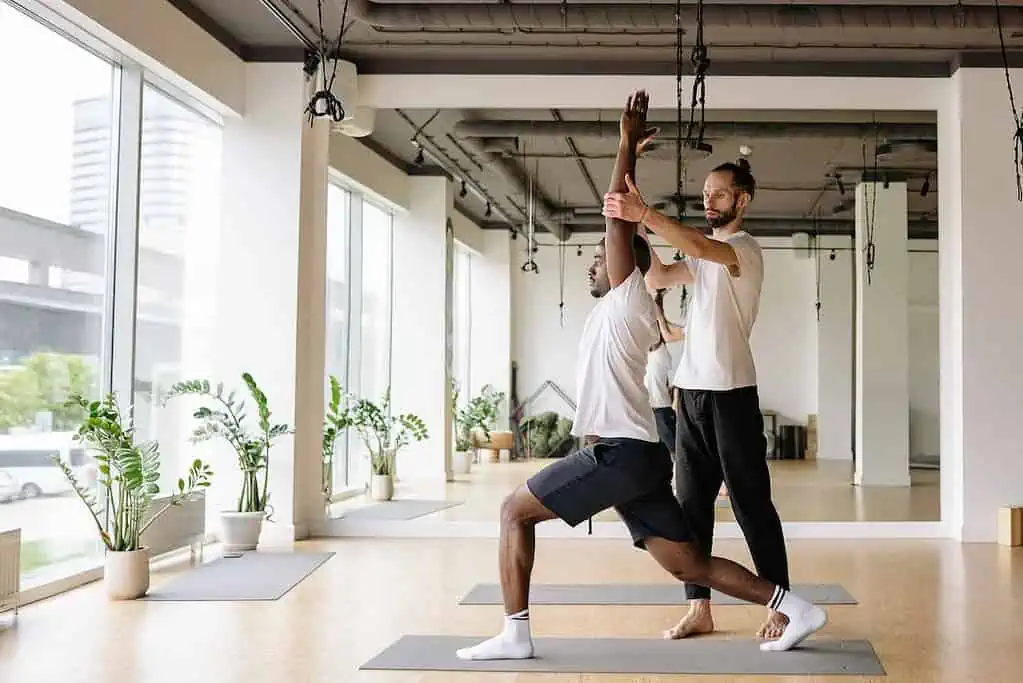 5. Create an Online Course or a Yoga App
Common Misconception: "You have to be in a yoga studio to make money through yoga."
Reality: If you are a tech-savvy yoga instructor, you might like to take your yoga studio online. Many yoga instructor jobs are popping up for teaching to students or businesses online, or adding a yoga practice to a digital app.
If you have the skills, or the funds to hire an app developer, you might even like to create your own yoga app. This flexible job gives you the freedom to set your own pay rate, increase your yoga teacher salary with passive income and work with other yoga instructors to provide a top quality service so your students can do yoga from everywhere! To help market your app, you may offer a set of free classes and special events online to help showcase your skills and draw in new students.
These days, you will even see yoga teacher training courses offered online, allowing a yoga instructor the opportunity to get paid from anywhere.
6. Become an affiliate for your favorite yoga brands
Common misconception: "I can't afford to buy top yoga brands on my yoga salary."
Reality: Yes, good quality yoga equipment can add up to be quite pricey, but if you are using this equipment every day and you love it, then why not promote it too! As a yoga instructor, you can set up affiliate marketing with your favorite yoga brands to earn a commission by advertising their products.
Another way of creating passive income to boost your yoga instructor's salary is through teaming up with your favorite brands and promoting their products. Usually in return, you will either get paid a percentage of the sales you make, or you might get discounts, freebies and special bonus clothing or equipment in return for your work. Although the reward for an affiliate job is not always in the form of money, saving your yoga pay by getting a free mat or new leggings is also a great bonus.
Look at the websites of your favorite yoga brands and see what opportunities they offer for collaboration.
7. Diversify Your Income
Common Misconception: Teaching yoga classes is the sole source of income for yoga instructors.
Reality: Most yoga teachers have at least 1 or 2 other "jobs" outside of teaching. These may be in a studio or in an entirely different field. But the top earning yogis tend to have a wide diversity of revenue sources. The list of ideas to increase your average salary is endless, but here is some inspiration to get you started:
Write for yoga publications
Host a yoga retreat
Build a blog and monetize it with ad revenue and digital products (ebooks, courses, etc.)
Become a pilates instructor, fitness instructor or personal trainer
Start a satellite-business in the yoga space, for example a juice bar inside a studio
Begin nutrition coaching or personal training for your yoga clients
Conduct workshops online and in person
Mentor beginner teachers or be a business coach for aspiring yoga professionals
Host a yoga teacher training
Grow your own online following and monetize with your own branded merchandise, online courses, social media creator funds, and attract people to your in-person classes
Start a YouTube channel
Do yoga photography
Invent or modify a yoga prop to help people with their practice
The intersection of diversification and niche expertise is where the gold is for yoga instructors! Just remember not to spread yourself too thin. Build incrementally and master each revenue stream before moving onto the next.
8. Hone in On Your Natural Skills
Common Misconception: Previous jobs or skill sets unrelated to yoga are irrelevant to your career as a yoga instructor.
Reality: Your natural skills are unique and marketable in your yoga career. Before you got into yoga, what was your job or hobby? What did you excel at in school? What makes you unique?
It's important to utilize your natural skills and actively advertise them as parts of your resume. If you're an artist, how do you use your creative mind to inspire others in their practice? If you love to write, can you write an eBook or blog about yoga? If you are an amazing surfer, how can you mesh your two passions for a unique demographic that wants to spend time blissed out on the beach?
Even if you were an accountant or a cashier in the past, those skills can help you in your yoga career! Every studio has numbers they need to run and merchandise they need to sell. Remember what makes you unique and use it to your advantage to grow your income so you can live in more abundance as a yoga instructor!
So how much do yoga instructors make?
Your yoga instructor's salary will depend upon what you are willing to work for! We are arguably alive in the best time in history to be a successful and even wealthy yoga teacher without sacrificing our morals and values. Use the internet and social media to your advantage and spread your positive message far and wide!
Namaste!
FAQs
Is it worth becoming a yoga instructor?
Teaching yoga can be an incredibly fulfilling and surprisingly lucrative career. The difference between struggling hourly-wage yoga teachers and thriving $60k+ earners is an entrepreneurial mindset, online revenue streams, and diversification of income.
Is being a yoga teacher profitable?
You can make as little as $8 per hour or as much as $40+ per hour depending on your expertise, business savvy, and marketing skills. A successful yoga teaching business encompasses far more than just the classes themselves; it's all about marketing, building community, growing an online brand, and creating diverse income streams.
How much does the average yoga instructor make?
The national average salary of a yoga instructor in the United States varies between $20,000 to $60,000, with the average yoga instructor jobs earning around $25 per hour.
Their annual salary is heavily dependent on how many classes you teach per week and how business savvy you are when it comes to satellite revenue strategies.