Digital education has been a part of the 21st-century citizen's lifestyle for a while. Since the post-pandemic era, even conservative forms of institutionalized education have embraced them.
The world of Yoga has been no exception to this trend. Some of the world's most credible schools now offer Teacher Training programs online. This opens up a whole new world of options.
It's an exciting time for the Yoga entrepreneur. But with a few caveats and challenges that can feel a little overwhelming in the initial stages.
So here are a few pointers to help you out.
How Do You Choose the Right Yoga Teacher Training Course for Yourself?
The list of things to consider can feel like a rabbit hole at first. But at the risk of oversimplifying the decision, the two primary points it boils down to are:
Your personal relationship with Yoga.
Your goals and aspirations with Yoga.
1) Your personal Relationship with Yoga.
Like most holistic arts, Yoga comes with a unique set of nuances.
A significant one is how the physical, mental, and spiritual are all addressed at the same time.
The beauty of the system lies in the individual freedom to combine these to suit your approach.
It helps to be clear on the specific areas of Yoga that you resonate with the most. If it's a workout you think it serves best, fair enough. If restorative rituals are what you feel are its most fitting purpose, great! If you have found spiritual solace in its philosophies, celebrate them. Yoga is as individual as the practitioner. As long as you take a balanced, inclusive, and respectful outlook, it's all good.
2) Your goals and aspirations with Yoga.
Where are you on your Yoga journey? A beginner who's recently discovered its enrichment? An intermediate student looking to dig deeper? Or a seasoned practitioner looking to start a business?
With an open mind and a positive mindset, these can all be good places to start. Do take the time you need to make a reasonable assessment on which of the above descriptions fit you best.
Additionally, some clarity on how to integrate your training into daily life will help you when addressed mindfully.
Once you feel you've got that part sorted out, don't forget to do the research into the schools you are looking at as options. Lineage, quality, depth in the material offered. The experience and credentials of the trainers. Testimonials, and of course, your budget are a few of the factors you want to consider and look into.
What is the Most Common Form of Yoga?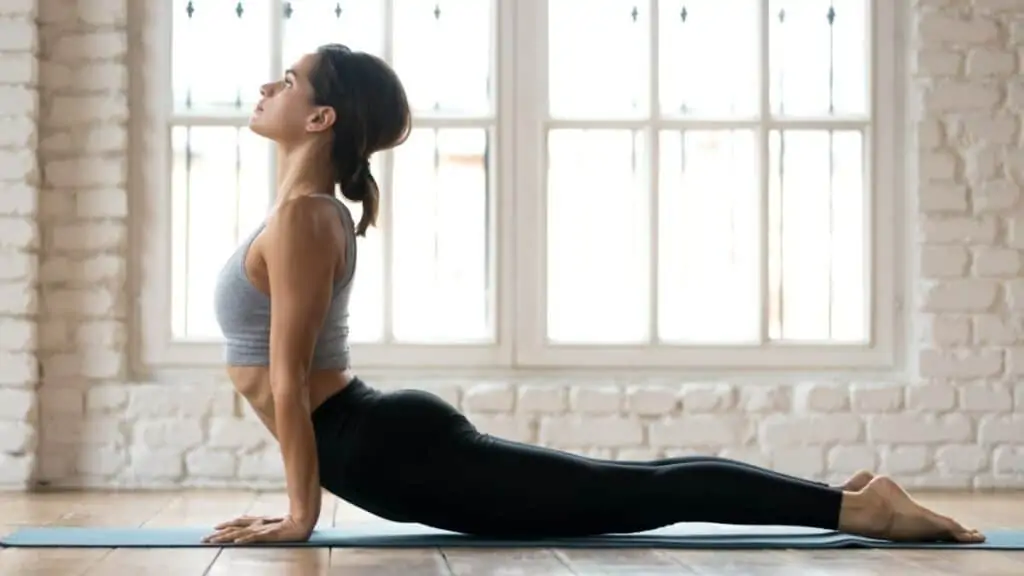 A commonly overlooked point is that what we globally refer to as 'Yoga' today, is actually the practice of 'Yogasanas'. Physical postures (and movements) designed to enhance the mind-body connection and well-being.
'Yoga', when traced back to its ancient roots in the Indian subcontinent is more of an umbrella term. It refers to a broader system, the scope of which is done proper justice on a dedicated post.
Terminology part, it's safe to say that the most commonly taught form of Yoga is 'Hatha Vinyasa' Yoga.
The Sanskrit word 'Ha-tha' when split up signifies masculine
(Ha = Solar), and feminine (tha = lunar) energies. These are aimed to be united through the act of Yoga. Literally translated, Yoga means 'addition', implying union.
'Vinyasa' is best described as a 'flow'.
Sadhus (Indian shamans) can still be found meditating hours on end in a lotus pose in many parts of India even today. But contemporary forms of Yoga usually differ in this aspect. Here, the practitioner moves from one pose to another in fluid, mindful states.
Over the years, teachers and schools have built upon their own systems that come with their unique aspects and terminology unique to them. Yoga, while rooted in a tradition that's said to be 5000 years old, is also an ever-evolving form of art.
The Advantages of Online Yoga Teacher Training
The biggest advantage of a Yoga Teacher Training certificate online is flexibility (pun intended!) Here are a few reasons why:
Location Independence
In spite of current travel restrictions, this advantage remains valid. Your current location does not influence your education. Some of the best teaching courses in the world are available to you anywhere in the world. All you need are some basic technical requirements (good wifi, devices, and online ID).
Non-Linear Teaching
Many courses design the elements of their course so you can pick and choose the sequence of the lessons. This helps adapt it your particular strengths and weaknesses. If you already have a business background, skip straight to the Yoga training. Come back to brush up on the entrepreneurial material at your convenience. Or maybe you're an experienced yogi and need to up your business game urgently. Then take the route from the other side of the same street.
Learn in Your Own Time
Most courses will let you work towards your certificate without a harsh deadline. Which means you're free to integrate the study material into your schedule on your own terms. So a busy day job or family commitments are a lot easier to balance.
A Non-Competitive Environment
Let's face it. For most of us, ego-driven tendencies to compete are a reality. And our control over it, a work in progress. Healthy competition is often encouraged. But Yoga might be a rare exception to that point of view. So the solitude of working through the course material in your individual space can be helpful. You get to focus on what's most important: your personal growth.
The Drawbacks of Online Yoga Teacher Training
A common doubt among skeptics is the long-term prospects of online education. And the credibility of the methods and qualifications offered by the same.
The numbers seem to speak for themselves.
In 2018, IPEDS (Integrated Postsecondary Education Data System) recorded 6.9 million enrollments in distance education. That's 35.3 percent of students in the US. So online teaching is more than a passing trend born out of necessity in the unique times we currently live in. It's been around for a while now. And is here to stay.
That said, it's still only at the beginning of its journey. And Yoga is an ancient art passed on through generations by direct, experiential methods. So the skepticism does come with some valid points.
The meeting of like-minded people in an online community across the world can be a blessing. But it's not a direct substitute for traditional yoga groups and classes. The physical experience of training together in a room forms a very specific kind of bond. This can boost morale and motivation significantly.
Additionally, some teachers like to work using (literally) hands-on methods to help refine asanas. Needless to say, a complete consent of the participants is a pre-requisite for this. But these methods can be very effective. So the complete absence of physical contact is a drawback.
The Role Of Certification for Your Online Yoga Teacher Training
Those new to teaching Yoga need to understand exactly what a certification signifies. And what it doesn't.
Some of the most legit Yogis I have met have never had any inclinations to get certified. Or teach for financial gain per se. A privilege my ancestry came with.
But the primary goal of certification is to maintain a safety standard. Yoga, when practiced improperly can go horribly wrong. Your clients are trusting you with their health. That deserves due acknowledgment and must be taken seriously.
That being said, it's equally important to honor the inherent intuitive and empathetic nature of this practice. One which requires more than just certification to be good at. So getting too caught up in the formalities can be counter-productive.
The solution? Choose the right school. Make sure it gives you the sense of confidence you need to offer your services in a manner that feels authentic to you.
The Yoga Alliance has established itself to be a high standard for credibility. It's definitely worth the investment for many. But a common misunderstanding is that only their certification is mandatory to teach. There are other forms of certification that are valid too. So again, make sure you factor in all aspects of the school you decide to get certified from.
A List of Online Yoga Schools
The list of schools for online Yoga teacher training certification is ever-expanding. Here are a few names that have been growing in popularity.
Career Prospects as a Yoga Teacher in 2022
This is the part where the high ideals of the healing arts can be in conflict with the realities that come with building a career.
Yoga instructors can make anything from approximately $12.00/hr to $50.00/hr on the higher side of the scale. The one thing the latter have in common is that they learn to diversify their approach.
Course building, membership sites, premium one-on-one coaching, and merchandise in addition to conventional teaching are a few examples of these.
Making a living doing something we love has always come with its challenges. One aspect of the bigger picture that is often neglected is that as a yoga teacher, you are a business owner. The significance of that can be a bit to process in the initial stages. So it's helpful to start building a set of entrepreneurial skills.
A lot of courses will include already material on this. But some might leave you feeling inadequate. So some additional study might help. Doing so will go a long way for a sustainable career as a yoga teacher in the long haul.
FAQ
Can Beginners Train to be Yoga Teachers?
Yes, albeit with a couple of considerations.
Does Yoga Certification Expire?
Yes and no! Depending on where you get certified, you might be asked to do renewals. These might be regular, though not very frequent. Like all other fields, renewing or expanding upon qualifications are generally encouraged.
Can You Make a Living As A Yoga Teacher?
Yes! Most start off teaching yoga as a tertiary source of income or just a past-time they enjoy engaging in. But making a full-time living as a yoga teacher is a realistic prospect that can be worked towards.
Conclusion
Whether a side-gig, a full-time business or just to deepen your practice, training to be a certified yoga teacher is a worthwhile investment. And digital methods have started to establish themselves as the new standard. So if you've always nurtured a wish to explore this field further, doing online teacher training is a great option. And a first step towards building a fulfilling business in the holistic industries.
We are living in an era where the importance of health and well-being are being prioritized at a level like never before. People are looking to be healed and seeking the right kind of support to help them on that journey. With the right combination of dedication and skills, you could be someone doing that.