A sequence is like a road map for your 30, 60, or 90 minute yoga class. Without it, you lose focus and momentum.
Many yoga teachers follow traditional sequences like Sun Salutations, Bikram, Kundalini, or Vinyasa. Others have visions in their head or flows from their own mat that they want to bring to their classes. But how do you get those sequencing ideas into concrete form as a paper or digital reference?
Thankfully there are dozens of yoga sequencing apps designed to help yoga teachers solve this problem.
Here we'll review the best yoga apps for sequencing your classes and explore the pros and cons of each, as well as some valuable tips for designing the perfect asana sequences that will best benefit your students.
The Bell Curve of Yoga Sequences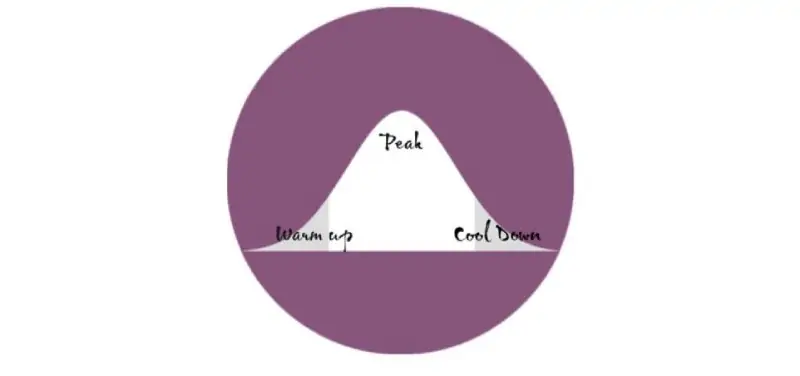 Most yoga classes follow the same general sequence:
Warm up the body
Peak strength/challenge poses
Floor poses
Savasana and relaxation
As you can see, this "base sequence" looks a lot like a bell curve in terms of intensity. You start off gentle, warm up, slowly move into more challenging asanas, then settle down and eventually return to relaxation.
Obviously this leaves a lot of room for personal interpretation and creativity. Teaching yoga gets fun when you infuse a sequence with your unique style.
A little improvisation and inspiration ensure that classes aren't robotic. But you definitely don't want to wing it!
Planning in advance with a yoga sequencing app will help you clarify your vision and goals for a specific yoga class, and be sure that it flows naturally for your students.
How to Sequence a Yoga Class for Your Target Student
Whether teaching online or in person, you probably know by now how important it is to have a yoga niche. Your yoga niche defines exactly who your target student is and what you offer them as a teacher.
As you design your students, think about your target student and their unique goals.
For example:
Pregnant yoga students probably have a lot of back pain and are looking for stress relief
If your students are athletes they are probably seeking strength-building and greater flexibility
Elderly students likely need gentle stretches and poses that are easy to modify
Yin yoga students may want deep relaxation and hip opening
Fitness-focused yoga students want a nice raise in heart rate and enough challenge to break a sweat
Regardless of who your target demographic is, be sure that you know what they are looking for. Design your sequences with one or two specific goals in mind. Focus on specific body parts, breathing practices, spiritual goals, or general achievements like stress relief. The below apps will help you search for poses that meet the specific needs of your target student.
| | | | | | |
| --- | --- | --- | --- | --- | --- |
| Yoga Sequence App | Best for | Pose Library | Reference Sequences | Styles | Price |
| Tummee | Best Overall | 4,000+ | 500,000+ | Hatha, Yin, Restorative, Chair, Prenatal, Power, Therapeutic, and more | $69.95/year or $8.95/month |
| Yoga Class Plan | Best for Computer Use | n/a | 5,000+ shared | n/a | $109/year |
| Sequence Wiz | Best for Premade Sequence | n/a | n/a | n/a | $120/year or $12/month |
| George Watts Yoga Genie Lesson Planner | Best for Online Courses | 3,000+ | 10,000+ | Hatha, Partner, Ashtanga, Bandhas, Bolster, Chair, Kundalini, and more | $99/year |
Top 4 Yoga Sequence Builder Apps
These days there's an app for everything, but that doesn't mean they're all functional and well-designed! The best yoga sequence building apps must be created specifically with us yoga teachers in mind. We sorted through the top yoga applications to find the best programs for Yoga Nomads.
When selecting a yoga sequence building app, here are a few questions you may want to ask as you peruse the available features:
How many yoga poses are already in the program?
Are cues included in the sequence builder?
How much customization do you have?
Can you add/delete props or flip poses to show different sides?
Is there a library of pre-made sequences to build off of?
Can you enter notes for yourself?
What is the pricing of the app? Is it a subscription or flat fee?
What platforms it's available on (phone, laptop, tablet, etc.)
How intuitive is the sequence builder?
1. Best Overall: Tummee
Tummee.com is one of the best rated yoga sequencing apps thanks to its massive library of poses, cues, and sequences. It is available as a mobile app for iPhone and Android, or for use on a tablet.
The Tummee interface makes it super easy to create, view, edit, and share yoga sequences on-the-go. Each pose has its own clear cartoon drawing with the associated Sanskrit name. There are also lots of built-in variations using blocks, bolsters, straps, and more. 
I particularly love that Tummee offers free Sanskrit learning content. There are audio pronunciation guides to help you properly pronounce the Sanskrit names of your favorite asanas, as well as quizzes to solidify the information. You can dive deeper into the meaning of root Sanskrit words that will help you be more knowledgeable and with your students.
Perhaps the coolest thing about Tummee are the customization features. You can add YouTube videos or music from Spotify, Apple Music, and Pandora to your sequences. You can also add breath type, counts, the duration of holding a pose, and custom titles to take your classes to another level.
As you build a sequence, you can search through the asana library by body part (eg. back), position (eg. standing), level (eg. beginner), and type of pose (eg. restorative). Tummee will definitely make you feel prepared and educated for your yoga classes, regardless of your teaching experience.
Pros
Accurate cartoon pose drawings
Intuitive sequence builder
Thousands of poses, cues, and pre-made sequences
Easy to organize your sequences
Sanskrit names and pronunciation
Customizable pose duration, breath type, etc.
Printable and shareable sequences for yourself, your students or private clients
Post yoga lessons on social media
Cons
Overload of features could get confusing
Yoga Class Plan is an intuitive drag-and-drop sequence builder with customizable poses and easily printable class plans. The free trial is available for 15 days and lets you explore the sequence builder to its full capacity. You can modify existing plans and create new routines very quickly. The tech support is also very helpful.
They also have a nice yoga directory with real human photos for teachers and students to reference online for free. Yoga Class Plan is primarily a computer-based platform and does not have a specific app for mobile devices.
Pros
Drag-and-drop builder
Clear pose drawings
Edit your poses with names, movement notes, analogies, experience level, etc.
Your specific poses are saved for future use in your personalized pose library
Easy to print lesson plans
Easily organize lists of class plans
Look at class plans from other teachers in the community
Search by experience level, class length, etc.
Cons
No specific app for mobile devices
Less customization available for variations and props
Less social media shareability
Higher price point
3. Best for Premade Sequences: Sequence Wiz
In the Sequence Wiz app, you can access a shared library that has been carefully reviewed for safety and effectiveness of different yoga flows. There are even practice videos included with many of the sequences.
A few of the cool Sequence Wiz features include the ability to add breathing techniques and mudras into a lesson plan, ability to customize poses, easily printable pose libraries, built-in pose editor, and quickly swap between different versions of a pose.
You can also insert transitions and exit strategies for certain poses, and spotlight specific muscle groups you hope to focus on during a flow. Membership gives you access to professionally designed handouts that you can customize with your logo, as well as regular yoga content and integration with the Sequence Wiz Student Management System.
Pros
Drag-and-drop sequence builder
Save lines and text from sequences in your Favorites
Add breathing techniques and mudras
Professional looking handouts you can customize with your logo
Cons
Stick figure drawings
No mobile app integration
Higher price point
The Yoga Genie Lesson Planner is the most community-oriented sequencing app. It includes a thriving Facebook community and access to over 10,000 existing lesson plans, some of which can be streamed and shared. You can copy, edit, modify, and create sequences specifically for your classes. It is compatible across devices and offers quick PDF downloads for offline reference.
George Watts also offers the ability to organize lesson plans into an online course. You also get loads of bonuses (like marketing plans, business kits, etc.) and access to the exclusive online community.
Pros
Organize lessons into online course
10,000+ existing sequences to copy or modify
Easy downloads
Easy-to-search poses in 83 categories (yoga style, therapy needs, anatomy, drishti, etc.)
500+ pose cues
Add and customize your own poses
Sanskrit names included
Compatible across mobile devices
Tons of bonus flyers and templates
Cons
Free Yoga Sequence Builder Apps
If you're looking for something cheaper or more temporary, there are also plenty of free sequence building apps. While they don't have all the features of paid apps, these options are still super valuable tools for any yoga teacher.
Yogidia has a lovely online community that you can join for free and access their sequence builder. They have over 350 asanas in their library and the ability to upload your own poses to use in the builder. You can add breathing cues, lengths, alignment cues, and meditations. Plus, the sequences can be shared, played, and printed across all devices.
This simple iOS app offers quick poses for beginners with clear photos and descriptions. You can use the built-in timer to track the sequence time and create quick, effective flows.
This free app includes over 120 poses and series for beginner, intermediate and advanced. You can build from existing sequences or drag-and-drop poses to create new ones. This app is designed for amateurs and professionals, so it can easily be modified for online yoga teachers.
Top 7 Tips for Sequencing a Yoga Class
Focus on what you know. Don't try to insert overcomplicated new poses that you aren't familiar with. A well-cued simple flow will always be more beneficial than a complicated sloppy one.
When in doubt, follow the standard format of sitting poses, standing poses, prone poses (belly down), and then supine poses (back down).
Ease into peak poses like intense hip or back openers. Always start soft and easy to ensure your students are thoroughly warmed up.
Time yourself performing a sequence to make sure that you aren't holding poses for too long or too short of a time.
Practice cues aloud in the mirror, or ideally with a trusted friend. If you want to offer hands-on adjustments, be sure to practice these on a fellow teacher before trying with students.
Set one or two central goals for each sequence. For example, hip-opening and stress relief would be two easily accomplished focus goals for a 30 minute class.
Sketch out a general idea of your sequence before inputting into an app. It's nice to know where you're going
Sequence building is a rewarding and creative effort that I sincerely hope you learn to enjoy! It is one of the greatest forms of expression for a yoga teacher. Make it your own!
Namaste!