What if you could continue sharing your passion for yoga while making passive income and teaching from anywhere in the world? Countless yoga teachers have made this pipedream become a reality by learning to sell live and on-demand yoga classes to their virtual audience.
Why Sell Yoga Classes Online?
Online yoga is booming because it offers more flexibility, more affordability, and more global connection to students and teachers alike. If you've been feeling stressed about meeting your financial goals as a yoga teacher, online courses could be a consistent passive income source for you to build a yoga brand and large online community.
Online yoga classes are a way to grow your yoga business from the comforts of home (or even a far away Bali beach or Italian cafe). All you need is a laptop, some basic recording equipment, and a solid foundation of your marketing plan for selling your yoga expertise online.
How It Works
The process works by creating "evergreen" content like instructional videos that can keep working for you long after they are made. Think of these initial videos, photos, and downloadables as the "magnets" for attracting new customers into your virtual studio.
These free or low-priced content acts as a "funnel" to get students and clients into your higher ticket and more personalized online content such as live or on-demand yoga classes. Posting across a variety of social media channels will exponentially increase your audience, ultimately convincing your most dedicated fans that it is worth paying to learn from you more closely (which, duh, of course it's worth paying for your amazing yoga classes!)
If you're just trying to teach yoga and don't understand the tech stuff, don't worry! Here's a simple guide to making online yoga classes work for you so you can achieve more freedom while still doing what you love.
Live vs. On-Demand Classes
Live Classes are Best on Zoom
Livestream classes are the most similar to in-person classes. In fact, many students often prefer a live online class because they feel more comfortable in the privacy of their home without anyone watching them. You can interact with students and still feel connected through video and audio.
Zoom is the best and most widely known video conferencing app for this purpose. However, you cannot take payments via Zoom, so you will need to use a yoga scheduling app like MomoYoga or TeamUp (reviewed below), or receive payments via Stripe or Venmo. Once customers sign up and pay, they receive the exclusive link to the live course and a reminder for their calendar.
Pros
More interaction with students
Ability to answer questions
Can make connections around the world
Can record the live video for later use
Personal Zoom membership is free for meetings up to 40 minutes and 100 people
Private or group chat with students
You can share livestream music during the class
Cons
Technology glitches can be a headache and result in a lower quality class
Need a really good internet connection
Harder to feel energetic connection to students
Requires same amount of time as an in-person class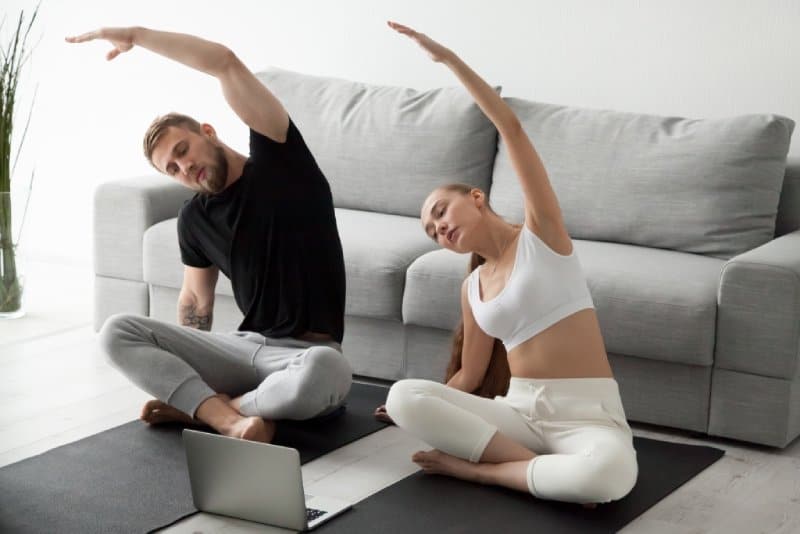 On-Demand Classes are Pre-Recorded
Pre-recorded classes offer a unique opportunity for any budding yoga business. Instead of giving away all your yoga videos for free on YouTube (until you reach 1k subscribers and can monitezie), you can start building a paid following now. Don't get me wrong, you should still probably be making YouTube videos to put yourself out there and build your following. However, you can focus your energy on higher quality paid content as well by creating on-demand classes or using recordings from previous live Zoom classes you taught!
The way this works is you create a content library on apps like MomoYoga, TeamUp, or Vagaro (pros and cons of each outlined below). Your content library includes well-produced yoga classes that you have videoed with the strategies we describe here. These are typically 30 minutes to 1 hour long, but you can also do mini-classes that focus on specific poses, areas of the body, or alignment techniques, for example.
Yogi students can easily watch the pre-recorded content at any time that is convenient for them. They pay for access to your online video library, which means you don't have to be live on camera or in the studio.
Pros
Less pressure to perform as in a live class
Comfortable recording and editing process from your home studio
Recycle existing content
No longer trading your time for money
One video can continue paying you for months and years to come
Students can pause, rewind, and rewatch your content library
Cons
Little or no direct interaction with students
Less energetic exchange
Less customization for students (unless you pursue 1:1 live coaching)
Requires a hosting and payment platform
How to Structure Online Yoga Classes
Define Your Niche
The best yoga classes start with a niche. A niche is simply your specific calling or focus in the yoga world. It could be a particular school of yoga like Ashtanga or Vinyasa, or it could be a specific demographic for your classes such as pregnant moms or athletes. On the other hand, online yoga teachers like Jack Workman or Yoga with Adriene have really just created a niche out of their unique personalities.
To find your niche, do a little meditation and then ask yourself:
What do people find most unique about my teaching style?
What do I often get complimented about after a yoga class?
Who are my favorite types of students?
What style of yoga calls me most deeply?
What are my specific strengths as a yoga teacher?
Use these questions as journal prompts and then group together your answers into a coherent sentence that describes your niche. For example, Yoga with Bird is all about accessibility, safe spaces, gentleness, and restorative styles. This niche is clear on her about page as well as the titles of her individual videos.
Create an Objective for Each Class
Next comes class creation! Start with a single class and don't get overwhelmed. As you build up your content library, you can create a system for your virtual teaching method, location, and how often you plan to record new class content.
The easiest starting point is making a list of class objectives. Think of each objective as the title to a new video. For example, "yoga for headache relief", "restorative flow for low back pain", or "beginners guide to handstands". These are all easy access points to jump into video creation with a clear goal for your students to identify with.
Explain Key Concepts
Your yoga class should begin with a brief explanation of core concepts that makes it accessible to most skill levels (unless your niche demographic is specifically advanced yogis). Key concepts may include things like the importance of alignment in certain poses, recommended accessories (blocks, bands, etc.), or specific breathing techniques used throughout the class. 
Follow-Along Instruction
As you plan your first video, you may want to outline the main points you hope to communicate so that students can follow along. Remember that a live or on-demand course does not offer the same level of visual and physical interaction with students. Your instruction needs to be clearer than ever and very easy to follow. Students may have a harder time seeing specific movements on the screen, so your verbal cues should be exceptionally well-rehearsed.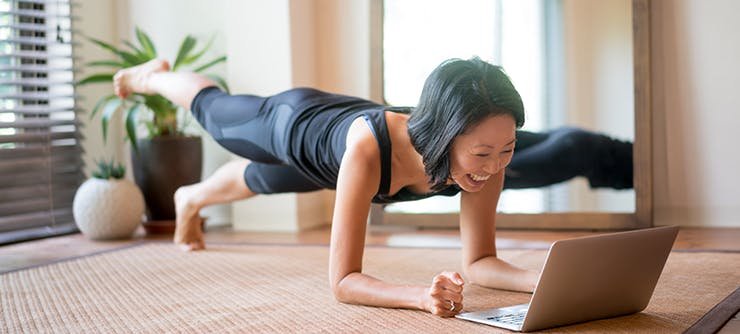 Equipment for Creating an Online Yoga Class
Thankfully, in this day and age, you don't need a thousand dollar equipment setup to make online videos. In fact, many online yoga classes can be filmed with a smartphone and edited in a simple app like iMovie. Here is the basic equipment you need to get started with teaching yoga online.
Video
Students need to be able to enjoy a high quality video experience for both practical and aesthetic reasons. Lighting, definition, and angles are all crucial to creating awesome online yoga classes.
A HD or 4K smartphone is the cheapest and most affordable option for videoing your online yoga classes. A solid tripod like the VICIALL 77" aluminum tripod works with both phones and DSLR cameras. If you prefer a setup with built in light, the UBeesize LED ring light tripod is ideal for videoing in your home studio.
High definition webcams are also increasingly affordable. The HD Logitech Widescreen webcam is perfect for Zoom classes or recording on-demand courses. For something more high-end and professional, consider the Sony ZV-1 digital flip screen vlogging camera designed specifically for content creators.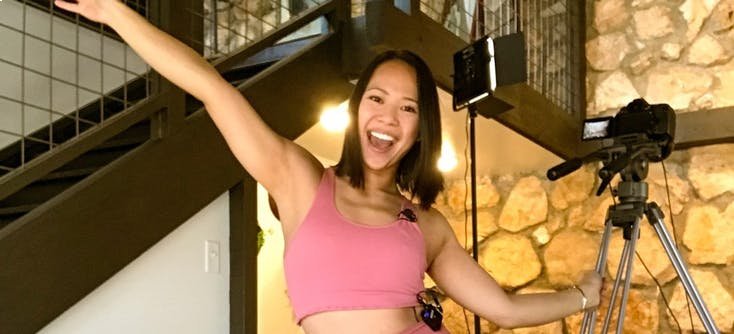 Audio
Your students obviously need to be able to hear your voice during a virtual yoga class. Crisp audio offers soothing and clear instruction straight to students' homes. A clip-on professional microphone called a lavalier is the best option for any digital yogi. You can easily move around and teach without worrying about audio issues. These microphones are also compatible with all smartphones, tablets, laptops, and DSLR cameras.
Where to Film
The setting of your yoga videos depends on your niche and target demographic. Be sure to create an environment that appeals to your customer. For example, a fitness-focused yoga channel is best filmed in a home gym environment. On the other hand, a restorative yin yoga channel may fit best with a zen pastel colored home yoga studio. Regardless of your ambiance, make sure that your background isn't too cluttered or distracting. It is best not to film yoga classes in public places or anywhere with movement in the background.
Video Editing
With proper preparation, editing online yoga classes should be fairly simple. Software like iMovie, Adobe Premier, or Final Cut Pro are the most commonly used, but you can even go for simpler phone video apps if you feel intimidated by the technicalities or pricing of advanced editing software. The most important thing is to smooth out any transitions, check audio, and remove any "fluff" from your class to ensure a streamlined viewing experience. Export your videos in 1080p (HD) or 4K for optimum upload quality into your content library.
Background Music
Just like an in-person class, music has a profound effect on the vibe of any yoga flow. It isn't essential, but it is a nice professional touch. It's just important not to use copyrighted music. You can source royalty-free music on platforms like Epidemic Sound or the free YouTube audio library. You can also create your own music if you are the musical type. Use your editing software to keep background music very low so you can still hear your voice on the main microphone.
Best Yoga Software for Class Management
MomoYoga
MomoYoga is one of the most affordable and accessible software available to modern digital yogis and yoga nomads. Best for solopreneur yoga teachers, the pricing starts at just $20/month and includes unlimited class uploads or live streams, unlimited students, credit card and Paypal payments, a built-in app for students, and even a Zoom and e-mail marketing integration.
The booking and payment processes are a bit complicated for in-person classes, but this software is ideal for digital teachers. We especially love the clean, minimalist style of video content libraries and the student portal. You can start with a 30 day free trial, no strings attached.
Pros
Only $20/month
Nice on-demand content library
Email marketing integrations
Zoom integrations
Webpage integrations
Accepts multiple payment types
MomoYoga app for iOS and Android
Cons
More complicated booking and payment process
Best for solo yoga teachers, not studios or group yoga brands
Teamup
TeamUp is an integrated platform for fitness professionals both in-person and online. Their customer management, membership options, and automated billing are just a few of the amazing features offered at TeamUp. They are known for excellent customer service and easy transfers from other platforms. Their on-demand, course, and livestream options are ever-growing.
Pros
Online classes, courses, and single live event capabilities
Free import service from other platforms
Mobile booking app
Automated payments
High quality business management features
Mailchimp and marketing software integrations
Best for studios or yogis with various offerings
Cons
More expensive at $59/month (pricing based on number of customers)
No built-in marketing functionalities
Vagaro
Vagaro is a very comprehensive software with many amazing yoga student management tools like extensive client profiles, creative selling of your membership options, and an integrated app where new students can find you.
The built-in live stream platform lets you stream from your computer or smartphone, and automatically sends customers links via email, text, or phone notification. It is fully automated for booking and payment processing. Another really cool feature is the booking integrations with social media channels like Facebook, Instagram and Yelp.
Pros
Booking directly from social media
Built-in live stream capability
Built-in marketing; students can find you on the Vagaro app
Built-in website builder for additional $10/month
Intuitive and attractive booking process
Accepts standard payments
Payroll integration for studio teachers
On-demand
Cons
Starts at $25/month and costs more with add-ons or additional teachers
Most marketing features are add-ons and not included in standard price
Website builder has less customization than WordPress or Squarespace
How to Promote Online Yoga Classes
Regardless of what niche or platform you use, all yoga teachers will need to embrace the world of marketing to truly be successful as virtual yogis. But don't worry, marketing yoga classes is not as complicated as you might think, and can even be quite fun!
Social Media Marketing
An estimated 3.9 billion people use social media globally, so your presence there as a yoga business is absolutely crucial to your success. Choose one or two platforms and focus on those so you don't get scattered or overwhelmed.
For many yoga teachers, YouTube and Instagram are usually the best options. However, newer platforms like TikTok and Snapchat may allow you to access a younger demographic to bring yoga to Gen Z. Facebook and LinkedIn are great options for yoga classes geared toward an older demographic or office professionals.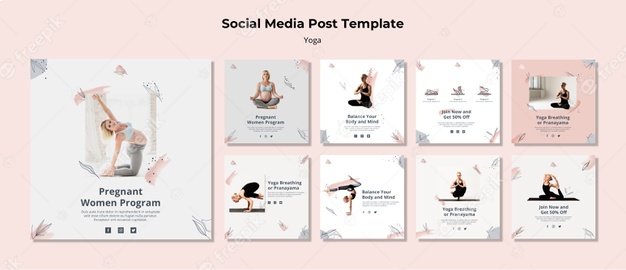 Yoga Marketing Tips on Social Medias
Use the same handle (@yourname) on all channels
Post at least once daily… this is the fastest way to gain a following
Use a link in bio that goes directly to your website, YouTube, or booking platform
Create visibly recognizable colors and fonts for brand consistency across the board; use the same style on the cover of videos, stories, posts, etc.
Offer sneak peak and shorter free content to build up your value
Follow lots of other yogis to see what they are doing and tell the algorithms that yoga is the type of content you focus on
Create interactive posts and stories that ask questions to your following and builds engagement such as comments or voting on polls
Tag major yoga brands whenever you wear their clothing or use their equipment (they may promote your page on their social media as well)
Timelapses of your yoga flows are excellent quick content ideas
Don't forget to show your unique personality with stories and short clips of you talking to your following; be authentic and show off your passion for yoga!
Email Marketing
Email marketing remains ubiquitous even in the modern day. Software like ConvertKit or Mailchimp start totally free and allow you to build email lists for direct, exclusive contact with your students.
A typical "yoga funnel" will start on a social media page like Instagram. People may follow you for a while and enjoy your short instructional videos on Reels or IGTV. Then one day they'll notice you are offering an beautiful downloadable PDF of your favorite yoga poses or a free 14 day trial to your video subscription. They will click your link in bio, sign up for your email list, and receive the free download in exchange. Using free content, digital products, or discounts on services is a great way to get someone's email so you can have a direct connection to their inbox.
Lastly, as you build your list, you can begin sending out weekly emails with yoga motivation, inspirational quotes, links to your latest videos, and of course, marketing your online courses. I've found that personal stories and motivational messages are excellent content options for email marketing. Be sure to always include a link to your content library or membership platform at the bottom of your emails!
Paid Ads
Paid promotions on social media is another great way to get more eyes on your content. Just remember that organic growth (ie. unpaid growth and followers sharing your work via word-of-mouth) is often just as effective if you are constantly putting out high quality content.
Pricing Your Yoga Class and Estimated Revenue
Setting the Right Price
Pricing is all about balance: Too cheap and your class may be mistaken for low quality. Too expensive and you will repel most average people, especially if they've never heard of you.
Some on-demand content libraries start as low as $10/month for full access, while others are upwards of $50/month. A subscription may include a weekly live class and full on-demand library for $40/month. Some YouTube yogis also offer donation-based classes and simply put their Venmo or PayPal in the description of their videos. This is a less dependable form of revenue, but can still be useful for monetizing otherwise free videos onYouTube.
Estimated Revenues
In the beginning, expect your revenue to be fairly low as you build up your subscriber base. You may need to continue teaching in-person or live stream classes if you don't already have an audience. But rest assured, according to UScreen, online yoga instructors grow to make an average of $7,500 per month. High profile yogis on YouTube and social media can easily grow to 6-figure annual incomes with large subscription bases, brand partnerships, products (like eBooks, shirts, yoga mats, or 1:1 coaching), and masterclasses.
The Sky is the Limit
The more you work to build your audience with valuable content offerings, the greater chance you have of reaching a full-time income level. The great thing about teaching online courses is that you are able to maximize your time and earnings in a way that in-person classes could never parallel. By creating evergreen content (yoga classes that stay relevant 1, 2, or 10 years from now), you always have new customers arriving at your virtual studio doorstep.