We all know we should be meditating more: stress-relief, reduced anxiety, lower blood pressure, and peace of mind seem more important than ever amidst such a chaotic modern world. This ancient tradition has been picked up by yogis, celebrities, athletes, and even top business executives. Without a doubt, meditation can improve your life on a mental, physical, and spiritual level.
But the biggest challenge for new meditators is overcoming the mental and physical discomfort of just sitting with themselves and being rather than doing. Although the mental side of the equation only comes with practice, there are a few helpful tools for feeling meeting your physical needs to sit comfortably: namely, yoga and meditation chairs.
For thousands of years, ancient meditators used yoga to loosen the body and prepare for long periods of sitting. But modern day hectic schedules and sedentary work can make back pain a much bigger challenge than ever before.
If you want to meditate more but back pain is stopping you, you may want to try a meditation chair with back support or a meditation bench to help get your mind off your spine and focus on your breath.
Here are the top 11 meditation chairs with back support to help you find your inner zen without distracting back spasms or spinal pain.
Quick Picks: 11 Best Meditation Chairs and Benches
What is a Meditation Chair?
Meditation chairs are ergonomic benches or floor chairs designed to provide comfort and back support for a deeper meditative experience. They can help you hold a meditation pose and focus on your breath for longer periods of time without pain.
The ergonomic design of these seats makes focusing your mind much easier than sitting on a hard floor or a regular chair. Some meditation chairs are specifically designed for the cross-legged (partial lotus position), while others are for meditating in a sitting or kneeling position.
Regardless of the meditation position, a quality chair should help you maintain good posture and a straight spine for a long period of time. A meditation chair can also be called a meditation bench, meditation floor chair, or meditation seat.
Benefits of a Meditation Chair
Sitting up straight for an extended period of time is no simple feat. The truth is that our modern sedentary lifestyles have weakened our core muscles and slouched our backs more than ever before in human history. Meditation chairs with back support can make meditating so much more accessible to the average person (even if they don't have any yoga experience).
If you want to experience all the benefits of meditation without risking more postural issues, a meditation chair could be the secret to catalyzing your new ritual. The benefits include:
Improved spinal alignment
Cushions your tailbones, knees, and ankles
Helps you sit up straight for optimal pranayama breathing
Reduced numbness in legs and knees
Reduced pressure on joints
Support for your back during long periods of sitting
Top 11 Meditation Chairs
Bad posture can be distracting during your meditation practice and detrimental to your overall health. And frankly, meditating without back support is just plain painful.
Most meditation chairs and meditation benches are designed to keep your spine as straight as possible to optimize blood circulation, deep breathing, and lumbar support.
But not all chairs are created equal. Here's the best meditation chairs on the market for different uses: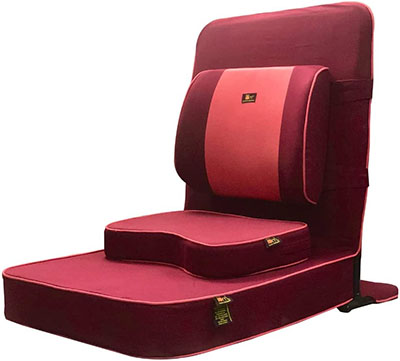 Best Overall:
Friends of Meditation Extra Large Meditation Chair and Yoga Chair w Back Support Cushion and...
See latest price
Without a doubt, Friends of Meditation makes the most comfortable meditation chair on the market. Designed by meditation guru Dhyan Unmesh, this meditation chair is exactly what they use in India at the Osho International Meditation Resort. It is specifically designed for long periods of sitting cross legged with your spine straight.
Available in black or maroon, the chair is extra large and cozy. It is foldable and offers the best back support we've found thanks to a dense foam seat cushion ("zafu" cushion) and adjustable contoured back rest. The seat is 24″ x 22″ with 4″ thick foam.
Pros
Extra large size
Thick foam cushion
Contoured back support
Foldable
Used by professional meditation teachers in India
Easy to clean soft-brushed zippered cotton cover
7 year warranty and satisfaction guarantee
Aesthetically pleasing, available in 2 colors
Cons
Not great for anyone taller than 6'2″
Not made for kneeling
Luxury price point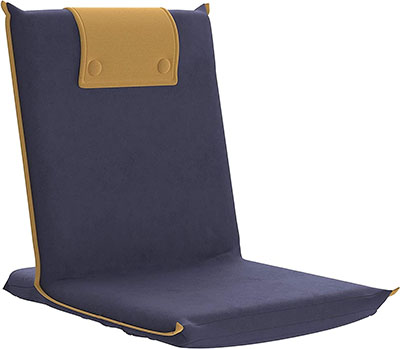 Best Foldable Meditation Chair:
bonVIVO III Floor Chair with Back Support - Floor Gaming Chair, Padded Folding Sofa Chair, Folds...
See latest price
If you want a meditation chair that is easy to clean, modern looking, and super portable: the bonVIVO III is the chair for you. It provides proper support without taking up a bunch of space or distracting from your home decor.
This versatile folding chair features a comfy floor cushion with back support and an easy-to-clean cover. It provides good support for everything from meditating to reading to gaming. The upholstery filling and foam padding are super easy on the tailbone, and the back provides a nice reclining comfort. It is also lightweight and perfectly portable to easily stash in a closet when you're done meditating.
We love that the bonVIVO III provides all the comfort of a regular chair while still sitting on the floor for a grounded meditation practice. The dimensions are 22″ x 18.5″ x 20″ and it's available in blue or beige.
Pros
Lightweight, foldable, and portable
Cover protector is easy to clean
Good for kids or adults
Versatile uses
Padded, quality fabric
Foam and upholstery filling
Adjustable reclining back support
Affordable price point (under $100)
Cons
Not great for cross-legged meditation positions
Back recline is not adjustable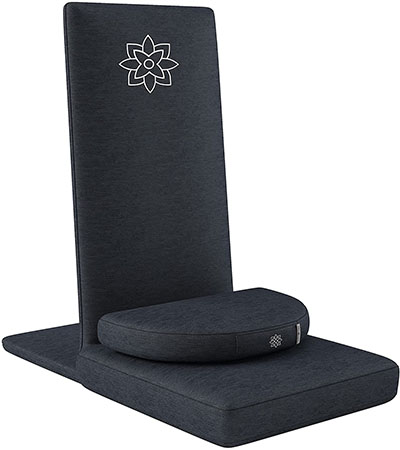 Best Eco-Friendly Meditation Chair:
Mindful Modern Folding Pro Meditation Chair - Adjustable Meditation Seat with Back Support and Bonus...
See latest price
This eco-friendly meditation floor chair is cushioned with all-natural buckwheat hulls and lined in a durable, washable pillow cover that is safe to use outside. The added support of this double-cushioned chair with back support is crazy comfortable. It promotes good posture and complete comfort, plus you can adjust the angle to lounge backward while reading a book or sit up straight during pranayama breathing exercises.
The chair is foldable and includes a yoga seat cushion that can be used separately on the go. We love the environmentally-conscious materials and decorative minimalist design.
Pros
Buckwheat hull filling
Extra cushion and back support
Foldable chair with meditation cushion
Great for indoor and outdoor use
Minimalist design
Fully adjustable backrest
Washable pillow cover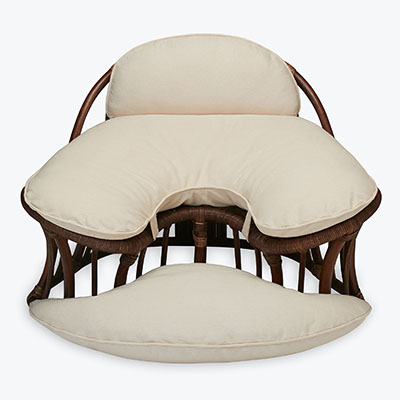 Most Aesthetically Pleasing:
This Gaiam rattan meditation chair with back support is one of the best meditation chairs on the market. It was developed through years of research to help you sit upright and comfortably for any amount of time. The curved seat shape supports your lumbar spine and legs, relieving weight on the spine while preventing your legs from falling asleep.
The eco-friendly bohemian bamboo and rattan structure looks beautiful in any meditation room or studio. The 100% cotton covers are filled with a completely natural filling made from tropical kapok trees. We especially love the light back support and unique leg support at the bottom of the chair.
The dimensions are 29″ x 25″ x 22″. The seat cushion hits about 12″ off the ground and is 19″ deep for a cross-legged or kneeling position.
Pros
Specially designed to prevent your legs from falling asleep
Light back support
Aesthetically-pleasing bamboo and rattan structure
Washable cotton covers and all natural cushioning
Lightweight (about 13 pounds)
Manufactured in Bali
Includes a 1 year warranty
Cons
High price point
Not portable
Requires core strength and spine support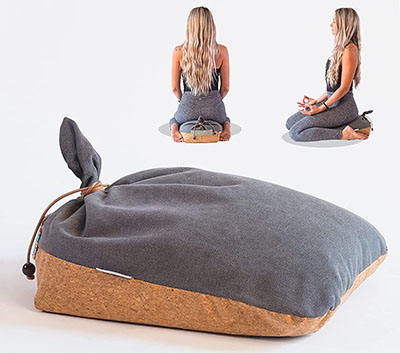 Most Versatile Meditation Cushion:
Japanese Meditation Floor Chair with Back Support for Adults - Premium Meditation Chair with...
See latest price
If you love cork yoga mats, you will definitely want to add this cork based yoga cushion to your collection. Monk & Llama created an incredibly unique travel-friendly floor cushion that is filled with buckwheat for incredible comfort in any position (kneeling, cross-legged, or regular sitting).
We love that this cushion is 100% eco-friendly: the cushion is made from organic hemp and buckwheat hulls, while the base is 100% cork. The pillow cradles your lumbar spine and naturally adjusts to your position. It feels cool to the touch and prevents sliding or slipping. The ergonomic design also prevents extra weight on your knees.
Pros
Promotes a healthy spine
Helps with knee comfort
Environmentally friendly and non-toxic
Cork base is waterproof and durable
Easy to clean, removable hemp cover
Fabric handle for portability
Moulds to your shape
Affordable
Cons
Cork may have a strong smell
Angle can cause you to lean backwards
Best Kneeling Meditation Chair:
Japanese Meditation Floor Chair with Back Support for Adults - Premium Meditation Chair with...
See latest price
Gaiam is one of the most trusted yoga brands in the industry and they have recently expanded into the office space as well. This kneeling meditation chair is multi-functional for use as a desk chair or prayer bench. It has an adjustable height base and padded cushions to help align your spine and improve circulation.
Thanks to the angle and knee support, this super ergonomic meditation seat helps improve spinal health and core strength over time. We love the easy-lock castor wheels for moving around your studio or workspace.
Pros
Multi-functional as office chair or kneeling meditation chair
Keeps abdominal muscles engaged to strengthen your core
Promotes proper psoture
Padded seat cushion and comfortable knee rest
Ergonomic angled design for optimal spinal health
Locking castor wheels for easy movement or securing in place
Holds up to 250 pounds
Trusted brand
Cons
Mid price point
Doesn't collapse or fold
Wheels may not last very long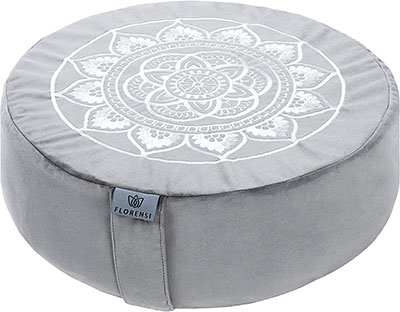 Best Traditional Meditation Cushion:
Florensi Meditation Cushion - Comfortable Floor Pillow - Traditional Tibetan Meditation Pillow with...
See latest price
If you want to keep with the old-time yogic traditions, this buckwheat-filled bolster most closely mimics the cushions used by Tibetan yogis. It has a beautiful velvet cover that feels soft to the touch and is easy to clean. T
his "zafu" style pillow relieves lower back pain and prevents numbness in your hands and feet. It takes a lot of stress off your joints so you can sit with a clearer mind.
The meditation pillow is 16″ wide and 5″ tall. The filling is 100% natural buckwheat with a layer of foam padding for extra comfort. We love that this cushion also doubles as a yoga bolster. Plus, it's super affordable and easy to stash.
Pros
Affordable price point
Easily washable velvet cover
Prevents numbness in hands or feet
Lumbar spine support
100% natural buckwheat hull filling
Embroidered mandala pattern
Beautiful decor for your yoga studio or meditation space
Cons
May be to small for some people
Not as durable as other options
No back rest or back support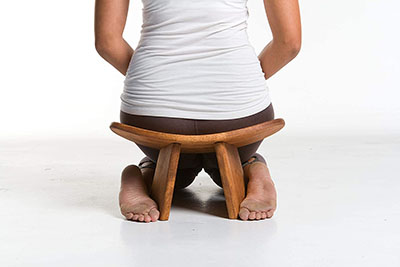 Best Meditation Bench:
BLUECONY Meditation Bench IKUKO Original, Portable Version with Bag, Locally Handmade Wooden...
See latest price
If you have tight hips or want to meditate without sitting cross-legged, this bench can help with spinal alignment, muscle relaxation, and more expansive breathing.
Kneeling (Seiza) is another traditional meditation position, however, it can be hard on the knees without any support. This bench optimizes the bend in your legs to prevent knee pain. It also angles the pelvis downward to automatically straighten the spine.
It is made handmade in Canada with wild cherry wood that is beautiful and easy to clean. It can be easily dismantled and folded into the included 100% organic cotton travel bag. The bench is 16″ wide, 8″ in diameter, and 6″ tall.
Pros
Natural cherry wood construction
Super comfortable and naturally angled
Promotes good posture and core strength
Optimizes kneeling angle for perfect spinal alignment over the pelvis
Relieves pressure from knees
The most portable meditation bench with bag
Cons
Make sure you get the right size (low for people under 5'4″, standard for people between 5′ and 6′, and high for people taller than 6′)
Not adjustable
No cushion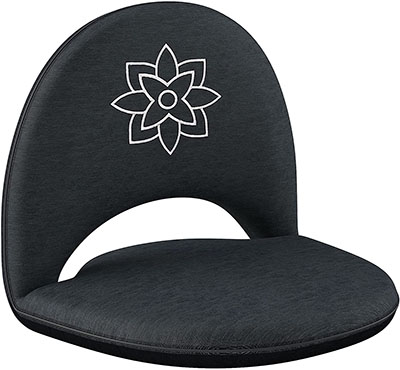 Best Outdoor Meditation Chair:
Mindful Modern Meditation Chair | Adjustable Floor Chair with Back Support | Padded Floor Seat for...
See latest price
By far the best meditation chair for yogis on the move, this travel-friendly backrest is lightweight and easy to transport. The comfy design improves spinal health and can be fully adjustable (90° angle movement) for a restorative meditation experience. It is durable, water-resistant, and even suitable for meditating outdoors.
We love how this floor chair leaves you feeling supported and aligned while sitting cross legged on the ground. It has a moderate back support that you can lean into. Thanks to its perfectly flat-folding position, it's also the most portable meditation chair we've found.
Pros
Easily foldable and portable
Washable seat covers
Great chair for meditating outside (durable and water proof)
Moderate back support
Relieves aching joints
Improves spinal health
Stylish and aesthetically pleasing
Cons
Mid-range price point
Not as cushioned as other options
Best Budget Meditation Chair:
Giantex Adjustable Mesh Floor Sofa Chair, 6-Position Multiangle Padded Floor Chair, Cushioned Back...
See latest price
At under $50, this 6-way adjustable meditation chair is a bargain. It has a nice breathable mesh fabric, dense sponge filling, zipper-removable cover, and 6 reclining angle positions. As a floor chair, it doesn't have much use for kneeling, but it's great for cross-legged meditating. The frame is made of solid steel and can support up to 280 pounds.
We also love that it folds perfectly flat. You can slip it under your bed or in the back of your car to use anywhere. The chair is 22″ x 17″ x 20″.
Pros
Super affordable
6 adjustable backrest positions
Angled for optimal support
Versatile use for kids, gaming, or meditation chair
Thick padded sponge cushion
Solid steel frame
4 available colors
Folds flat
Cons
Not the best lumbar support
Doesn't encourage core strength or perfect spinal alignment
Sits flat on the floor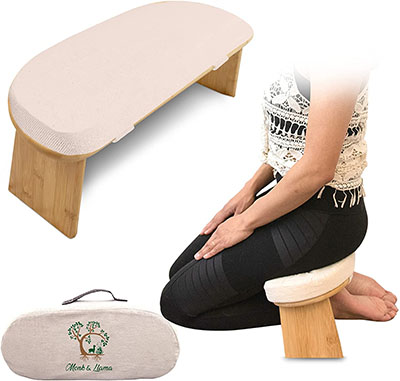 Best Budget Meditation Bench:
Monk & Llama Meditation Bench - Foldable, Ergonomic, Bamboo Kneeling Stool with Extra Comfortable...
See latest price
This budget bench offers all the spinal benefits of a kneeling meditation bench plus the tailbone comfort of a cushioned meditation chair. It weighs just 3.8 pounds and is made of a bamboo base with foam cushion.
The angled position takes strain off your knee joints and keeps your pelvis perfectly aligned beneath a straight spine to help fix slouchy posture. It is foldable, portable, and durable.
Pros
Affordable (under $50)
Super comfortable seat
Great for kneeling
Alleviates knee pressure
Aligns spine
Trains your back to engage core muscles
Cons
No back support
Won't work for cross-legged meditation
Meditation Chair vs. Meditation Bench: Which is Best for You?
If you're having trouble choosing between a meditation chair or bench, take into account your preferred meditation position and any specific body pains you may have. Both styles can improve your practice, but the best meditation chair is going to be different for everyone.
Choose a meditation chair if you:
Prefer sitting cross-legged
Deal with joint pain
Need extra back support
Prefer to lean on a back rest
Need lumbar support
By far, the most cozy and comfortable meditation chair is the Friends of Meditation Extra Large Relaxing Meditation Chair with Back Support that is used in meditation temples in India!
Choose a meditation bench if you:
Prefer to kneel while meditating
Struggle with knee pain
Have tight hip flexors
Don't like sitting cross-legged
Don't need a backrest
Want more core strength
Want to support long-lasting spinal health
Our favorite bench is the BLUECONY Meditation Bench, Portable with Bag.
Whichever you choose, meditation chairs and benches are sure to improve your practice by taking your focus off your back so you can ascend into higher levels of consciousness and peacefulness.
Namaste!
FAQs
Are meditation chairs worth it?
If you experience back pain during meditating, a meditation chair or bench can make this mind-nourishing practice so much more enjoyable. Meditation seats provide spinal alignment, back cushion, and joint pain relief for staying seated during long meditations. The best meditation chair features adjustable back rest, a pelvic tilt (for spinal alignment), and enough cushion to comfortably support your tailbone and lumbar spine. Plus, they can dual function as lounge chairs or even a back-friendly office chair.
Can you meditate on a kneeling chair?
A kneeling meditation chair or bench is perfect for meditating in a joint-friendly position. The ergonomic tilted design of a kneeling meditation chair optimizes your pelvic tilt to keep your spine perfectly aligned while you focus on your zen. The angle of a properly designed meditation chair can even improve core strength while kneeling and prevent your legs from falling asleep.