One of the biggest areas yoga teachers can improve their business (and life) is by learning how to better market themselves.
However, "marketing ourselves" is also where most of us get stuck.
Putting ourselves out there can be hard. Self-promotion is tricky. While on one hand we want our offering to be well-known, on the other hand we don't want to sound sales-y or gimmicky.
With a deep understanding of marketing, you can turn your yoga career from barely surviving to thriving!
This article is all about the basics of marketing and how it can accelerate your yoga business. Get comfy, and let's dive in!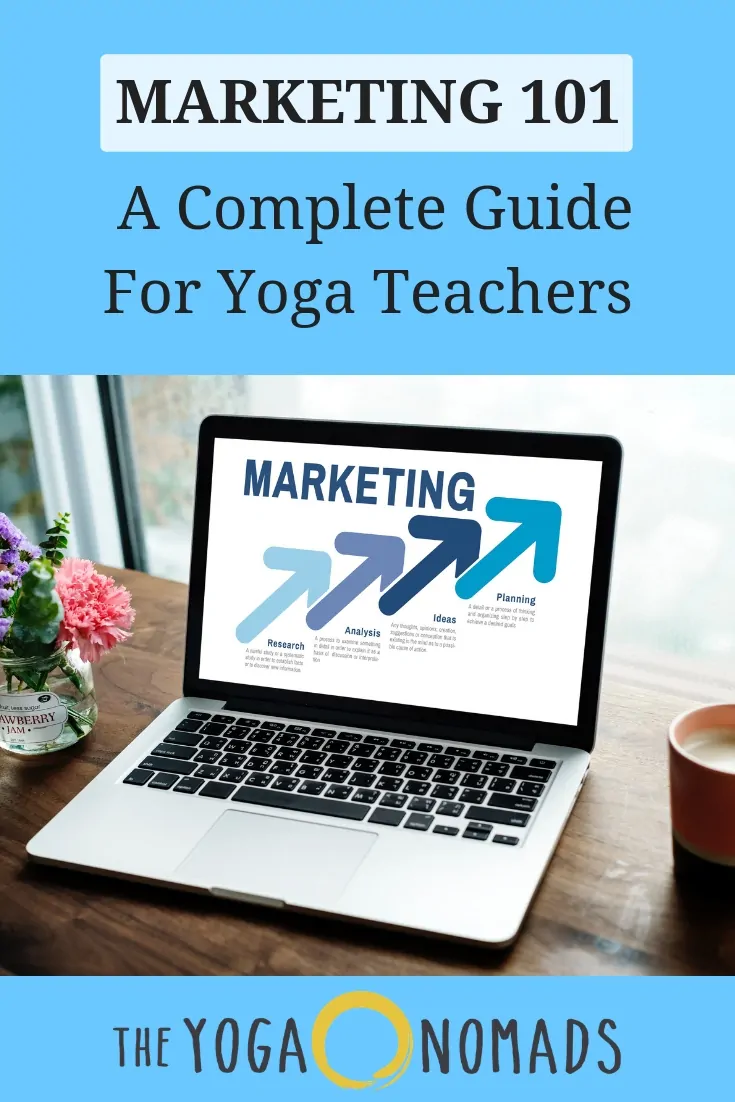 Pin Me First? Then keep reading!
What IS Marketing?
According to Entrepreneur.com, marketing is a form of communication between you and your potential customers with the goal of selling your product or service to them. Communicating the value of your product or service is a key aspect of marketing.
In other words – marketing is the heartbeat of your yoga business. The goal is to connect with your tribe (target market) on a deep level, build a solid relationship based on providing value, and eventually invite them to join your offerings. 🙂
Why do yoga teachers need marketing?
To find your tribe! Build your community! Find new students! Share your offering!
With the abundance of yoga teachers filling the landscape, marketing is one of, if not the most, important business strategy you can implement today. It will help you stand out in the sea of saturated teachers trying to promote their brand and offering.
Also, the unfortunate reality is that most yoga teachers aren't earning enough money to live a fulfilling life. By implementing a solid marketing strategy, not only will you serve more people… but you'll also increase your income!
Where do you start?
Before even considering how to market yourself, start by identifying your niche. Your niche is the style or type of yoga you'll be teaching. It will feed everything you do as a yoga professional; from teaching, to building your website, to creating workshops and running retreats.
Understanding your niche will help you understand your target market. By having a clear and focused niche, your marketing efforts will be much more impactful.
Several reasons WHY you need a niche as a yoga teacher:
Easier to stand out in an already saturated teaching landscape
Prevents burnout; you'll be more fulfilled teaching something that resonates with you
Improves marketing because you'll know exactly how to reach your target market
Being authentic will attract more authenticity back into your life
Once you identify your own niche, you can start marketing yourself as a yoga professional. Let's get started by understanding how to market yourself in a digital world.
Online Marketing for Yoga Teachers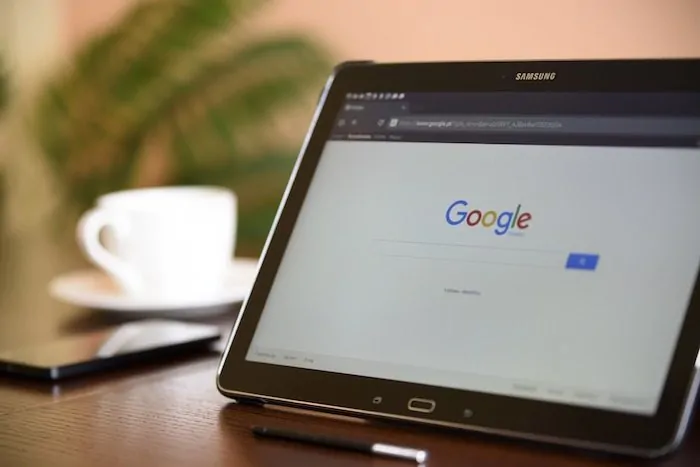 First, do your due diligence and check the following off your list before you get started with online marketing:
Register with Yoga Alliance. Becoming a Yoga Alliance

Registered Yoga Teacher

(RYT) gives you credibility. Members also get special benefits and discounts.

Create a yoga resume

. Be sure to include the RYT designation if you've registered with the Yoga Alliance!
Create a Yoga Website
Create a simple website. No need to complicate things; you can easily do this yourself in 6 easy steps. Websites are an important foundation for your marketing efforts.
Consider it a small investment in yourself as every yoga teacher needs a website. You'll see the benefits from this quickly if you put in some upfront time and effort.
Start an Email Newsletter: Email is the most effective way for yoga teachers to market their offerings. Everyone checks their email daily. Create a strategy around sending out a weekly newsletter to your subscribers. Your content should focus on providing value, but you can also share your teaching schedule, trending yoga topics, photos, etc. To get ideas, sign up for email newsletters of yoga teachers you admire to see how they do it. You can get started right away with ActiveCampaign which is our favorite tool for managing your email newsletter.
Blogging: Start blogging to build your personal brand. Share content that's related to yoga and your niche. Keep the content interesting and engaging. TIP: Guest posting is a great way gain exposure. We love this helpful guide to understanding how to guest post.
Social Media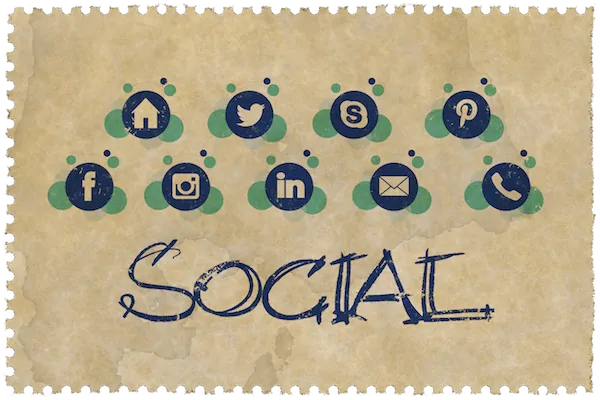 Be sure to add links from your website to your various social media platforms. Then when people visit your site, they can easily follow you on their favorite social channel.
Here are the 4 social media channels we suggest you use to market yourself:
1)

Facebook
With 1.7 billion users worldwide, building a presence on Facebook can be one of the most impactful social media tools you use.
Tips for maintaining an active presence on your Facebook page:
C

reate a business page

that's separate from your personal page.

Create a Call-To-Action Button

. This will direct people to your website or email newsletter sign-up page.

Invest in Facebook ads. Once you have invited friends and others in your network to "like" your page, you'll want to invest in a few ads. You can target your demographic and reach a wider audience.

Boost your posts

. Unfortunately, just because someone "likes" your page, doesn't mean they'll always see your content. You're able to boost your posts by advertising them, ultimately reaching more people.

Post engaging content

daily

.

Suggestions:

share awesome high-quality images, post about yoga trending topics and ask your followers questions.

Join other FB groups. This is a great opportunity to connect with other like-minded people who could be your potential clients or readers one day.
2)

Instagram
Instagram is one of the most used social media platforms around. Although limited to images, you still have the ability to direct your followers to links that you post in your bio. Although Instagram and Facebook are linked, try and keep the content separate on each platform.
You can input up to 2,200 characters and 30 hashtags.
Tips for a successful Instagram page:
Create a business profile.

This capability gives you insights about followers and posts and you can promote popular posts to reach more people.

Post often. Keep your content different and engaging. Although you're limited to pictures and some text below, you can post photos of all sorts of things related to yoga or your niche.

Try Instagram Stories! A new feature for IG users, stories allows you to share multiple moments from your day in a combination of still images and short video clips. The stories disappear after 24 hours.

Keep a link to your site in your bio. You can always change this link to your optin page or other lead magnets.
3)

Pinterest
Pinterest is an often over-looked social media tool for businesses. It can increase traffic to your site quickly and is so easy to use.
Tips for using Pinterest:
Set up your business account.

Business accounts are important to get started because it comes with extra features like Analytics.

Post often and add at least 20 pins to each of your boards. Re-post other pinners content. Your feed should have about 80% others people's pins and about 20% your own.

Use Canva "Pinterest image" to create your images. They are sized perfectly for the app and then you can upload your own images.
Be sure to use a WordPress Plugin that makes the images on your website "pin-able" we use JQuery Pin It.
4)

Twitter
Twitter is a short form blogging application. With only 140 characters to use in each Tweet, you must learn to be "to the point."
Tips for getting the most out of Twitter:
Create a profile

that highlights your business

Follow all relevant people

Re-tweet relevant content from your network, being sure to include the person's handle in the Tweet so they follow you back

Use

Website Card

for campaigns to drive traffic to your site

Use Analytics to understand your audience and re-target your approach
But don't forget….! Another great strategy to market yourself online:
Online Classes
With the abundance of online teaching platforms, more yoga teachers have the opportunity to get their voices heard. (yay!) Teaching classes online gives you exposure to new students and prospective clients, and provides you an additional revenue stream as well.
A few well-known sites to market your classes on are:
Once you're established on one or a couple of these platforms, market your classes via your social outputs and website. There will be a little marketing on their behalf, but it's a good idea you take charge and post for them.
Offline Marketing for Yoga Teachers
Although online marketing is crucial… you cannot overlook marketing yourself in real life! It may be considered old school to some, but the feet-on-the-street, word-of-mouth way of marketing is still effective, especially as a yoga teacher.
Working at a studio
Working at a local studio has it's perks! You are gaining valuable teaching experience, learning the inner workings of running a studio, meeting lots of people, and the studio takes care of marketing for you!
Capitalize on any chance you can get to lean on their marketing strategy. Be sure to re-post or share to your online platforms and website as well. This is an intelligent way to market yourself while building credibility in the community as a respected teacher. You'll have the credentials of the studio as you get your name out.
Also – don't underestimate the power of building your tribe through connecting with your students. Each encounter you have is valuable. Remember first names, chat with them after class, and show your genuine interest in their lives and it will pay off. Your students will appreciate your authenticity and hopefully return to your classes, maybe even with a friend. 😉 One by one you're building your tribe!
Teaching Workshops
If you have a unique skill or deep knowledge about an aspect of yoga, running workshops are a great way to share your offering. Once you're networked with studio owners, you can collaborate with them to use their space or work with another teacher on putting the workshop together.
If you're interested in workshops, here's an in-depth guide on offering yoga workshops.
Some workshop ideas to get you thinking:
Arm Balances and Inversions
Yoga Philosophy: Breakdown of the Yamas & Niyamas

Therapeutic Yoga Techniques

Ayurveda 101

Adjustment Workshop for Teachers
Running workshops is another great way you can earn additional income as a yoga instructor.
Community & Donation Classes
Many studios offer donation classes once a week to help make yoga accessible to everyone. Being able to lead these classes is a great way to market yourself in the community, all the while, gaining teaching experience!
Take each opportunity seriously. Even if you're not making money by doing it, each class you lead is another chance to market who you are and share your gifts. If you are unable to partner with a yoga studio, create your own event on Facebook and invite all your friends and family! Create momentum by using all your online resources to get the word out. Try and maintain some consistency in the schedule, so your students have something to look forward to week over week!
Assist at a Yoga Teacher Training or Retreat
A great way to gain exposure in the industry is assisting for a yoga retreat or training. If you completed your training locally, ask the studio manager how to get in on assisting in the next teacher training. If you're interested in traveling, internationally recognized yoga teachers often have an application process for those who want to assist a training or retreat.
Assisting trainings and retreats not only will give you an unbeatable experience but is an incredible thing to add to your yoga resume. Not only are you subtly marketing yourself during the training, but afterwards you can market to others about the training. If you're able to secure a gig with a well-known instructor, this is huge for you as you continue to gain exposure in the industry.
Team Up With Others
Do you have a friend who's a healer of sorts? A chiropractor? A massage therapist? Acupuncturist? Collaborating with someone in a relatable field or one that compliments yoga can make for a mutually beneficial relationship!
Together, you can offer sessions or and both reach a greater amount of people. You are marketing yourself at the same time they are, and can extend your efforts to include theirs and vice-versa.
Let's Wrap up
If you want to live a fulfilling life with yoga as your main source of income, then learning how to market yourself is a crucial step.
We strongly believe having your own website is one of the most impactful steps you can take. If you don't have a website yet, be sure to check out our FREE Video Training. The 3-part training teaches you how to create a yoga website while avoiding the rookie mistakes.
PS did you enjoy this article? Pin me!