Recently finished your YTT course and are ready to start teaching in a studio? Looking for another teaching gig? Hoping to find a yoga teaching job in another country? …then this one is for you!
So how do you secure a regular teaching position at a yoga studio?
With a killer yoga teacher resume (aka your yoga CV)!
Handing a studio owner your professional resume can set you miles apart from other teachers at your yoga audition.
I can speak from experience – I am a graphic designer and yoga teacher. I've had several studio owners comment and ask about my resume: "wow, your resume is so professional!" and, "I've never seen a yoga instructor resume like this before!" and so on.
Why?
Because I took the time to make it easy to read, provided valuable information about myself, and used design techniques to make a beautiful document.
In this guide you will find:
Required sections for every yoga resume
Are pictures required for yoga resumes?
5 tips to ensure a perfect yoga resume
My EXACT yoga resume template I used to secure my first couple teaching gigs
PROTIP: While having a resume is a smart move.. a resume alone doesn't cut it. Resumes don't replace having a website. Yoga teachers still need a website 🙂
FREE Download: Beginners Guide to Creating a Yoga Website you Love.
What sections are required on a yoga resume?
I'm going to cover the standard yoga resume format. Make sure you include each of the following sections…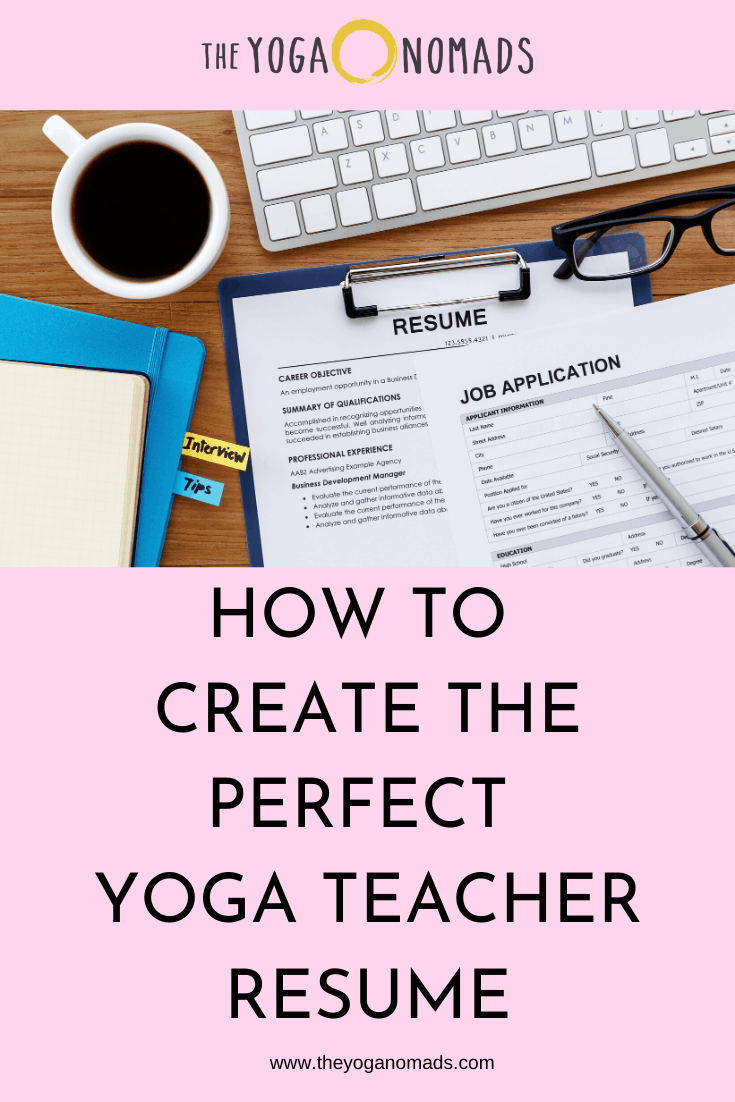 Pin me first! Then finish reading 🙂
Mission Statement
Include this at the top of your resume if space permits. One or two sentences that describe who you are, what you do, and what you want to do. Make it simple, unique, and please make it authentic.
Example A:

As a yoga instructor, I strive to help beginner yogis feel comfortable in their practice, learn essential postures, and ensure a safe practice for everyone.
Example B: Combining the principles of massage therapy with yoga, I aim to provide yoga students with clear alignment instruction, comforting hands-on adjustments, and an inviting yoga practice.
Take time to think of why you want to teach, what your classes will offer, and why a studio should want to include you on their team. Let your personality shine!

Education and Training
Studio owners want to see that you're qualified to teach: your Yoga Alliance certification, how many hours you have completed, and where you trained.
List this in a logical order:
200-Hour Registered Yoga Teacher
YogaWorks
Denver, Colorado, 2013
Studio owners can scan this block of text in about 3 seconds. The bold first line helps call out the most important information.
Additional Education: Have you done any workshops or extra training that relates to teaching? If so, list it underneath your main education in the same format. This includes CPR and First-Aid training. Do you specialize in physical therapy, psychology, or anatomy? List it!
List your formal education here as well. If you have an Associate's or Bachelor's Degree, it shows that you are well-rounded. List these in the same format that you used for your yoga training so it's easily scannable.

Experience
I know, I know, how does a new yoga teacher gain teaching experience when every studio wants an experienced yoga teacher?! Keep applying to many studios and you'll find a place to teach. I promise.
In the meantime, create your own experience. Hold free classes in the park or public spaces for family, friends, and co-workers. I once taught a class in a park for my friend's bachelorette party. It was the beginning of the day and everyone loved starting the day with a little bit of moving and breathing! Every single class you teach is wonderful experience to add to your resume.
How to list your experience: the same way you listed your education.
Example #1:
Vinyasa Yoga Instructor
March 2013 – Present
City Center Yoga Studio, Denver, Colorado
Example #2:
Private Yoga Instructor
April 2013
City Park, Denver, Colorado
Be sure to put your yoga instructor job description on your resume as well. List bullet points that demonstrate your experience in a positive light. Focus on quantifiable achievements if possible.
For example:
Taught over 100+ classes with an average class size of 12
Received "best new teacher" award from studio XYZ
After your yoga experience, list other work experience. Choose your most recent or current job. Customer service skills (people skills) are a huge plus for yoga instructors. If you have experience working as a barista, in a retail store, etc. put it on your resume! This shows you are able to adapt to working in many scenarios with a lot of different people.

Contact Information
One of the biggest resume mistakes is not making contact information easily accessible (or forgetting it altogether).
If you want a studio owner to call you or email you after your audition, make your information easy to see and read.
Put your contact information in a column on the left side of your resume, or somewhere on the top or bottom.
Here's an example from my own resume: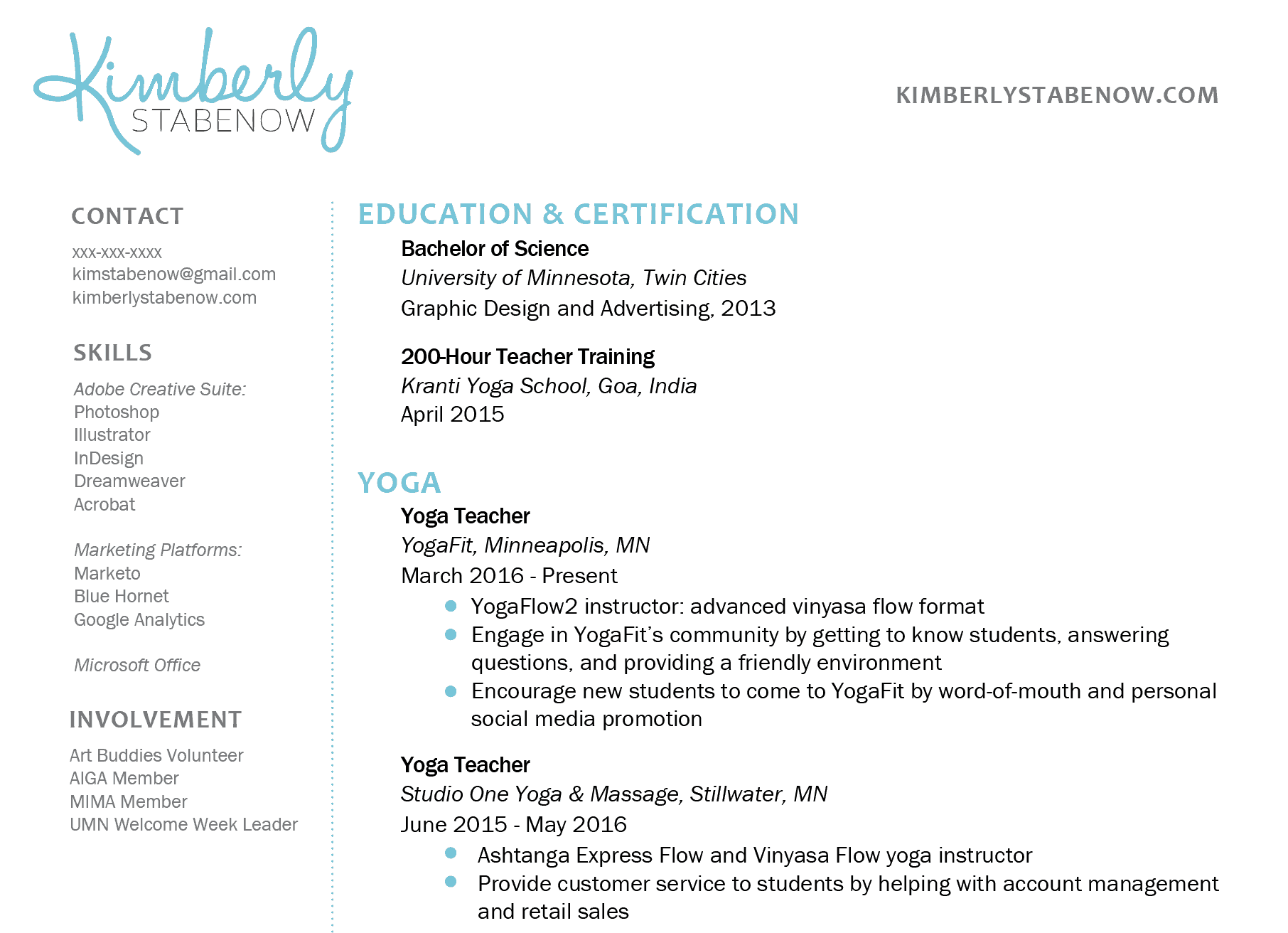 Include the following forms of contact information (and nothing more)
*Leave your address off – this takes up extra space, no one will mail you anything, and could possibly be a security risk if your resume gets into the wrong hands.

Do you need a photo on your yoga teacher resume?
Not necessarily! If you have a professional photo that resonates with your yoga brand and personality, feel free to include it on the top left or right of your resume. Stay away from selfies and low-quality images.
Protip: Leave photos off your resume. They take up space, can be hard to print, and sometimes give an unprofessional feel. Plus, your yoga teacher website should include enough photos for a studio owner to recognize you.

5 Tips to Crafting the Perfect Yoga Resume
Following these five tips alone will set you apart from the rest!
1) Consider organization and hierarchy when designing your resume.
The most important goal for your resume is to provide clear, easy-to-read information about yourself. Someone reading your resume should be able to do so within a few minutes.
Use hierarchy:

What do you want to make sure people see first when they look at your resume? Creating a sense of hierarchy in your resume (like bolding your headers) helps certain information pop off the page before the details.

Organization:

Use headers, sub-headers, and body text in a logical way. Group sections by relevance and importance (put all experience in the same section). Bold each section header or use a font that's slightly larger.
Example: See how 'Yoga' is pulled out in larger, colored text. The next most important thing is the experience title, or 'Yoga Teacher' in this case. From there, the information is organized so the reader can scan this and understand what the position entails.


2) Use ample white space between sections so your resume is very scannable.
White space puts readers at ease and draws their eyes to the important parts of your resume.
3) Don't overdo it with colors
Black, white, and 1-2 colors max. Preferably the same colors you use on your yoga teacher website and logo. Don't assume everyone will view your resume on a screen or print it from a color printer. If you make text light blue, test how it looks when printed in black and white.

4) Keep your resume to one page
If this sounds impossible, I promise it's not. Download my free yoga instructor resume sample to show you how creative layouts help save space on your resume.

5) Choose fonts that are professional and easy to read
If you want to use a unique font, do so for your headers only. If someone cannot read your resume, they won't hire you.
Example of a Yoga Teacher Resume
Here is an example of a yoga teacher resume I created for myself. You can see how the colors are minimal, there is plenty of white space, and the content is organized. Start with this yoga resume sample as a guideline then feel free to modify it to your liking.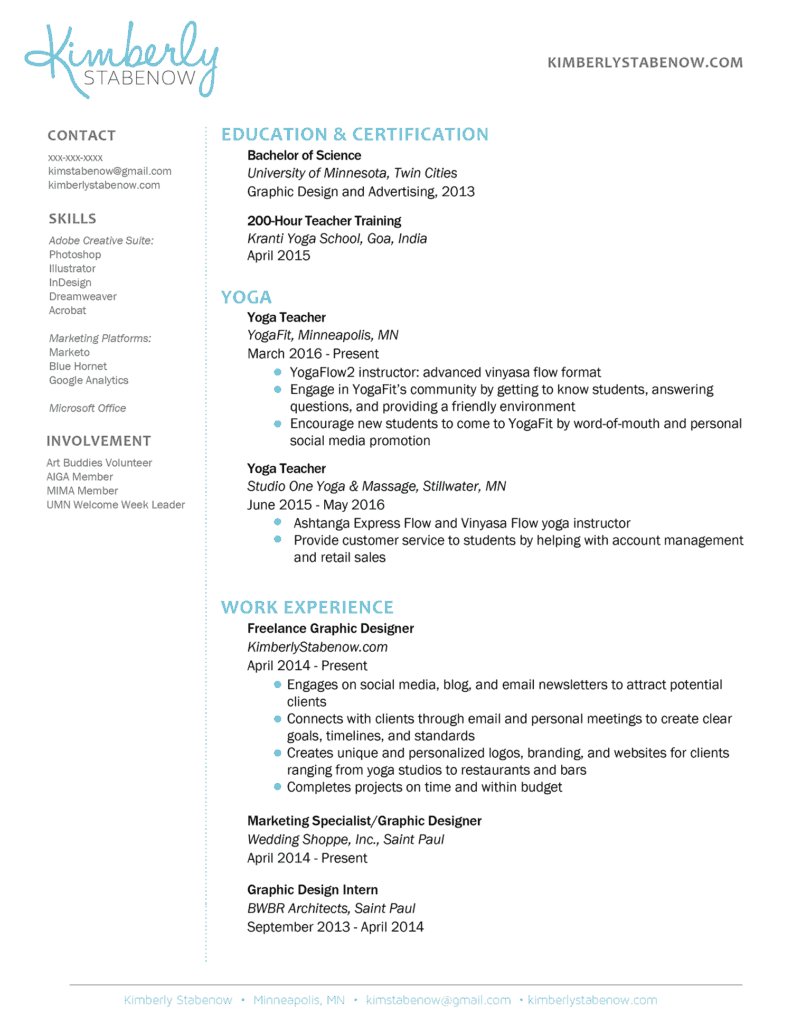 Go ahead and get started on your yoga instructor resume. Remember, the most important thing is to show studio owners/managers that you are qualified to teach for them. Display your information logically, make it easy to read, and make sure a little bit of your personality shines through.
We're offering this free download so yoga teachers like yourself can understand what it takes to create a website of your own! The guide is free and you can instantly download it to your computer. Join hundreds of other yoga teachers who already downloaded the guide!
Do you use Pinterest? Pin me 🙂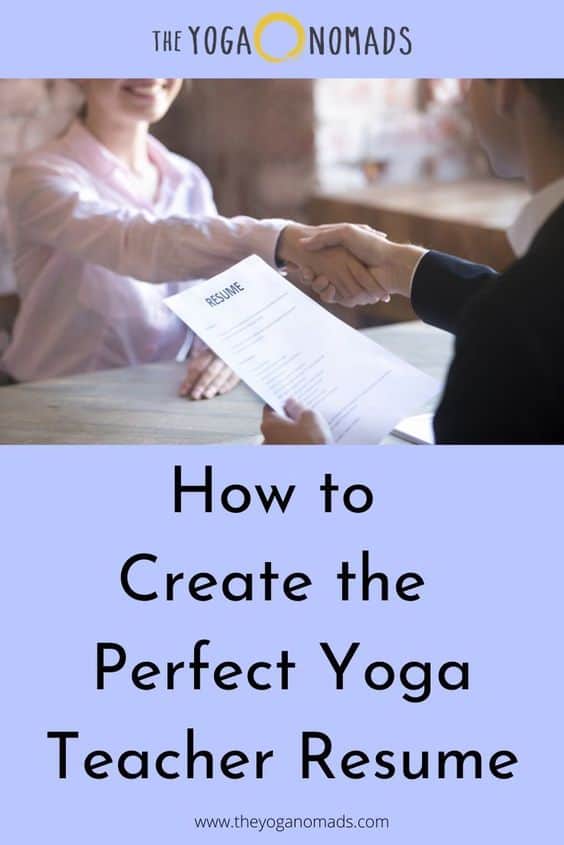 Love + light,
Kim