Like many people, I've always thought surfing looked cool, and hoped one day I could give it a try.
After discovering Sri Lanka is an excellent place to learn how to surf, we decided to spend some time in Weligama where the surfing was supposed to be good for beginners.
In April of 2014, we spent 5 days in Weligama, Sri Lanka surfing 1-2 times per day.
(Assuming you surfed 4 times in a 3-day period, you would have spent $7.69 USD in total. This breaks down to four 1-hour board rentals @ $1.92 USD per session)
We were surprised how quickly we learned and how cheap it was to rent a board.
Obligatory safety reminder: Surfing can be dangerous whether it's your first time in the water or you're a professional. If you're unsure about it, take a lesson your first time so you can learn the basics in a safe environment.
Also, we always travel with travel insurance which covers any accident you have on the road including surfing. World Nomads offers travel insurance.
In this guide, you will learn
What to wear while surfing
What board to choose
How much board rental and lessons cost
Why Sri Lanka (Weligama) is the perfect place to learn how to surf
Where to stay in Weligama
What to wear while surfing?
Guys – Swim trunks and a tight fitting long sleeve shirt. Tight fitting to prevent scratches on your chest, long sleeves to protect you from the sun. If the water is cold, add a wet or dry suit.
Girls – Swim suit, long sleeve tight fitting surf shirt, and tight shorts. Tight fitting to prevent scratches on your chest, long sleeves to protect you from the sun. If the water is cold, add a wet or dry suit.
Which board do I choose?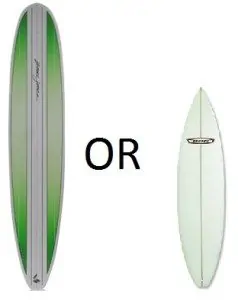 Make sure the surf rental shop as "soft boards" for you to rent. These are long boards (8'2'') and are made from a softer material which means they provide more stability, and give you more time to pop up before you nose dive. They also restrict speed and mobility which is a good thing when learning.
As you start to gain confidence and consistently catch waves before they break move to a normal hard board that's 8'2'' long. Then slowly downsize your board by 6" intervals until you're Kelly Slater.
Surfing in Weligama: Board rental and surf lessons
Cost to rent a board
1-hour board rental costs 250 LKR per hour ($1.85 USD) in Weligama. 1-hour sessions are plenty as you will be exhausted from paddling. It's common to surf 2x per day, once in the morning (7-8AM) and once in the evening (5-6PM). The waves are considerably better during these times, and the sun is not as strong so you won't get as sun burned.
Cost of Surf lessons
In Weligama, prices range from 1000-3000 LKR per hour ($7-23 USD per hour). The best deal we found was 1,500 LKR for an hour lesson for 2 people (less than $6 USD/person. You share the instructor's attention but save money in the process. Lessons typically start with 10-15mins of dry land training – learning to paddle and pop up, followed by 45-50mins in the water.
Make sure you shop around and bargain for a good rate.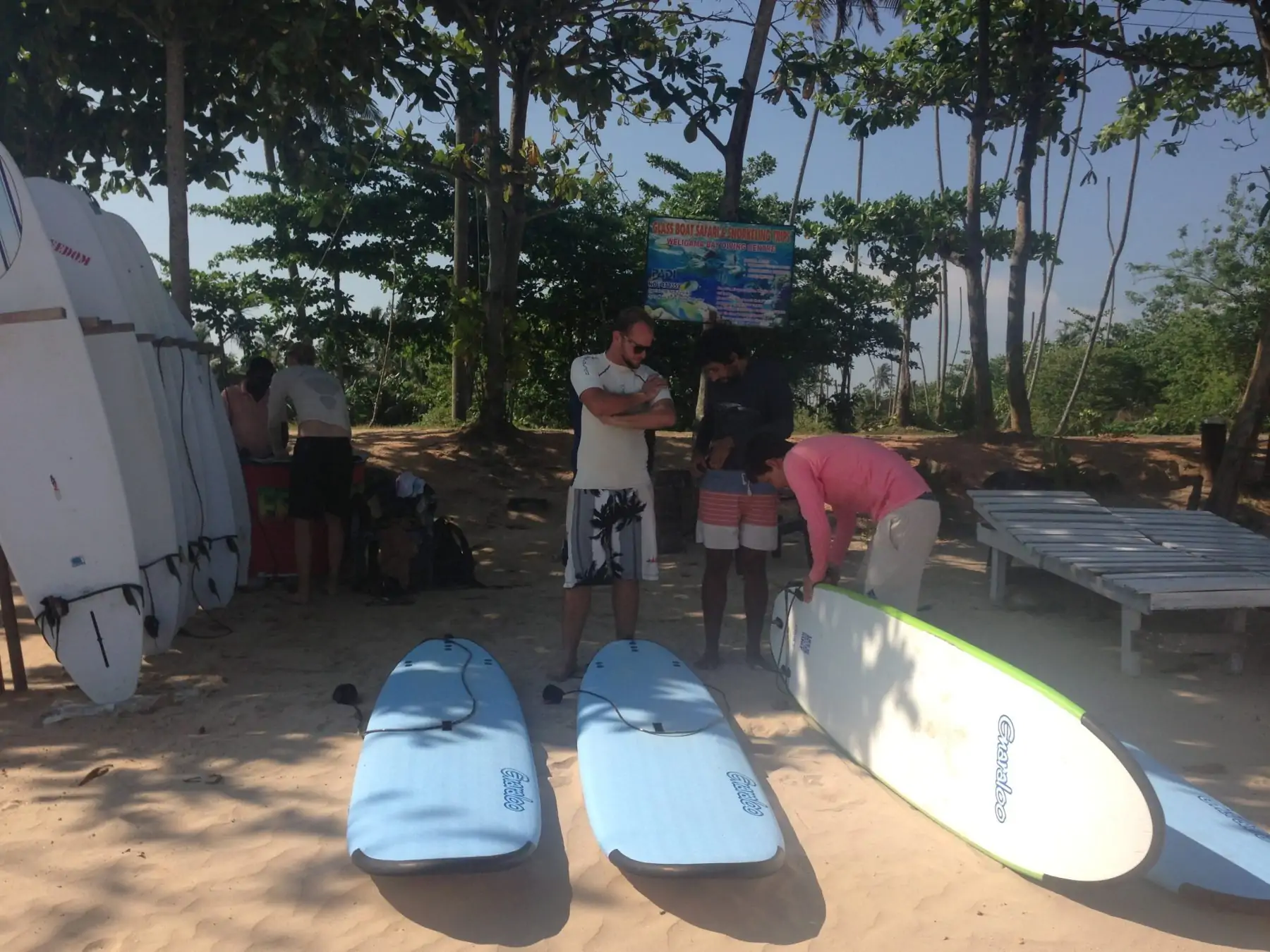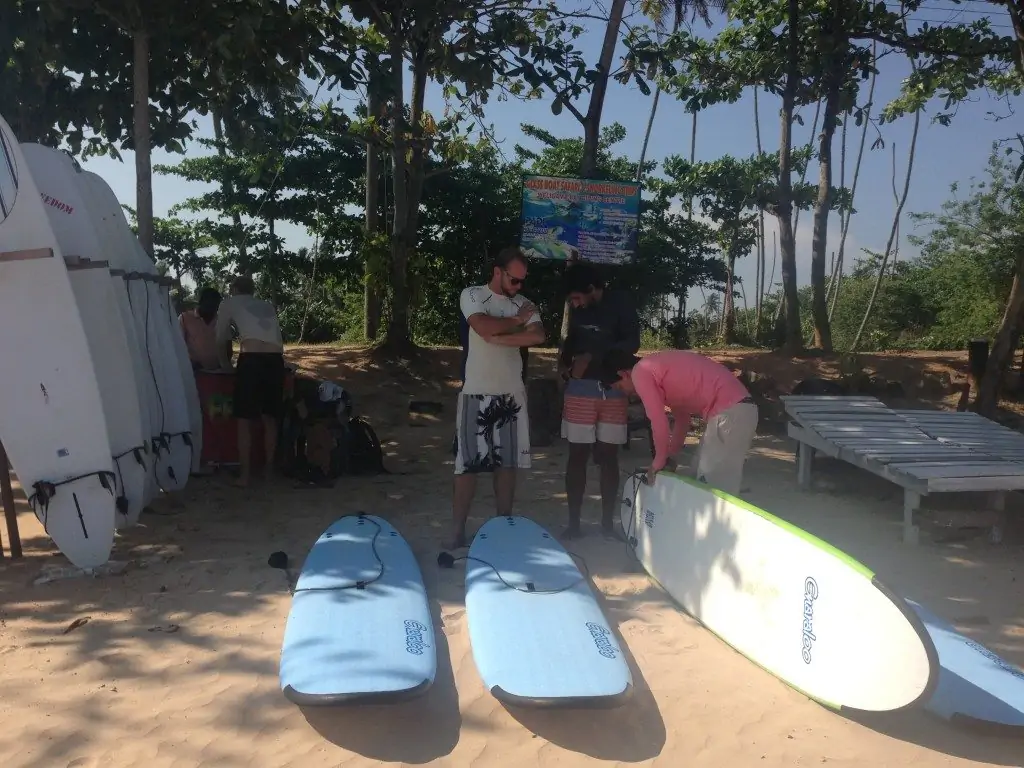 What to expect during your first surf lesson
You will start learning to pop up in the "white water" which is the rushing remnants of the wave after it has broken. The instructor may push your board so you can forgo timing/paddling and focus on standing up. Most instructors seemed super cool and usually got their students to stand during the first lesson. As always, shop around until you find an instructor you WANT to learn from. There were 15+ surf schools on Weligama beach.
Our #1 Weligama surf school recommendation is The Surfer Weligama.
Should you take surf lessons?
This will be a matter of personal preference. When trying new things, I usually prefer to try on my own first and make tons of mistakes. Then if I decide to take lessons I will already have a feel for what the instructor is teaching.
In this case, neither Anne nor I took any lessons and never felt the need. A few youtube videos and a handful of brief conversations with other surfers were sufficient. Both Anne and I stood up during our first hour. By the 3rd hour I was averaging 3-5 of the 'big waves' before they broke per hour. In this case "big waves" were 3-5 feet.
Read: Water Trader's beginners surfing guide
Watch: Drew Taylor's beginners guide to surfing (8mins)
Not all waves are created equal – where do I begin?
If you are a beginner like I am, beach breaks are your only option. Intermediate surfers will tackle "reef breaks" and "point breaks."

Here is my (amateur) explanation of each type of surf…
Beach Breaks
The waves are created from a transition from deep water to shallow sandy bottoms. This means the area where you surf is made of sand and when you fall you won't cut your feet or face on coral.
Reef Breaks
The waves are created by the transition from deep water to shallow coral reefs/rocks. This means the area you surf has coral reefs on the bottom so you must wear special shoes and avoid the bottom at all costs. You must be an intermediate surfer before attempting Reef Breaks. Must be able to paddle strong, avoid getting dumped, and fall properly so you don't hurt yourself.
Point Breaks
The waves are created by the transition from deep water to a point of land or rocks jutting out from the coastline. Must be an intermediate surfer before tackling point breaks.
Pin me first? Then keep reading! 🙂
Sri Lanka is the perfect place for beginners!
Sri Lanka has many breaks and Weligama surfing is perfect for beginners!
Remember "beach breaks?" The are the only type of surf suitable for beginners. Surprisingly, they are not as common as you'd think. Since they are not common, beginner spots are typically really crowded.
When you think surfing… Hawaii or Australia probably come to mind. Makes sense, they are notorious for big waves and a booming surf culture. Big waves and a booming surf culture are NOT ideal conditions to learn.
After spending 5 days learning to surf in Sri Lanka – Weligama is the perfect place to learn.
What makes Weligama the perfect place to learn?
Beach breaks that produce consistent 3-5 foot waves
Inexpensive accommodation, surf board rental, and lessons
Water is warm all year round! (no need for a wetsuit)
Not very crowded allowing you more waves (and more space to look silly)
The city of Weligama is located Southern Coast of Sri Lanka – 4-6 hours by train/bus from Colombo and only an a hour from Galle.
Most people surf the main beach, there will be some beginners and intermediate surfers in the water all day. 7AM and 5PM are the most crowded times, but also the best waves.
Sri Lanka surf school options are endless but I found Weligama schools to be more relaxed and welcoming to beginners.
Where else can you surf in Sri Lanka?
Hikkaduwa

– beach breaks with mostly sand bottoms (occasional rocks)

Arugam Bay

– top 10 surf spot in the world, mostly reef, not for beginners
Beginner friendly surf spots around the world
Playa Maderas, Nicaragua
Baler, Philippines
Byron Bay, Australia
Kuta, Lombok, Indonesia
Tamarindo, Costa Rica
Cherating, Malaysia
Muizenberg, South Africa
Where to eat in Weligama:
Beach restaurants are plentiful however extremely over priced, 300-500 LKR ($2-4 USD) for very simple veg meals, 150-300 LKR ($1-2 USD) for fresh fruit juice and 700-1500 ($5-11 USD) for seafood.
I recommend eating in town if you want to save money. Rice and curry for 80 LKR ($.60 USD), veg roti for 40 ($.30 USD), kottu for 100 LKR. ($.75 USD)
*Don't miss our Sri Lankan food guide
Don't forget Mirissa Beach!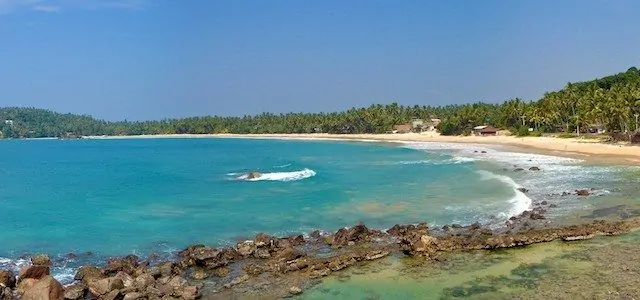 Mirissa is actually a much better beach about 5km away from We\ligama. Mirissa surf school options are limited because it's not as beginner friendly.
However it's a nice place to spend the day, has nice restaurants and a better nightlife. You can get a nice seafood dinner on the beach and find live music or DJ parties every night. Many people take the 30 LKR ($.25 USD) bus to and from. Otherwise rickshaws will set you back 300 LKR ($2.25 USD).
Where to stay in Weligama
Weligama has tons of options for accommodation and everyone's budget can be met. We spent 10 days in the area and absolutely loved it! Great vibe for beginner surfers and when you're not chasing waves the town is a great place to soak up Sri Lankan culture.
Budget accommodations in Weligama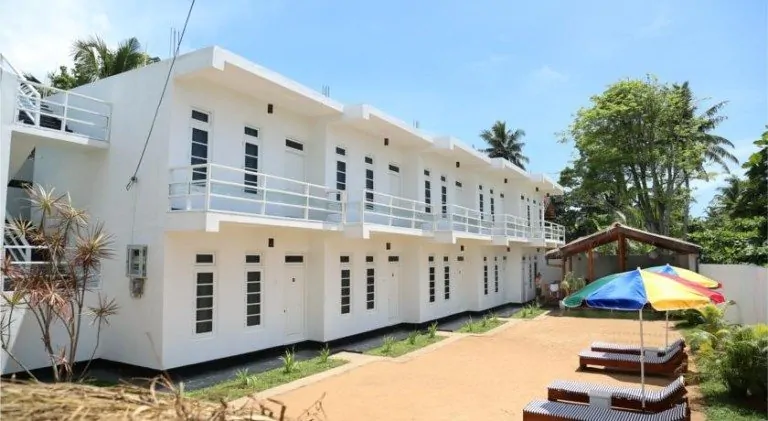 I recommend staying at a surf camp called The Surfer Weligama ($25 for a double). It's located on the beach right next to the waves, good value, clean, and modern design. The instructors are professionals and will make sure you learn fast. Rated 9.3/10 on booking.com. The Surfer has become quite popular and is often booked up a month in advance, I recommend booking as early as you can.
The surf camp is owned by a 24 year old Sri Lankan surfer named Lahiru. I can't say enough good things about Lahiru!
*If The Surfer Weligama is booked up, you can find a few other options here.
High end accommodations in Weligama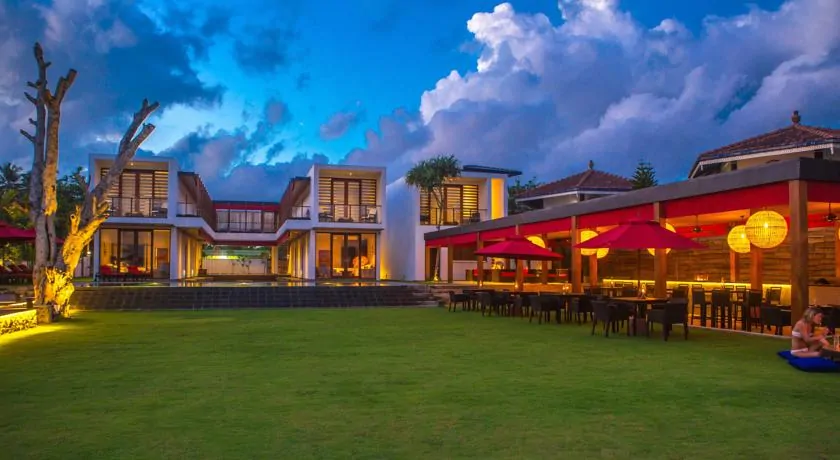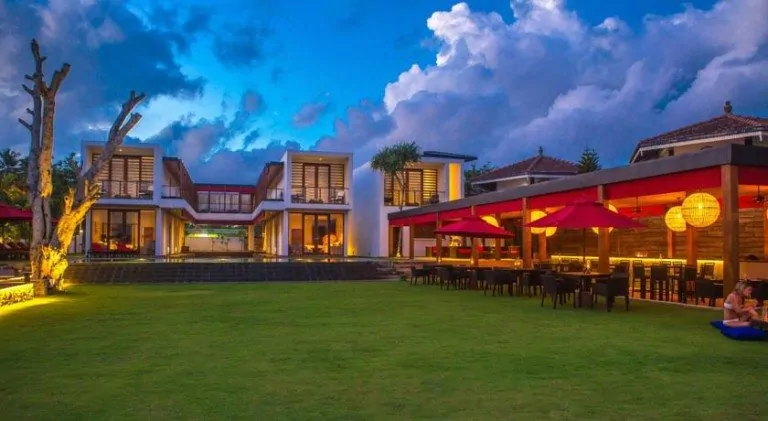 If you're not traveling on a backpacker budget, I recommend W15 resort ($135 for a double). It has a super modern design, outdoor pool, full amenities, great restaurant/bar, and air conditioning (needed during warm months). It's located on the beach, walking distance from the surf spots. Rated 9.4/10 on booking.com. W15 fills up far in advance, book early.
*If for some reason you're not feeling the modern-chic vibe, Eraeliya Villas & Gardens is a more traditional Sri Lankan Villa style accommodations. Your rooms are nested into a beautiful garden on the beach and offer a sea view. Onsite pool. full amenities.
Best time to surf Weligama?
November until April. Starting in April/May the rainy season begins and surf conditions aren't great. However, we surfed the middle of April and had no problems with the Weligama surf or weather.
If you're still in Sri Lanka in May, head to the east coast as it's still dry there and the surf is picking up. See: Arugom Bay for a top 10 surf destination in the world. However, there is only 1 beach break for beginners and it's always crowded. Save this surf mecca for when you can comfortably surf reef breaks.
Would I ever surf again?
Surfing Weligama will be an experience I never forget. It's safe to say I'm addicted. The feeling of catching my first proper wave is something I will never forget. I've been on the look out for future surf spots and plan to continuing practicing in Indonesia, Vietnam, Costa Rica, Nicaragua, and the Philippines.
What else is there to do in Sri Lanka?
Climbing Adam's peak (Sri Pada) is challenging however the view is worth the effort!
Volunteering with elephants is popular – make sure to select a responsible organization!
Exploring the tea plantations found in the highlands region near Ella
Whale watching near Mirissa
Trekking through one of the many national parks (Horton, Yala, Sinharaja, etc)
PS: Did you enjoy this article? Pin me! 🙂