From Hindu cities to remote mountaintop Buddhist monasteries, spirituality can be found all over the world. Here's a roundup of five stunning sacred places worth visiting. Regardless of your religious beliefs or spiritual views, it can be an inspiring traveling experience or time to simply to recharge your batteries.
Angkor Wat (Siem Riep, Cambodia)
Image credit:
http://commons.wikimedia.org/
Angkor Wat, thought to be the largest religious structure in the world, is unlike anywhere you've visited before. It's Cambodia's most iconic temple, and there's something almost transcendental about the impressive monument. It's an architectural representation of Mt. Meru, the abode of ancient Hindu gods (quite literally, heaven on earth). It's no wonder Angkor Wat is the national symbol of Cambodia, with its impressive moat, imposing grandeur and exquisite wall carvings.
Bagan, Myanmar (Burma)
Image credit:
http://www.cruise.co.uk/
When it comes to spirituality, Myanmar (previously Burma) is a must see travel destination. The highlight of this spectacular country is the temple town of Bagan, where around 2,000 orange-gold monuments contrast with 26 square miles of lush green plains, against a stunning mountainous backdrop. The temples Ananda, Dhammayangyi and Shwezigon are some of the most impressive, but visitors should set aside plenty of time to explore the spirituality and beauty this place has to offer. Myanmar
Varanasi, India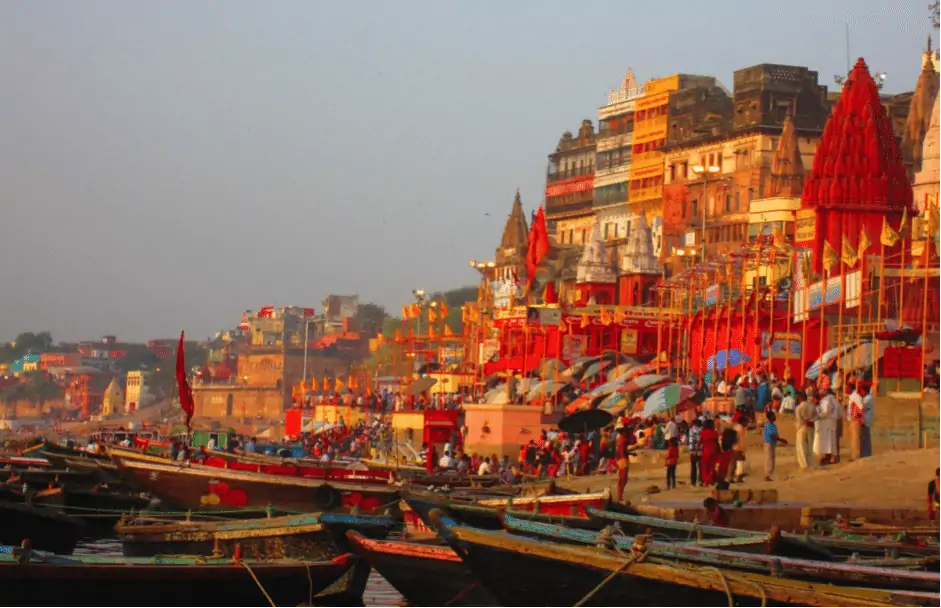 Image credit:
http://www.travelhousekerala.com/
Famous for its color, culture and unremitting chaos, Varanasi is India's holiest city and one of the oldest in the world. Narrow streets and bazaars lead to various ghats facing on to the sacred river Ganges, and mismatched temples dot the waterways and alleys. It's stark and unafraid in its amalgamation of perhaps the best and worst aspects of India, so arrive at this city with an open mind; if you allow it, Varanasi will change your life.
*Photo Essay: 25 yoga poses around India
Borobudur, Indonesia
Image credit:
http://www.1dasia.com/
One of the greatest monuments in the world, Borobudur is a spectacular Mahayana Buddhist temple covering around 200 square meters, made from over 1.5 million building blocks. It's an unbelievable sight, and the lush tropical surroundings make it all the more breathtaking; particularly at sunrise. The colossal monument was created to mimic a Buddhist vision of the cosmos, and it's not just the size of the temple which is so impressive – the detailed sculptures and carvings and delicate panel depictions of Buddhist doctrines are utterly awe-inspiring.
*Check out our Yoga Nomads Guide to Ubud (Bali) – another top spiritual destination.
Emei Shan, China
Image credit:
http://www.chinaexploration.com/
Located in southern Sichuan, Emei Shan is one of the four most famous Buddhist mountains in China. Near its summit, the remains of a temple marks Buddhism's arrival in the Eastern World. A must-visit for those looking to get away from the usual heat of Sichuan, panoramic views of rolling Himalayan mountains forms the unbelievable setting for this misty, cloud-kissing temple retreat. What's more, visitors are also able to spend the night in one of the monasteries, where you'll be able to witness the dreamlike 'Buddha's Halo' – the diffuse reflection and diffraction of morning light in the mist – first hand.
What did we miss?
PS: Did you enjoy this article? Pin me!