Driving traffic to your yoga website is a top priority when growing your business.
After all, what good does a beautiful yoga website do if no one sees it but you and your mom? (If you don't have a website – or you don't have a website that you're really proud of – click here to learn how to create one).
Increasing traffic to your website is key to growing your online yoga business. In this blog, you'll learn exactly how to increase your traffic so that potential clients, customers, and students are always visiting your site.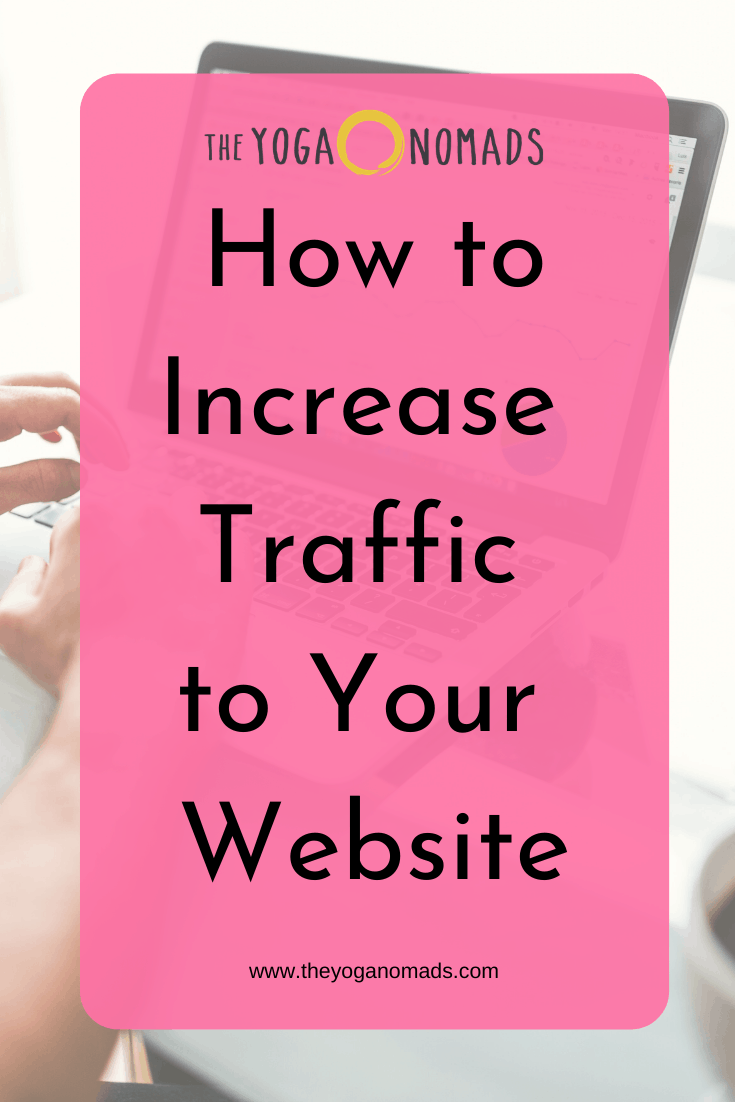 Pin me first? Then keep reading!
One of the most important parts of using social media for your business is clarifying your goals. When you have crystal clear goals, your social media strategy becomes easier. You can learn more about social media strategy and goals in this blog, Should You Use YouTube For Your Yoga Business?
Having a good understanding of using social media for your business, will help organically increase traffic to your website, too.
Be sure to include a link tree in your Instagram bio with clear links. When you promote your website and it's content, you'll use call-to-actions (CTA) such as "click the link in my bio to learn more."
For platforms like Twitter and Facebook where you can insert clickable links in posts, take advantage of this feature and link to your website regularly! It doesn't need to be (and shouldn't be, I would say) every single post. But figure out a schedule of what "regularly" means to you and stick with it to send a steady stream of traffic to your website.
Use paid advertising to increase traffic to your website
Paid social media and search advertising can be a great compliment to your organic efforts if you have the resources to invest in it. This could look like running ads on Facebook, Twitter, Instagram, Pinterest, YouTube, and Google.
Whatever platform you use, you'll need to make sure that you choose "traffic" as the goal of your advertisements so the platform can optimize for visits to your website. Want to learn more about running ads? Facebook is a great place to start thanks to its vast amount of users and ownership of Instagram, meaning you can run ads on both Instagram and Facebook from Facebook. Click here to learn how to use Facebook ads to grow your business.
Use SEO to increase traffic to your website
SEO stands for search engine optimization and you can use it to help your website show up in organic searches.
SEO can seem complex, but you can get started by optimizing your headlines, content, and descriptions with long-tail keywords. Use the Google Keyword Planner to discover the keywords you should be using — aka, what people are searching that's relevant to your content.
From there, you can weave those keywords throughout the text of your site. You can do this for your website in general (where you might use keywords like "Philly yoga teacher") and for each piece of blog content you write (where things will get much more specific).
Make sure your website is responsive and fast to increase traffic to your website
Google wants to send traffic to websites that are responsive and fast. This will help increase your SEO ranking for organic search!
Some simple ways to make your website load faster are:
Remove large images

Move to a faster hosting provider

Explore these speed tools from Google
Read more on what being responsive means in website land: Responsive Website Design
Use Pinterest to increase traffic to your website
Why is Pinterest in a separate category from social media? Well, because it's not a social media platform, even though most people think it is. Pinterest is actually a search engine that may just be full of your ideal customers or clients, and you want to treat it as such! The depth and reach you can attain with Pinterest is vast, and will compliment Google nicely.
Click here to learn how to optimize your Pinterest profile and pins for traffic to your website.
Have a newsletter? Use it to direct folks back to your website to read content, make purchases, and engage with what you have to say. Email newsletters are the key to engaging with your core audience. Newsletters can be incredibly powerful for your success in your yoga business!
Try linking your latest blog post or to a product you're selling. Even ask for feedback for what they want to hear about! The opportunities to drive traffic back to your website are huge with your newsletter!
Read more: Why Every Yoga Teacher Needs an Email Newsletter
Collaborate with others to increase traffic to your website
In today's world, there are so many beautiful opportunities to collaborate with folks who are aligned (and whose audiences are aligned) with you and what you do. I recommend reaching out to folks to be on their podcasts and to do some guest blogging!
A caveat here– don't just send form letters to a bunch of folks! Reach out to people whose work you genuinely know and love, and send a heartfelt message to them telling them why you love their work, why you'd like to do a guest blog/be interviewed on their podcast, and what you'd like to share that you feel would be relevant.
Use more traditional marketing to increase traffic to your website
This is ideal if you're a local business. If you do some work online, some work in-person this works great as well! Here are some simple ways to work with more traditional marketing to drive traffic to your site:
Post flyers in your neighborhood

Put your business cards out at local coffee shops, stores, and healing centers

Teach local events (and pass out your business cards or tell people about your website while you're there!)
Choose one or two of these ideas to get started without overwhelming yourself and comment below to share what you'll be trying!
PS: Did you enjoy this article? Pin me!