There are many spiritual symbols that have been used for centuries in various cultures around the world. However, very few are as ancient or widely used as the Hamsa Hand.
But what exactly does the Hamsa hand represent, and why should you use it? This well-known emblem has universal symbolism and is used in many cultures and religions. Read on to discover the Hamsa hand meaning, its origin, and ways to use it.
What Is The Hamsa Hand Meaning?
The Hamsa Hand is a universal symbol of protection. It is believed to protect the wearer against the evil eye curse and any bad luck or negative energy. It is also said to bring happiness, health, and good fortune and represents blessings, power, and strength.
The symbol consists of an open right hand with five fingers and an evil eye in the palm (usually blue to represent good luck or good karma). The first and last fingers spread outwards to resist evil, with the other three fingers pointing upwards. There are also usually numerous lines and spirals, creating a decorative element on the fingers and palms.
The fingers/hand can face up or down. Some people believe if the hand points upwards, it gives stronger invocation for protection against the evil eye, negativity of others, and own insecurities and thought patterns that can cause harm. Meanwhile, a downward-facing hand increases the attraction powers of abundance, good luck, and manifestation.
Interestingly, the Hamsa symbol can be found in several major religions. The symbolization differs between cultures but is commonly linked to a feminine power/deity. Let's look at what the Hamsa hand represents in the different religions.
Hamsa Hand Meaning In Jewish Culture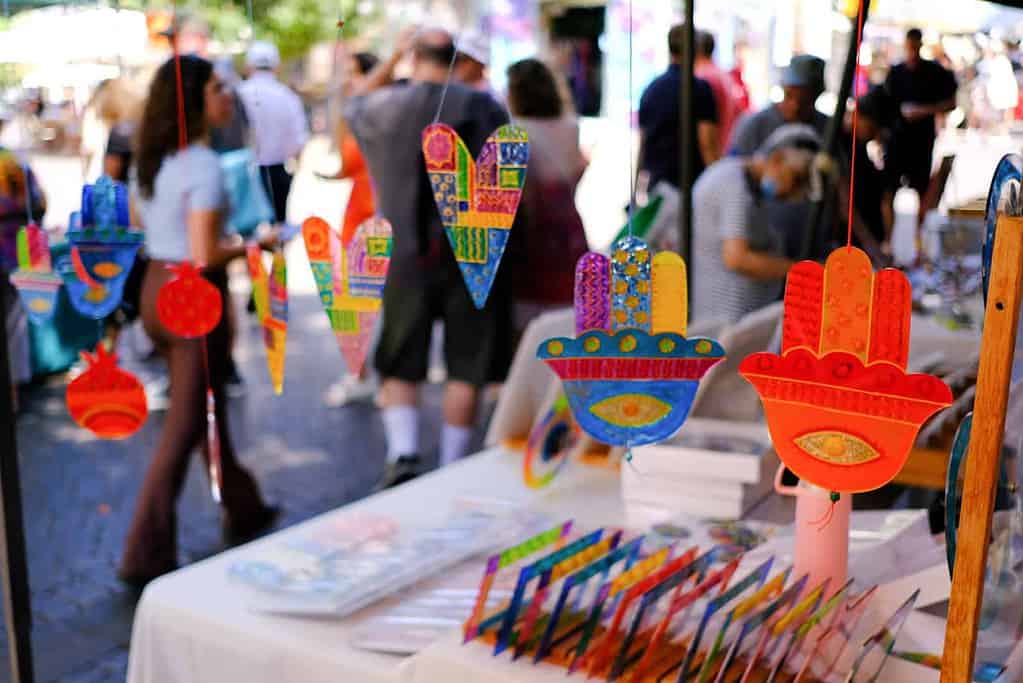 In the Jewish faith, the Hamsa hand is called "the hand of Miriam" because it symbolizes the sister of Moses and Aaron. In addition, many Jews believe the five fingers represent the five senses required to praise god.
In Judaism, a Hamsa prayer is also associated with the symbol. The translation from Hebrew to English is as follows.
"Let no sadness come to this heart.
Let no trouble come to these arms.
Let no conflict come to these eyes.
Let my soul be filled with the blessing of joy and peace."
Hamsa Hand Meaning In Islamic Faith
In Muslim culture, the Hamsa hand is commonly known as the Hand of Fatima (or the woman's holy hand), as it symbolizes the daughter of the Prophet Mohammed. Fatima represents fidelity, faithfulness, and the ability to endure suffering.
In some Islam traditions, the Hamsa Hand is known as Khamsa, the Arabic word for five. The fingers represent the five pillars or beliefs of Islam; faith, prayer, alms, fasting, and pilgrimage.
Hamsa Hand Meaning In Christianity
In Christianity, the Hamsa Hand represents the virgin Mary, the mother of Jesus Christ, and is known as the Hand of Mary. It can be used to invoke her protective powers, but many Christians have mixed feelings about wearing this symbol. As it is used in many opposing religions, most Christians prefer to wear the cross instead of the Hamsa hand.
Hamsa Hand Meaning In Hinduism
The Hamsa symbol also has significance in Hinduism, linking to the energy flow in the body. The five fingers represent five chakras (the first five energy centers of the seven-chakra system) and the five elements. The representation is believed to be as follows:
Pinkie – Sacral Chakra/Water element
Ring Finger – Root Chakra/Earth element
Middle Finger – Throat Chakra/ Space element
Forefinger – Heart Chakra/ Air element
Thumb – Solar Plexus chakra/ Fire element
Where Does The Hamsa Hand Symbol Come From?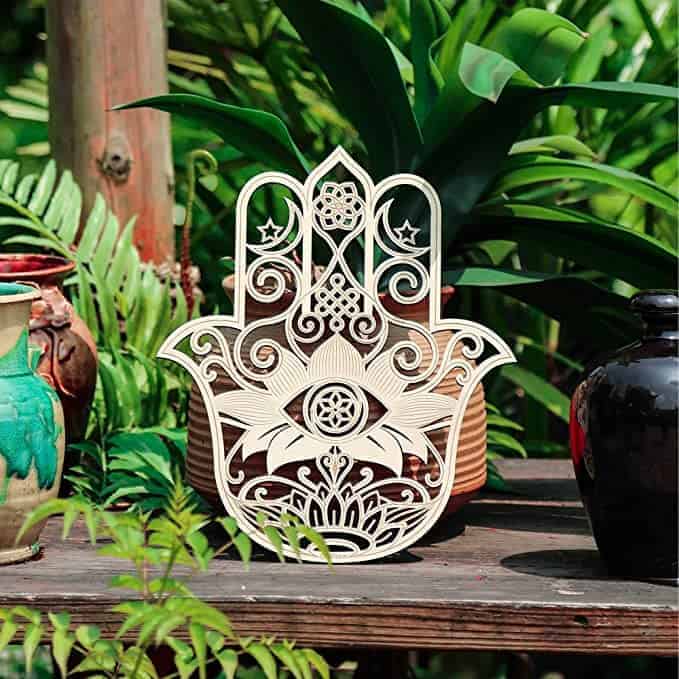 The word Hamsa originates from the Hebrew word "Hamesh," which translates to the number five. This is why the symbol consists of a hand with five fingers.
The Hamsa Hand symbol was discovered in artifacts from ancient Mesopotamia, a historical region of Western Asia. However, it was also commonly seen across the middle east, such as in Tunisia and Palestine.
Some legends say the Hamsa Hand was a protective symbol for Middle Eastern goddesses. Moreover, ancient Egyptians used the emblem to invoke the protective spirits of parents (Isis and Osiris) over their children.
The symbol was also famous in ancient Greece and was known as the Hand of Venus. Here, it was used predominantly to protect women from the evil eye, boost fertility, and promote healthy births.
Is It Ok To Wear The Hamsa Symbol?
As the Hamsa hand is used as an amulet, you'll find people wearing this symbol worldwide. It is a universal sign of protection and is not associated with one religion only, so anyone can wear the Hamsa hand.
You don't have to follow any of the above religions to wear a Hamsa pendant or bracelet. However, some may say it can be culturally insensitive to wear this symbol without knowing what it represents.
I believe it is fine to wear Hamsa hand jewelry, provided you are wearing it with intention rather than purely as a fashion accessory. For example, wearing the Hamsa hand symbol is a fab idea if you seek protection, want to ward off negative energies, or boost your prosperity or luck.
Hamsa Jewelry – Our Top Picks
You can find various types of Hamsa hand jewelry, from pendants to bracelets to earrings. The designs and quality can vary significantly, and the vast selection can be overwhelming. Thus, here are our favorite Hamsa hand jewelry pieces.
This stunning sterling silver Hamsa Necklace has a feminine and elegant design with small silver-colored gems and a blue gem representing the evil eye in the palm. The pendant and chain are lead-free, nickel-free, and anti-allergy, and it comes with a gift box and polishing cloth.
The Hamsa pendant measures 25 x 18mm and is connected to an 18+2-inch thin chain. Because of its dainty size and minimalistic design, this necklace is perfect for everyday wear. However, as the chain is delicate and can break easily, it should not be used for sleeping or exercise.
This simple Hamsa hand pendant is made from Black Obsidian, a protective crystal known to draw out negative energy and shield you from evil powers. The crystal's properties combined with the Hamsa symbolization make this necklace ideal for anyone seeking protection and is perfect for use during traveling.
The Hamsa pendant comes on either a simple black cord or a black stainless steel chain. The necklace is unisex, but as it has a masculine design, it is best suited to men.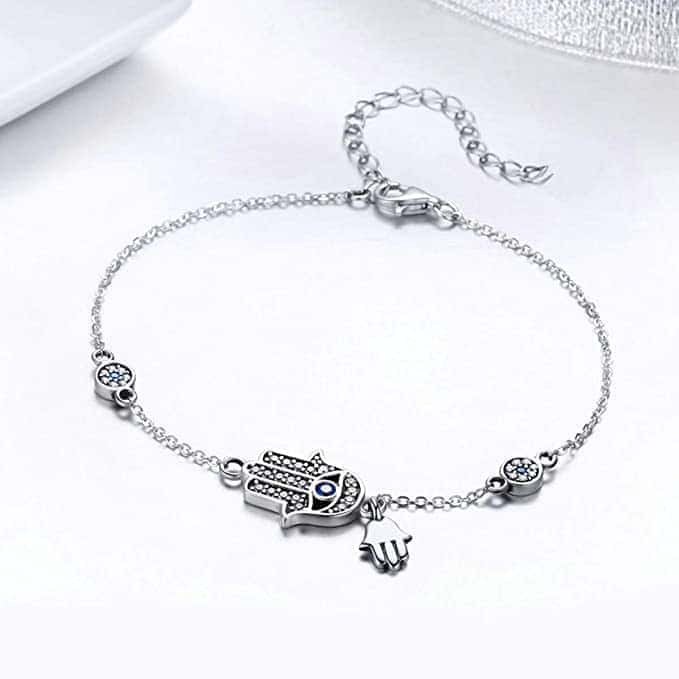 This is one of the prettiest and highest-quality Hamsa bracelets and comes on an adjustable chain, fitting most wrist sizes. The bracelet features a Hamsa pendant adorned with sparkling CZ stones and a blue stone for the evil eye. A smaller, additional hand charm is also attached to the chain, along with two gemstone evil eyes.
The chain features an oxidized silver clasp, allowing the bracelet to be adjusted from 16cm to 21.5cm. It has a dainty appearance, but the chain is lightweight and can be broken if worn while sleeping or exercising.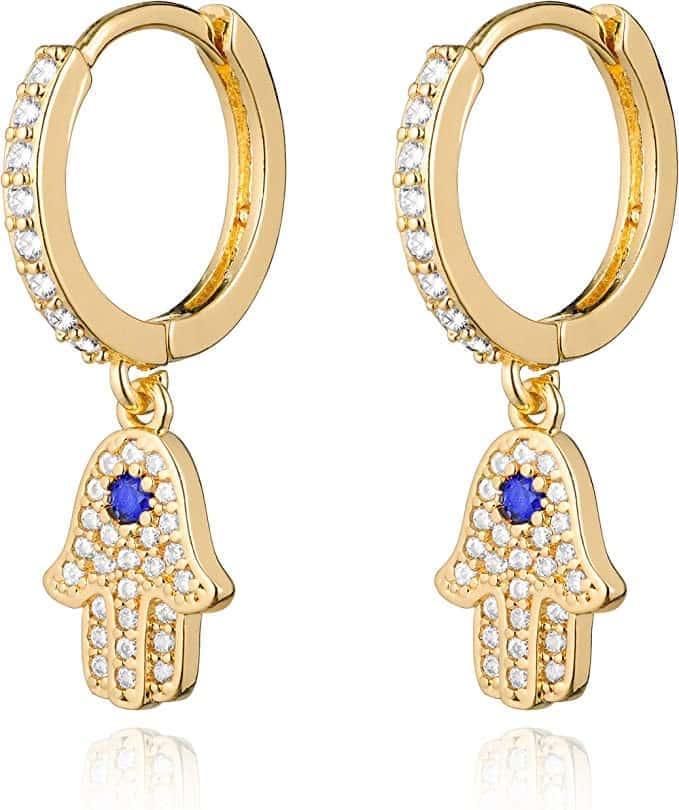 These gorgeous Hamsa earrings are plated with 18k gold and adorned with cubic zirconia stones on the pendant and hoop. The base metal is hypoallergenic as well as lead and nickel-free.
The sparkly appearance of these Hamsa earrings makes them eye-catching. Yet, their small size keeps them looking elegant rather than tacky. The hanging charm measures 9mm x 11mm, and the hoop has an outer diameter of 15mm.
Hamsa Evil Eye Decorative Art
The Hamsa hand does not just offer protection for an individual person. In some cultures, such as Judaism, the Hamsa hand is believed to cast protection over the home and, thus, is displayed on walls or as decor in the house. Along with the symbol, the Hamsa prayer is often found on home decor, either in Hebrew or English.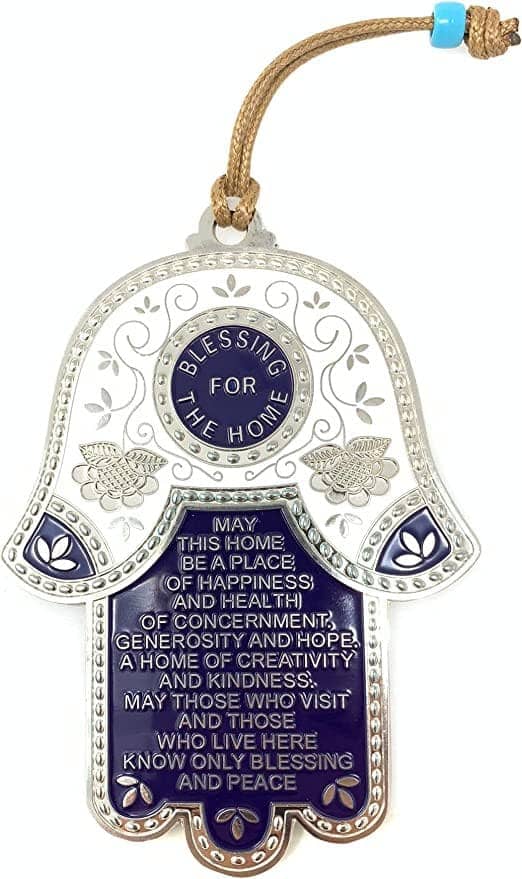 This authentic wall decor by My Daily Styles is made in Israel. It features the Hamsa poem in English or Hebrew alphabet. It is a blessing for the home, and the poem's words are edited to protect the home environment rather than an individual person.
The English Hamsa poem reads as follows:
"May this home be a place of happiness and health of concernment, generosity, and hope.
A home of creativity and kindness.
May those who visit and those who live here know only blessing and peace."
The poem is engraved on Alloy metal and has a gorgeous blue and white enamel decorative motif shaped as the Hand of Miriam symbol. The plaque measures 3.75″ (W) x 6.00″ (H) and has a hanging cord attached.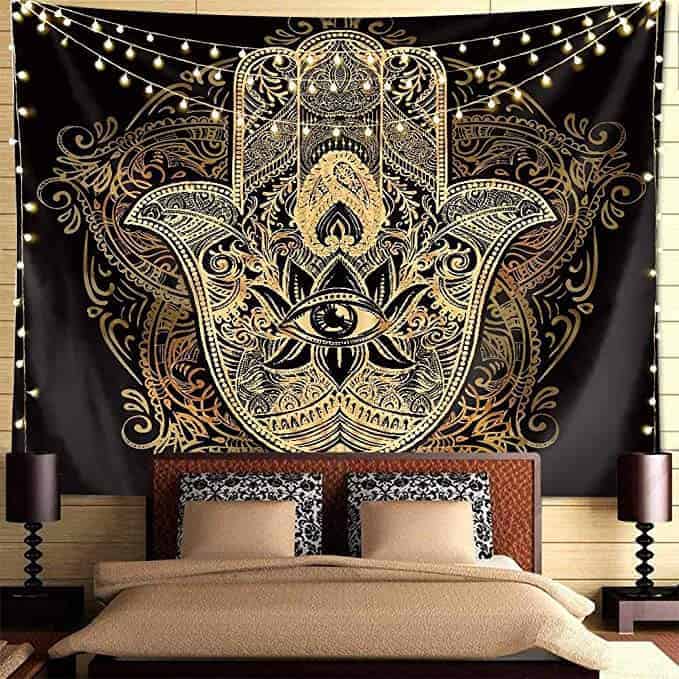 This large bohemian-style tapestry by QCWN features an eye-catching Hand of Fatima and an evil eye symbol on black and gold silky polyester fabric. The thick material is resistant to wear, wrinkles, and heat. The gold printing remains vibrant, provided it is washed on a cold, gentle cycle.
Two size options are available (59 X 51 inches and 79 X 59 inches). This tapestry looks fab above the couch or bed. It's also super versatile as it can be used as a bedspread, couch cover, beach towel, or picnic blanket.
Wind chimes carry their own spiritual meaning of warding off evil spirits and attracting peaceful ones. Thus, Hamsa hand wind chimes like these from YU FENG magnify the protective energy further.
The colorful Hamsa hand design is hand painted on five durable, rust-free metal sheets, known for its high tuning accuracy. It also has multiple glass sun-catcher and chakra crystal beads, adding more color and style.
The structure is made from durable, water-resistant metal and attached to a simple but strong S-hook, making it easy to hang anywhere. The total length is 15 inches (40 cm).
This Hand of Fatima keyring is an excellent alternative to Hamsa jewelry. You can keep it with you wherever you go and will receive a reminder of its meaning whenever you open your house or car door.
The simple metal keyring features a Hamsa hand and a crystal of your choice to maximize protection and good fortune. You can choose between Opel, the gemstone of god, love, faith, and creativity; Blue Turquoise, the stone of serenity, empathy, sensitivity, and intuition; Goldstone, for energy, courage, and a positive attitude; and more.
Final Thoughts On The Hamsa Hand Meaning
The Hamsa hand is one of the oldest and most famous spiritual symbols with deep roots and diverse symbolization. When you know the Hamsa meaning, you can tap into its powerful energy of protection and good fortune by wearing it on your body as Hamsa jewelry or placing the symbol around your home.