The road to success is never easy. It requires hard work, discipline, and resilience. However, achieving greatness doesn't have to feel like an endless battle.
Crystal healing can assist us in all areas of life, including career success and financial growth. So whether you're looking to hit 6-figures, launch a thriving business, or start a meaningful project to give back, healing crystals can offer a helping hand.
Of course, there is (as of now) no scientific evidence to prove crystals can help us reach our career and financial goals. But for centuries, many people have believed in their magical healing powers. Whether you believe in it yourself, there is certainly no harm in trying.
So, if you're looking to level up your business or boost your income, add one of these stones for success to your workspace and experience its powers for yourself.
15 Best Crystals For Success
For some people, success means financial abundance; for others, it means living a purposeful life or achieving peace of mind. Whatever you believe will lead you to contentment and accomplishment, one of the following crystals for success will help you out.
Green Jade has well-known associations with healing and fortune, believed to help increase wealth and provide protection from harm. Green Jade also represents harmony and balance, so it is a great stone if you often overwork to reach your goals and meet deadlines. This beautiful green stone will allow you to achieve success while maintaining a healthy work/life balance.
Green Jade can come in various shades, each with different associations. For example, dark green Jade has a centering and grounding energy, while pale green Jade is calming and soothing for the mind.
If you want to wear this stone as jewelry, check out this 18k gold-plated sterling silver necklace with a genuine green jade stone housed in a turtle shell cage. Or, if you're looking to achieve financial success, place this green jade money tree on your desk.
Green Aventurine is another of the best green stones for achieving success and prosperity. Aventurine means chance in Latin, which is fitting for a stone that gives you the confidence and courage to task risks in business and personal life.
Nicknamed the stone of opportunity, you will quickly see new doors open up for you when you begin working with green Aventurine. This is because it opens your mind to new possibilities and broadens your horizons, enabling you to see things from new perspectives. Thus, green Aventurine is the perfect crystal to use if you're feeling disheartened or pessimistic after a series of failures or setbacks.
To obtain green Aventurine's uplifting and supportive qualities, place a raw crystal on your work desk or wear it as an eye-catching pendant like this green Aventurine hexagonal stone prism necklace.
The Carnelian stone evokes positive energy and inner confidence, enhancing your ambition, drive, and determination to achieve your goals. In ancient times, warriors would wear Carnelian around their necks to give them luck and strength during battle. However, its properties work just as well in the workplace, giving you mental endurance to not give up during trying times.
As it targets the root and sacral chakra, Carnelian is suitable for overcoming low self-worth and confidence and tapping into your passions and desires. So if you are trying to uncover your big life purpose, Carnelian may help you find more clarity and understanding around this.
I love this Carnelian stone jewelry set, which consists of a necklace, ring, and gemstone bracelet. If you don't wear much jewelry, keep one of these mini pocket stones in your wallet or bag instead.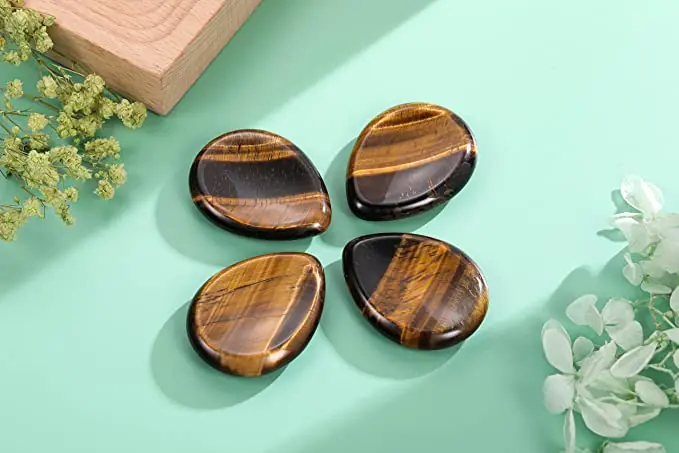 Tiger's Eye is another of the best crystals for success, significantly enhancing vitality, positivity, and drive. Linked to the solar plexus chakra, this is the stone for you if you feel a blockage here or are battling procrastination or lack motivation.
Tiger's Eye is also one of the best crystals for confidence, a key component to achieving success. This crystal will give you the self-assurance and belief that you are worthy of all you desire. What's more, it's encouraging; uplifting energy will inspire you to take action and stop holding back.
Meditate with this tiger's eye worry stone whenever you feel in a slump or out of luck. Before long, it will remind you of your power and reignite that inner fire, pushing you not to give up.
Moreover, if you feel blocked energy in your solar plexus chakra, use this healing wand to bring it back into balance. Simply point the rod at your upper abdomen while envisioning free-flowing yellow energy in your belly. You can also chant the Manipura mantra RAM while doing so.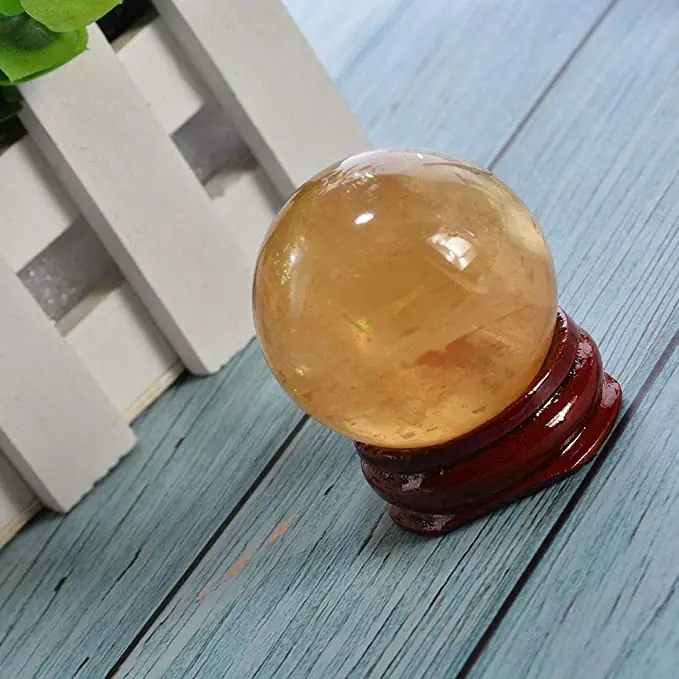 Full of positive energy, citrine is another of the best crystals for success, as it can turn your luck around and take your life from dark to bright. Known as the lucky merchants stone, its warm sunny color offers an instant pick-me-up and mood boost. However, when worn on the body or used in meditation, citrine crystals can raise your vibration to one of prosperity and success.
I recommend this stone whenever you need a physical or mental energy boost. It can relieve fatigue and lethargic feelings while clearing the cobwebs and dark clouds in the mind. After working with this stone, you'll feel full of vitality and joy and ready to take on the next challenge.
Place this beautiful crystal sphere ball on your desk to stay connected to citrine's good vibes while working. When you feel negativity creep in, pause, take a few deep breaths, and look into this powerful crystal. Moreover, placing this citrine orgone pyramid energy generator in your home will improve the vibrations of your environment, which will then spread to you, resulting in a more positive mindset.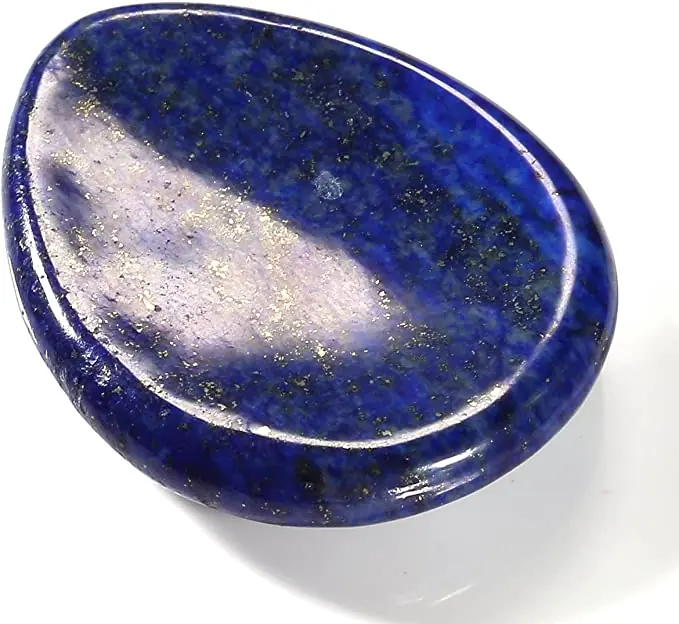 Lapis lazuli is known for its mind-enhancing properties and connection to the third eye chakra, enhancing your intuition, concentration, and psychic abilities. It can bring career success to anyone whose work involves a lot of mental energy and focus, such as engineers and technicians. Lapis lazuli will help you zone in on what you are working on and clear your mind of distractions.
In addition, as lapis lazuli enhances brain functioning in various ways, working with this stone will help you solve problems and find the best solutions. For example, if you're struggling to agree with a client or colleague on something, lapis lazuli will help you find a win-win solution.
As lapis lazuli is such a striking color, it makes beautiful jewelry, like this Tree of Life wire-wrapped pendant. Still, if you want to cultivate more mental clarity, the best way to work with this powerful crystal is to lay down, place a palm stone over your Third Eye, and allow the crystal's vibrations to enter your energetic body.
While lapis lazuli is a top stone for people who use complex mental processes (left brain) in their work, red Jade is one of the best stones for creatives as it enhances the right brain. Linked to the three lower chakras, red Jade will ground and nurture you while enhancing the life force in your sacral chakra, unleashing your creative potential.
As the sacral chakra is also linked to connecting with our passions and purpose, red Jade can help to push you in the right direction and help you create goals that are truly meaningful for you. Then, as the crystal's energy moves up the solar plexus, it will fill you with confidence, removing any negative energy or self-limiting beliefs that may have been plaguing your mind.
Sprinkle these red Jade tumbled stones around your home and office, putting them in plant pots or around water features. Or, if you need a reminder to stay positive, wear this laughing Buddha red jade pendant.
Commonly known as fool's gold, Pyrite is one of the most famous good luck stones, praised for its ability to bring good fortune and prosperity. It builds an energetic layer of protection around you, keeping all negative energy and bad luck far away.
In addition, as Pyrite works on the solar plexus chakra, it enhances ambition, drive, and willpower. It is a wonderful crystal to use after a series of failures or challenges, as it will pick you back up and help you believe in yourself again.
Place this pyrite cluster stone on your desk; its eye-catching shimmer will remind you of your personal power each time it grabs your attention. Enhance its ability to attract luck further by wearing it as a necklace, then wait for the success and complements to roll in.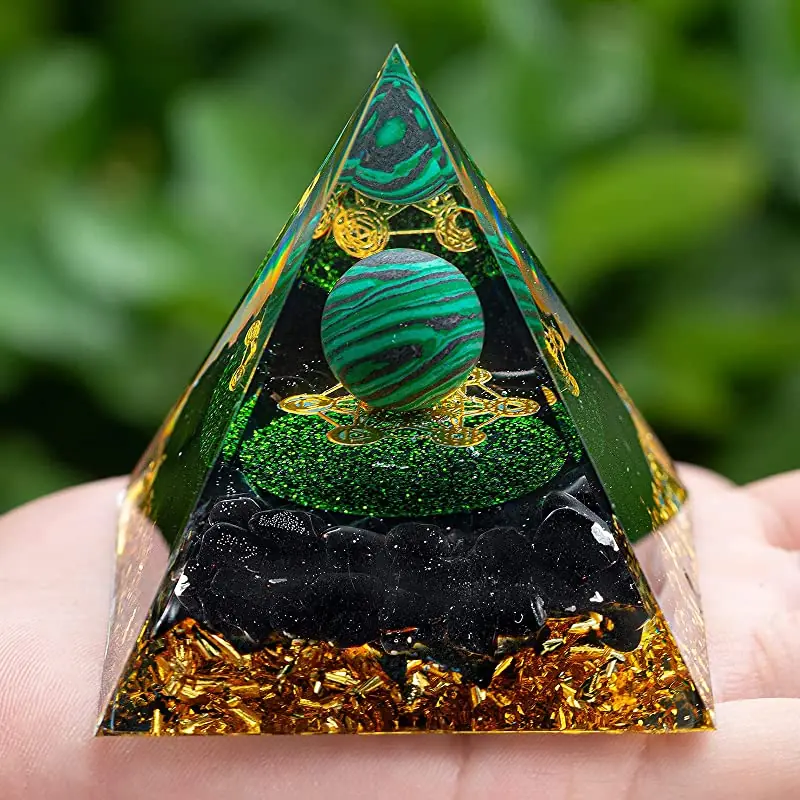 The dark green shade and galaxy-style pattern make Malachite a dreamy stone to admire. However, this transformative gemstone is not just aesthetically pleasing; it can play a huge role in achieving success.
Malachite draws negative energy and disharmony into itself, keeping your aura clear and open to all possibilities. Moreover, by strengthening the heart and throat chakra, Malachite promotes emotional balance, self-expression, and effective communication.
Often, we have to do some deep inner work to achieve the success and prosperity we desire. Malachite is the stone to help you do exactly that, supporting you to release outworn and self-limiting thought and behavioral patterns and level up to the best version of yourself.
Wear this stone as a necklace to keep it close to the throat chakra, or place this stunning orgone pyramid on your desk.
Peridot is another of the best prosperity crystals and an ideal stone to attract money or financial success in your business. This lucky stone is known to clear any obstacles in your path and smooth out the road ahead.
Peridot is also suitable for restoring balance and harmony in the body, mind, and soul. So it is helpful if you've been overworking recently, whether to complete a big project or launch a business. Its soothing energy will balance your emotions, settle your thoughts, and promote restfulness.
Wearing this peridot bead necklace is a wonderful way to absorb the crystal's lucky and calming vibes. Alternatively, keep some raw stones around the home, particularly in the money corner the far left corner when entering from the door).
Smoky quartz helps to attract wealth and success as it keeps all negative energies at bay, allowing your aura to remain open to good vibes only. As well as enhancing positivity, smoky quartz clears the mind, balances emotions, and relieves stress and anxiety. It can also aid in lifting and preventing depression so that you always feel your best self.
Because of these properties, you should wear smoky quartz if you have recently experienced a big life change or traumatic situation that has left you feeling unstable and insecure. Smoky quartz will re-ground you and compassionately assist you in getting your life in order, setting you up for a positive and prosperous future, even if it feels far off right now.
As the stone of new beginnings, moonstone is another of the most powerful crystals to use if you are restarting a business after a failure or building a new one from scratch. It is also beneficial if you are working on a new project or starting a job that could significantly improve your income and future.
Moonstone helps you tap into your inner strength to continue moving forward no matter how rocky the road becomes. It also helps to stabilize your emotions so that you don't overreact and throw in the towel at the first hurdle.
Moreover, as it's linked to the higher energy centers, particularly the crown chakra, moonstones can enhance your intuition, helping you make confident decisions. Hold a piece of moonstone in your morning meditation to connect to your inner knowing.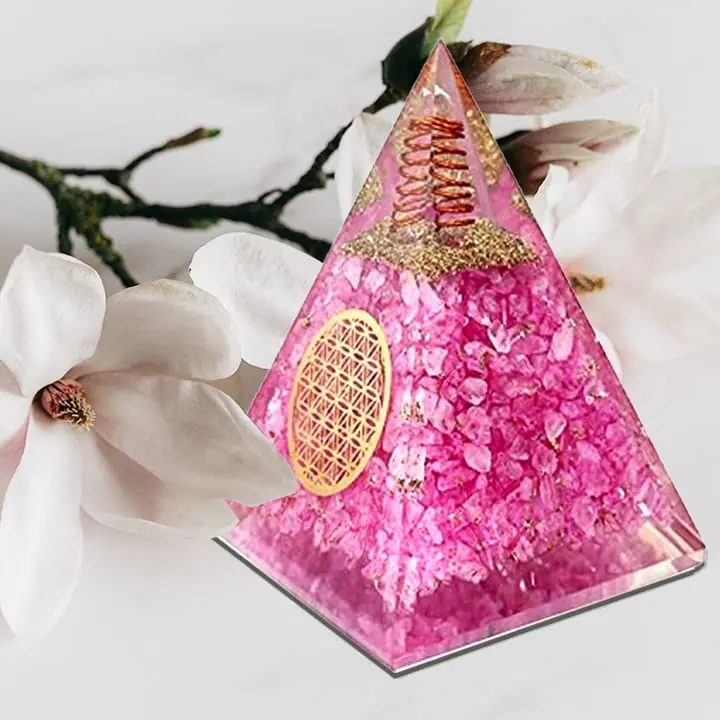 While rose quartz may not seem like one of the best healing crystals for success, it can help on a more subtle level. This heart chakra stone raises your self-worth and self-acceptance, which is vital in opening yourself up to abundance and success.
Of course, as rose quartz is lucky in love, this pink stone may also help you manifest your ideal partner, one that is supportive, inspiring, and encouraging toward your dreams. Having a solid supporter in your corner will significantly boost your chance of career success and prosperity.
Place this rose quartz orgone pyramid on your desk as a reminder to show yourself compassion when you mess up and stay grateful for all you have already achieved.
The rich red stone ruby is known for enhancing energy, concentration, and creativity, three key ingredients to success. It also attracts good luck in all areas of life.
Ruby is associated with the root chakra, bringing grounding and protective qualities. However, as it simultaneously works on all lower chakras to fire up your life force, ruby is the stone to turn to if you need an energy or mood boost. It banishes feelings of sluggishness and self-doubt and connects us to our creative center, allowing us to produce our best work and put it out into the world.
Ruby is a popular stone for crystal jewelry, making it one of the best abundance crystals to wear, whether on your ears, neck, or wrist. This dainty bead bracelet makes an elegant accessory and a helpful holistic healing tool. Alternatively, you can get it in its raw form to use in meditation or to keep in your space.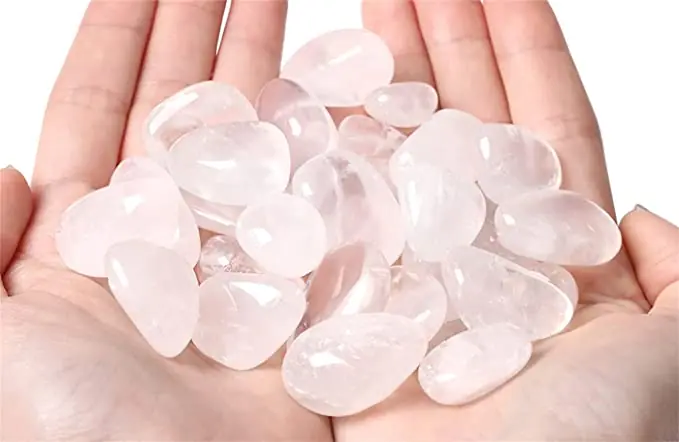 Finally, if you're experiencing mental blocks from limiting beliefs, imposter syndrome, or that pesky inner critic, add clear quartz to your crystal healing collection. Its high vibration will help you level up in all aspects, breaking through paradigms and overcoming generational curses relating to finance and success.
While it has its own potent properties, this powerful stone also amplifies the benefits of all the other crystals on this list. So you can combine one of these clear quartz tumbled stones with your favorite money stone, placing them both on your altar or in your wallet.
How To Use Gemstones And Crystals For Success
Now you know which crystals promote success, you're likely wondering how to use them.
Firstly, cleaning your crystal and charging it with an intention before you start using it is essential. One of the best ways to cleanse a crystal is to leave it out in the moonlight overnight. Then the next day, do a short meditation while holding the stone. Spend a few minutes thinking about what you would like it to help to manifest and achieve.
Then you'll be good to go.
There are many ways to use success and money crystals, but if you want to access the potential of these powerful stones, I recommend using them in one of the following ways.
Keep Them On Your Work Desk
As success crystals help manifest things in the business world, keeping them at your workplace, such as on your desk, makes sense. This way, you can absorb the positive energy of your healing stone while working.
Carry Them With You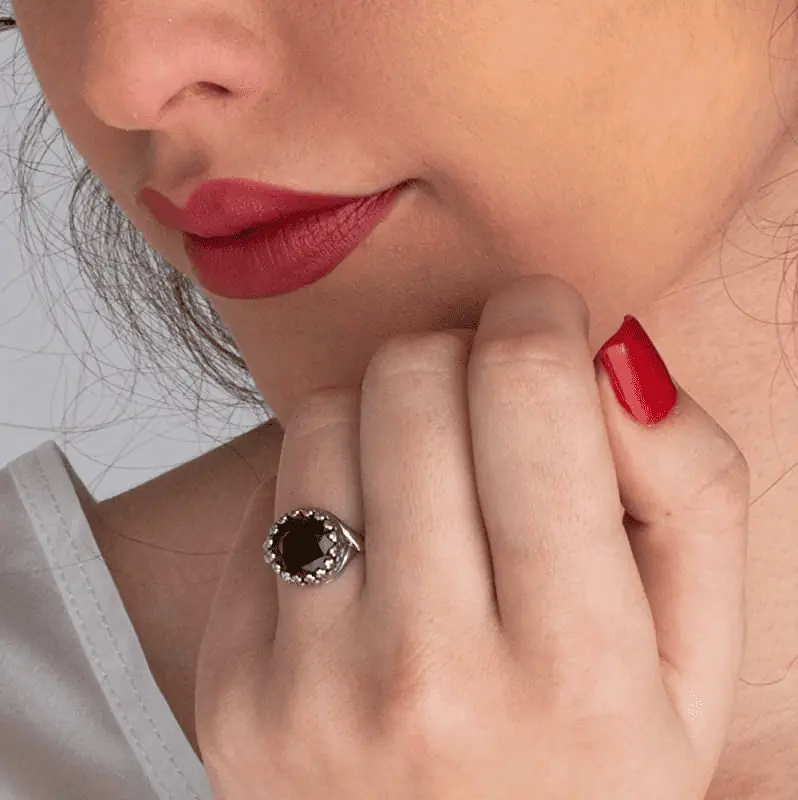 If you want to access your crystal's power all day, carry them around with you. Many people manifesting wealth choose to keep a small stone in their wallet. So if your goal is money-oriented, this is a fab and easy way to work with your healing crystal.
Or, you may prefer to wear them as jewelry. Wearing a green aventurine crystal bracelet or smoky quartz gemstone ring can be a visual reminder of your goal and intention. Alternatively, necklaces and pendants sit close to the upper chakras, so they can help to keep your mind clear and focused. Moreover, by wearing crystal jewelry, even when you call it a day and head home, your trusted stone will continue working its powers beyond the office.
Use Them In Meditation & Manifestation Rituals
If you're looking for a compelling way to work with your success crystals, introduce them to your meditation practice or use them in manifestation rituals. A simple manifestation meditation you can do is to visualize yourself achieving success (however that looks to you) while holding the stone.
Start by closing your eyes and deepening your breath. Notice the sensation of the stone against your hand as you connect to its potent energy. When your mind feels calm and clear, bring awareness to your Third Eye.
Imagine you have achieved your goals and desires and are living the life of your dreams. Visualize it like a movie as you watch yourself go about your day. How does the environment look? How do you look? Who are you with? What are you doing? How do you feel?
Try to visualize in as much detail as possible. Resist your mind's attempts to justify how your dreams came true; that doesn't matter. Instead, focus on the end result of how you feel in that moment.
Stay in this visualization for as long as feels good for you. Then, return to your breath and feel the stone in your hand again. Bring the stone to your heart center and express gratitude to your crystal for its assistance in manifesting success and financial abundance.
Combine Them In A Crystal Grid
What's better than working with one success crystal? Working with multiple! If you have some previous experience with crystal healing, you can maximize the healing powers of these gemstones by combining them on a crystal board or grid.
With a crystal grid, you arrange various stones in a geometric pattern to encourage them to work together. Typically, you place a "power crystal" like clear quartz or selenite in the middle, which helps to amplify the qualities of the other gemstones. However, setting a specific intention is essential for the grid to work in the way you want it to.
Use Them In A Spell Jar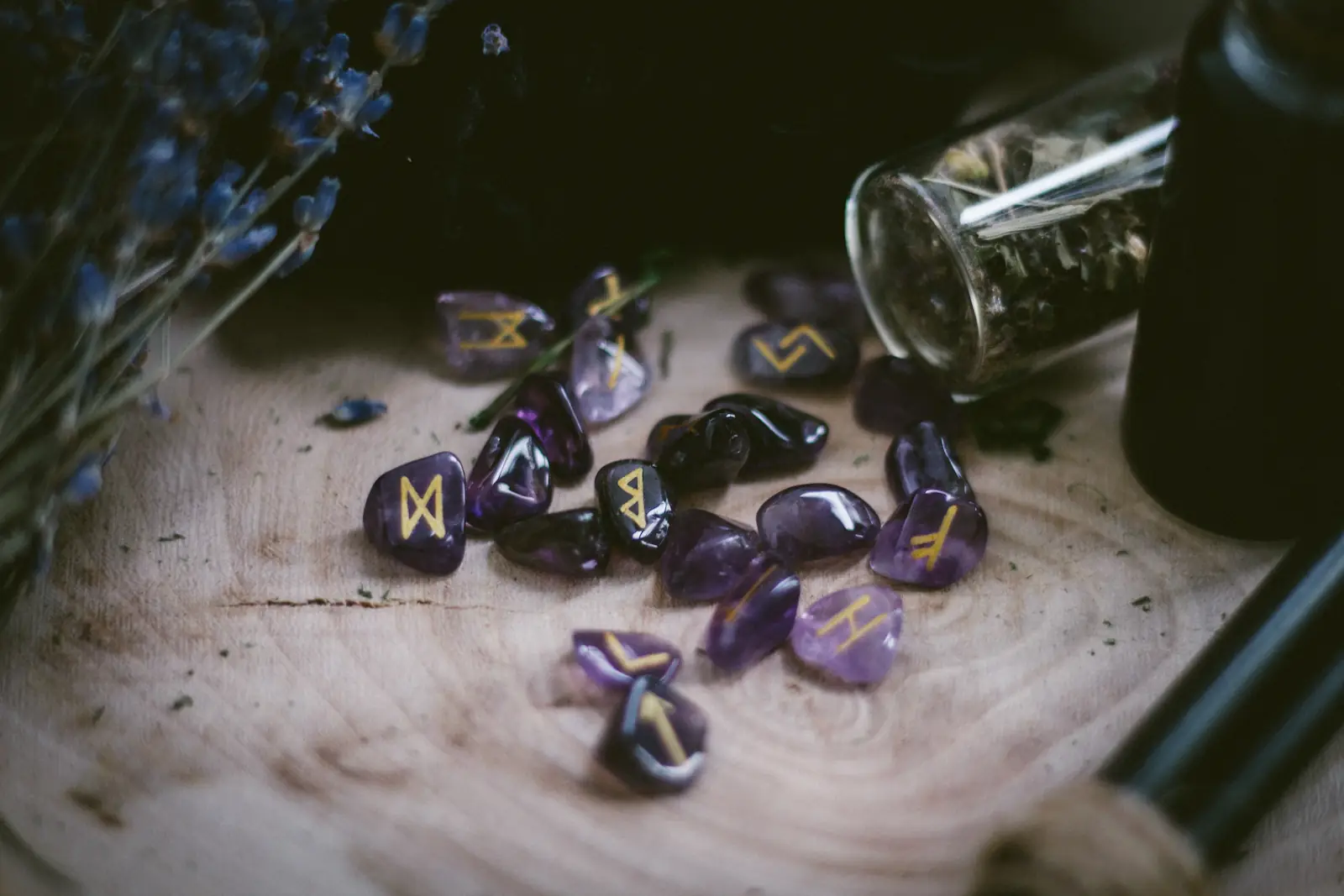 If you're into witchcraft, adding them to a spell jar is another cool way to set an intention with your healing crystals. In the past, witches used spell jars for protection to ward off evil spirits, but nowadays, you can use them with any intention, including to achieve success or good fortune.
Aside from crystals, you can add whatever you like to a spell jar, but dried herbs are a popular choice. Herbs have different properties, so choose one which matches your intention. For example, spearmint is well known for attracting wealth and luck, whereas dandelion promotes personal growth and inner strength.
I also like to write my intention on a small piece of paper and add that to the jar. Many people also put salt at the base to protect their spells. Another option is to include sacred woods, like oak, which represents success and money, or rowan, associated with personal power.
Final Thoughts On Crystals For Success
When using crystals to achieve success, the most important thing is to be intentional. Simply placing a lucky stone by your bedside table and forgetting about it won't make much difference. However, if you set an intention with your chosen stone and revisit it regularly, you'll soon start to see the magic happen in your work (and home) life.