The sheer thought of Bali may elicit visions of lush rice terraces, turquoise beaches, and intricately adorned temples.
When venturing to the island nation of Indonesia, Bali is at the top of tourists' list who are seeking pristine beauty and cultural diversity. And Ubud tops the list of destinations to see on the island.
Ubud, stemming from the Balinese word Ubad – meaning medicine, has become the healing and spiritual center of the world. It's no surprise that truth seekers flock to this magical place for ecstatic experiences and a closer connection to themselves.
For this reason, when venturing to the island nation of Indonesia, Bali is at the top of tourists' list. If you seek pristine beauty and cultural diversity, Ubud tops the list of specific destinations to see on the island.
We had the pleasure of finally attending the week-long festival and we're here to share some of our thoughts and observations.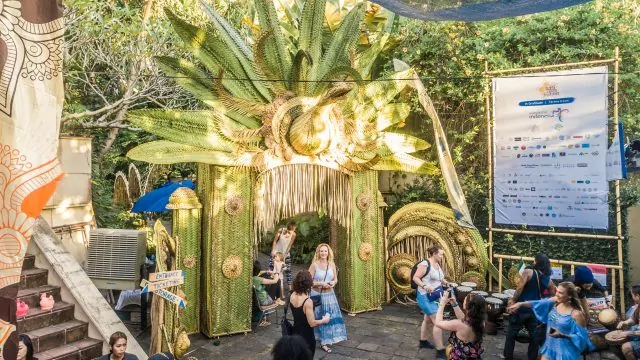 A Brief History
In the wake of a series of devastating bombings on Bali in 2002 and 2005, the 3 co-founders of the festival were hard pressed to start something to draw tourists back to the island. Tourism hadn't fully recovered but they still pushed ahead and made it happen.
Pooling all of their resources, they got the festival together in a mere 3 months for the 2008 inaugural year. Motivated by their shared desire to build and support community around yoga, dance and global music, Bali Spirit Festival has since continued for 11 straight years.
Worthy of noting is that each year the festival gives back to the local community in several different ways. For the past 6 years they've worked to raise over $65,000 for the festival's annual Karma outreach initiatives. These funds have gone towards things such as: children's programs, HIV & AIDS awareness, and environmental protection.
The Mission & Vision
From BaliSpiritFestival.com:The Mission
The goal of the BaliSpirit Festival is to awaken and nourish each individual's potential for positive change within, leading to positive change in our homes, in our communities, and around the world. Through beneficial and inspirational traditions of Yoga, Dance, and Music, the BaliSpirit Festival illustrates the Balinese Hindu concept of Tri Hita Karana: living in harmony with our spiritual, social, and natural environments. Committed, particularly, to nourishing our own home in Bali, the founders of the BaliSpirit Festival pledge to provide financial, logistical, and organizational support to local charities, with a special emphasis on children's programs, multicultural education and performance, healthcare, HIV& AIDS awareness, and environmental conservation in Bali and greater Indonesia.
The Vision
The BaliSpirit Festival was founded as a premier international and holistic wellness and world music destination event that contributes positively to the ecological health, cultural vibrancy, and overall vitality of Bali and greater Indonesia.
The Venue
The festival returned to the first venue it ever took place – The Bali Purnati Center for the Arts. Just outside of Ubud center, the location was favorable to those visiting and staying near or in town. The festival arranged transport to and from leaving from a few spots around town, which is great if you needed a ride. We just took our scooter each day and parked nearby.
The grounds were stunning and the buildings that were already in place added to it's beauty. An onsite pool was even part of the experience and nice to have access to during the heat of the day.
Yoga, Dance, Music, Workshops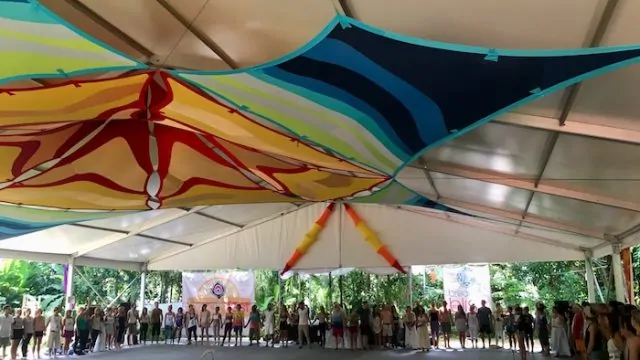 The combination of yoga, dance, music and workshops in a beautiful setting is a bit like heaven on earth…in our humble opinion. 🙂
Bali Spirit Fest attracts world-renowned instructors and teachers to share their gifts to the masses who show up craving their teachings. This year was no exception. The schedule was stacked with teachers, instructors, artists, visionaries, performers, entrepreneurs, guides, the list went on.
We loved that although there were internationally recognized teachers on the schedule, there were also a fair share of local artists and and performers. Supporting the local community has always been a part of the mission for Bali Spirit Fest, and is something near and dear to our hearts.
Our very first workshop of the festival was a breathing workshop called Breath of Bliss led by Christabel Zamor. A two hour journey, we spent time getting into our bodies and connecting with others before laying down for the breathing portion. A powerful experience to say the least! Breathing has been one of our favorite things to explore together.
We appreciated the variety of yoga on the schedule. Yoga was offered for about 8 hours everyday of the festival, starting between 7-8a and ending just after the sunset. The platforms for yoga were great – always adorned with beautifully hung tapestries or colorful fabrics. Each tent area had a platform of sorts that created a more even surface on the ground for practice.
The Finer Details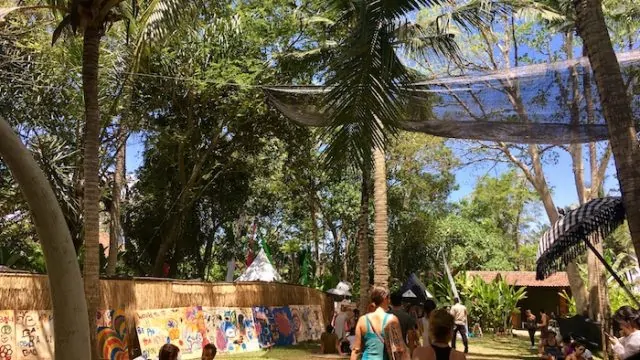 Surprise and Delights:
Bathrooms:
Impressive is not a word I think I've EVER used when describing onsite bathrooms at a festival. Heck, I'd maybe even toss in the word pristine. On top of having very clean porta-potties (that flushed!), there was always a bathroom attendant letting you know when one would open up.
Free Water: Indonesian tap water is not safe for anyone, so providing free water all over the festival grounds was needed, but still very nice to have. You could find the water jug stations all over and they were consistently being replaced by the helpful staff and volunteers.
Massive Fans: Bali is very hot this time of year. We were pleasantly surprised to find that many of the stages and yoga platforms had massive fans running to keep us cool!
Shade Structures: As I mentioned the Bali heat this time of year, having the massive shade structures over the main areas was quite helpful! I've never seen so many of them in one small area before. Definitely a plus!
Sustainable Dishes: The food vendors served a lot of (not all though) of their food in dishes and cutlery made from plants! Beautiful and not harmful to the environment!
Always a Platform for Yoga: Under the massive tent structures for the workshops and yoga classes, were nice carpeted platforms. Instead of sitting on uneven grass to practice, it was such a nice surprise to have a flat surface.
Easy to connect: The festival wasn't very crowded and the grounds weren't very big, so finding your crew was very easy. And because it's a festival that attracts people from all over the world, we were delighted to run into pieces of our global tribe.
The Not-So-Delightful
No Yoga Mats:
This was a bummer. Most yoga festivals we've attended have at least a few mats to borrow for classes. If you forgot your mat, you were on either the carpeted surface or using your sarong.
Not Many Chill Zones: Some people spend the entire day at the festival, arriving early in the morning and staying late at night. We were surprised at the lack of areas to just hang out.
Overall Thoughts
Bali Spirit Festival was unlike any other yoga and music festival we've attended before. In true Balinese fashion, the attention to aesthetic detail was top notch and often times felt like we were on the set of a movie. In that same breath, it was a festival that did at times feel like a "scene to be seen." Is that good or bad? Up to you to decide, I think.
Although the festivals we've attended in the past have most all included onsite camping accommodation, it was nice to head home on the scooter each night and rest in the comfort of our own homes. The lack of areas to chill definitely contributed to how long we wanted to stay at the festival each day, but when we did find a place to hang out – it was always comfortable! There was no lack of comfy cushions and pillows to use.
The theme of the festival this year was "Return to Source" and it was felt in every nook and cranny of the experience. In some ways, it felt a bit over the top and forced. But that could just be the things we attended and how it was being communicated.
The beauty of the festival experience is it's always a "choose your own adventure" event. No two people will have the same experience, nor should.
We are grateful to be able to have experienced this beautiful festival while living in Bali.
Be sure to check out their website for details about next year!
Have you been to Bali Spirit Fest? If so, which year? Comment below!