Mount Rinjani stands at an impressive 3,726m (12,408ft) making it Indonesia's second highest volcano. Only Sumatra's Gunung Kerici is taller. Scientists think this volcano erupted in the 1200s which lead to the "little ice age."
Rinjani is located in Indonesia on the island of Lombok. It's very accessible from the neighboring island, Bali. Although it's near Bali, Lombok doesn't receive nearly as many visitors and should be included in everyone's Indonesia plans. Climbing Mt Rinjani is very challenging but accessible for those who are physically fit.
Climbing Mt Rinjani was one of my highlights from our year in Asia and easily the best thing we did during our 2 months in Indonesia.
In this guide we will cover…
Travel logistics (getting there, when to climb, prices, where to stay etc)
Choosing the right guide service (we chose and loved Green Rinjani)
What to bring (don't forget travel insurance)
What to expect (our 3-day experience)
Environmental Impact
What's up with the guides and porters?
And more!
Basics:
Location: Lombok Island, Indonesia
Closest cities: Senaru (600m) and Sembulan (1,100m)
Difficulty: Challenging but accessible for the physically fit
Elevation: 3,726m (12,408ft) at the peak. The crater rim is at 2600m (8658ft)
Time Commitment: Typically 2-4 days (can do up to 7)
Trekking solo or with guide: We've heard it's possible to trek without a guide service, however it sounded like a huge headache and without extensive gear it would be not be a fun experience. Everyone we saw was with a guide and porters. We used Green Rinjani and recommend them, review below.
Cost: $90-500 USD depending on guide service and amount of days. Most people spent $150-$250 for the most popular 3 day, 2 night package. We recommend the 4day, 3-night trip if you have the time.
Altitude sickness? Most people feel short of breath during the summit. However, you never sleep higher than 2,600m (8,658ft) so altitude sickness is not an issue.
Should you get travel insurance? Yes. With any trekking there is an inherent risk and Rinjani is no joke! We used World Nomads travel insurance. They have saved our butts multiple times (motorbike accident in Bali and torn ligaments in Vietnam).
Best time of year: April – November as it is considered dry season. The majority of wet season the mountain is off limits and Senaru/Sembulan's economy shuts down.
Getting to Senaru/Sembulan: (many guide services include transport)
3 hours by cab from the Lombok airport
15 minute boat ride + 1.5 hour cab from Gili islands
2 hour cab from Sengigi
3.5 hour cab from Kuta Lombok
2-6 hour boat ride from Bali + a 1-3 hour cab ride (depending on your route)
Should you climb Mt Rinjani?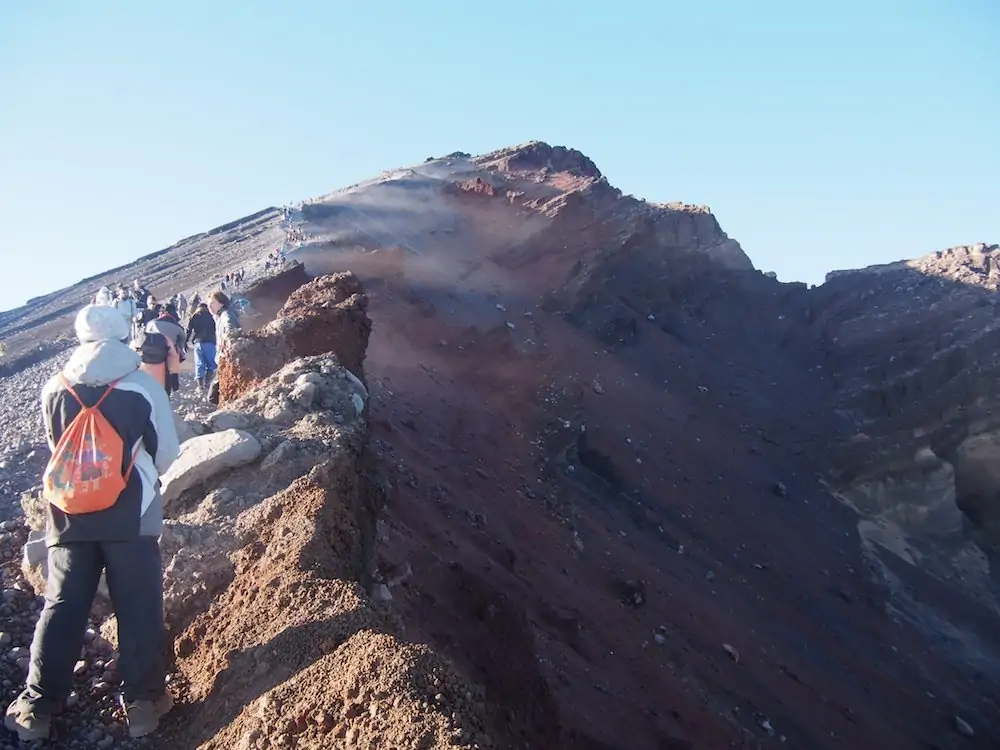 Although Rinjani trekking packages are quickly sold to any willing beach bum on the Gilis, this is not a cute opportunity to take a few pictures on a volcano. This is a very difficult trek both physically and mentally. Most people who do the trek are physically fit. You will be hurting and sore for a few days after. You will sweat a lot, you will get cold, your nose will run, your legs will burn, and halfway through your 12-hour day, you will ask yourself if it was worth it.
That being said… trekking Mt Rinjani IS worth it. It was one of the most beautiful (and picture perfect) things I've ever seen. Watching the sunrise from the summit, looking down on an ancient lake with another volcano inside was magical. Through the hardships, we forged great friendships with our guide, porters, and trekking buddies in our group.
If you're worried about fitness level, consider doing the 4 day/3 night trip and stay back at camp instead of climbing to the summit. The 4 day/3 night trek cover the same ground as the 3 day/2 night trip but allows for slightly shorter, less strenuous days. You can also hire your own porter if you would rather not carry anything on your back or if you want to bring extra gear. Porters cost between 200,000 and 250,000 IDR per day.
Choosing your trekking route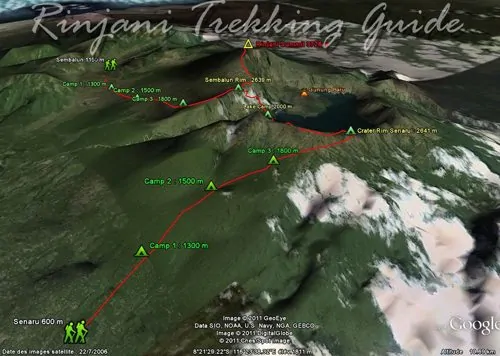 Treks range from 1-6 nights. In general longer the trek, the less strenuous the pace. If you do one of the longer treks you will get the added bonus of climbing Mt Baru which is the small and active volcano that pops out of the lake down inside the crater. A volcano inside a volcano. I highly recommend the 4D/3N trek or longer. Prices are what we heard while shopping around (August 2014). Prices could drop during low season.
2D/1N: Climb up to the crater rim for sunset, then either summit for sunrise, or watch sunrise from the crater rim before coming back down. 1,000,000 – 1,500,000 IDR
3D/2N: (most popular): Climb to the crater rim for sunset, then either summit for sunrise, or watch sunrise from the crater rim, descend to the lake, swim in the hot springs, climb up the other side of the crater rim for sunset, then climb back down the next morning. 1,500,000 – 2,000,000 IDR
4D/3N: Same as 3D/2N except you camp at the lake on Night 2, check out a cave, and enjoy some free time. This avoids the dreaded 12-hour day. In retrospect, we would have chosen this option. 2,500,000 – 3,000,000 IDR
Mt Rinjani Starting point: Senaru VS Sembulan
If you plan on trekking to the summit, you should start at Sembulan as this offers the best route to reach the summit. Most companies go this route, but some do not, make sure to enquire before booking.
We went to Senaru to book our trek because most companies are here. After booking, our trek began with a 1hour car ride to Sembulan where we started on foot. After 3D/2N trek we ended back in Senaru to retrieve our bags.
Choosing a guide service
Unfortunately, like most things in Indonesia, this isn't a straightforward process. There are over 100 companies to choose from and they are not all created equal. I recommend going with a reputable guide service since this is a serious endeavor and I've heard all kinds of horror stories (not enough food or water, hidden fees, getting hurt without help, etc).
If you want all the luxuries, you can find a guide service to accommodate you. You can also go on the extreme budget end if you're ok with less comfortable conditions, paying for your own transport, and bringing some of your own food/water/gear.
Book your trek AFTER arriving in Senaru or Sembulan.
If you book anywhere else you will be working with a 3rd party tourist agency who will stick you with whichever random guide service he knows. This usually leads to unsafe conditions, hidden fees, etc. If you take a taxi to Senaru you can talk to the guide service companies in person, discuss the details, and make sure everything is in order before booking.
Confirm the following before booking:
There are no hidden fees (includes park entrance fee)
Transport to your next destination is included
Sufficient bottled water and food is included
The company has insurance (in case you or your guide/porter get hurt)
The company takes out all their rubbish, which you should care about (huge problem on Rinjani)
Confirm the size of the group (no more than 6 trekkers per guide)
Confirm you're starting at Sembulan (if you want to reach the summit)
If you have specific food requirements, confirm ahead of time.
Non-needed but nice to have: Beer with dinner, a toilet shelter, toilet paper, snacks in between meals, soup, chairs to sit on or at least a mat.
Packing list for Rinjani
This depends on how well outfitted your guide is. In general, the less you pay the more you will have to bring yourself. Here is a list of things you should have along – whether you carry them or your guide/porters do…
Plasters/Band-aids – almost everyone in our group got blisters (and we all had broken in shoes)
Warm sweater/fleece – for the summit and night time. Love this Arcteryx Atom.
Wind breaker jacket – for summit and night time. I love that Marmot jacket.
Hat/gloves – we didn't have these but wished we did for the summit
Headlamp – required for summit, nice to have around camp. Black Diamond is my go to.
Small backpack (15-30L) – for personal stuff/water/food/etc. Also useful for traveling.
Hiking shoes/boots – well broken in. Been using these Merrells for 3+ happy years.
Travel Insurance – Rinjani is grueling and you want to be prepared. We recommend and use World Nomads
Hand sanitizer – your guide may or may not have soap
Trekking Poles – save your knees! I use and recommend these Black Diamonds.
TP/wet wipes – our guide brought TP, wet wipes were handy
Sun screen – very easy to get burnt
Ear plugs – camp can be loud especially at the lake or Sembulan crater rim
Camera – amazing views throughout
Swim suit – if you plan to swim/shower in the hot springs
Ibuprofen – you will get sore
Should you get Travel Insurance before Trekking Rinjani?
We buy travel insurance for 100% of our travels. It's straightforward and gives us piece of mind for serious accidents. We especially recommend it if you like adventure activities. Although oddly enough, the two times we were seriously hurt happened in completely "safe" environments (at a restaurant in Vietnam and crossing the street in Bali).
Which travel insurance company should you get?
We used World Nomads.
Our experience with making claims through World Nomads
Anne got hit by a motorbike in Bali while crossing the street – led to lots of hospital bills and a long recovery. World Nomads covered the entire bill and reimbursed her for $1,200 USD.
I was cut by glass and tore a tendon in my hand. I was then rushed to the hospital and had emergency surgery in HCMC, Vietnam. Luckily, I recovered fully and World Nomads covered my entire bill of $2,500 USD.
Tips (if nothing else, read this)
Book your trek in Senaru to ensure you go with solid organization
Do you homework before booking, not all guide services are created equal!
Tell them food allergies ahead of time (one member of our group had a gluten allergy and they were well taken care of)
Confirm how much food your guide will bring – they will tell you if you need to bring snacks or not.
4 day / 3 night is the best trek and easier on your body, worth it to spend the extra day!
Make sure your shoes/boots are broken in!
Don't forget plasters/bandaids, everyone in our group got blisters
Bring some extra money to tip the guides/porters for their hard work (Guides get tipped more because they interact with you all day and are the only one who go to the summit with you while the porters sleep)
If you're renting a jacket/shoes confirm before you leave Senaru!
Use trekking poles! They save your knees! (and collapse down for easy travel)
If you're going to summit, ensure you start at Sembulan (not Senaru)
If you're only doing a 1 night trek make sure you start/end in Senaru, it has the best views and it's a slightly climb.
Bring layers, you will get hot in the sun and freezing cold on the summit and at night
3 day, 2 night trekking experience with Green Rinjani
Like most people, we drastically underestimated what was in store. After climbing the much smaller Mt Batur on Bali a few weeks back we assumed it would be harder… but not like this.
We took a cab to Senaru and stayed a night at Pondok Indah for 150,000 IDR. After arriving we talked with different guide companies, browsed reviews online, and talking with people who just finished their treks.
We decided to go with Green Rinjani because…
They had an excellent reputation online and with recently finished trekkers
The owner Ariee was honest and very open with us, encouraging us to shop around, explained everything we asked, and we got a great feeling from him
They are one of the only companies that takes out every bit of trash (the other companies just throw everything on the ground which makes the trek insanely littered, very sad)
Each person who treks with Green Rinjani gets to plant on tree on the volcano! (Their goal is 1,000,000 trees planted by 2020:)
Known for great food and service
Our trekking package included transport back to Sengigi, shoes, and jackets (400,000 IDR value)
Day 1: An unassuming start quickly becomes challenging
6:00AM – wake up
6:30AM – breakfast at Pondok Indah guesthouse (banana pancake and tea)
7:00AM – drive one hour to Sembulan (1,100m)
8:30AM – start trekking – relatively flat land
12:30AM – lunch at POS 3 (vegetable and chicken curry, rice, tea/coffee)
1:30PM – start the dreaded 3-hour climb (hardest part of the day)
4:45PM – reach the crater rim at 2,600m (8,658ft) for Camp on night 1
6:20PM – sunset
8:00PM – dinner and celebratory beer
9:30PM – bedtime
Day 1 at a glance: Climb 1,500m [7-8 hours]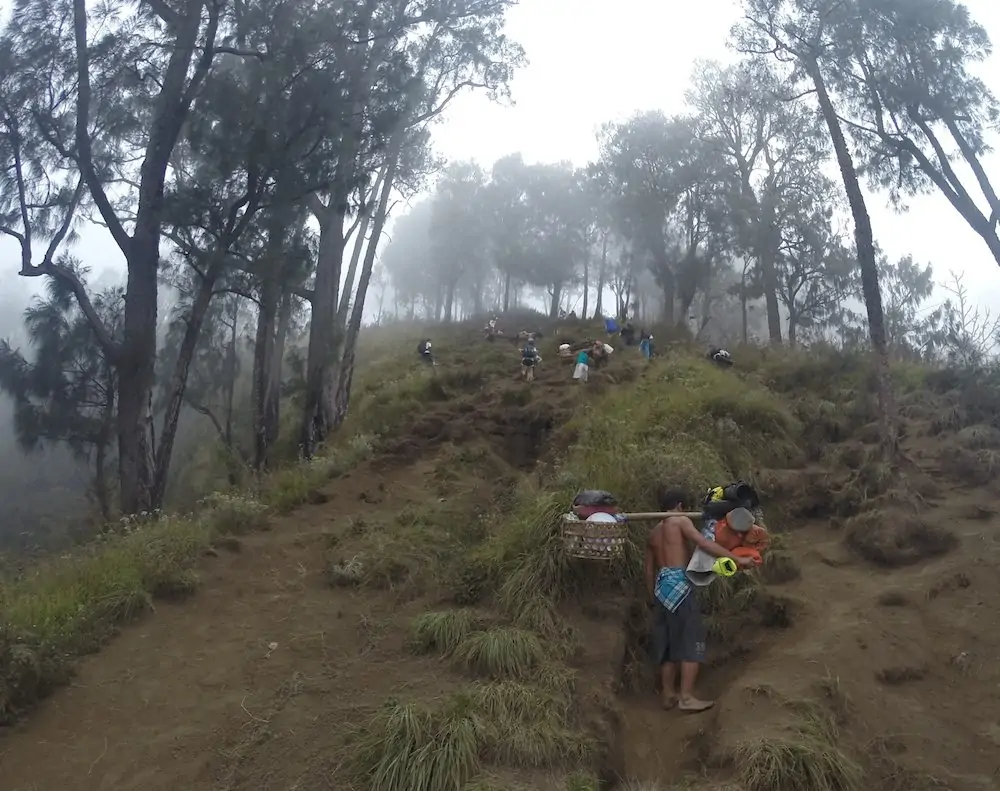 You start at 1,100m and climb to the crater rim at 2,600m effectively climbing 1,500m (5,000ft). Although this we thought it was challenging, it turned out to be bar far the easiest day of the trek. The first half is pretty flat and an enjoyable walk. The 2nd half is very steep and slippery at times. It was very crowded during our steep ascent making the slippery climb frustrating and seem to go forever. Although somehow the porters, wearing nothing but flip flops (or barefoot), flew right passed us with 30kg off gear balanced on their shoulders.
Day 2: Summit day! (and hardest physical day of my life)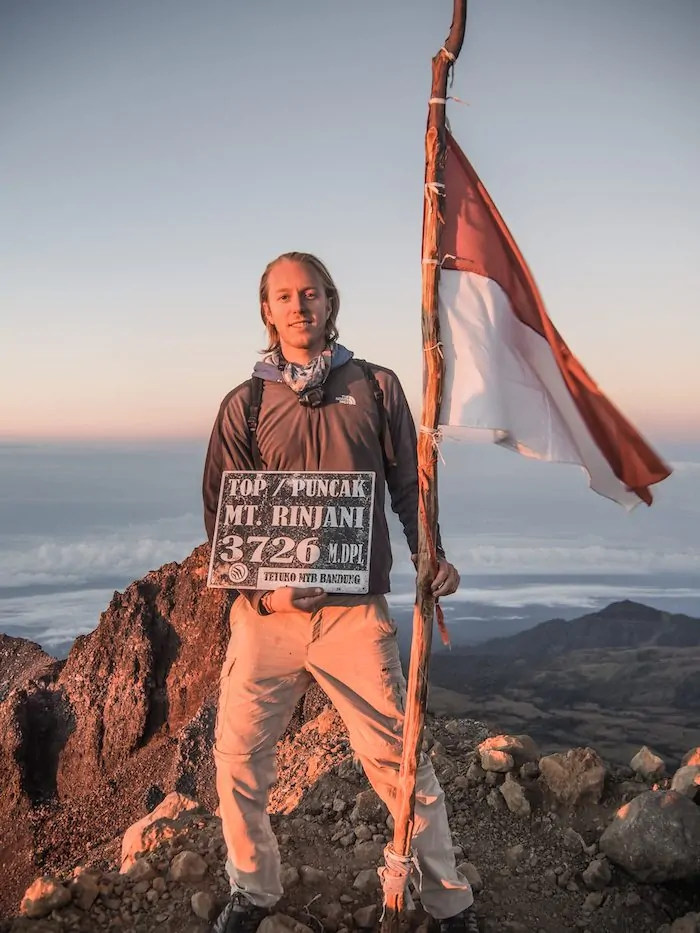 1:30AM – summit wake up call
1:45AM – light breakfast/tea in bed
2:00AM – climb 1,126m (3,750ft) to the summit at 3,726m
*if you opt out of the summit, sleep until 6AM for sunrise at the crater
6:00AM – reach the summit, enjoy sunrise, take some pictures and head down
8:00 AM – arrive back at camp for a big breakfast
8:01AM – complain about how you cannot possibly go on
10:00AM – descend 600m (2,000ft) to the lake
1:30PM – swim in the hot springs
2:00PM – climb 600m (2,000) to the opposite crater rim
6:00PM – arrive on the crater rim for sunset at camp 2
7:30PM – eat dinner and enjoy a celebratory beer
9:00PM – bedtime
Day 2 at a glance: Climb 1,126m [3-4 hours], descend 1,126m [2 hours], descend 600m [3 hours], climb 600m [4 hours]
Day 2 is by far the most grueling day but also the most rewarding. Assuming you go for the summit, this means a 12+ hours of trekking starting at 1:30AM. You climb AND descend 1,726m (5,750ft) in one day. The entire day you are either climbing straight up or straight down.
Hiking to the summit: (if you're opting out of the summit, skip to the next section)
You will make the entire 3-4 hour climb in the dark with the use of your trusty headlamp.
Pack light – warm clothes, light snack, bottle of water, sunglasses/sunscreen for the descent.
Pack warm clothes – multiple layers and a wind breaker jacket as temperatures drop to 5 degrees Celsius and it's extremely windy. Hat and gloves are recommended.
1st hour: 45-degree slope of slippery volcanic ash and loose gravel. Some parts are aided with a rope/railing to pull yourself up. It's a single file line which makes the climb slow (especially if it's crowded, which it will be in high season).
2nd hour: 30-degree slope on an exposed ridge. This will be a relatively easy walk but the winds here will be extreme as you are exposed the entire time.
3rd hour: 50-degree slope to the summit. This is the most challenging part of the climb as it's all scree (lose rocks). You will be climbing 2 steps up and slide 1 step back the entire time. It's very discouraging and never seems to end. You will get tons of dust, pebbles, and rocks in your shoes.
If you make it to the summit, you are rewarded with an impressive 360 view of Lombok island, Flores and Komodo island to the east, Mt Agung on Bali and the Gili Islands to the West. Not the mention a birds eye view of the entire crater rim and lake which allows you to fully appreciate how impressively massive and beautiful Mt Rinjani really is. Don't forget to get a picture in front of the sign!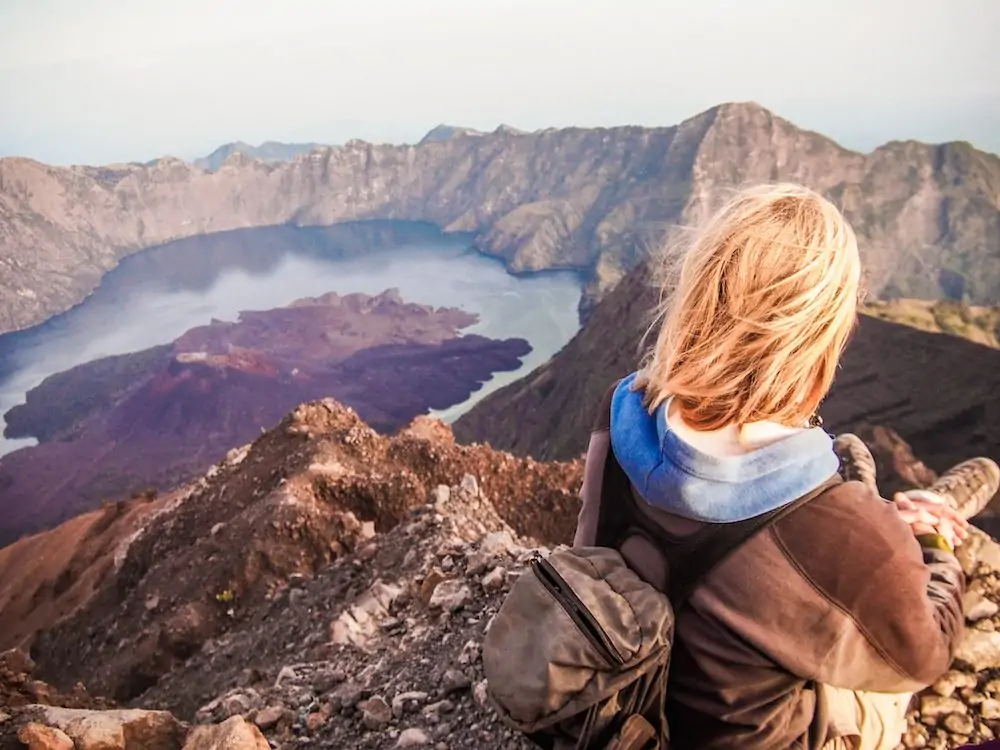 The climb down from the summit usually takes 1.5-2hours and is very slippery. Most people opt for a sliding technique which seemed to work best. Similar to ice skating or roller blading down a hill. It's actually really fun even though I fell to my butt at least 5 times. Don't forget to stop and appreciate the views! Also offers great picture opportunities.
Heading down to the lake (If you skip the summit, day 2 starts here):
After breakfast at camp, we got a 30-minute rest period before ascending 600m down to the lake. We were all exhausted and our legs felt like jelly at this point. The descent was extremely steep. It took our group 3.5 hours to reach the lake.
The lake it beautiful but unfortunately packed with people and there is trash EVERYWHERE. It was very upsetting to see such a beautiful place desecrated by humans. After bringing it up to our guide we expressed his pride for Green Rinjani, his sadness for the state of Mt Rinjani, and his anger with the national park service who "earns a tremendous amount of money from trekkers and puts no money into keeping it clean."
After a 15-minute walk we find the hot springs which were the best looking hot springs I've seen. The water pooled up below a 7 meter water fall. It was pretty crowded with both trekkers and locals who use the crater lake (Segara Anak) as a pilgrimage site.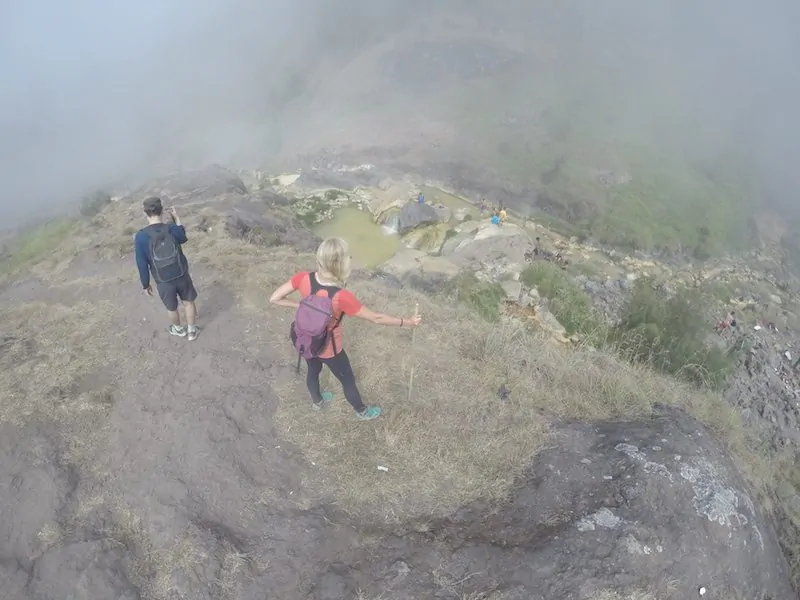 Then we trekked around the lake and started our ascent up to the opposite crater rim. We climbed from 2,000m to 2,600m in about 3.5 hours. The entire climb was steep and at times very challenging. No technical climbing experience necessary. This climb offered the best views besides the summit. We felt the urge to stop and stare constantly!
We reached the crater rim just before sunset and were mentally and physically drained. The hardest day of trekking in my life was finally finished. The views from the Senaru side crater rim were absolutely amazing and so was the sunset.
*If you didn't want to climb the summit and only had time for a 2D/1N trek, definitely start and end in Senaru so you can camp here. It was much less crowded them the Sembaluan crater rim and had the most impressive views.
Our group was so proud of each other but could barely celebrate, as we were so sore and tired. After it got dark, we were all very cold and wrapped up in our sleeping bags to stay warm. We quickly ate dinner, drank our hot chocolate and celebratory beers, and went to bed. What a day.
Day 3: Never-ending decent to Senaru
6:00AM – wake up for sunrise on the crater rim
7:30AM – breakfast
8:00AM – start our trek back to Senaru
12:00PM – lunch
3:00PM – arrive in Senaru
Day 3 at a glance: Descend 2,000m (6,650ft) back to Senaru [5-7 hours]
After a reasonable nights sleep we thought we would be ready to make the lengthy descent back to Senaru. This was not the case. Our legs were so sore from the two previous days making the descent slow and challenging. Unfortunately the decline was even harder than Sri Pada (Adam's Peak) in Sri Lanka.
It's starts with a couple hours of very steep and slippery descent. Our makeshift trekking poles (bamboo) were paramount in making it down safely.
After the steep descent, you enter a peaceful rainforest for the remainder of the descent. It's shaded making for a pleasant temperature and no risk of sunburn!
At times it's steep and muddy but mostly a steady 30 degree descent often climbing on makeshift stairs made out of exposed tree roots. We saw quite a few monkeys and heard lots of birds.
Towards the end of the descent our legs were completely wrecked and felt like we were going to collapse. When we thought we could go no more, we saw some signs of civilization and knew we were close. We passed coffee and chocolate plantations just outside of town.
Finally we reach Senaru! We felt very accomplished and in demented fantasy I was already thinking about the next peak.
Review of Green Rinjani:
Overall our entire group of 6 was extremely pleased with Green Rinjani trekking company.
Positives:
The owner Airee was easy to work worth and really cared about our experience.
Green Rinjani has insurance, pays their taxes, and has the necessary permits (many guide services do not)
Our guide Adiee took great care of us and was pleasant to be around, and his team of porters were very nice and always smiling. One of them literally took his sweatshirt off his back so I would be warm enough on the summit.
Our guide offered to change our route based on the groups decisions, helped us take group pictures, and was constantly making us laugh
All of our gear was new, clean, and high quality (tents, sleeping bags, sleeping pads, pillows, etc)
The food was excellent, much better than the town of Senaru! We had chicken curry, club sandwiches, nasi goreng, nasi campur, butter chicken, mia goreng, noodle soup, and spaghetti Bolognese
They provided many snacks such as fruit, biscuits, and cookies.
They provided coffee, tea, and hot chocolate 3+ times per day
We had our own bathroom tent which came in handy because the campsites were PACKED with other groups.
Our guide sent a couple porters ahead of us to secure the best campsites at each location. This made a huge difference because we had the best views, and were away from the huge mess of tents which tent to be really loud making sleep tough to come by.
They care about keeping the environment clean and took out all of our groups trash out (most groups do not, unfortunately)
We each got to plant a tree!
Negatives:
We only had one complaint. We were told warm jackets would be provided to us on the summit. The night before summit we found our guide didn't bring any jackets for us. Our guide informed us that the owner never told him we needed jackets. Not a surprising miscommunication as the owner is extremely busy organizing many treks per day. Next time, I would confirm the morning before we left that jackets were packed. Luckily one of the porters had an extra sweatshirt for me to wear which was the bare minimum. If I stopped moving I became very cold, very fast because I didn't have a wind breaking layer. Anne got lucky because one of the girls in our group decided not to summit and lent her a warm jacket
Contact Green Rinjani (Owner's name is Airee):
Email: [email protected]
Phone:

+62(0)81916030327

Address:

Jl. Parawisata Senaru – Bayan Lombok Utara – NTB – Indonesia
Environmental Impact
Rubbish on Rinjani is getting out of hand. Over 200 people go trekking each day (100 trekkers + 100 porters/guides). Which you can imagine creates a ton of waste, most of which gets left on the mountain. The rest stops and most of the camping areas are pretty disgusting.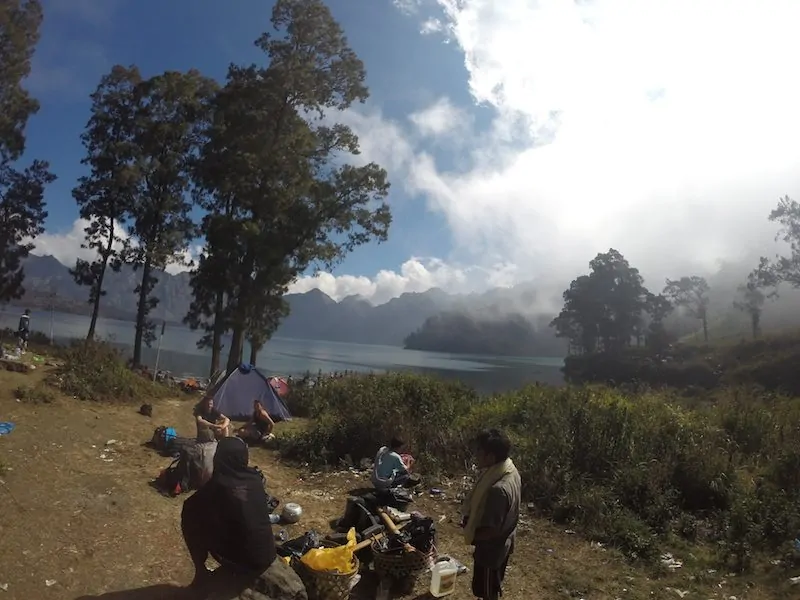 I had many negative feelings run through my head about how (mainly) western tourists show up, pay their fee to explore Rinjani's beauty and leave it in such an awful state. I've been thinking of ways to clean it every since. If you have any thoughts here please let me know!!
After talking with our guide, we learned the Indonesian government charges 150,000 IDR per person to trek and almost none of that money goes into rehabilitating Rinjani. I asked the guide why the Indonesian government doesn't incentivize porters to take down rubbish like they do with oxygen canisters on Mt Everest? He grimly replied that would never happen.
Out of the 100+ trekking guides services, only 3-4 actually clean up their mess.
Several others claim they do online but on the mountain they do not follow through. Other companies just pick up a little trash on the last day to make an illusion of "being green." Thankfully Green Rinjani stands behind their claims and took out every piece of non-organic matter off the mountain. The porters at Green Rinjani do not get their tip if they do not pull their weight with removing rubbish. Here is our team's haul!
What's up with the porters and guides?
Your success on Rinjani is greatly influenced by your guide and porters!
There aren't many jobs in Senaru/Sembulan outside of the trekking industry. Being a porter/guide in Senaru/Sembulan is considered a good and well paying job. Be thankful for their hard work and remember to tip them at the end.
Porters:
A typical porter carries 30kg on their back and does two 3-day treks per week, averaging 7 treks per month.
They use a bamboo rod with baskets on each end balancing out the load. Traditional backpacks aren't large enough to carry everything they need. Most climb in flip flops or barefoot. Although they are very proficient with flip flops, our guide said they don't have shoes because they cannot afford them.
Around the age of 15 they start training. They usually go on training treks for a few weeks before they get hired. They start with only 5kg, then 10kg, 15kg, etc until they are strong enough to carry 30kg on an excursion.
Guides:
Guides always start out as porters and after several years they can try to become a guide. They need to have good English, be a strong climber, know how to cook, and be competent leading a group of trekkers while managing the team of porters.
Our guide from Green Rinjani, Adiee was been a guide/porter for the last 20 years, trekking almost constantly 9 months out of the year. He also had a wife and family at home. Besides being fluent in two Indonesian languages he also spoke English well and knew some French, German, Spanish, and Japanese.
Despite the incredibly hard work, our guide and porters were always smiling and very pleasant to be around. After the trek we were all comparing our blisters and complaining about our sore legs… then we saw our team cleaning our tents and packing up. They were going straight up the mountain the following morning! NO WAY.
Accommodation near Mt Rinjani (Senaru)
There are tons of accommodations lining the main road in Senaru suiting all budget ranges. Here are our top recommendations.
Rinjani Trails [$21]
One of the cheapest options in Senaru. Decent rooms, come with free breakfast.
Pondok Senaru Cottages [$35]
This is where we stayed in 2014. Located on the main road (right next to Green Rinjani) making it easy to shop around for trekking guides. Rooms are basic and clean each with their own private bathroom, western toilet, shower, desk, and restaurant on site. Staff was very nice. No WIFI in your room. You can eat at the restaurant nearby for free wifi. We met nice people here who we ended up trekking with the following day.
Rinjani Lodge [$88]
Nice rooms with Air Conditioning, open air shower and tub, flat screen TVs, free breakfast, and WIFI throughout the whole place. Only a 20 minute walk from the Sindang Gila waterfalls.
Rinjani Beach Eco Resort [$91]
Nice resort on the beach. You can enjoy beach life and take a shuttle to the starting point of the Rinjani Trek. Onsite pool in case you don't want to swim exclusively in the ocean.
Other activities near Senaru:
Waterfalls – There are 3 waterfalls near Senaru that are supposed to be amazing. We didn't have time to check them out. Some say you 'need' a guide to go see them. Ask around in Senaru for up to date information.
Less intense trekking – If you're not interested in the grueling Rinjani, there are less intense treks waiting for you in the area. You can arrange everything in Senaru.
Where to go next?
Most people are very sore after Rinjani, so I wouldn't plan on doing much of anything for a day or two. I definitely wouldn't plan a long travel day right after Rinjani.
Gili Islands, Lombok – Most people go straight to the beach to relax. Known for beautiful beaches, relaxed vibe, good snorkeling/diving, and nightlife. We highly recommend the chilled out Gili Air over the more popular (and obnoxiously overrun) Gili Trawangan. Don't forget to snorkel with a sea turtle. Bonus: you can feel accomplished staring at Rinjani as you lay on the beach. [1.5 hour cab, 15-30minute boat ride]
Kuta, Lombok – One of my favorite places in all of SE Asia. This chilled out beach town is the perfect jumping off point to explore some amazing beaches and has some of the best surf in Indonesia. Find a guesthouse you like, rent a motorbike, eat cheap, explore untouched beaches and surf every day. [3.5 hour cab ride]
Sengigi, Lombok – The most built up tourist destination on mainland Lombok but I cannot recommend it. It has a super average beach, tons of resorts, bars/restaurants, and shops but lacked any character. Can be used as a jumping off point for exploring the island by motorbike. I heard the surf is excellent if you're a great surfer. [2 hour cab]
Ubud, Bali – The Yoga and Healing center of Indonesia. Enjoy healthy food, happy people, and lovely climate. We enjoyed a month here practicing yoga at The Yoga Barn and working/networking at Hubud – the shared workspace in Ubud.
Was it worth it?
Although we can confidently say we don't plan on doing it again, trekking Mt Rinjani was one of the most rewarding things we've done. It was definitely my highlight of our 2 months in Indonesia.
When I reflect on Rinjani, I immediately remember the feeling of accomplishment with our group and the amazing views. It's funny how I don't even think about how I got sick after or how my legs were sore for 3 days. Interesting to ponder WHY our minds work the way they do.
I can safely say after trekking the Annapurna Circuit and Climbing Rinjani I'm addicting to trekking/climbing.
Heading to Rinjani soon? Book a room via Booking.com


Your turn… what has been your favorite trek or climb? (I'm looking for some ideas)
*Our trek was sponsored by Green Rinjani, as always our opinions are our own.
Thanks!
Brandon
PS: Did you Enjoy this Article? Pin me 🙂