July babies are lucky to have one of the most precious and color-captivating gems as their birthstone. Ruby, or the "King of precious stones," is rare, enchanting, and incredibly powerful when it comes to love. For centuries, it was believed the gemstone brought love, passion, and romance.
Ruby's deep red color is just one of the many reasons people instantly fall in love with this gemstone. It is perfect for everyone born in June but is also adored among lovers of precious stones. Read all about its history and rich legends surrounding the birthstone for July.
The King of Stones
Royalty, Kings, Queens, and Emperors from various cultures proudly wore the July birthstone. For them, the gem was the symbol of power, wealth, and high social status. As stated in ancient Sanskrit, ruby was called "ratnaraj," which means "King of precious stones."
The name Ruby origins from the Latin word "Ruber," which means red, stating the gorgeous color of the birthstone. Almost as hard and durable as the diamond, this fiery gem continues to be coveted and worshiped not only for its beauty but as well for its amazing history and many legends.
The Ruby History and Legends
Historically ruby gemstones have a long history from about 200 B.C. when they were used in trade along China's silk road. Biblically the gem also carried significant meaning as it was mentioned in the King James Bible as much as six times.
In ancient India, the deep red color of the gem was associated with blood and symbolized life, youthfulness, strength, and power. Ancient Hindus assumed that gods craved the July birthstone as passionately as humans did back then. So they believed if an offering of rubies was made to the God Krishna, one would be reincarnated and be reborn as a mighty emperor in their next life.
Myanmar, previously known as Burma, was one of the most Rubies-rich places for centuries. According to legends, Burmese warriors believed the July birthstone to be able to make them invincible in battle. Even Chinese noblemen during the middle ages wore Rubies on their armor to ensure they were protected and obtained strength.
In fact, in many cultures, Rubies were worn by warriors, believing the red stone would give them strength and keep them unharmed. In addition to this, they also believed the stone could heal them if they got injured during combat.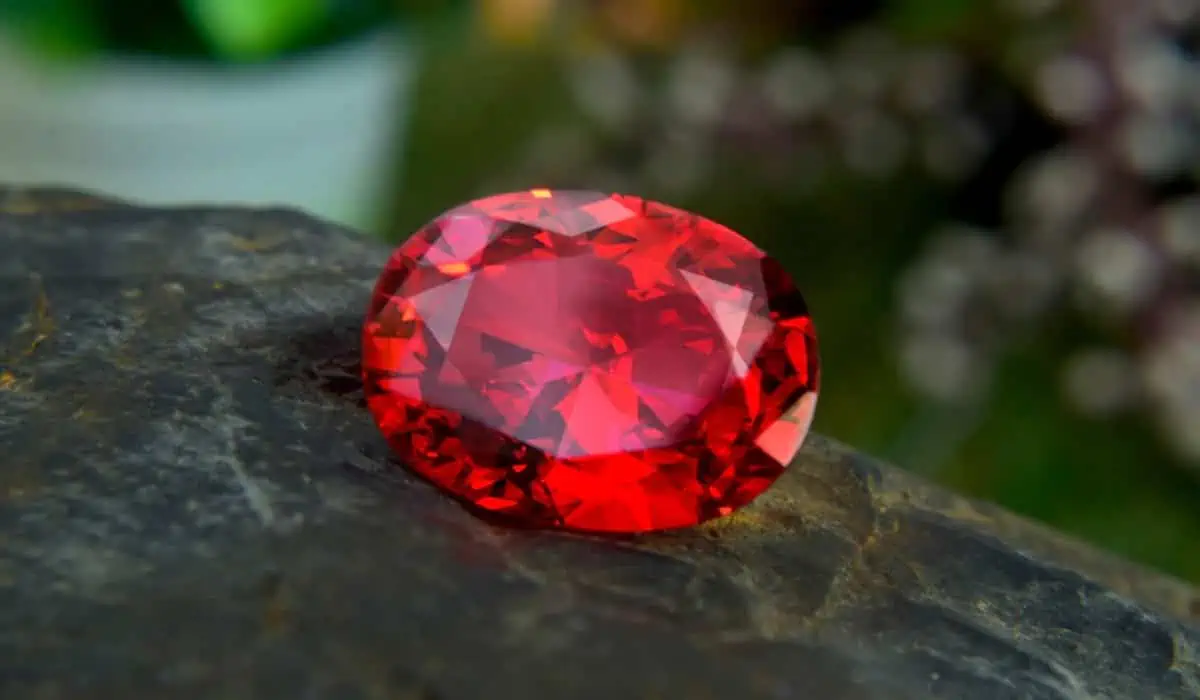 Rubies Mystical Powers
July birthstone is deeply valued for its deep red color but is also credited for having profound mystical and healing properties.
In ancient times, it was thought to protect people from evil, and according to folklore, dreaming about Rubies brings good fortune. Some even believed the gemstone could predict misfortune or danger, so ruby jewelry was often worn as a talisman or amulet.
When it comes to its healing powers, during medieval times, people with inflammatory diseases or blood disorders used to hold Rubies on their chests or close to their hearts, hoping the gem would ease the pain and cure them.
During the Middle Ages, medieval Europeans also supported the belief that the precious birthstone bestowed health and offered wisdom, wealth, and luck in love. But they also used the gems to soothe anger and temper their emotions, convinced the July birthstone can reduce the rash behavior that causes rage.
Ruby The Stone of Love
Red is the color that symbolizes passion and love. In addition, yoga practitioners favor the gem believing it is able to activate the Heart Chakra. Therefore, ruby is also called the stone of love by holding a connection to the heart and also with lore saying it can protect from heartbreak.
Nowadays, this birthstone is perfect jewelry gift for a loved one born in July, as your Valentine's gift or eye-catching engagement ring due to its strong symbolism of love. Moreover, this gem is said to foster faithfulness and devotion in intimate relationships. In addition to being a stone of romance and love, ruby is a traditional jewelry gift for celebrating the 15th and 40th wedding anniversaries.

Metaphysical Properties
This mesmerizing gem is associated with courage, happiness, and passion. It is said that if you wear ruby, you will reveal your passion for life and stop procrastination. This birthstone can help its owner to focus and complete their tasks. Wearing it as a necklace, bracelet, or ring is also meant to protect your life and bring you peace.
Where are Rubies Found?
The first ruby was discovered in Asia. During the early 1900s, high-quality ruby birthstones were discovered in Thailand and Cambodia. As time passed, people in Vietnam and Myanmar also found sources of Rubies.
Myanmar (formerly known as Burma) is one of the oldest documented sources of best rubies with purplish red color. Myanmar's Mogok area has produced specimens of the finest rubies (Burmese Rubies) for over five centuries. With such fine quality and impressionable color, Burmese Ruby is one of the rarest gemstones in the world. Moreover, a ruby larger than one carat is very expensive since large rubies are harder to find than large diamonds, so rubies' value increases with size more than any other gemstones on the market.
Since the late 20th century, Vietnam has become another significant source of the July birthstone. In the Luc Yen region, the northern Vietnam area is where rubies of red to purplish red are formed. Farther south, the Quy Chau district is also known for giving nature's finest red ruby. Today, artisanal miners continue to work the soil in hope and longing to find this gem that will change their fortune forever.
Mozambique is one more important new source in which the African nation has the profuse rubies mines at Montepuez. The July birthstones mined there have been compared to the outstanding gems of Myanmar (Burma).
Other important producers of the July birthstone include Afghanistan, Tajikistan, Pakistan, Sri Lanka, Kenya, Tanzania, and Madagascar.
How are Rubies Formed?
Rubies are formed deep below the Earth's surface under excessive heat and pressure. Oxygen and aluminum oxide atoms transform into a mineral called corundum during compression. Then, with chromium's help, the corundum turns into a red ruby. So the trace amounts of the element chromium in these precious gems give the gem its rich red color.
On the other hand, the September birthstone Sapphire and May birthstone Emerald are also a variety of the mineral corundum. In fact, every variety of the mineral corundum is considered to be sapphire. However, in its purest form, the corundum mineral is colorless, but the red variety is what makes these stones rubies instead of being called sapphires.
Ruby's "Pigeon's Blood" Color
July birthstone colors vary from deep, rich blood-red to a lighter rose red, but they also may have a shade of orange, pink, or purple. Moreover, when exposed to sunlight, the UV rays make the chromium glow making the gem's color even more captivating!
The finest and most valued ruby color is the so-called "Pigeon's Blood," or deep red with a tint of purple hue. The purer red gem has the highest amount of chromium. However, today, many rubies are heat-treated to get a more intense color and gain value, but despite it, they can't be measured with the value of untreated Rubies found in nature.
Most Famous Rubies
Sunrise Ruby
Rubies are rare, extraordinary gems, and incredibly expensive gems. In fact, Sunrise Ruby is the world's most expensive ruby ever sold. The 25-carat gemstone with the "blood of a pigeon" was sold for 30 million dollars, which is more than one million for one carat.
World's largest Ruby
As of 2020, the 125West is the largest ruby in the world. The rough gemstone has yet to be polished and weighs an astonishing 8.2 pounds and 18,696 carats. Most interesting, the massive gem threatens to take Sunrise Ruby's title for the world's most expensive ruby as it is reported that 125West's owners, whoever they are, have put the precious stone up for sale.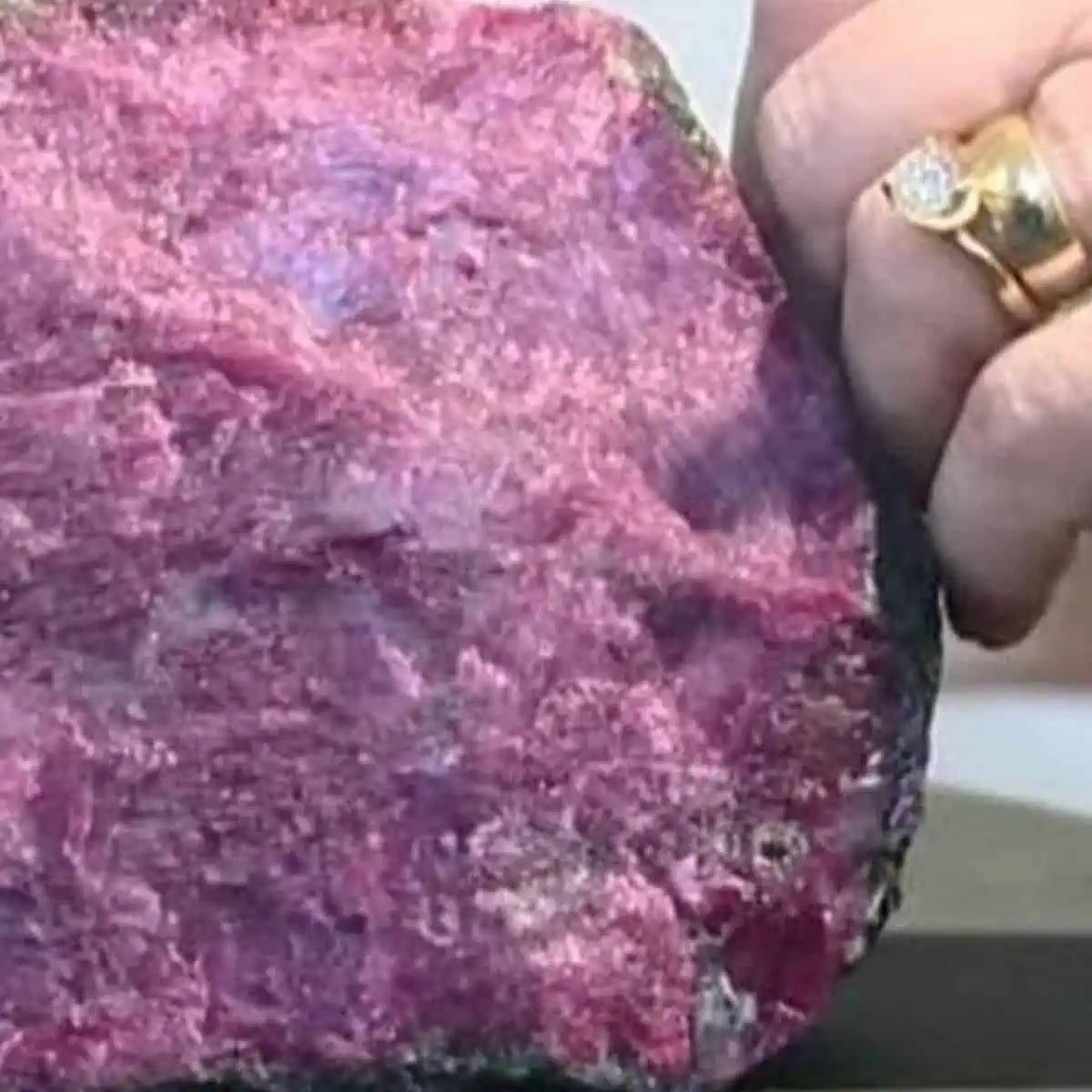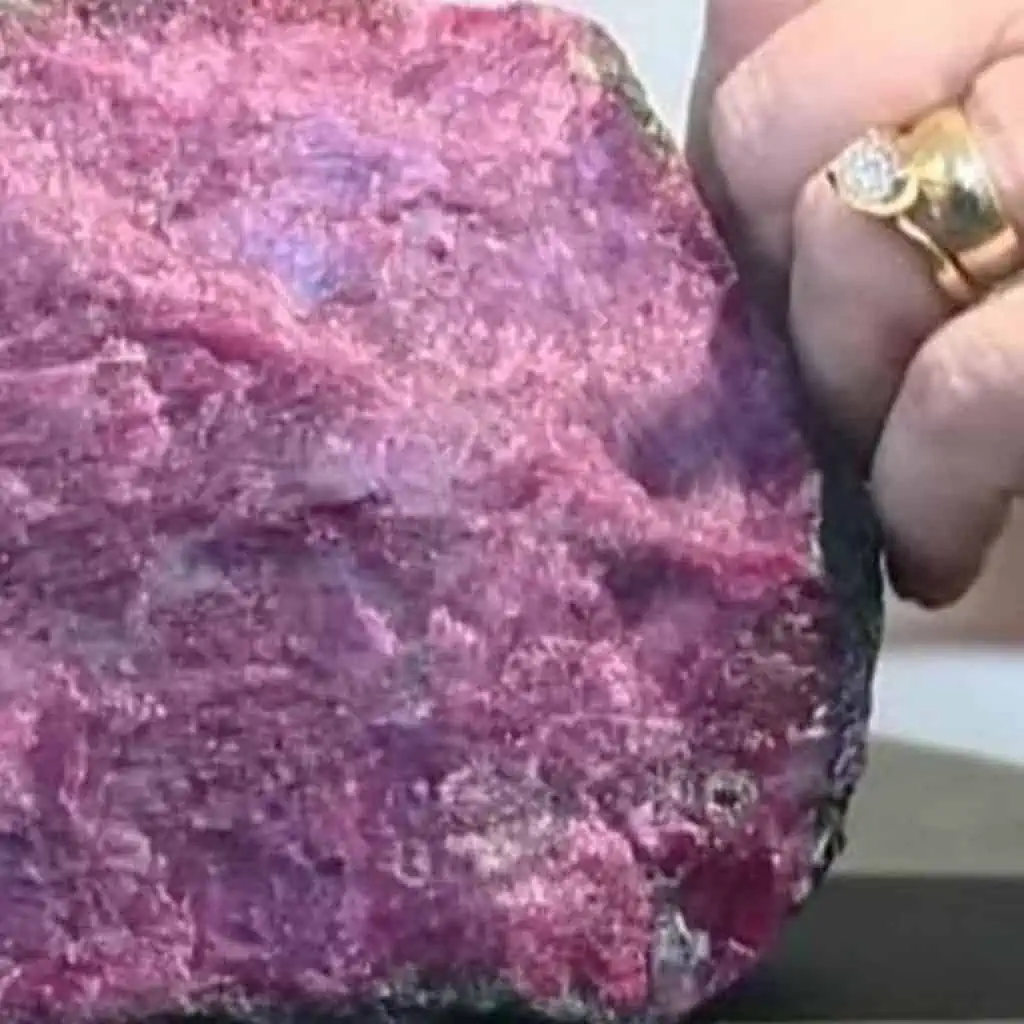 Liberty Bell Ruby
Liberty Bell Ruby was mined in East Africa in the 1950s, weighing 8,500 carats, and carved out of the biggest gemstone ever mined. The gemstone wasn't cut and faceted like other rubies, but instead, it was carved to resemble the Liberty Bell and to further set with 50 diamonds. In addition, there is a mystery surrounding the stone as it was stolen in 2011 from Stuart Kingston Jewelers in Wilmington, Deleware. But, although four men were captured and arrested in 2014, till today, no one still doesn't know where the ruby is.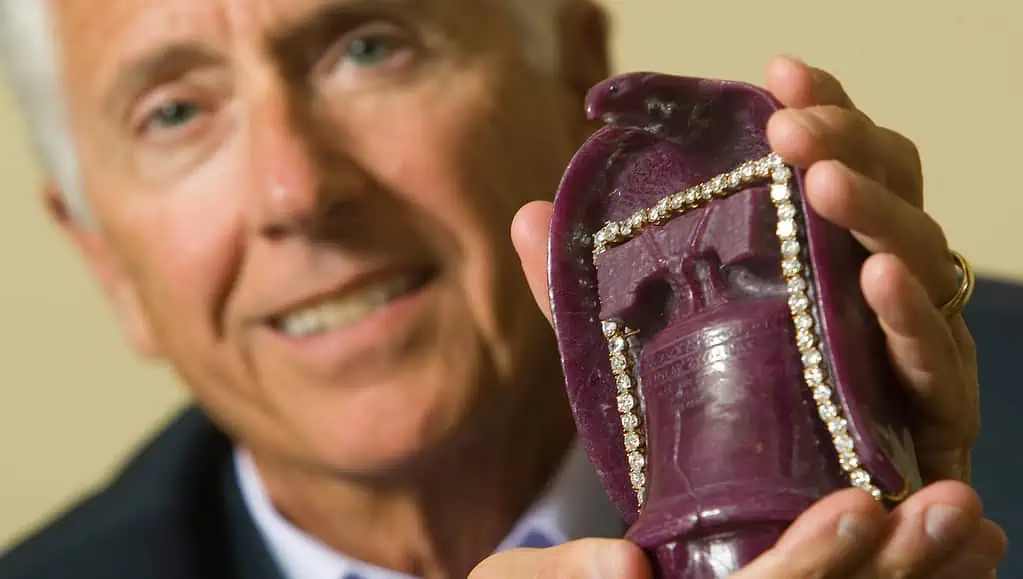 The Peace Ruby
On 30th June 1919, two days after the peace document was signed and World War I ended, a 42-carat stone with a deep red and purple hue was discovered in the Mogok valley, known for rare and highest gem-quality rubies. The rough ruby was accordingly named the "Peace Ruby" to eternalize the memory of this historic event.
The "Perfect" Ruby
Elizabeth Taylor was known for her impressive collection of diamonds and emerald jewelry, but she also yearned to have ruby jewelry as well. So in 1968 received the stunning 8.24-carat weight ruby-and-diamonds ring as a Christmas present hidden at the bottom of her stocking by then-husband Richard Burton. He promised the Hollywood actress to give her the "perfect" ruby early on in their marriage. In addition, at the 2011 Christie's auction, this ruby jewelry was sold for $4.2 million.
How to Care for Your July Birthstone
July birthstone is 9 out of 10 on the Mohs Hardness Scale, making it the second strongest gem next to diamonds. So despite everyday wear, your traditional birthstones will still last long and keep their unique beauty. However, most rubies may also be subjected to lattice diffusion treatment and dyeing. In addition, the purplish coloration of rubies used in modern jewelry is often removed by heat treatment, leaving the stone a purer red. So these treatments could make these gems more vulnerable to damage during normal wear and care.
Therefore the safest way to clean your ruby jewelry is with warm, soapy water and a soft brush. But you can also use steam cleaners whether the gemstone is lattice diffusion-treated stones or heat-treated and untreated stones. However, using only a damp cloth to clean cavity-filled, fracture-filled, or dyed gemstones would be best.
FAQ
What are the 2 birthstones for July?
Ruby is the traditional birthstone, while Onyx is more of the modern birthstone for those with a July birth month. Furthermore, since the gems are associated with the Zodiac signs Cancer and Leo, the King of the Jungle can choose Onyx as it is said to match their passionate energy perfectly.
What's the birthstone color for July?
The birthstone for July is ruby, and the word ruby means red. Therefore, this month's color is the fiery, passionate, and energetic RED. Since it is the color of blood, it has historically been associated with courage, power, life, love, and passion.