What is The Garden Kafe?
Since Ubud is one of the healthiest cities in Asia, The Garden Kafe fits in perfectly. The Garden Kafe is The Yoga Barn's onsite restaurant, and Ubud's first raw food restaurant. The food is mostly vegetarian-vegan, with a small selection of cooked foods. Most of the produce comes from their own organic garden! The menu caters to a typical yogi's diet and anyone who desires healthy food. They feature raw foods and desserts, fresh juices and smoothies and even special menus for detox and Ayurvedic rejuvenation.
While you dine, you overlook rice fields and the beautiful amphitheater of The Yoga Barn. Connect with your friends and family back home easily by using their complimentary wifi. Or simply sit back and take in the views while reading the newspaper that is provided daily.
*Studio review of The Yoga Barn in Ubud, Bali
Our story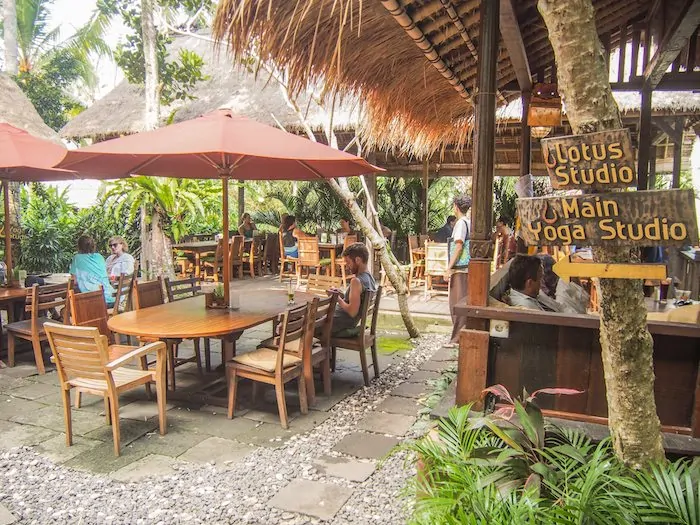 We spent a month in Ubud practicing yoga and healthy healthy food.
We ate many meals at The Garden Kafe as it was a convenient place to grab a bite between yoga classes. We often sipped tea or juices along with our meals, and quite frequently opted for dessert too!
Location and Hours
Located onsite at The Yoga Barn. Open daily form 7:30AM – 7:00PM

View The Yoga Barn in a larger map
The Food
Before arriving in Ubud, we hadn't had clean and healthy food for several months.We were craving it! Luckily the Garden Kafe, and Ubud in general, specializes in health food. Our first meal was extremely memorable if not simply for this reason alone. As we continued to try new things at The Garden Kafe, we started to learn which dishes were the best value and bang for your rupiah. We appreciated the wide selection and variety of food from different regions of the world.
Some of our favorites
Crunchy Beetroot & Walnut Salad
Grilled Vegetable Wrap
Vegan Tofu & Veggie Burger
Tiger Bowl
Wheatgrass Shot
Before Yoga Energize Tea
Sunday Buffet!
The service
The wait staff was attentive most days and always clearly restated our order before bringing it to the kitchen. On busy nights, it can take a while to get served. We never experienced miscommunication or misunderstandings with our orders. Food came out fresh each time.
Garden Kafe hosts buffets twice per week
Sunday's from 12:30PM – 2:30PM
Every other Monday from 6PM – 8PM
Garden Kafe as a sister restaurant called "Kafe"
Kafe is located on Hanomen Street and also owned by The Yoga Barn. It boasts a similar menu and is a very popular location for expats and yogis. Also it's open later than The Garden Kafe.
What's your favorite meal at the Garden Kafe?