What is Radiantly Alive Yoga?
Ubud's second largest yoga studio behind The Yoga Barn. Multiple beautiful studios, modern feel, good teachers, many different class types. A must visit for yogis in Ubud.
Our Experience
During our time in Ubud, we had the chance to take 3 different classes at Radiantly Alive . The studio felt modern and sleek. Very nice staff and had a great chill zone above the lobby with bean bags, books, etc. We often went to Bali Buddha before or after class for some healthy food or a $1 kombucha.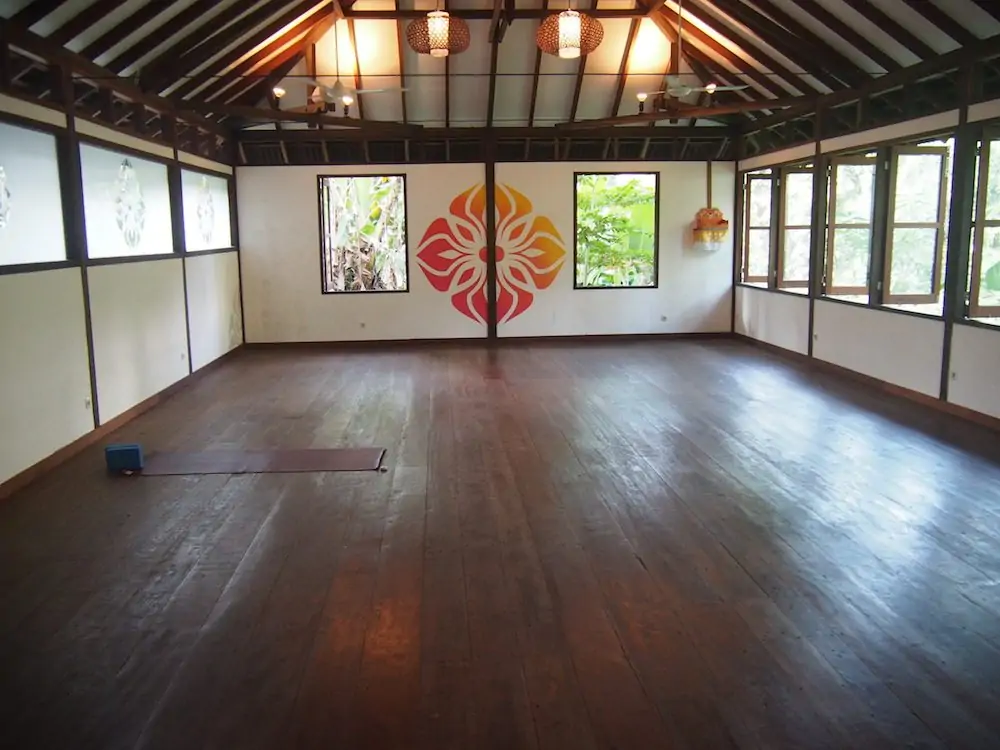 The classes we took were…
RA Vinyasa with Sanna – Nice balanced Vinyasa. Sanna did a great job. If you're from the US or regularly practice a western style Vinyasa, you will feel right at home.
Roll and Release with Rusty – Through the use of many props (especially tennis balls), we systematically opened up our fascia from head to toe. Reminded me of self care Thai Massage which, not ironically, Rusty has been trained in. Wish I had this class when I was still a 9-5 desk jockey!
Yin Yoga with Rusty – Nice slow paced Yin class getting deep into the backside of the body. Paired up with Roll and Release, I left the studio feeling like I had some major work done.
Class and Programs:
Tons of class types to choose from. Yoga, Dance, workshops, etc. See the full class list here.
Recommended: Roll and Release and RA Vinyasa Flow
Popular: Salsa dance, Fly high yoga, arm balance workshop, RA Vinyasa
Programs: Yoga teacher training, tons of workshops, holistic therapies, health food store onsite
Pricing:
Drop in classes 140,000 IDR ($11.50 USD)
All day unlimited pass 170,000 IDR ($14 USD)
1 month unlimited = $1,500,000 IDR ($123 USD)
Location:
Conveniently located in the North East end of central Ubud. Across from Bali Buddha.
Facilities:
Extremely nice and modern feel. Several studios onsite. Modern toilets and showers. Super cool art on the walls. Lots of yoga photography, reminded me of Robert Sturman's work. Great vibe!
Surprises and delights:
Roll and Release is a super cool and unique class. It "hurt so good" and when I was finished felt like I just had a deep tissue Thai Massage.
Kombucha across the street at Bali Buddha (10,000 IDR, less than $1USD)
They use Manduka Prolite yoga mats which just so happen to be my favorite and quite possibly the best yoga mat ever made.
Check out the 5 best yoga mats for traveling
Ideal For:
Radiantly Alive is accessible for yogi's with any experience level. It has a less "overwhelming" feel than yoga barn, with often smaller class sizes.
Expats/long term Ubuder – Classes are priced as an unlimited yoga for a period of time model which is a great value if you can stay a while and plan to practice often. Good news, there are many class types so you can mix it up.
Contact
email:

[email protected]
Phone: +62 361 978 055
Address: Jl Jembawan no. 3, Padang Tegal Kaja, Ubud, Bali, Indonesia
Final Thoughts
Ubud is a healthy living mecca and Radiantly Alive is a premier yoga studio by international standards. It has beautiful facilities, nice staff, solid teachers, and a good location. Slightly more expensive than yoga barn for a drop in class, however if you're planning to spend 2 weeks or more in Ubud there are great deals on unlimited class packages. The schedule is not as comprehensive as Yoga Barn, but that's to be expected as it's a smaller studio.
Have you ever been to Radiantly Alive? Any advice to share?
*Our classes were provided by Radiantly Alive however as always our opinions are our own
PS: Did you enjoy this article? Pin me!