Now that working from home is a more common occurrence, the search for comfy joggers is essential. Business up top and comfortable joggers on the bottom half will give you lightweight comfort, and cozy leggings to get you through the day.
Read on to find out what all the hype is about, and if it is worth getting your own pair of Vuori Joggers!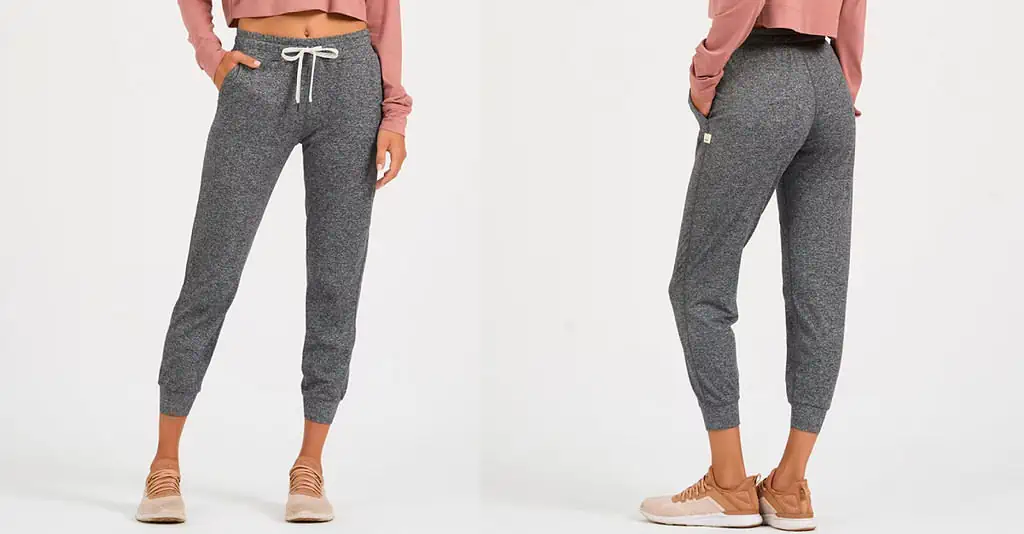 Who is Vuori?
Have you heard of Vuori? Inspired by the Coastal California lifestyle, Vuori has created performance apparel, including joggers, that break down the boundaries of traditional activewear and bring a new integration of fitness, surf, sport, and art.
Part of their product guarantee includes the commitment to provide a great customer experience and an investment in happiness. How do they provide this? By following three guiding Vuori principles:
1. Ethical manufacturing
Vuori ensures that all factories provide safe and healthy working conditions for their staff and that they follow responsible environmental policies.
2. Sustainability
Vuori works to reduce waste, offset 100% of its carbon footprint, create social responsibility, and encourage community leaders to empower deeper connections with fitness, nature, creativity, and community.
3. Community
Vuori aims to create great relationships with its staff, partners, and the communities they operate in. Their products are designed to bring people together to share positive and meaningful experiences.
What's the hype about Vuori?
With an ethical background and a positive outlook for the future, Vuori is an up-and-coming brand of fitness clothing for women. If you are looking for cozy sweats that feel like pajamas yet provide all that you need for ultimate performance, then Vuori is the brand for you. Vuori provides joggers for men and women in unique styles that stretch to fit your body. They all have a relaxed fit and soft material inside and range from size XS to XXL, depending on your needs.
Here's our pick and a quick review of the top joggers that we recommend:
Women's Joggers
While Vuori provides an epic and diverse range of sporty clothing for all genders, we are going to focus on reviewing their range for Women in this article. In the women's range, there are five styles of joggers, all with slightly different designs but with maximum comfort. These pants are the:
Performance – for comfy yet practical exercise practices
Daily – for running those daily errands
Miles – for travel and adventure
Boyfriend – for maximum relaxation
Villa – to pack for your summer vacation
Women's Performance Joggers
Vuori provides a wide range of performance joggers, for the everyday athlete, the one who loves pilates and yoga, or the ones who love to lounge around in activewear.
The classic performance joggers are made of Vuori's unique DreamKnit ™ fabric. Each pair offers a relaxed fit, tapered legs, and Slash pockets. Although made for performance purposes, these pants are arguably one of the best pairs of sweatpants for lounging around during the holidays. With a slim fit and comfortable feel, you can get off the couch and go for a run in these comfy pants, but you could also call them pajamas and enjoy a cozy sleep in these stretch-style pants. It's up to you to put them to good use!
Pros
Buttery Soft Fabric
Good stretch and range of motion
Easy to care for and the long-lasting fabric feels brand new after multiple washes
Large choice of colors
They hold their shape
Cons
It is hard to find a bad review about these performance joggers – you can't go wrong with this style!
Women's Daily Jogger
More like leggings, these high-rise daily joggers wrap comfortably around the waist to create a soft yet great fit. The daily jogger is called 'daily', as you could wear them year-round from January through December, embracing every day of the year in your activewear. With their unique Breathe Interlock™ fabric, the daily joggers provide a high-rise fit, ribbed waistband, and adorable cuffs, perfect for yoga, pilates, hiking, and traveling. Once you put these on, you won't want to take them off!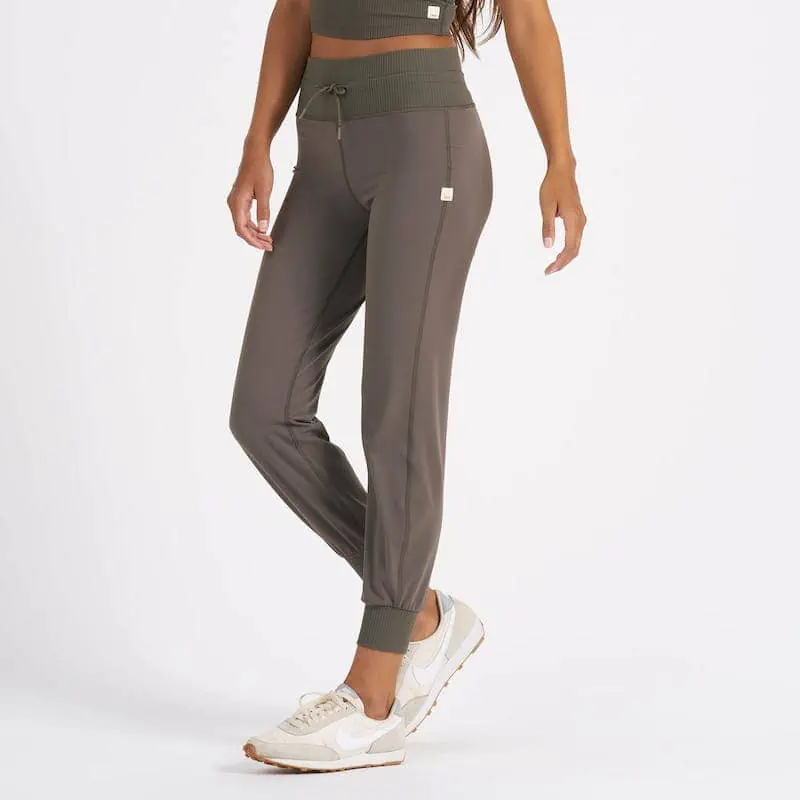 Pros
BreatheInterlock fabric, great for sports with moisture wicking qualities
High-rise waistband, comfy for yoga and traveling
Snug fit like leggings for maximum comfort
Cons
Not as soft as the other joggers
Run smaller than the other Vuori joggers in the range
Women's Miles Jogger
The Miles Joggers are for those who want comfort on their morning walks. They provide a mix of the performance style and the soft boyfriend style to create a middle ground for days when you are on the go. With pockets, a high-cut leg, and a tight yet breezy fit, these pants will be your next best friend.
Pros
Light and breathable fabric, great for running or sports
Moisture-wicking qualities and quick-drying
Cons
Shorter cut in the leg, for some fits as a 3/4 or 7/8 length
Not a soft material, so not as comfortable to wear daily
Women's Boyfriend Jogger
The boyfriend style was brought into fashion for its ultimate comfort and love for relaxation. This style includes pockets, and a large color variety and is great for when you can work from home. These joggers have a lower cut leg, reaching down to the ankle, and are made from the super soft DreamKnit™ material.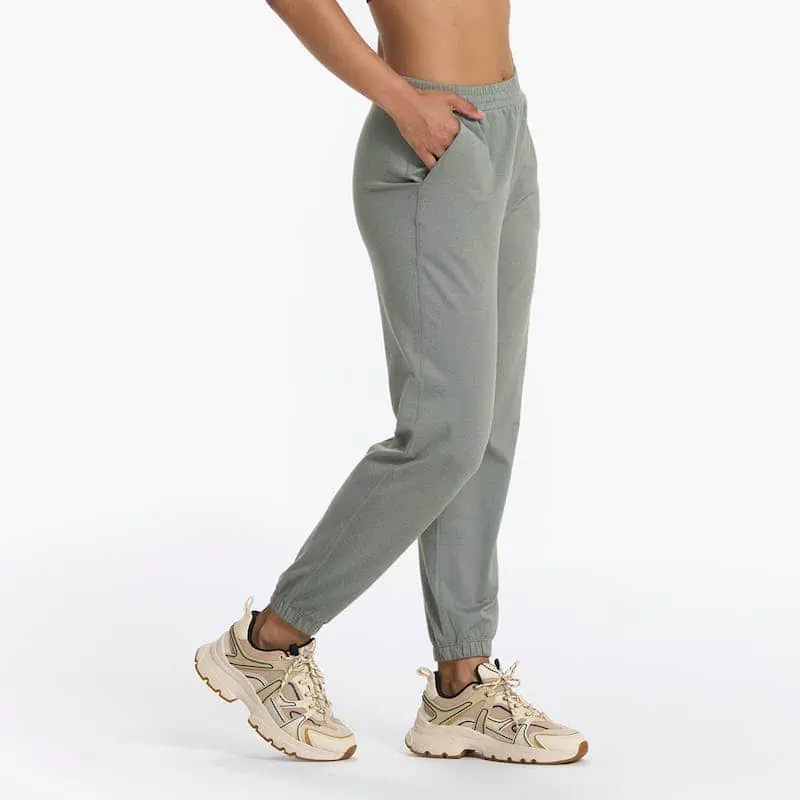 Pros
Dreamknit fabric, making them super soft and comfortable!
Easy to wear all-day long for lounging
Elastic mid-rise waistband for comfort
Cons
They run short in the legs, so not ideal for taller people
Baggy fit in the crotch
Women's Villa Jogger
If you love lounging, and enjoying the small comforts of life, then you need to get a pair of Villa Joggers. These pants come with an elastic waistband to create a nice easy slip-on pair of pants. Great for going to a yoga class or visiting a tropical resort, whatever makes you happy!
Pros
Stylish elastic waistband
Baggy fit for comfort
Silky-soft feel
Lightweight fabric, great for traveling
Cons
The pants run large
Some say too much extra fabric, making it look too baggy or low in the crotch.
A plethora of colors!
The Vuori jogger designs come in multiple colors so that you can wear the pair that feels best for you. Just take a look at their full range and variety of styles and find the right style for you.
Of course, details matter, so some designs come with a patterned effect that brings more character to the pants. Others simply have a monochrome color ranging from black to beige to bright and bold blues, pinks, and yellows.
The Unique Design – Slightly cropped leg style
The signature style of the joggers is the 3/4 length with a slightly cropped leg. This creates freedom around the ankles to run with comfort and to move your body and legs freely, no matter what choice of sport, travel, or adventure you are taking yourself on!
Perhaps the World's Softest Joggers – What makes Vuori joggers super soft?
Vuori's trademarked DreamKnit™ fabric is one of the best in the country. It is worth spending a little extra money to get your hands on a pair of joggers that are designed purely for comfort. Their four-way stretch material is also moisture-wicking and trademarked so that only they can provide this sensation of comfort and practicality.
How to care for your Vuori Joggers
To avoid pilling and to keep the fabric vibrant in color, Vuori does recommend a few instructions for when it's time to wash your garments.
If using a machine washer, wash on cold with like colors.
Do not iron or bleach.
If you throw it in the tumble dryer, dry it only on low heat.
These simple washing recommendations are not difficult to follow and will ensure that your material stays soft, the color bright and your pants happy!
Choosing the right Size
The sizes of every clothing brand can vary greatly. With a range from XS to XXL, you need to make sure you purchase the right sizes for yourself or your loved ones. To do this, we recommend looking at the size chart on their website and measuring your own waist and hips.
Where can I buy a pair?
Vuori can ship your joggers worldwide, and you can access their full range of pants online at vuoriclothing.com. Pick the color that you are most drawn to, choose your size from XS, small, medium, large, or XXL, and then head over to the checkout.
Before you know it, you'll be headed out for your first run of the year in your brand-new pair of comfort joggers. It's the small things like new joggers that can inspire your fitness routine and encourage you to run further and faster. Or. to throw running aside and simply enjoy the comfort of your own home.
Frequently Asked Questions:
Which of Vuori's joggers are the softest?
Vuori created the trademarked DreamKnit fabric which is the secret ingredient to their buttery soft joggers. Any of the joggers made with this fabric will give you the soft sensation you are seeking. This includes the Performance Jogger and Boyfriend Jogger.
Head to their website: vuoriclothing.com to find their full range of designs!
Do Vuori joggers run small or large?
Vuori runs true to size when you measure up with their sizing guidelines! If you prefer a more baggy style of joggers, it's best to jump one size up, and with the comfy elastic waistband, you'll be in your element. The villa joggers run largest, while the daily joggers run smallest. But thanks to their free return policy within 120 days, you can swap it for a size that feels good for you!
How long will the joggers last?
If you take care of these as per the cleaning instructions, these joggers will last you years! Their high-quality fabric and soft yet sturdy designs will make Vuori the brand that you keep coming back to.