Are you sick of seeing fake mala beads designed purely to be fashion jewelry? Are you seeking authentic Tibetan Prayer beads that honor the century-long Buddhist teachings and traditions?
If so, you're in the right place.
We know how difficult it is to find original Buddhist prayer beads nowadays, especially online. That's why we've searched high and low to find the best prayer beads from the Tibetan Buddhism tradition. Such beads use authentic and classic materials and carry unique sacred meanings.
So if you're looking for a special set of mala beads to support your journey into spirituality and meditation, read on to discover our top 5 picks. We'll also share tips on choosing, using, and caring for your new mala.
Top 5 Authentic Tibetan Prayer Beads
| Name | Appearance | Highlight | Where to buy |
| --- | --- | --- | --- |
| Flongo Black Wood Tibetan Buddhist Beads With Dharma Wheel | | Best Tibetan Wood Mala Beads | See latest price |
| The Bead Chest 108 Bodhi Seed Prayer Beads | | Best Tibetan Seed Prayer Beads | See latest price |
| Gandhanra Art Original Tibetan Wave Shape Yak Bone Mala Beads | | Best Tibetan Bone Prayer Beads | See latest price |
| LIUANAN Tibetan Natural Turquoise Prayer Beads | | Best Tibetan Gemstone Necklace | See latest price |
| Lexivia Handcrafted & Blessed Tibetan Meditation Bracelet from The Potala Palace | | Best Tibetan Mala Bracelet | See latest price |
These black prayer beads are made from natural and durable sandalwood, strung on a high-quality cord, making them strong and long-lasting. The beads are relatively small at 6mm in diameter. Still, the red dharma wheel embroidery and Chinese knot design make it eye-catching.
The dharma wheel represents the eightfold Buddhist path to Nirvana. Traditionally, there are 8 spokes, but the design on this mala bead only has 6. Because the cord is elastic, it easily wraps around the wrist, so it can be worn as a bracelet or necklace. Moreover, the colors and design give it a masculine style, making it a top choice for men.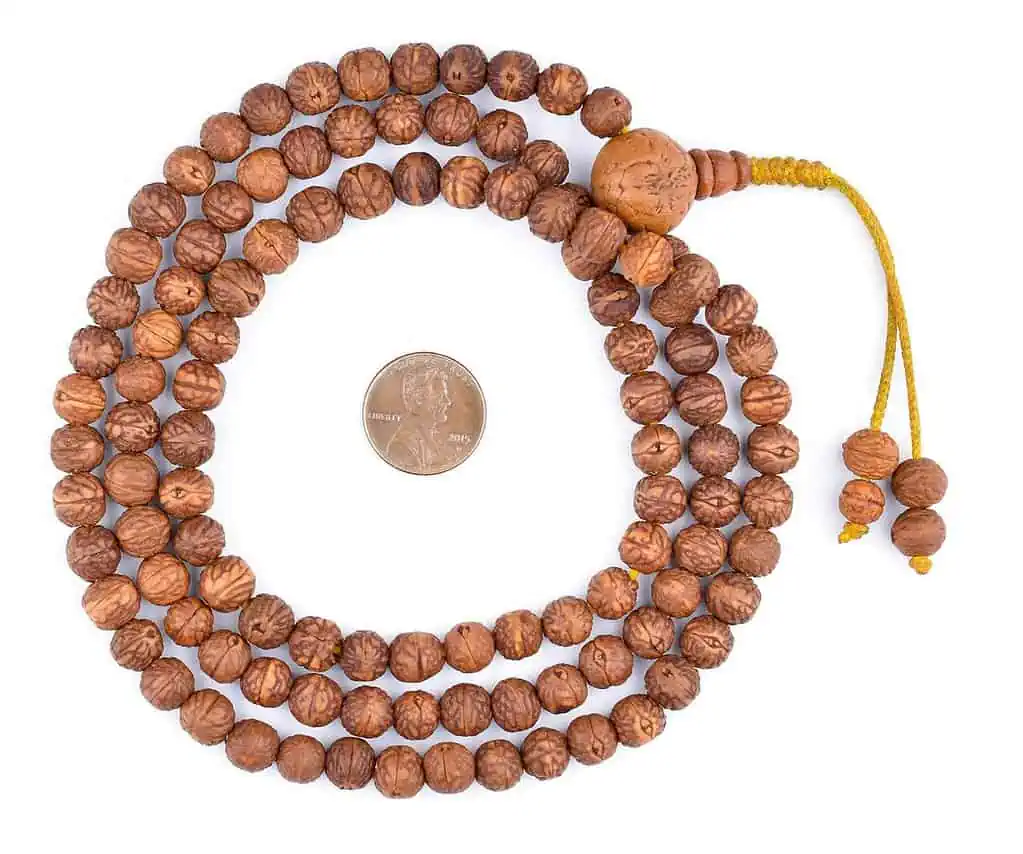 This Bodhi Seed prayer bead by The Bead Chest has a natural, simple design yet contains very sacred properties. The Bodhi seeds come from Nepal's mountainous region, and each bead measures 7-8 x 8-9mm.
Along with the 108 beads, there is a larger guru bead and four smaller beads at the end of the tassel, all made from Bodhi seeds. It is a bit on the shorter side but is still large enough to wear around your head.
This unique-looking Buddhist prayer bead is made from yak bone, carved by Tibetan artisans from Hepo Town, Baiyu County, the birthplace of the famous Tibetan handicrafts. There are 108 beads, measuring approximately 10mm, and the diameter of the entire necklace is 46cm/ 18 inches.
The yak bone beads are hand carved into a wave shape with a natural yellow/brown tint. They are strung on a red fabric thread with a guru bead and a tassel. These prayer beads look 100% original, and you can feel the artisan's passion for making them.
If you're after a vibrant and eye-catching yet symbolic prayer bead, you'll love these ones by LIUANAN. The natural turquoise stone beads and tassel are bright, and there is a buddha head pendant for the guru.
The 108 natural stone beads are about 8mm in diameter with a total length of 88cm, making it a longer style Japa mala. The turquoise stone promotes positive growth in all aspects of one's life and being and can enhance spiritual growth. There is also a white turquoise version available, which is equally beautiful.
While Buddhist prayer beads typically have 108 beads, you can get shorter versions designed to be worn as a bracelet. So if you're looking for a beautiful yet sacred Tibetan piece of jewelry like this, you'll surely love this one by Lexivia.
It is handcrafted in the Himalayan Foothills by talented Tibetan artisans. It is then blessed and consecrated by Monks from The Potala Palace in Lhasa, Tibet, which was historically the winter home of the Dalai Lamas. Thus, this sacred blessing carries an ambiance of emotional calming, healing, and spiritual progression.
The bracelet has 14 colored glaze beads, a guru bead, and two smaller beads at the end of the tassel. Inside the beads are incense ash and golden powder from The Potala Palace, carrying the blessings and prayers of pilgrims over the centuries. Finally, the Om Mani Padme Hum mantra is written in Tibetan on the prayer wheel bead.
How To Choose The Right Buddhist Prayer Beads For You
All authentic Buddhist prayer beads will have 109 beads and a head bead known as the guru. However, mala beads can be made of different materials. The material used is significant as it doesn't just change the style of the mala but also the meaning and representation. Here is a short description of the different mala materials.
Seeds
Traditionally, Tibetan Buddhist prayer beads are made from seeds, such as Bodhi seeds. The Bodhi seed is incredibly sacred because, as the legend goes, the Buddha gained enlightenment while meditating under a Bodhi tree. Therefore, many Buddhists choose a Bodhi seed mala to progress along their spiritual path and gain more wisdom.
You will also find malas made of lotus seeds. The lotus seed is significant among Vajrayana Buddhists in Tibet, Nepal, India, and other Asian countries, as the lotus flower represents spiritual growth. This is why many Buddhist deities are depicted seated on lotus flowers.
Bones
Aside from seeds, bone malas from yak, cow, or buffalo bones are also common in Tibetan Buddhism. This is because bones represent impermanence, one of the core Buddhist teachings. Thus, Buddhist practitioners wear bone malas as a constant reminder to stay in the present moment and focus on compassion, service, and loving-kindness because life is short.
Wood
Some wood, such as sandalwood, is also used to make mala necklaces. Sandalwood was mentioned in various suttas of the Pāli Canon and is believed to bring Buddhist practitioners closer to Buddha. Its scent is also beneficial for calming the mind and increasing focus during meditation.
Semi Precious Stones
Semiprecious stones are a more modern material used in mala beads, and some have significance in Buddhism. For example, Amethyst was believed to have been sacred to Buddha, and Turquoise is seen as a symbol of good luck in Tibet. Thus, these two are popular choices for a Buddhist rosary.
What Is The Purpose Of Mala Beads In Tibetan Buddhism?
Tibetan prayer beads serve a similar meaning and usage in Buddhism as in other religions. Also called Buddhist rosaries, Buddhist prayer beads act as a tool for spiritual practice, explicitly helping practitioners with reciting mantras. Each bead represents one repetition of a Buddhist mantra, which lets you track how many times you have already chanted it.
So why do Buddhists need a tool to count mantras? One reason is that mala beads help to keep your mind focused and prevent it from wandering away from the mantra. Another is because in Buddhism, like Hinduism, it is believed you should chant your chosen mantra 108 times.
108 is a sacred number in various different practices and religions. For example, in Buddhism, it is taught that there are 108 material temptations or mental impurities that one must overcome to achieve enlightenment. We would refer to these impurities as negative emotions and behaviors like anger, deception, and violence. Buddhists believe chanting a mantra 108 times frees you from these impurities.
In addition, there are 108 volumes of the Kangyur, a collection of sacred texts recognized by various schools of Tibetan Buddhism believed to reflect the words of Buddha.
Buddhist prayer beads are slightly different than mala beads (Japa mala) used in Hinduism but serve a similar purpose. Mala is a Sanskrit word meaning "garland," but in Tibetan, a mala is called a "Threngwa."
How To Use Tibetan Prayer Beads
As mentioned, Tibetan Buddhists recite a mantra 108 times. Aside from 108 beads, there is also a larger guru bead, which is sometimes a different shape. The guru bead shows you where to start and end your repetitions and represents the relationship between the student and the teacher.
Sometimes marker or counter beads are present to split the mala into quadrants, so you know when you have done 27, 54, and 81 counts.
Using Buddhist Prayer Beads To Recite Mantras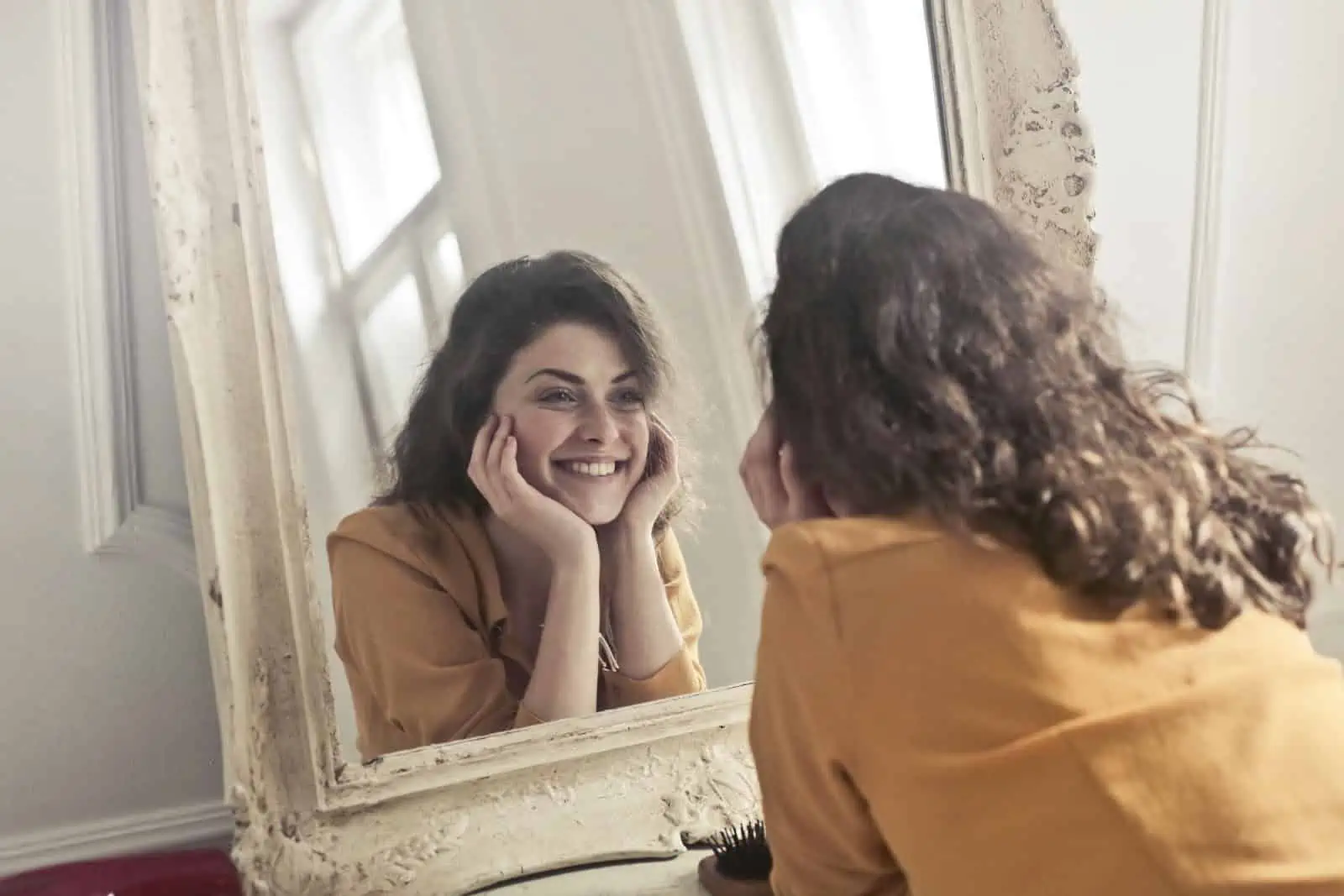 Hold the beads gently and delicately in your left hand when using Buddhist prayer beads. The first bead is next to the guru bead, typically on the right side, as you should move around the mala in a clockwise direction.
Use your left hand's thumb and index finger to move from one bead to the next. The index finger is below the bead while the thumb is over it, then you gently sweep your thumb across it with each mantra repetition.
Once you complete an entire circuit and return to the guru bead, either finish your chanting practice or reverse the direction by flipping your mala and doing another 108 repetitions. This way, you follow the mala in reverse order rather than continue the second round in the same way. Most Buddhists believe it is disrespectful to your spiritual teachers (who the guru bead represents) to cross over the guru bead when chanting.
Wearing And Taking Care Of your Mala Beads
As a sacred object, Buddhist prayer beads are believed to be charged with the deity's energy. In addition, some Tibetan mala beads will receive blessings from monks or nuns.
Many Buddhists wear their mala beads around their neck or wrist when not using them to meditate. According to teachings, you should never put your mala on the ground. If your prayer beads accidentally touch the ground, you should cleanse them by holding them to the crown of your head while reciting the sacred words "Om Ah Hum" three times.
Likewise, Buddhist prayer beads should not get wet as this may weaken the cord and lead to breakage. For the same reason, you should not wear them while sleeping.
Suggested Tibetan Mantras To Use With Your Prayer Beads
Mantras are sacred words that you can chant silently or aloud to increase concentration, mindfulness, and self-awareness. However, mantras are not only special because the act of chanting calms the mind; each mantra carries a specific sound vibration that invokes certain emotional or spiritual qualities.
Here are five of the most common mantras used in Tibetan Buddhism:
Avalokitesvara Mantra – Om Mani Padme Hum is one of the most prevalent mantras used by all levels of Buddhists. Every Buddha's teachings are believed to reside within these four Sanskrit words. Chanting the phrase can help you feel more compassionate and loving.
Shakyamuni Mantra – The 6-word mantra "Om Muni Muni Mahamuni Shakyamuni Svaha" honors the historical Buddha, Siddhartha Gautama. Chanting this mantra is said to purify all harmful actions you have committed throughout 800,000 Kalpas.
Vajrapani Mantra – Om Vajrapani Hum is the mantra of Vajirapāṇi, one of the earliest-appearing bodhisattvas in Mahayana Buddhism. As he was seen as a protector and remover of inner and outer obstacles, chanting this mantra can release all suffering and free you from all harmful mental impurities.
Final Thoughts On Tibetan Prayer Beads
Buddhist prayer beads are sacred tools for meditation, helping you center your mind and move closer to the Buddha and his teachings. They are not just for monks in temples; mala beads can help any meditator deepen their practice and experience a sense of inner peace.