Does your busy life make you feel overwhelmed? Does your job create regular stress? Or do you have a tendency to worry about little things?
If you answered yes to any of the above, you might find an anxiety necklace helpful. This unique piece of jewelry wasn't designed to make you look fashionable – although it may also do that. Instead, its purpose is to help you deal with challenging situations and ease feelings of stress, anxiety, and overwhelm.
If you could do with a stress-relief buddy like this, read on to find out exactly how it works and how to use it. I'll also share my five top mindful breathing necklaces, with options for all budgets.
What Is A Stress Relief Necklace?
As the name suggests, an anxiety necklace reduces feelings of stress, worry, and anxiety. Many people like to wear these necklaces during their daily life and use them for a few minutes whenever stressful situations arise.
Anxiety necklaces contain a long and thin metal mouthpiece that looks a bit like a whistle. You exhale into it, which promotes slow and deep breathing. When we feel stressed or anxious, our nervous systems are out of balance. Focusing on conscious breathing calms and rebalances the nervous system, which helps us feel calm and in control again.
You don't have to be highly stressed to benefit from an anxiety necklace. This piece of jewelry is also an excellent mindfulness tool for connecting to the present moment and taking more "moments of pause" throughout the day.
Top 5 Anxiety Necklaces
| Name | Appearance | Highlight | Where to buy |
| --- | --- | --- | --- |
| The Shift Breathing Necklace by Komuso | | Best High-End Anxiety Necklace | See latest price |
| Moksha Anxiety Whistle Necklace | | Best Mid-Range Stress Relief Necklace | See latest price |
| NexMe Stress & Anxiety Relief Necklace | | Best Budget Mindful Breathing Necklace | See latest price |
| Flō Stress Relief Mindful Necklace | | Best Stylish Breathing Necklace | See latest price |
| Spiro Premium Maple Wood Mindfulness Necklace | | Best Wooden Stress Relief Necklace | See latest price |
The Shift is the classic and original mindful breathing necklace created in 2017 by Komuso. It was designed by a licensed psychotherapist to activate the vagus nerve, which is responsible for calming the nervous system. All other breathing necklaces on the market follow this original style.
While the quality of some of the newer anxiety necklaces may be questionable, there is no doubt that The Shift is top-class. It is made with medical grade 316 stainless steel, which is strong, corrosion-resistant, and water-proof.
The Shift has three color options; silver, gold, rose gold, and matte slate. There are also two necklace lengths to choose from; either 25 or 28 inches. It also features "whisper-quiet technology," which keeps the sound discreet.
It may be expensive, but if you want the highest quality mindful breathing necklace, this is it! Plus, they offer a no-commitment purchase where you can get a full refund within 30 days if you don't love it.
For a more affordable option that doesn't compromise quality, go for the Moksha breathing necklace. It is made from 316-grade stainless steel for durability and engineered with a proprietary in-house plating process for a perfect opening and two-flow airway.
Three colors are available; rose gold, space grey, and shiny silver. The pendant is attached to a 24-inch chain of matching color and packaged in a premium box. Moreover, you'll get access to Moksha's meditation app with over 1000 breathing exercises.
If your trying to save your bucks, the NexMe breathing necklace is a bargain. Although it's less than 20 dollars, the pendant is crafted from high-polish stainless steel, which is comfortable to use and easy to clean.
The pendant is 2 inches long and 0.3 inches wide and is attached to a thin chain measuring about 14 inches in diameter. Choose between silver, gold, black, or rose gold, all of which look more expensive than the actual price!
The Flō breathing meditation necklace stands out for its innovative stress relief and mindfulness approach. Its specifications, including a 2″ tube length and a 0.15″ tube opening, are designed to slow down breath outflows to 9-14 seconds, an ideal range for calming the mind and body. Made of high-quality grade 304 stainless steel, the necklace promises durability and comfort. It's also adjustable, with a 24″ to 27″ length range, offering versatility to suit different outfits and preferences.
What sets this necklace apart is its dual functionality as a stylish accessory and a practical tool for mindfulness. With just five breathing cycles through the tube, the product claims to offer effective stress relief. As a constant wearable, it is an ongoing reminder to engage in deeper, fuller breaths, potentially improving lung capacity over time.
The team behind the product, a group of health-conscious women from Brooklyn, underscores the necklace's focus on natural methods for dealing with stress, positioning it as a valuable addition to anyone's mental well-being toolkit.
Most anxiety necklaces are made from metal, but if you prefer wearing natural, organic materials around your neck, I recommend this one from Spiro. The pendant is handmade in the USA using premium maple wood, with the Spiro logo carefully engraved.
The natural wood flute is attached to a simple black cord and presented in a stunning wooden box. Spiro also offers customers a 30-day money-back guarantee if they are not happy with this eco-friendly piece of jewelry.
How To Use A Mindful Breathing Necklace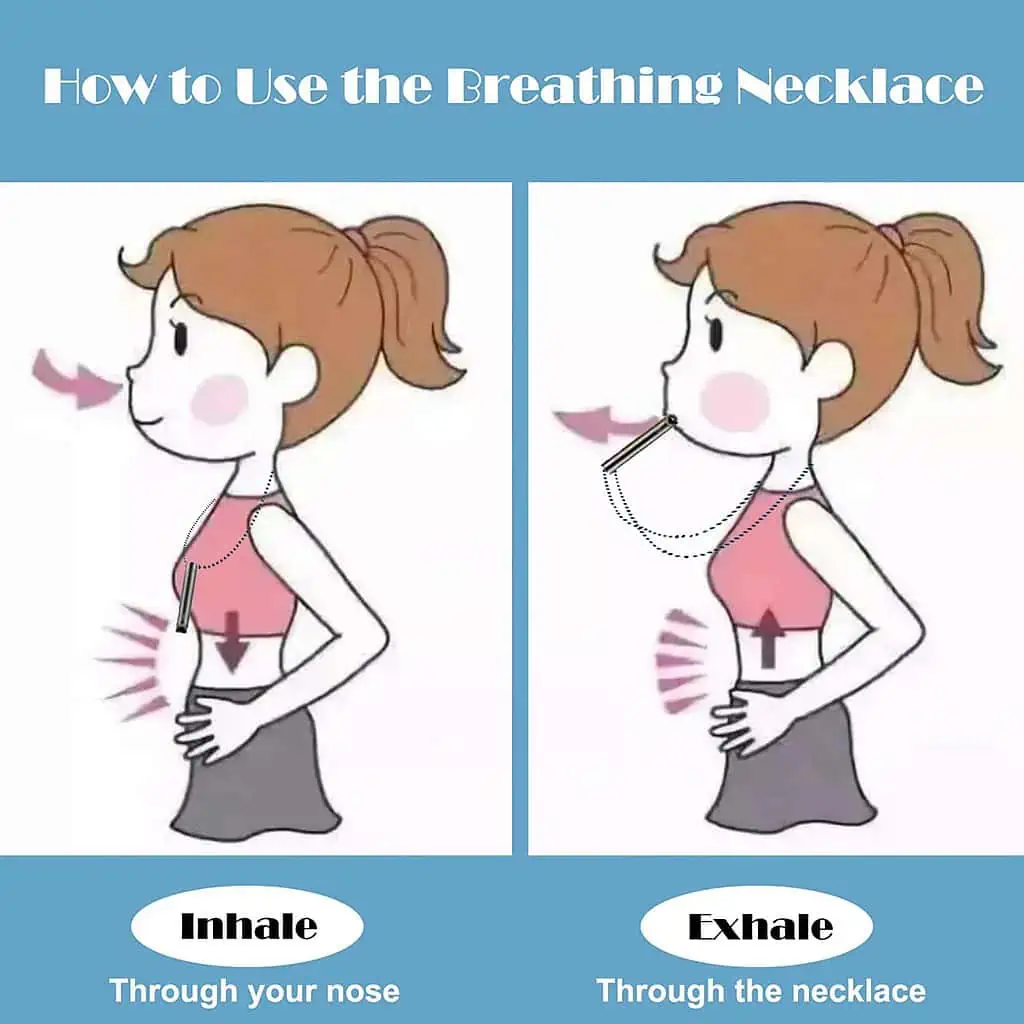 Anxiety necklaces are easy to use, and you don't have to have any previous experience with meditation or breathwork.
The main thing you need to remember is that you only use the mouthpiece for the exhale. Take an inhale that is deeper and longer than usual, then bring the device to your mouth and slowly and steadily exhale into it.
Be sure not to blow into the mouthpiece like a whistle. Blowing into it creates a forceful exhale when it should be natural. Also, the sound should be faint with a low tone; if it sounds high-pitched, you may be doing it incorrectly.
To ensure your breath is as deep as possible, try to fill your lungs with air as you breathe in. Then as you breathe out, continue the exhale until your lungs are completely empty.
You can breathe with your anxiety necklace until you feel a calming sensation or feel better able to relax and focus. However, five minutes of slow deep breathing has been proven to reduce blood pressure, slow your heartbeat, and trigger the relaxation response of the parasympathetic nervous system.
2 Popular Breathing Techniques To Try With Your Anxiety Necklace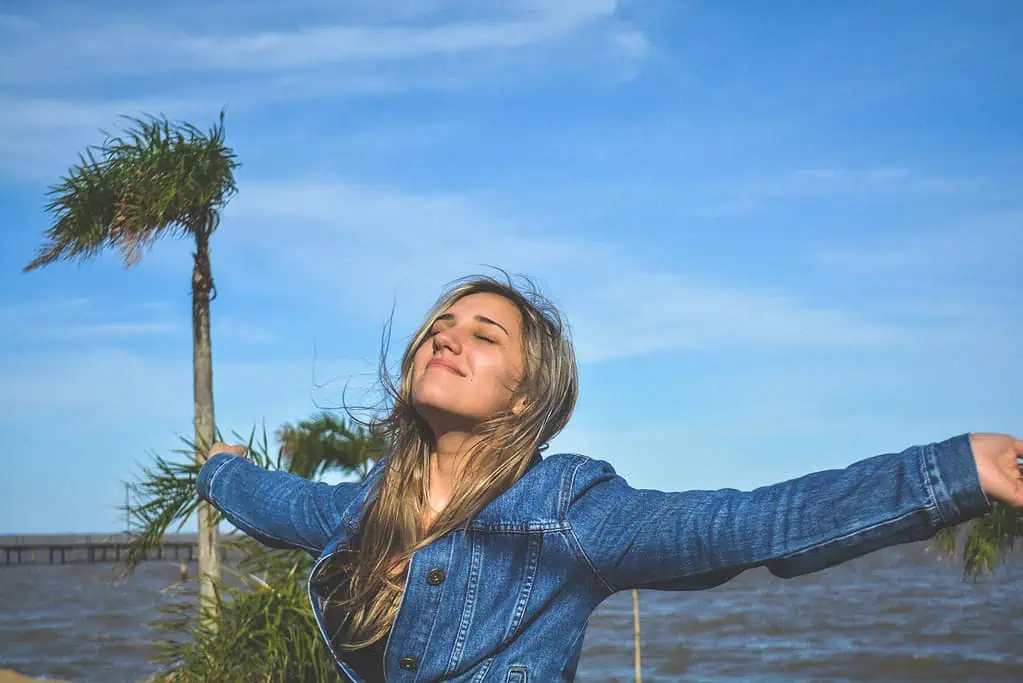 Here are two commonly used breathing techniques to bring your mind and body into a state of calm and relaxation.
Box breathing – The box breathing technique is where you inhale for a count of four, hold for four, exhale for four, and then hold again for four before taking your next inhale. This equal-part breath is one of the best techniques to start with as a beginner. Studies have shown it is significantly beneficial in reducing stress.
4-7-8 breathing – For this technique, you breathe in for four, hold for 7, and then exhale for a count of eight. The purpose is to make the exhales longer than the inhale, as the exhale is associated with the parasympathetic nervous system, which is what we want to activate.
Final Thoughts On Anxiety Necklaces
While an anxiety necklace may not remove all stress and worries from your life, it can help you find more calm in challenging times. Moreover, if you struggle to maintain a meditation practice, a breathing necklace is an easy way to bring more mindfulness into your life.