Due to our fast-paced, high-stress lifestyles, finding balance and tranquility can sometimes seem like a constant battle. Our modern lives require us to focus on our bodies and minds, which, unfortunately, means we can forget to nurture our souls.
However, experiencing equilibrium can only come when we take care of all three aspects of our being; mind, body, and spirit. Thus, if you've been feeling a sense of discord lately, it may be time to begin a spiritual journey of self-discovery and inner harmony.
In this article, I'm sharing four things you can do to discover your spiritual side and build a connection with the divine energy of the universe. So let's dive in.
What is Spirituality?
Spirituality is the belief that there is an existence beyond what you physically see, hear, or touch and the act of seeking connection with it. Spirituality refers to a belief in a higher power, such as a god, divine spirit, universal energy, or something else.
Many people wrongly assume that spirituality is just another word for religion or that it is linked to it in some way. However, this is not the case, as spirituality is simply believing in something bigger than you. In contrast, religion is about believing in one specific "god" and disregarding any other form of a higher power. Moreover, you can lead a spiritual life without following any particular religion.
Building and maintaining a spiritual connection can provide a sense of peace and wholeness among life's other aspects; physical, emotional, and social. Spirituality can also help you find answers to life's big questions and discover your soul's unique purpose.
How To Deepen Your Spiritual Connection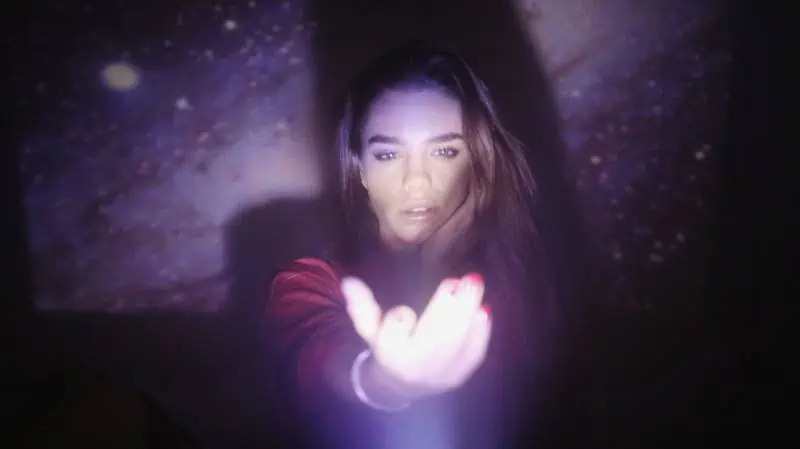 For many people in the western world, spirituality is not something often taught about when growing up. However, it's never too late to get in touch with your spiritual side. Here are four ways you can experience spiritual growth, which we will discuss in more detail below.
Read spiritual books and study spiritual texts
Use positive spiritual affirmations
Meditate
Join a spiritual community
Top 5 Books On Spiritual Growth
There are many books that can help you along your spiritual path and deepen your connection to your divine spirit. Here are five must-reads for spiritual nourishment and growth.
Best Introduction To Spirituality
The Power of Now: A Guide to Spiritual Enlightenment
See latest price
The Power of Now; A Guide to Spiritual Enlightenment by Eckhart Tolle is one of the best-selling spiritual books of the 21st century. Eckhart Tolle is a self-help and spiritual teacher who experienced a spiritual awakening at age 29, which dissolved his old identity and radically changed the course of his life.
In The Power of Now, Tolle explains the journey to spiritual enlightenment. He details the obstacles you must overcome along the way, such as the pain body, with guidance on how to do it. It also includes many thought-provoking insights on presence, pleasure, inner peace, and the power within us.
The Power of Now is a must-read for anyone who wants to learn how to escape emotional pain and break free from the ego's restraints. It's also an accessible book for all levels, including those new to spirituality. However, like with all deep books, you'll need to read this one a few times to thoroughly learn all the profound lessons it teaches.
Best Book On Finding Mental Peace
The Untethered Soul: The Journey Beyond Yourself
See latest price
The Untethered Soul: The Journey Beyond Yourself by Michael A. Singer explains the foundation for finding mental peace and connecting to your inner knowing. Singer gives excellent guidance on what to do in your daily life to raise your consciousness and master your mind. For example, you'll learn how to end habitual thoughts and emotions that limit your potential and how to lead a spiritual life in the modern world.
I particularly love this book because it is co-published with the Institute of Noetic Sciences (IONS); thus, it features plenty of scientific research to support the claims. Therefore, it's ideal for those skeptical of spirituality.
In The Untethered Soul, Singer also shares meditation, mindfulness techniques, and self-reflection practices. Like The Power of Now, The Untethered Soul became one of the most popular books on spirituality and personal development purely through word of mouth rather than an extensive advertising campaign. If you want to discover how your mind can hold you back or propel you forwards and learn how to ensure it does the latter, this book is a must-read.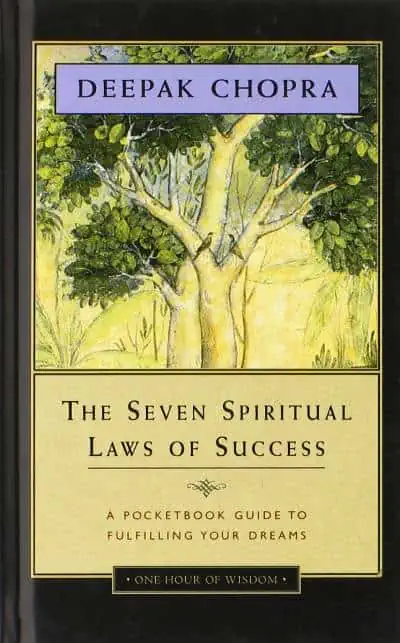 Best Book For Finding Your Purpose
Seven Spiritual Laws of Success
See latest price
In The Seven Spiritual Laws of Success, Deepak Chopra shares the rarely taught spiritual side of success and wealth. It is totally different from the many personal growth books that claim success is due to hard work and ambition. Instead, Chopra argues that understanding your true nature and learning to live in harmony with the natural laws of the universe is what leads to a fulfilling life.
Deepak Chopra is a prominent figure in the New Age spirituality movement and has written over 90 books, 21 of them New York Times bestsellers. However, what's unique about The Seven Spiritual Laws of Success is that it focuses on helping you discover your true purpose by connecting with your inner spiritual being.
Many people have claimed to have made significant changes to their lives after reading this book, such as quitting their job and changing their careers. Thus, if you're feeling lost, confused, or overwhelmed, this book can gently guide you in the right direction. It will also challenge your views of what it means to be successful and wealthy, allowing you to see life from a new perspective.
Best Book For Nuggets Of Spiritual Wisdom
The Universe in You: An Inner Journey Guided by Rumi
See latest price
Rumi was a mystic poet and teacher in the 13th century, often referred to as an enlightened man. He became famous for his thought-provoking spiritual poetry, 34 of which have been translated into English and presented in the book, The Universe in You.
These beautiful words take you on a journey through your inner universe, revealing ancient wisdom and simple yet profound insights. The poems will make you question the who, what, where, when, & why of existence. Still, many require multiple reads to fully understand the message.
One thing I particularly like about this book is that it is a selection of poems, so you don't have to read it from start to finish. Instead, you can open it on a random page and read the first poem you find. Thus, it's brilliant when you need a sprinkle of spiritual wisdom or a tool to go deeper into your meditation practice.
The Alchemist is a spiritual fiction book published in 1988, with more than two million copies sold worldwide. It is known as one of the most "life-changing" books due to its profound message of listening to your heart and following your dreams.
Author Paulo Coelho has published almost 30 books, but The Alchemist is his most successful piece. It is a magical tale about an Andalusian shepherd boy named Santiago who decides to travel in search of a worldly treasure. Along the way, he encounters many challenges and obstacles. Still, he learns to read the omens the universe sends him to find his treasure.
One of the main messages of the story is that when we stop and connect to the universe's loving presence, we receive all the divine guidance we need. It is also a tale of not giving up despite the hardships of life and the reality of sacrifice to attain your deepest desires.
The Alchemist is a must-read whenever you feel like giving up. It will remind you of your purpose, teach you how to conspire with the universe to make things happen, and inspire you to keep going until you find your treasure.
Positive Spiritual Affirmations
Alongside reading and studying, using spiritual affirmations is a simple yet effective way to connect to your spiritual side. Every time you repeat a spiritual affirmation, you remind yourself that there is something bigger than you and that you're bound to everything else in the universe.
Spiritual affirmations also help to remove negative and toxic thoughts and break free from limiting beliefs. This enables you to connect deeper to your radiant soul and discover your inner powers.
Suppose you're new to using positive affirmations. In that case, I recommend using affirmation cards like the Meditation and Affirmation Deck by Deepak Chopra. The deck features 64 cards with daily teachings from the renowned spiritual teacher Deepak Chopra. On one side of the card is a meditation prompt and on the other is an affirmation to support your personal and spiritual growth.
Another great affirmation deck is The Legendary Affirmation Cards Deck, which has 120 cards with affirmations covering the 6 core aspects of your life. There are also 10 blank cards, so you can create your own affirmations.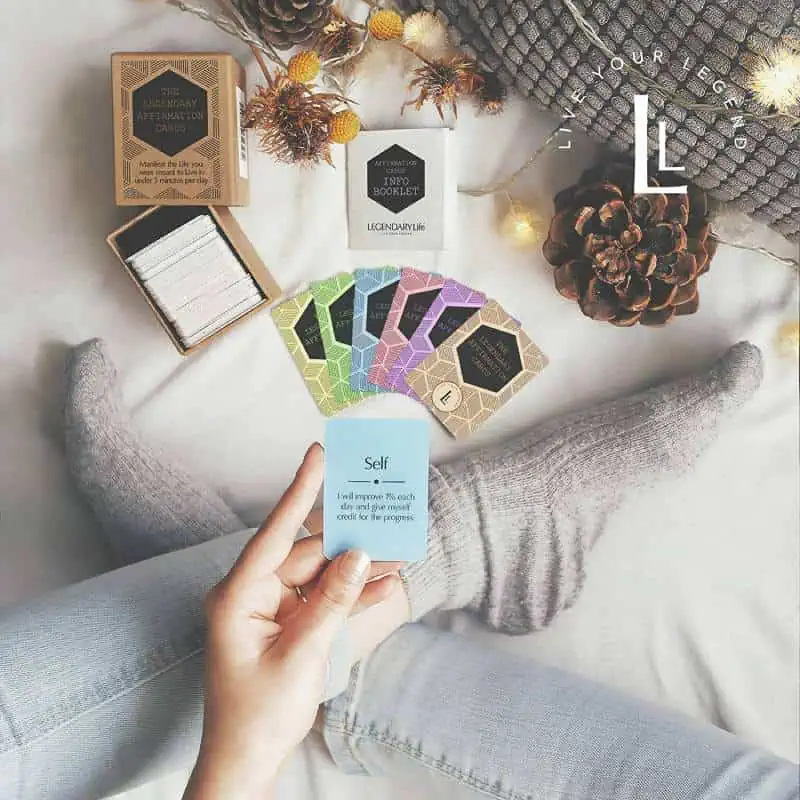 The 40 Best Spiritual Affirmations For Healing And Inner Peace
Here are 40 affirmations for spiritual awakening or self-discovery. Repeating a few of your favorite spiritual affirmations each day can help you connect to the spiritual realm and deepen your relationship with the universe or holy spirit.
I am a spiritual being having a human experience.
I am a part of the universe, and the universe is a part of me.
I possess divine wisdom, divine love, and divine peace.
My true power lies in the present moment.
I have a radiant soul full of divine light.
I am gaining new and fresh awareness for a more fulfilling life.
I am always connected to a deep sense of inner peace and positive energy.
I am a divine being on a spiritual journey.
When I choose positive thinking, pure white light flows.
I am perfectly blessed in all areas of my life.
Every day, I feel more connected to my spirit.
I am open to experiencing my true spiritual nature and discovering my divine expression.
When I ask for divine guidance, I receive divine inspiration.
I believe in the healing power of the universe.
I am a divine spirit in a human body.
I release doubt and welcome faith.
I honor my inner knowing and trust that infinite love flows to me at all times.
I trust god's divine plan entirely.
I am worthy of unconditional love from divine energy.
I am not my physical body or my mind. I am an eternal and infinite being.
I welcome faith, positive thoughts, and amazing blessings.
I accept miracles and blessings from the universe.
All that I seek is within me.
I surrender control and allow the Universe's loving presence to guide me.
I acknowledge God in every creation in the universe.
I am pure, beautiful, radiant light.
I recognize my divine nature and commit to my spiritual path.
I am capable of unconditional love and divine abundance.
I am aligned with my purpose and truth.
I am peaceful. I am centered. I am grounded.
I openly accept spiritual guidance from a higher power.
Everything that happens in my life, I know, occurs for a specific reason.
I am equally connected to the physical and spiritual world.
I honor my spiritual development and strive to stay connected to my divine path.
I am a divine creation on a unique spiritual journey.
Through divine love, I develop moral and ethical values.
Through spiritual alignment, I access my deepest wisdom.
When I connect to my inner spirit, positive energy flows.
I honor the sacred divinitythat exists within me.
I call on my higher power for wisdom and guidance in all situations.
Creating a regular and consistent practice is vital when using spiritual affirmations. So we recommend keeping choosing just one or two and keeping them in the forefront of your mind. Then, repeat them silently throughout the day whenever you are doing a mundane task like brushing your teeth or making a couple of tea. You can also revisit them while traveling, resting, and lying in bed at night.
Repeating positive affirmations multiple times a day can help you access the subconscious mind, where your paradigms and limiting beliefs are. Discovering and releasing limiting beliefs will help you to let go of the egoic self, which is the biggest block to spiritual enlightenment.
Spiritual Meditation
Meditation serves many benefits, one of which is spiritual nourishment. Spiritual meditation helps you cultivate a deeper understanding of yourself and the universe. Unlike other forms of meditation, this style focuses on self-realization to elevate your consciousness to experience a spiritual awakening.
Spiritual meditation has roots in many major religious traditions, such as Buddhism and Hinduism; thus, the techniques differ. Spiritual meditation can involve:
Chanting a mantra (a sacred sound).
Directing energy to the chakras.
Cultivating positive qualities like loving-kindness or forgiveness.
You can also use your favorite spiritual positive affirmations during meditation by repeating them silently, similarly to chanting a mantra.
It's easy to get started with meditation even if you've never done it before. For example, many excellent meditation apps have a wide range of guided meditations for all levels. You can also find guided meditations on Youtube, like this 10-Minute Awakening Guided Meditation for Beginners. Then, when you're ready to try a more extended practice, give this 30-Minute Spiritual Awakening Guided Meditation a go.
Spiritual Communities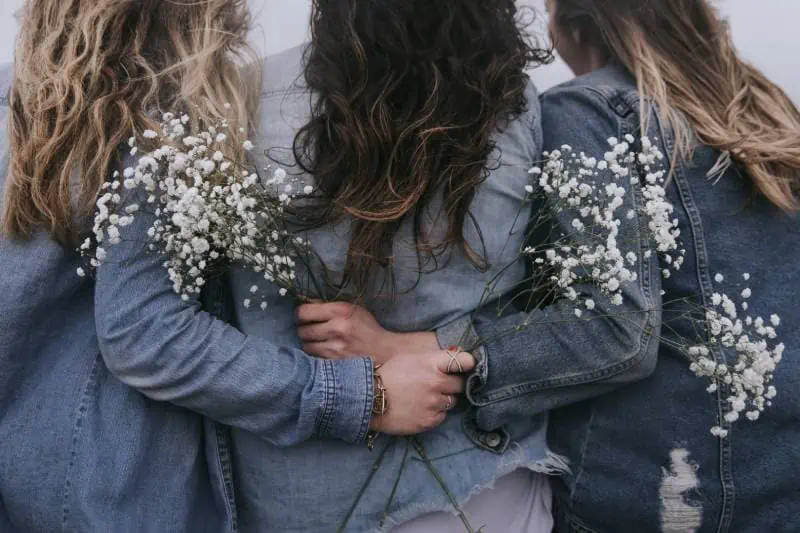 Reading and studying spiritual texts and repeating daily spiritual affirmations are great ways to connect with your spiritual side. However, having a guru or community of like-minded people can help accelerate your journey to spiritual enlightenment.
Depending on where you live, you may find a spiritual community locally and thus can attend in-person sessions. However, if there are no resources nearby, there are online and social media groups you can join. For example, meditation apps like Insight Timer have community features like live classes, workshops, groups, and circles where you can meet and chat with like-minded individuals.
Final Thoughts On Spiritual Growth
Repeating positive spiritual affirmations, meditation, reading, and joining a spiritual community are all excellent ways to foster a connection to the spiritual world. However, regular practice and devotion is the key to reaching spiritual enlightenment in the modern world. Thus, if you're serious about spiritual growth, I recommend bringing these four ideas into your daily life.