This is for certified yoga teachers who want to secure more teaching jobs.
Once you have your first audition scheduled, the real work begins. Preparation for the yoga audition is crucial and takes time.
Not only will you need to create a sequence, but you will need a resume (that links to your website), a playlist, and an outfit you feel confident wearing.
Treat this like you would any job interview. For example, study interview questions for yoga instructors.
It pays to be prepared: the less you have to think on your feet, the better. Confidence will help you nail your yoga teacher audition.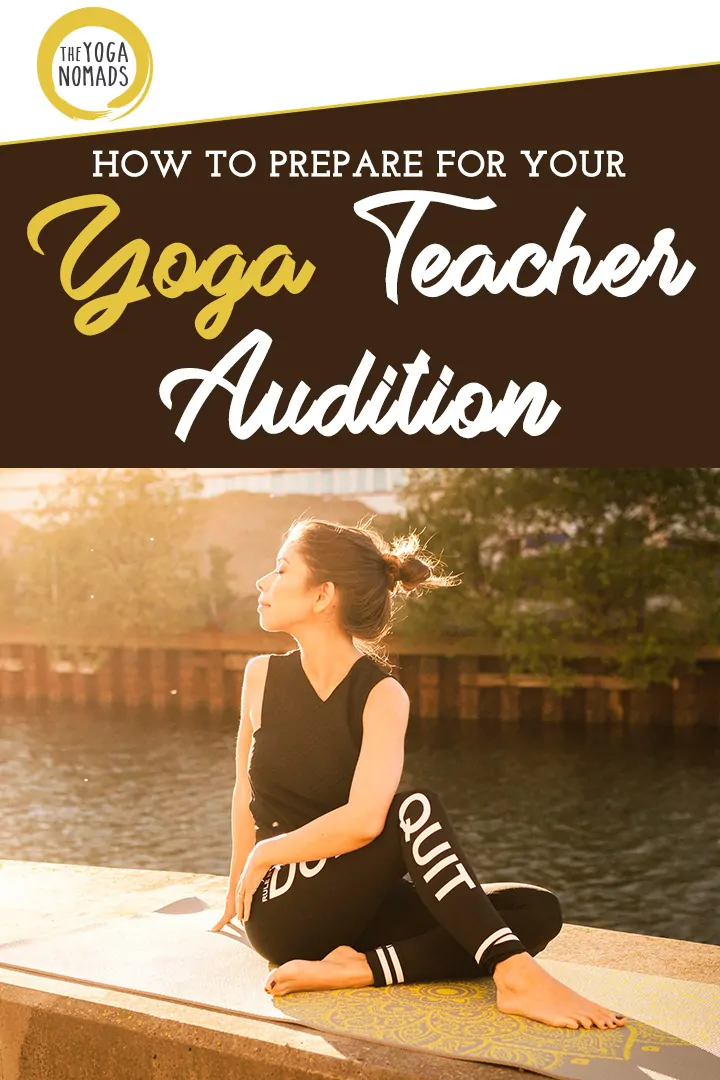 Pin me?
Don't be afraid to ask questions
Asking the studio manager exactly what they're looking for prior to your audition could pay off tremendously. You don't want to show up with a vigorous power vinyasa sequence if they're looking to hire yin teachers.
Nail Your Sequence
Each studio is different. Some will want you to come with a 15-minute sequence, while others will want an entire hour prepared and will stop you part-way through. I've even been to auditions that ask for just 5-7 minutes.
Once you know some guidelines for your audition, decide on a focus for your audition. Do you want to create a flow focusing on twisting? Or, perhaps you'd like to concentrate your audition on backbends. Maybe you want to showcase your detail-oriented alignment cues.
Decide on something, and go back to your teacher training books. Narrow down a few key postures that align with your theme. Next start to weave them into a creative (yet easy to follow) flow.
Build from there and practice, practice, practice.
Enlist your roommate or significant other to be your student as you prepare your audition. You have 200 hours worth of training – you've got this!
Prepare an Audition Playlist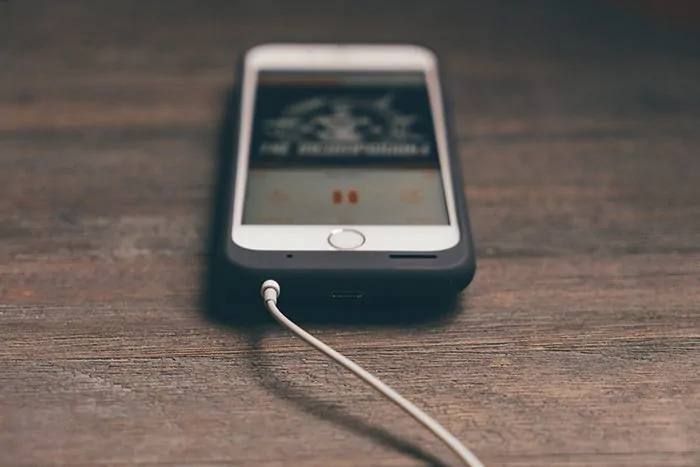 Ask the studio manager if they would like you to come with music prepared. Some studios may prefer no music during classes.
If the manager does request music during your audition, prepare your playlist. I highly recommend using Spotify Premium (yes, paying $10/month).
Why? With Premium, there are no advertisements. You can also download your playlist to your phone and turn on Airplane Mode during your audition so nothing interrupts your music.
As far as which songs go into your playlist, pick songs you love. Make sure the songs are appropriate and fit the energy of your flow.
Unsure of where to start? Anne keeps an updated list of her yoga playlists in this article.
The Yoga Interview After Your Yoga Audition
Here are a few yoga interview tips to ensure you're prepared. Have you ever shown up to a job interview only to find out you weren't ready for any of the questions you were asked? That can happen in a yoga audition, too!
Some studios will have a formal Q&A session, while some may ask you a few casual questions and call it a day.
I've been in a yoga teacher audition where I was asked very formal interview questions after teaching my short sequence. Was I prepared? Not really. I should have googled "interview questions to ask a yoga instructor" to see what the studios might be thinking about 😉
Yoga interview questions you should be prepared for:
Why do you want to teach yoga?

Why do you want to teach at this studio?

What do you think makes a good yoga teacher?

Do you have any specialties or focus in your classes?

Is there anything you want to learn as a teacher?

What are your favorite classes to attend?
We'd love to hear from you, if you know any more common yoga instructor interview questions, please comment below 🙂
Protip: be sure to have a few questions prepared for the studio manager, too! Show that you're interested in the studio.
Create Your Yoga Teacher Resume
What needs to go on a successful yoga teacher resume? Include your contact information, a short bio, your education, and any relevant experience.
Try to keep your resume to one page and make it easy to read. Display your personality by using the same colors you used on your yoga teacher website.
Build a Yoga Teacher Website
If you want to teach yoga as your career, you need a yoga teacher website! It doesn't have to be complex: a simple, easy-to-use website is usually better.
Your website shows studio owners that you're dedicated to your craft and you're more likely to drive attendance to their studio.
Pages to include:
A section about yourself and your yoga journey

Your contact information

Your yoga teaching schedule (if you have one)
Like to write? Start a blog! Write about topics that interest you ("How to Properly Get Into Wheel Pose" or "Homemade Kombucha 101"). Take pictures, and post your blogs on social media to gain traffic to your site.
Keep your yoga teacher website easy to read and scannable. This is huge.
Okay, so you know what to do: you have a sequence ready to go, an invigorating playlist, your yoga teacher resume, and a website. Now what?
The week of your audition lay out what you need to bring and what you want to wear.
What to Bring to Your Audition
Items that are absolutely necessary for your yoga teacher audition:
Resume

Application filled out (if applicable)

Paper and pen

Interview questions

Yoga mat

Water bottle

Sequence (memorized)

Phone with playlist –

on airplane mode

Your teaching availability and schedule

A positive attitude and CONFIDENCE
Options items:
Granola bar or easy snack

Business cards

Sweatshirt/cover up

Props used for your sequence
What to Wear to a Yoga Instructor Interview
The clothing you wear for your yoga teacher audition should not be an afterthought. Here's a tip if you wear something noticeable, you will be noticed. Pretty simple, right?
Before you go out looking for a sparkly sports bra, hold up. I don't mean you should wear something strange or inappropriate. If you wear a black top and black leggings, and 8 other girls in the audition are also wearing black tops and black leggings, you may blend in. Instead, pick a favorite colored top or some (tasteful) patterned leggings.
My second outfit tip: wear something you truly love and feel comfortable in. Wearing your favorite yoga clothes will help you feel like yourself and will give you that extra boost of confidence!
At the end of the day, being prepared and confident for your yoga teacher audition is all you need.
Be sure to ask plenty of questions before the audition, prepare your sequence and playlist, practice the most common yoga teacher interview questions, get your resume and website in top shape, and pick an outfit you love.
Remember, you may not be hired at the first studio you audition for. But keep working on your teaching skills and your own practice. Find that light within – you can do this!
Love + Light,
Kim
PS: Did you enjoy this article? Pin me! 🙂