While most of us think of scented candles as a simple home decor or a purely aromatic experience, candles have also been used for thousands of years in meditation practices.
A meditation candle can help create a calming, stress-free ambiance for yoga, mindfulness, and transcendental meditation. Candle gazing meditations are also a popular ritual to help ease your mind and enhance your meditation experience.
When you focus on an object like a candle flame, it can help your mind drift into a more meditative state. There is even significant scientific evidence that aromatherapy from essential oils and candles can improve exercise and a positive mood.
Whether you are seeking to set the mood for a yoga class or delve deeper into your meditation practice, not all meditation candles are created equal.
Here we explore the 5 best naturally scented candles and how to use them for a zen healing experience.
Benefits of Using Candles in Meditation
Long before electricity was ever invented, there was only fire to light the insides of homes and temples. The flame of a candle awakens an ancient peacefulness within us.
Candles have been used for millennia in spiritual practices because they provide so many benefits to our external and internal environments. Using candles in your meditation practice can:
Create a soothing ambiance in a room
Add a focal point (drishti) for candle gazing meditation
Provide aromatherapy with healing fragrances
Create calm, dim lighting for internal focus
Relax the senses for complete presence in the moment
Every meditation session can benefit from a candle light or aromatherapy. But as you'll see below, the best candles for meditation have specific materials and uses.
Candles Quick Picks
Top 5 Best Meditation Candles
Product's name
Burn Time
Ingredients
More Info

Top Pick


Benevolence Candles Rose & Sandalwood Scented Candle | 8 oz Christmas...
45 hours
Soy wax and essential oils
See latest price

Best Scented


Yinuo Candle Scented Candles Gifts for Women, Aromatherapy Candles for Home...
30 hours each (120 hours total set)
Soy wax and essential oils
See latest price

Best Long Burning Candle


LA JOLIE MUSE Jasmine & Ylang Ylang Scented Candle, Aromatherapy Candle,...
60-80 hours
Soy wax and essential oils
See latest price

Best Unscented Candles


Hyoola 9 Inch Beeswax Taper Candles 12 Pack – Handmade, All Natural, 100%...
5 hours each (60 hours total set)
Beeswax (unscented)
See latest price

Best Budget Pick


Magnificent 101 Long Lasting Pure White Sage Candle - 6 Oz - 35 Hour Burn...
8 hours
Soy wax and essential oils
See latest price
Top pick
Benevolence Candles Rose & Sandalwood Scented Candle | 8 oz Christmas Scented Candles for Home...
See latest price
This luxurious hand poured candle is as gorgeous as it is fragrant. It is made with soy wax and free from toxins or harmful residues. The soy burns cleanly for at least 45 hours without emitting anything harmful into your meditation space. The classy and sophisticated black
The scent of this candle is pure and long lasting, with sandalwood essential oil to relax your mind and rose to bring balance and opening to the heart chakra. Plus, every purchase literally "shines a light" by giving back to a non-profit fighting to end child trafficking.
Pros
Large 8 ounce candle
Non-toxic soy wax and essential oils
45 hour burn time
Grounding sandalwood and soothing rose scent
Strong scent lasts for entire burn time
Gorgeous aesthetic
High quality, luxurious gift
Cons
Breakable jar
Smell may be too strong for some people
Best Scented Meditation Candle Set
Yinuo Candle Scented Candles Gifts for Women, Aromatherapy Candles for Home Scented, Women Gifts,...
See latest price
If you're looking for the perfect gift for a yogi in your life (or a gift to yourself for your meditation practice), this candle set is as functional as it is trendy. The 4 candles in gorgeous mandala-painted metal tins. They are completely smoke-free and safe.
Each scented candle is made of natural soy wax, cotton wicks, and essential oils. The peaceful scents are lavender, lemon, fig, and fresh spring. Burn them together or separate for a lovely aromatherapy experience. Each candle burns for 25 to 30 hours, meaning the whole set can last for up to 120 hours of burn time.
Pros
Set of 4 scented candles
Lavender, lemon, fig, and fresh spring essential oil scents
Aesthetically-pleasing rainbow mandala designs
Nonbreakable metal tins
25 to 30 hour burn time per candle (120 hours for whole set)
100% natural soy wax
Gift box included
Cons
Scent is very mild
Small size (4.4 oz) each
Metal tins may need a base to burn on to protect your table
Long Burning Candle
LA JOLIE MUSE Jasmine & Ylang Ylang Scented Candle, Aromatherapy Candle, Candles Gifts for Women,...
See latest price
This gorgeous soy wax candle is clean-burning and lasts for 60-80 hours! It is made with natural soy wax, lead-free cotton wick, and perfume-grade essential oils.
The jasmine and ylang ylang scents are complemented by chamomile and musk for a well-rounded grounding aroma. The reusable jar is has a rose gold chic finish and geometric pattern that adds a really nice aesthetic to your studio or home.
Pros
All natural soy wax
Decadent aroma
Long burning (up to 80 hours)
Paraffin and paraben-free
Mid-price range
Aesthetic appeal
Cons
Strength of scent is hit-or-miss
Some people report it only burns about halfway down the candle
Breakable
Unscented Candles
Hyoola 9 Inch Beeswax Taper Candles 12 Pack – Handmade, All Natural, 100% Pure Unscented Bee Wax...
See latest price
If you have allergies or asthma, or you just don't like strong smells, these beeswax candles are the perfect addition to your meditation. They have an earthy natural vibe and drip-free, clean-burning design to ensure a safe scent-free space. The pack includes 12 elongated beeswax candles (0.63″ diameter) for use in most candle holders. Each one burns for about 5 hours.
Pros
12 count 100% pure beeswax candles
Made in the United States
Allergy-friendly
Scent-free
5 hour burn time per candle
Elegant dripless slow burning design
Golden yellow raw beeswax aesthetic
Cons
Requires a candle holder (but tapered to fit in most candle holders)
Budget Pick
Magnificent 101 Long Lasting Pure White Sage Candle - 6 Oz - 35 Hour Burn Time | Organic, All...
See latest price
Sage has been known for its powerful energy cleansing effect, making it the perfect calming smell for meditation. At a bargain price, this white sage candle is made of 100% natural soy wax and is totally free of toxic parabens or paraffin wax. The scent is similar to a smudge stick, but without the smoke. The naturally occurring thujone compound in the sage enhances your intuition and focus during meditation.
This earthy candle is 6 ounces, comes in a nice metal tin, and burns for about 8 hours.
Pros
Very affordable
Soothing sage scent
100% natural soy wax
Free of toxins
Nonbreakable metal tin
Cons
May create a lot of smoke when extinguished
Not as aesthetically pleasing as other options
Low burn time
How do you use candles for meditation?
There are many ways to use candles in your meditation or yoga practice. Candle gazing, ambiance, and aromatherapy are the most common and powerful ways to initiate an introspective meditation.
Candle Gazing Meditation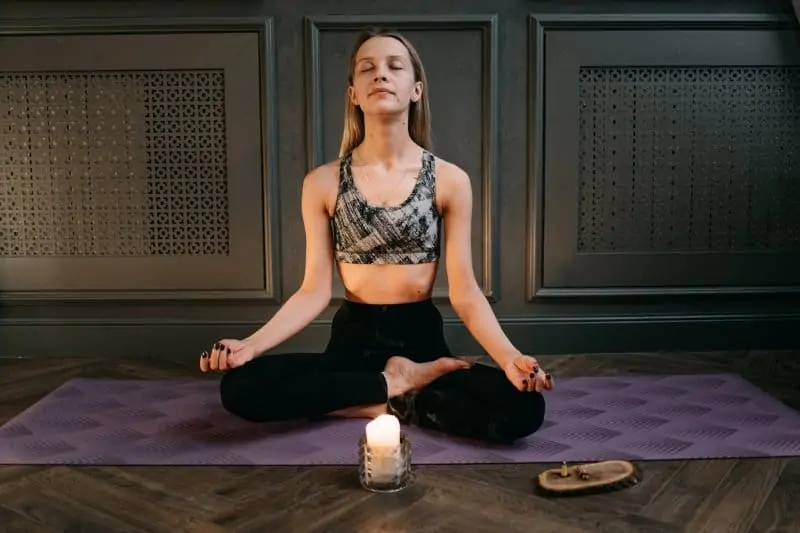 Candle gazing meditations are one of the easiest types of meditation for beginners. The candle flame acts as a focal point (called 'drishti' in Sanskrit) where the eyes can stare to help quiet the mind. It is often easier to avoid distractions when you have a grounding force to focus on.
To practice candle gazing, place a candle at eye level about 20″ from your face and dim the lights to minimize distraction. Get in a comfortable seated position and be sure that your neck will not be strained by looking at the candle.
Light the wick and begin deep pranayama breathing while softening your gaze on the flame. Your eyes may water at first, but don't worry, this practice is completely safe and the watering will stop within a few minutes as your sight adjusts.
As you breathe, allow all distractions to float away. If you feel your mind wandering, return to the present moment by focusing on the flickering flame.
Using Candles for Ambiance
If you prefer not to stare at a bright flame, you can also use candles to create a relaxing ambiance for your yoga or meditation practice. After all, there is a reason that candles can be found in churches, temples, spas, and romantic dinners.
Thanks to our ancient psychology, humans have been mesmerized by campfires and candles for nearly a million years. Lighting the wick and enjoying the fragrance catapults us into the present moment, creating feelings of warmth, safety, peace, and happiness.
Place candles in a safe place around different parts of a room to enhance your meditation practice with a soothing ambiance.
Aromatherapy with Candles
Of course, candles also provide the lovely benefit of pleasant smells that relax the central nervous system. Scents like jasmine, lavender, chamomile, violet, and patchouli are popular additions to yoga and meditation studios because of their serene effects on the body.
The science of aromatherapy is well established and the use of essential oils has even been shown to significantly reduce anxiety and stress in a clinical setting.
Whether you opt for unscented or scented candles, it is important to choose non-toxic candle that is safe and easy to use.
How to Choose the Best Meditation Candles
You can pick up a candle at practically any convenience store these days, but many candles are actually made with toxic ingredients like paraffin. To ensure an enjoyable and natural meditation, here's the most important considerations when buying candles:
Ingredients
Beeswax or soy wax are the most popular non-toxic candles on the market. Most people don't realize how much chemical junk can be put into candles. You definitely don't want any synthetic petroleum-based wax burning while you're trying to get your zen on.
When choosing a scented candle for meditation, be sure that the ingredients are clean and free of paraffin, petroleum, parabens, or other toxic chemicals. The best non-toxic chemicals are made of natural waxes like beeswax, soy wax, or a natural soy wax blend.
Scent
Scent has a powerful impact on our psychology and physiology. The best scented candles are naturally perfumed with essential oils. Each essential oil has a specific effect on the mind and body.
Frankincense: the "king of oils", reduces inflammation, helps clear the lungs, and improves mood
Eucalyptus: grounding effect that promotes relaxation and opens nasal passages
Lavender: helps with stress, pain, and improving sleep
Chamomile: relieves anxiety and helpful for calmness
Ylang Ylang: promote relaxation, lower blood pressure, and add passionate energy
Musk: helps balance emotions and act as an aphrodisiac
Patchouli: relieve depression and ease anxiety or stress
Anyone with allergies or sensitivities will probably need more subtle hints of candle scents or candles that are completely unscented. Our research found that the Hyoola 9 Inch Beeswax Candles 12 Pack is the best unscented choice for those who want to practice candle gazing without any smells.
Burn Time
If you want the most "burn for your buck", choose a candle that will last more than just a few meditation sessions. La Jolie Muse Jasmine and Ylang Ylang Scented Candle showed the longest burn time of all the candles we reviewed, with an impressive 80 total hours of flickering flame.
Generally, soy wax and beeswax candles provide the longest burn time of all natural candle options. Because they come from 100% natural sources, they are also the healthiest choice for a clean-burning indoor flame.
Medidation Candles FAQs
Is it OK to meditate with candles?
Candle meditation is extremely useful for grounding your energy and focusing your mind. This ancient practice is completely safe as long as you place candles in a burn-safe place and extinguish them after your meditation is complete. Choose candles with tall jars and dripless wax for added protection.
Why are candles used in meditation?
Candles can be used to help focus during meditation. The flickering flame triggers relaxation in the eyes and nervous system, while the aromatherapy of natural scents can improve feelings of calmness and positivity.
How long should you do candle meditation?
Most candle meditations begin with 5-10 minutes of candle gazing. As you practice, it will become easier to focus and drift into a pure, thoughtless state. You can gradually build up to 20 minutes or more of candle gazing meditations.