If you've been practicing yoga or meditation for a while, you've most likely heard about the chakras, the seven wheel-like energy centers that form part of our subtle body. The chakra system originates in India (between 1500 and 500 BC) but today is one of the most popular energy healing methods in the western world.
The chakra system was first mentioned in ancient yogic scriptures, but luckily, you don't need to decode these teachings yourself. Nowadays, there are many chakra books full of profound wisdom written by experts, such as spiritual teachers, psychics, and reiki masters.
You'll find chakra books for all levels, such as beginner-friendly guides that explain all the basics in an easy-to-digest way or comprehensive books for advanced chakra learners. So whatever your current understanding of the chakra system is, here are the best chakra books to take your knowledge to the next level.
The Best Chakra Books For Beginners
The condition of the seven chakras impacts our lives on a physical, mental, emotional, and spiritual level. The following books give an excellent overview of the seven chakras, how they can affect us, and how to bring them into balance to achieve optimum health.
Margarita Alcantara Chakra Healing book
The Margarita Alcantara Chakra Healing book is an easy-to-read beginner's guide to the chakra system, full of simple and practical self-healing techniques to balance the energy centers. The book is structured in an ideal way for those who know little to nothing about the chakra system, with two main sections followed by two appendixes full of practical information.
The first part, called "Powerful Chakra System," breaks down the chakras and details how to determine their condition. Here, you'll find a handy list of common symptoms and ailments to recognize which chakras need some TLC. The following section, "Healing Your Chakras," introduces the most common methods to harness chakra power, such as meditation, diet, essential oils, and lifestyle changes.
Appendix A reveals beneficial yoga poses for each chakra with colorful visuals illustrating these simple yoga movements suitable for all levels. Finally, Appendix B focuses on crystals and talks about how crystal healing can help balance the chakras.
Pros:
This chakra book offers a fantastic step-by-step approach to working with the chakras from the beginning.
It is one of the best chakra books for a "non-spiritual person" looking for simple, practical exercises to try.
It serves as a fab reference guide for ways to manage allergies and relieve headaches, stomach aches, inflammation, and fatigue.
Cons:
If you already have some basic knowledge, you may not gain much from reading this book, as it does not go beyond the basics.
The Chakra Bible by Patricia Mercier
Patricia Mercier's Chakra Bible is packed full of easily digestible information about the chakras and fantastic ideas for healing and balancing them. The book begins by discussing the meaning of each chakra, such as their qualities, associated colors, healing stones, etc.
Mercier then shares chakra healing techniques, including yoga postures, stones for crystal healing, and chakra essential oils for aromatherapy. In addition, she touches on how reiki and reflexology can help to heal and balance the chakras.
The Chakra Bible is best for beginners with a little bit of prior knowledge. However, it will also be beneficial if you've read other chakra books or have some basic knowledge already, as Mercier goes beyond the seven chakras, sharing her insights on newly discovered chakras and those from different philosophies.
Pros
Because it's a small book, it's great for travel or to keep in your bag.
It talks about some additional chakras that many other books do not mention.
It's easy to reference specific information.
Cons
It is a very comprehensive guide, so it could be overwhelming for someone entirely new to chakras.
The Book of Chakras by Ambika Wauters
Ambika Wauters Book of Chakras is another easy-to-read beginner's guide to the chakra system. At just 128 pages, it's not too long, and the textbook-style layout makes it engaging and not overwhelming at all.
In The Book Of Chakras, you'll find explanations about how each of the seven chakras affects us physically, mentally, and emotionally. You'll then get tons of exercises, including affirmations, meditations, and visualizations. There is also information on the healing powers of colors, sounds, acupuncture, and crystals.
What makes this book unique is the self-reflection questions it includes, helping you get in touch with your inner being and understand which chakras require balancing. In addition, this book has tons of illustrations, photographs, charts, and tables, making it ideal for visual learners. Plus, it's so practical that it removes all overwhelming feelings around starting your chakra journey.
Pros
Fantastic visual design with over 300 colorful illustrations.
Includes self-reflection questionnaires to help you identify any ailments you have that could be linked to the chakras.
Cons
It's one of the shortest chakra books.
The Most Comprehensive And In-depth Chakra Books
If you already have a basic understanding of the major chakras and are keen to learn more, the following books include in-depth information on chakra awakening.
Llewellyn's Complete Book Of Chakras by Cyndi Dale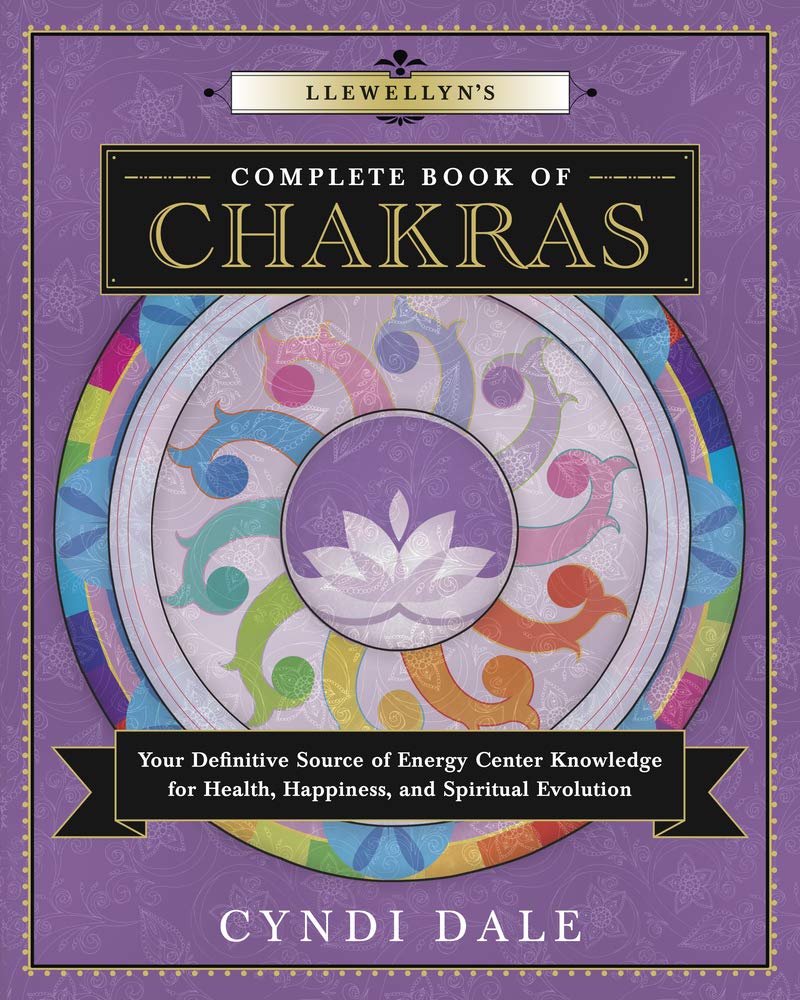 As the name suggests, this comprehensive book by Cyndi Dale offers an ultimate guide to healing chakras with over 1000 pages of detailed information. Llewellyn's Complete Book Of Chakras includes an in-depth well-researched history and plenty of scientific data, blending western science with the eastern chakra system.
In this book, Cyndi Dale covers every topic you could think of, such as kundalini healing and transcendental meditation, and answers questions you may have in your mind. Moreover, it goes deeper than any other chakra book, addressing energetic and spiritual issues like energy vampires, psychic intrusions, psychic attacks, and how you can overcome them with chakra healing.
Of course, you'll find a wealth of information about the common chakra healing modalities and systems and many practical exercises. So if you only want to buy one chakra book, make it this one.
Pros
Features tons of interesting insights that you won't find elsewhere.
Ideal for those working in the wellness and spirituality field, like energy healers, psychic readers, and yoga teachers.
Cons
It is not a light read and is quite advanced so it is not suitable for beginners.
Wheels of Life by Anodea Judith
Wheels of Life by Anodea Judith is one of the most popular and highly rated beginner books, with over 300,000 copies sold and available in 25 languages. Anodea Judith does a fantastic job explaining what the chakras are and why we need to understand them.
The book features a chapter for each chakra, thoroughly explaining how that energy center can affect our emotions, mindset, and life. The book also features yoga postures for the chakras and meditation techniques, allowing you to start connecting to the subtle body straight away.
Wheels of Life is well written and comprehensive, so it is a must for anyone keen to learn about the chakras or interested in personal growth.
Pros
It does not contain as much "woo-woo" as other chakra books and is backed with scientific references to make it accessible to everyone, not just spiritual people.
Gives a modern age understanding of the ancient chakra system.
It is visually appealing with drawings, pictures, diagrams, tables, etc.
Cons
It's a long book at 400+ pages, so it is not the best option if you want a quick overview of the subject.
Eastern Body, Western Mind by Anodea Judith
Eastern Body, Western Mind combines western psychology with eastern philosophy, showing how this subtle energy system relates to our modern-day life. What makes this chakra book stand out is how author Anodea Judith differentiates between all chakra imbalances, detailing how to tell if a particular chakra is deficient (underactive) or overworked (overactive)
The book also dives deep into childhood trauma, addiction, codependence, and family dynamics, showing how these things throw our chakra system off balance. It includes aspects of Jungian psychology, somatic therapy, childhood developmental theory, and the metaphysics of each chakra.
Although this book is designed for psychologists and therapists, it also serves as a self-healing and self-exploration guide. Each chapter focuses on one chakra and details the childhood developmental patterns, traumas, and abuses that cause imbalances and the specific methods to realign them. However, note that the wording is often geared toward therapists working with clients, which can be confusing if you read it for personal use.
Pros
Written from a modern-day western psychology perspective.
An in-depth look at how childhood trauma affects the subtle energy system.
Cons
Lots of information on understanding chakras, but it does lack practical healing techniques.
The Chakra Book: Energy and Healing Power of the Subtle Body by Osho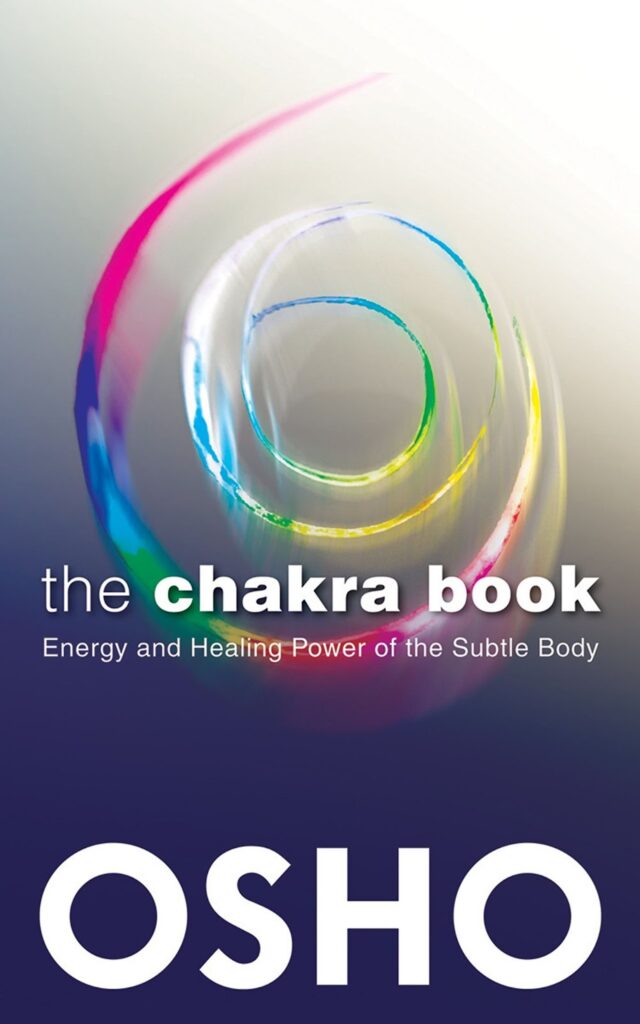 The Chakra Book: Energy and Healing Power of the Subtle Body by Osho is a short but in-depth book that talks about the link between the chakras and traditional Chinese medicine, Indian Ayurveda, kundalini yoga, and other spiritual and holistic practices. As it gives different points of view, it is non-dogmatic, allowing you to take what resonates and leave what doesn't.
The chakra book has a good balance between modern-day scientific discoveries and ancient wisdom. It also includes ways to heal your chakras through yoga and tantra practices for couples.
While it may be a little confusing for those with no prior chakra knowledge, it will undoubtedly prove intriguing and eye-opening for spiritual practitioners who have been studying the chakras for a while. Moreover, as Osho shares some contrasting information from other books, I recommend reading this along with other chakra books in this article.
Pros
This book is a fresh and unique look at the chakras.
Discusses how chakras connect with various spiritual and holistic practices.
Cons
The author can be quite opinionated at times.
Other Essential Books About The Chakra System
The following books go in-depth into specific chakra healing methods and are ideal for anyone who has been studying chakras for a while.
Anodea Judith's Chakra Yoga
While many of the previous books in this article mention how yoga can help heal the chakras, Chakra Yoga by Anodea Judith dives deep into this subject. The book shares ways to focus your yoga practice on chakra balancing using various yogic techniques, from yoga poses to breathwork to guided meditation, mantras, and visualization.
It is a must-have for any yoga teacher or avid practitioner as you'll learn precisely how specific yoga postures stimulate and open particular chakras. Judith also gives clear cues for each asana along with step-by-step visuals. Therefore, the book is also suited to beginner yogis who want to try these postures at home.
Pros
Suitable for all levels of yoga practitioners.
The book's layout makes it a fab reference guide.
Cons
It is focused solely on yoga and does not touch on other chakra topics.
Chakra Foods for Optimum Health by Deanna Minic
Whether you're a foodie, nutritionist, or simply interested in fueling your body with the right food, you'll love Chakra Foods for Optimum Health. Some of the chakra books in this article mention how particular foods may help balance our chakras. However, author and nutritionist Deanna Minic breaks down the complete relationship between food and chakras in this book.
The Chakra foods book explains how certain foods can be stimulating, calming, and balancing for an energy center in a scientific yet lighthearted manner. Another thing I like about this book is the questionnaire at the beginning of the book that helps you determine which of your chakras are out of balance.
The book is full of case studies about how Minic's clients successfully healed energetic blockages by altering their diets. Moreover, along with many images, there are recipes, checklists, and food tables, giving the book a practical element.
Pros
It is easy to read and suitable for all levels
The author explains very well our emotional and psychological connection to food.
Cons
Some of the recipes could be clearer.
The book does not touch on other chakra topics.
Chakra Wisdom Oracle Toolkit by Tori Hartman
The Chakra Wisdom Oracle Toolkit by psychic Tori Hartman is the most unique chakra book on this list. It doesn't give you the information in the standard way; instead, the book consists of 49 fables designed to be read across 52 weeks.
Each story relates to one of the seven major chakras and includes several short activities that will help you remove blockages from your energy centers and so much more. The exercises assist in opening up your intuition, increasing your spiritual connection, realizing your highest potential, and have practical benefits like improving your relationships.
You can use this toolkit on its own or with the Chakra Wisdom Oracle Cards. This book is ideal for spiritual seekers looking to experience the chakra benefits beyond the human body.
Pros
It is a fun and creative way to learn about the chakras.
The activities allow you to experience first-hand the benefits of chakra healing rather than just reading about it.
Cons
It does not contain comprehensive information, so it should be paired with another book from this list.
Final thoughts
Nowadays, you can find tons of information about chakras online, from social media content to posts to Youtube videos. However, remember that not all information you find online comes from a credible source, and most of what you find online only touches the surface anyway.
Chakras books are written by experts who have studied the chakras for years and have a wealth of knowledge regarding subtle energy. What's more, all the best chakra books are well-researched and cited. So if you're serious about understanding the chakras and how to heal them, why not invest in a few chakra books from this list?