Athleta is on a mission to ignite the limitless potential in women and girls through their ultra high quality, sustainable activewear. The Gap-owned American company has an incredible brand story, above-average sourcing ethics, and luxurious quality yoga gear.
But all of that comes with a price tag and some of us are looking for quality gear on a budget. Thankfully, Athleta offers lots more sales and discounts than their competitor, lululemon. If you're looking for ways to save at Athleta while still enjoying the performance and style of their yoga wear, here are 7 simple tips to save money on Athleta clothes.
Is Athleta as good as lululemon?
In spite of lululemon's luxe marketing and slightly higher price point, Athleta gear lives up to side-by-side tests and even beats their competitor when it comes to size inclusivity, sustainability, and charitable giving. Unlike lululemon, Athleta is also a certified B corporation that pays special attention to their environmental and social impact.
Athleta's gear performs just as well as lululemon and is very similar in many ways. The catchpoint for many is that over 60% of Athleta's gear is actually made from sustainable materials, including over 300 million recycled plastic bottles in their fabrics. They also provide massive donations to young girls grants, workers in their Fair Trade factories, and female athletes.
Best of all, Athleta offers way more sales and discount opportunities than lululemon does. We compared the two brands in more detail in a previous article.
Top 7 Athleta Discounts
Because we should be able to simultaneously support a female-led mission while enjoying quality yoga gear on a budget.
1- Athleta Final Sale
If you've been dropping hundreds of dollars on regular priced Athleta gear, you're definitely overspending. You can save 50% to 85% off of standard pricing simply by shopping this special section of Athleta.com and your local Athleta store.
Any Athleta lover should be best friends with the "Final Sale" options, which include current and past styles of leggings, tops, sports bras, and even the pricey jackets and outerwear that you'd never want to buy at full price.
Obviously, the only bummer about this sale section is that you can't return anything. If you get the wrong size or it doesn't fit right, you'll have to gift the item to a friend or resell it on one of the secondhand platforms below.
Athleta Final Sale can be hit or miss, but sometimes you happen upon a jewel that's in your exact size and favorite color. Might as well take a good look before shopping full price.
2- Athleta Outlet Store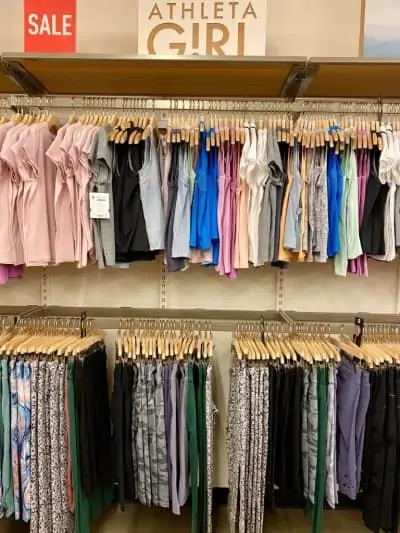 Unfortunately, there is only one Athleta store in the country, but if you live nearby or are vacationing to San Francisco, it's an absolute gem of a shopping experience. The outlet store is located in the San Francisco Premium Outlets in Livermore, California. Here you can find INSANE details on Athleta clothes, including 30-90% off items you can't find online, like $20 sports bras, $30 leggings, and $25 running shorts.
The Athleta Outlet offers a wide range of sizes (everything from XXS to 3X), so it lives up to Athleta's size-inclusive promise. They also carry a significant Athleta Girl section. However, be aware that most of the sizes are on the extra small or extra large side of things. It can be hard to find those "in between" small and medium sizes, and you may find yourself spending an hour or two sorting through the racks for your perfect fit. If you ask me, the extra time spent is worth it for the savings.
They carry literally everything from leggings and yoga pants to sports bras, underwear, tanks, dresses, and accessories. Some items can be found on the Final Sale section of their website, but other items are only found at the outlet and include both current and past season styles with cute colors and patterns.
3- Fitness Professional Discount
If you are an accredited yoga teacher, personal trainer, or group fitness instructor, you are eligible to join Athleta's Fitness Professional Discount Program for a 30% discount off all regular priced merchandise. The process to apply is super simple: submit your application online with proof of your accreditation. Then, just wait for review. If approved to join the program, you'll receive an Athleta FitPro Digital Pass to shop in-store and online.
As a member of the Athleta FitPro program, you can also access workshops and networking events, teaching opportunities, and promo offers to share with your students and clients. The only caveat is that you can only use the discount 5 times per year on Athleta.com.
4- Sign up for Athleta Email List
For a quick and easy 20% off Athleta gear, simply sign up for their email list on one of the pop-up squares at Athleta.gap.com (pro tip: click on the "Get 20% off" button on the very bottom right of the site. They aren't spammy about their emails and they sometimes even include extra discounts. You get the coupon right away after entering your email. If you want to cancel, you can always unsubscribe at any time.
5- Loyalty Rewards Program
The Athleta Rewards Program is totally free and, unlike many loyalty programs, it is actually worthwhile for anyone who shops there a few times per year. You get 2 points for every $1 you spend in-store or online. With each 500 points, you get a $5 reward. It's not a ton, but it's free money in your pocket for more yoga gear!
If you are a super loyal Athleta fan (plus Gap, Banana Republic, or Old Navy) you may want to open an Athleta Rewards Credit Card for 20% off your first purchase and 5 points for every $1 spent. The cool thing is, this rewards program works for the entire family of Gap brands.
You also get free shipping on all orders over $50 and a points bonus on your birthday!
6- Athleta Used and Secondhand
My personal favorite way to find discounted brand name yoga gear is on second hand sites like Poshmark and ThredUp. Consider them like brand-name higher end thrift stores, but online. Discounts range from 20-80% depending on the condition of the item and what the seller is listing it for. The great thing about these platforms is you can bargain by "making an offer" to buy the Athleta gear at a local price.
The downside is that selections are obviously limited and you can't return anything. You could also end up with a low quality item if the seller lied about it (but this usually isn't an issue if you do a quick check of their previous sales reviews). For me, secondhand Athleta is the most affordable way to enjoy the brand quality without breaking the bank. Just order, receive, wash it, and no one will ever know you bought it used!
7- Wait for the Semi-Annual Sale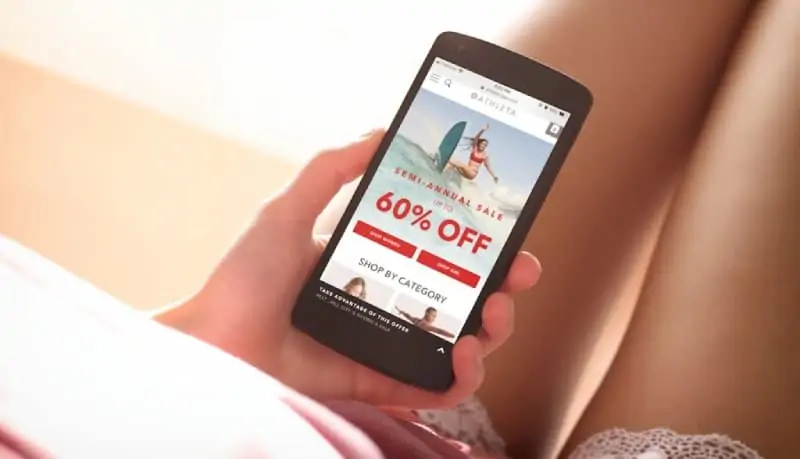 Every year, Athleta hosts a semi-annual sale with price cuts up to 60%! Better yet, credit cardholders at Athleta or the sister brands (Gap, Banana Republic, and Old Navy) get an additional 20% off the sale price.
The sales happen both in-store and online, usually in mid-summer and again before the holidays. Every year is a bit different, so be sure to sign up for Athleta emails or follow them on social media to keep up with Semi-Annual sale announcements.
Closing Thoughts
While Athleta is slightly cheaper than lululemon (on average), it can still be pretty pricey for the average yogi. But that doesn't mean you shouldn't enjoy their ultra luxurious high-performance gear. These bargains seriously work and can help you upgrade your yoga wardrobe for years to come. Athleta clothes last forever and are backed by sustainability, ethical manufacturing, and a really good cause.
Have you saved money at Athleta with any of these methods?
Namaste!
Athleta Sales FAQs
Does Athleta offer a student discount?
Unfortunately, Athleta doesn't offer any discounts to students at this time.
Do Athleta cardholders get free shipping?
Cardholders get lots of benefits at Athleta, including a free birthday bonus, early access to exclusive sales, and free shipping on most orders.
Can I use Gap coupons at Athleta?
Depending on the coupon, certain Gap Cash vouchers can also be used at Athleta. Gap is the parent-company of the yoga wear brand and also shares a loyalty program.