What is A Daily Dose Of Bliss?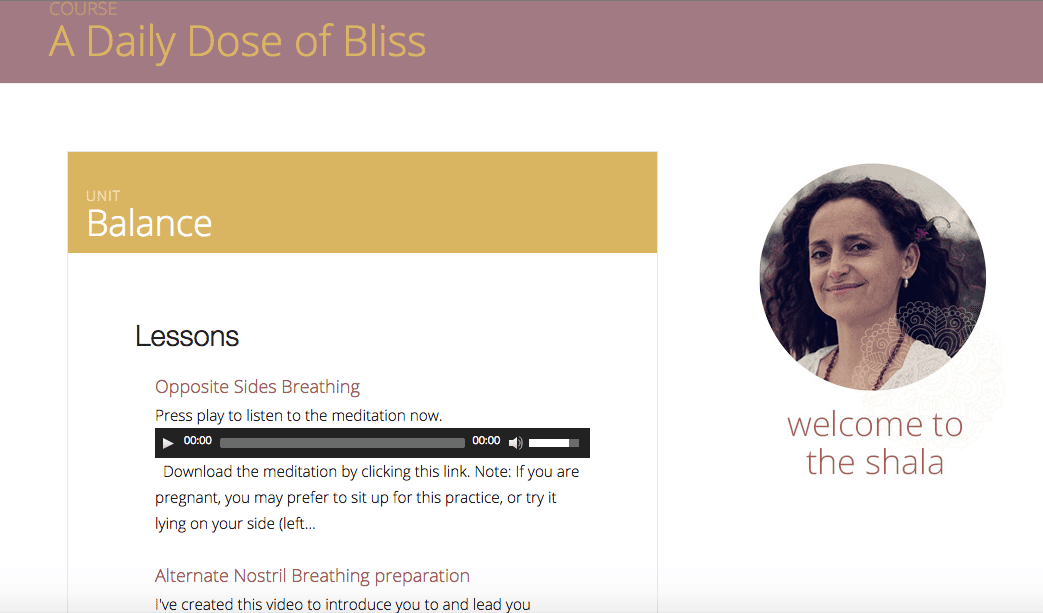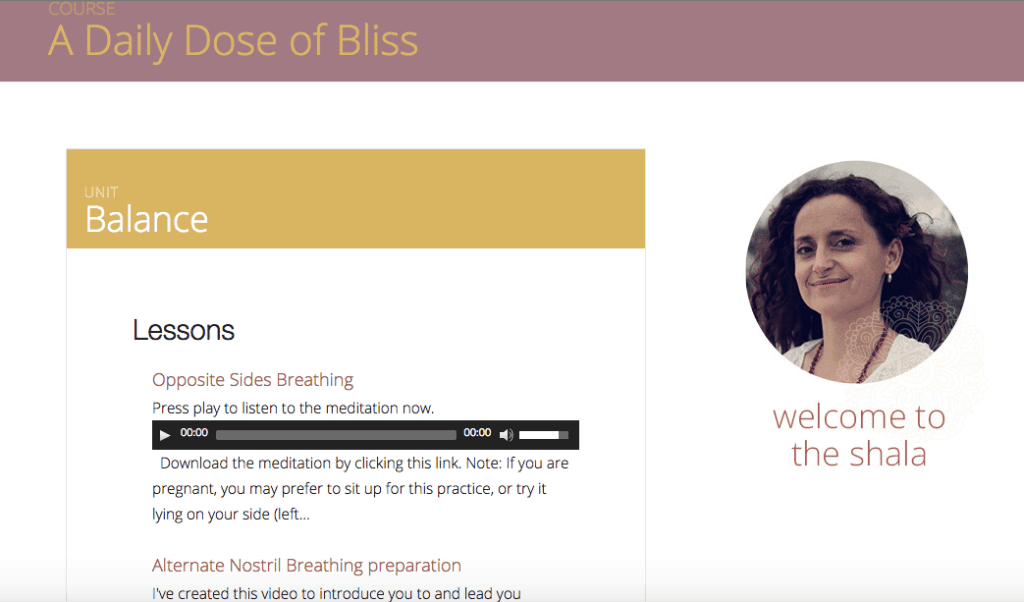 A Daily Dose Of Bliss is an online yoga course. It's comprised of an online yoga shala that teaches digestible, practical, daily yogic practices that are streamed or downloaded. Over the course of 6 weeks, the student is taught a variety of 5-10 minute lessons each day. The lessons are given by a number of renowned international teachers, including the original founder of the shala, Dr. Lauren Tober. During the course, the student is able to form habitual practices to bring more bliss and well-being to their daily life.
If you're interested in participating in A Daily Dose of Bliss – check out the details here.
Fun Fact: 10% of the proceeds go to Krama Yoga in Cambodia, an NGO that helps disadvantaged youth and adults.
The course has 8 units. Each unit has between 4-6 lessons.
The 8 units are…
Establishing a Practice & Breathing Well
Balance
Calming the Mind
Relaxing the Body
Energising
Grounding
Kindness & Compassion
Bliss
Our experience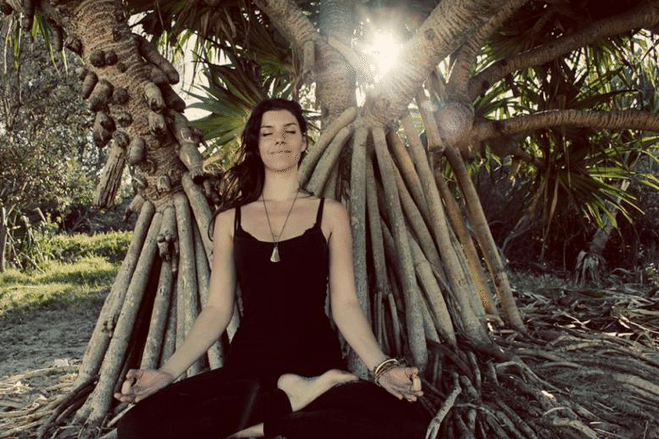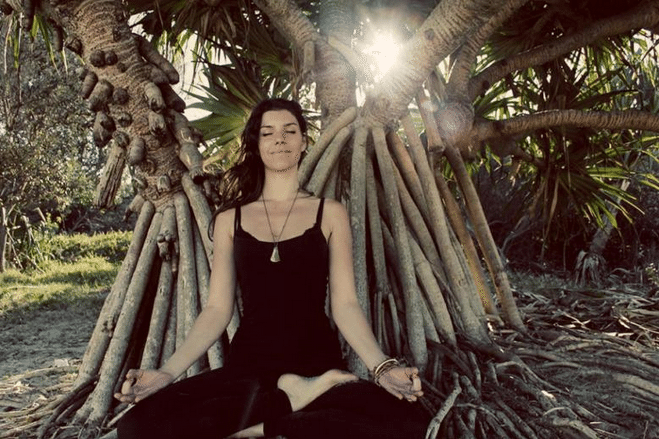 Being yoga instructors, one would think we have all these sorts of practices top of mind. Although we've learned about yoga throughout various trainings, we are forever students of the practice and there are endless things to learn and discover. This was a great way to integrate new practices into our daily routine especially while traveling. We don't always have access to yoga studios or teachers, so this was the perfect compliment to our home asana practices.
The online yoga shala was super easy to use and each day we looked forward to what we were going to learn. Before pressing play on the actual lesson, there was a brief description outlining what was in store for that day. Each description was concise yet informative.
We especially liked that each lesson is easily downloadable so if we didn't want to stream it right then and there, we could save it to our devices for later. And, you can always go back into lessons that have already been posted, and do them again.
We feel the course gave us a good balance of yoga fundamentals and new practices. We appreciated learning about the different pillars of yoga (asana, pranayama, etc). Each day builds on the previous day, often times recalling what we've already learned, and integrating it into the next. It was a nice way to tie it all together.
A closed Facebook group was also created to share experiences and thoughts with the rest of the group who was taking the course.
As an added bonus, students walk away with:
20 Meditation Tracks
10 Music Tracks
6 Video Downloads
Who is the founder of A Daily Dose of Bliss?
Dr. Lauren Tober is a Clinical Psychologist and Yoga Teacher living in Byron Bay, Australia. She has spent nearly 20 years traveling internationally and learning her practice. She completed her Doctorate in Clinical Psychology and researched Mindfulness-based Cognitive Therapy for depression and anxiety. This is evidence based therapy integrating traditional cognitive therapy with yoga and mindfulness meditation. Lauren blended her passions to unite the mind with the body in this unique accessible offering, A Daily Dose of Bliss.
It's a psychological system that leads us to happiness and understanding our true nature. — Dr. Lauren Tober
Lauren is also a photographer. To fuel her passion taking pictures, she created a photographic happiness project called Capturing Gratitude. Join her in taking pictures of what you're grateful for in your life!
A mother of two, Lauren and her husband stay busy with their family in addition to both teaching yoga and managing their business. Read more of her thoughts on her blog.
Favorite parts of A Daily Dose of Bliss
Anne's Favorite
Unit: Grounding
Lesson: Root Chakra Grounding Meditation.
This meditation technique is awesome. I am continuing to explore the variety of techniques that speak to me in my practice, and this one left me feeling light and clear headed. I look forward to incorporating this into my daily routine.
Brandon's Favorite
Unit: Calming the Mind
Lesson: Sheetali Pranayama
Brandon enjoys pranayama techniques and was drawn to this new and interesting one. He was grateful to learn of a new type of breathing exercise, and one that creates a calming feeling.
Final Thoughts
We thoroughly enjoyed taking part in this online yoga course. 6 weeks of daily practice (with a few rest days as well), was sufficient time to develop a habit. The variety in the lessons was awesome and we learned so much as a result! We both feel we will be able to easily incorporate new things into our daily routines and look forward to seeing it continue to make a difference in our lives. It's safe to say it's definitely instilled more bliss and relaxation into our minds!
Sign up for A Daily Dose of Bliss!