A glowing sunrise, lulling waves, and the elegant silhouette of a yogi in a high dancer pose (natarajasana) balancing on a rock above the sea. A few dozen shutters of the lens later and we had the most beautiful yoga photoshoot for my friend's new teaching career.
A professional yoga photoshoot is one of the most vital marketing tools for a successful yoga business. It's the perfect way to celebrate your achievements as a yogi and build your credibility as a yoga teacher. My friend used those images to brand herself, secure private clients, and get positions at major local studios.
Of course she could've propped her phone up against a wall or had me snap a few pics in the studio. However, a well-planned yoga photoshoot is more important than you think for portraying your yogi genius to the world.
So how do you do it? Here are 7 simple steps, from vision to planning to the day of the shoot.
Don't worry, if a photographer isn't in your budget, you can easily DIY these steps with a few of the photoshoot hacks I've included in each section.
Let's get posing!
How to Craft an Effective Yoga Photoshoot
A successful yoga photoshoot is all about creating a vision and carefully preparing to make it come to life.
The first important part is, of course, choosing a photographer! Hiring a professional photographer is worth every penny for an amazing yoga photoshoot. Try to find a photographer that is also a yogi themselves or has other yoga images in their portfolio.
If a photographer isn't in your budget, a friend or a tripod and ring light setup is your next best option. This combo tripod was ironically one of the best investments I've made. It gives me the freedom to emulate a yoga photoshoot any time, even without a photographer. You can also use it to grow your following on YouTube, IGTV, and TikTok with higher quality videos.
This tripod works with any phone and my iPhone 11 Pro Max takes some surprisingly high quality shots with this setup. Paired with a bluetooth remote control, you can quickly snap photos or videos of yourself in different poses. The secret is to hide the clicker remote in your hand or behind your body.
7 Steps to Yoga Photoshoot Success
So whether you have a pro photographer or a DIY setup, here's how you're going to rock this yoga photoshoot:
Intention
Location
Inspiration
Outfits
Planning
Day of the Shoot
1. Intention: Stay Grounded in Your "Why"
Are you doing a yoga photoshoot to uplevel your business? To have images for your website or social media? To make business cards?
Or are you celebrating your achievements as a yogi? Are you making postcards or canvas prints to hang on your studio walls?
Clarifying why you are doing this photoshoot will help guide the process to achieve the goals you want. Just like we set an intention before every practice, an intention for your yoga photoshoot will help you communicate with the photographer and choose the details.
Location: Choose an Ambiance that Fits Your Practice Style
If you are an ashtanga or hot yoga teacher, a meditative photoshoot in lotus pose may not make a lot of sense. You need power poses, sweat, and an epic view or workout style studio!
On the other hand, if you are a yin yoga specialist for prenatal yoga, a relaxing nature preserve or botanical garden in tree pose or puppy pose would be the perfect marketing move for your yoga photoshoot (bonus points if you are currently pregnant).
The location and ambiance of your yoga photos is just as important as the subject (you!) Make sure that your location selection reflects your teaching or practice style.
Key Location Considerations:
Is the location crowded or private?
Do you need to reserve the space ahead of time?
Will you be comfortable if passersby are watching?
Lighting lighting lighting! Golden hour (the hour around sunrise or sunset) is the best for outdoor photoshoots. Indoor lighting will require a bit more skill.
Specific places to balance or pose (ex: rock, mountain ridge, etc.)
Safety and potential distractions
Texture of the ground
Inspiration: Find Examples of Images You Like
A mood board of yoga photoshoot ideas is the best way to collect inspiration for your photoshoot. Use Pinterest, Google, or even social media. Choose images that speak to you in terms of ambiance, lighting, specific poses, and the overall vibe of the image. Show these to your photographer and use them to guide your photoshoot decisions.
Don't expect to duplicate existing photos from the internet (trust me, yours never turn out the same) and embrace your own unique practice. Just use these ideas as a guideline for what you want to accomplish. Analyze what you like about specific yoga photos and what you don't like about others. This will get you thinking about the energy you want to bring to your pictures. Be sure to share with your photographer what angles and styles you like best.
Outfits: Choose Clothing with Purpose
You should have at least 3-5 different outfits planned for your photoshoot. Again, these outfits should be strategically selected based on your teaching style. You can also choose colors that match or contrast your background location.
If you are a very spiritually-focused yoga teacher, flowing fabrics and boho harem pants may speak more to your target customer. A teacher who is more athletic and workout-centric should probably opt for leggings or compression shorts and a sports bra.
Ultimately, you should feel free to express your authentic self! Don't forget a few "normal" outfits, too. A cute dress (with shorts underneath!) show a bit more of who you are "outside of yoga". They make you look comfortable, natural, and approachable. Just be sure to try them on ahead of time to make sure you can comfortably do the planned poses.
Planning: List the Poses You Want to Capture and Practice Them
Let's be real: many of the most challenging asanas are not actually very aesthetically-appealing (I'll never forget the time I did mouth-to-floor locust pose during a yoga photoshoot and wound up laughing my butt off with the photographer at how ridiculous I looked).
You should definitely plan your poses in advance. Use a diversity of poses to showcase your expertise and personality. Don't do poses that you don't enjoy! And always practice holding each asana longer than usual so your photographer has time to capture several angles.
Elegant Poses for a Yoga Photoshoot:
Dancer pose (natarajasana)
Wild thing (camatkarasana)
King pigeon (eka pada rajakapotasana)
Warrior 2 (virabhadra)
Revolved side angle (parivrtta parsvakonasana)
Balancing stick pose (tuladandasana)
Reverse warrior (viparita virabhadrasana)
Handstands and Inversions
Props: Say Something with Your Accessories
Do you want your future clients and students to know you as "the teacher who pushes me past my limits" or "the teacher with the grounding mantras"? Think about what you want to be known for and accessorize accordingly.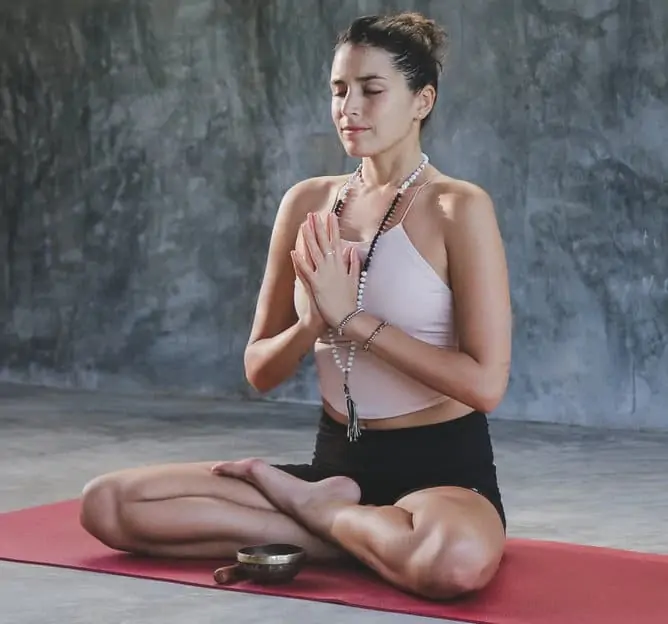 Yoga Photoshoot Prop Ideas:
Whatever props you choose, make sure you are using them to strategically reveal your unique practice style.
Day of the Shoot: Warm Up, Laugh, and Let Loose
The most important part of your yoga photoshoot is to show off who you are at your core. This is a celebration of you as a yoga teacher and as a human being!
Warm up and stretch out an hour or so before the photographer arrives to get in the flow. Meditate with the space and get into your zone, being sure to smile, laugh, and sincerely enjoy yourself! You want the joyfulness of your practice to show through your photos.
DIY Hack: Make Yoga Content at Home
If you are serious about growing your yoga teaching career, you should be making yoga content on a regular basis for your social media channels. Use a tripod and ring light to practice taking videos and photos of yourself in your favorite asanas. The easiest content for beginners is a simple timelapse of your favorite flow. This will prepare you for a professional or DIY photoshoot that feels natural and easy.
If you feel nervous, let your photographer know. It may take a few shots to get comfortable and in the zone. Nobody wants to see perfection- they want to see your true soul shine! Don't get too caught up on the details and remember to have fun!
FAQs
What do you wear to a yoga photoshoot?
Choose a variety of 3-5 outfits for your yoga photoshoot that reflect your personality and yoga style. Form-fitting yoga pants are great for serious poses, while more flowing casual dress adds a zest to portraits.
How do you take yoga poses pictures?
Take yoga pose pictures using a tripod, ring light, and bluetooth phone timer remote. You can also hire a professional photographer who has experience with yogis.
What poses to do at a photoshoot?
The best poses for a yoga photoshoot include dancer pose, warrior 2, handstands, inversions, and reverse warrior.
How do you do a photoshoot at home?
Conclusion
At the end of the day, a yoga photoshoot shouldn't be too serious or staged. Plan and prepare, but also be ready to improvise and go with the flow. It helps to be somewhere you are familiar with so that you appear relaxed. Don't force anything you wouldn't usually do on the mat.
Let me know in the comments what your favorite tips were and if you used them in your yoga photoshoot! If you found this article helpful, be sure to share with your fellow yogis! We can't wait to see your gorgeous yoga photos.
Namaste!