You may have seen monks in temples chanting in meditation, holding a string of beads. Or maybe you've seen a priest with a similar set at a church. Prayer beads have a long history in religion and spirituality worldwide.
But what is the purpose of prayer beads, and do you have to be religious to use them? This article will explore how rosaries and malas are used across different religions and in modern-day non-religious societies.
And if you're feeling inspired to get your own set, check out our list of the top beads for praying, meditating, relieving stress, or wearing as jewelry.
What Are Prayer Beads Used For?
Prayer beads are a form of beadwork consisting of a specific number of beads threaded together to create a necklace. The beads can be of various sizes and materials but are typically made from wood or precious stones.
Prayer beads have been used in many religions for centuries. Historically, their purpose was to count the number of prayers repeated in one sitting. Prayer beads are still used in some religions today, but they have become much more widespread.
Nowadays, prayer beads are used in meditation practice to help settle the mind and as a way to relieve stress in challenging situations. In addition, some people wear them purely as an eye-catching fashion accessory.
The 8 Best Prayer Beads – Quick Look
| Name | Appearance | Highlight | Where to buy |
| --- | --- | --- | --- |
| St John the Baptist Orthodox Brotherhood Christian Prayer Beads Rope Bracelet | | Best Christian Prayer Bead Bracelet | See latest price |
| BALI BALI Handmade Jade Stone Anglican Prayer Beads With Pardon Crucifix Cross | | Best Rosary Anglican Prayer Beads | See latest price |
| HealthAndYoga Rose Wood Mala Beads | | Best Authentic Japa Mala Beads | See latest price |
| Jovivi Tibetan Natural Tiger Eye Gemstone Beads | | Best Tibetan Meditation Prayer Beads | See latest price |
| Anzhongli Sandalwood 8mm 108 Prayer Meditation Beads | | Best Wood Mala Beads | See latest price |
| Jovivi Natural Lava Rock Stone Healing Gemstone 108 Prayer Beads | | Best Lava Rock Mala Beads | See latest price |
| Bivei 7 Chakra Tree of Life 108 Gemstone Mala Beads | | Best Chakra Mala Beads | See latest price |
| Al-Ameen Muslim Tasbih 99 Beads | | Best Islam Prayer Beads | See latest price |
Top 8 Prayer Beads – Reviews
Finding the best beads for you will depend on what you want to use them for. Whatever that is, we've got you covered with top-quality options for all purposes.
This Christian Prayer Rope comes in two options, 50 or 100 beads, the latter of which can be worn around the neck and as a rope bracelet.
The smaller bracelet features 8mm smooth wooden beads split into two groups with one black bead and one cross-shaped metal bead. The longer version has smaller 6mm beads, divided into four groups of 25 with three black beads and one cross-shaped bead.
The beads are threaded loosely, making them easily moveable so you can count your repetitions effortlessly during prayer and never lose your place.
This handmade rosary bead is made from natural Jade, Amazonite, Black Agate, and India Agate stones. This gives it a multi-color style of green, turquoise, pink, red, and more. Each bead is 8mm, and the total length is 11 inches (28CM); thus, it's not a necklace or a bracelet.
It is designed to be held over one hand and used in prayer rather than as a fashion accessory. As a traditional Anglican rosary, the beads are divided into four sets of seven.
The cross is made of zinc alloy with silver ox plating. There are also tiny silver divider beads between the individual stone beads, giving them a stylish, sparkly, and eye-catching appearance.
Aside from being high quality for a low price, BALI BALI provides a 100% money-back guarantee service within 30 days if you are unhappy with the prayer bead. It also comes in a gift box and a cloth bag to protect the gemstones from scratching.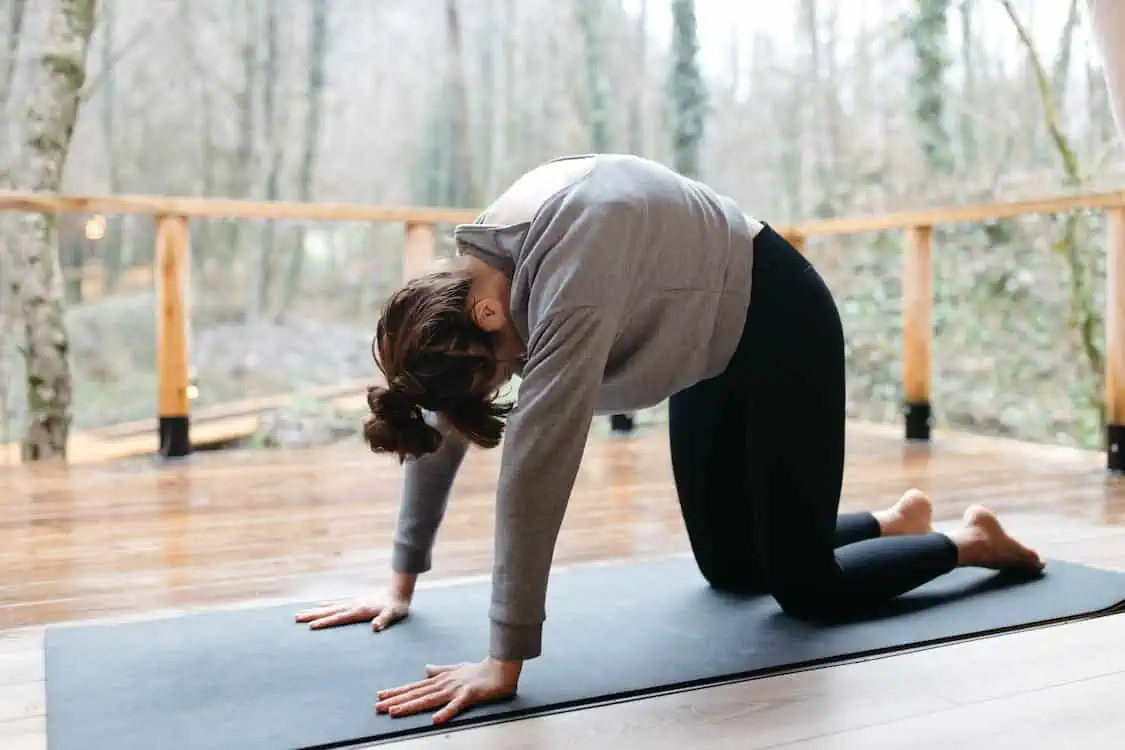 These gorgeous red mala beads are made from 108 ruddy rosewood beads (plus one guru bead) and lovingly knotted together with a tassel. Each wooden bead is richly streaked with black resinous layers and finished with a lustrous polish.
Each bead is between 7-8mm, and the total length is 42 cm. Its size means you can wear the rope in several ways when not using it, such as around the neck, wrist, or even as a hair decoration. Moreover, as they are made from wood, they are very lightweight.
These authentic beads are made in India and are believed to help strengthen your spiritual aura, repel negativity, and increase circulation. The beads come in a velvet bag to protect them from damage and preserve their positive aura and energy.
These Tibetan Buddhism prayer beads by Jovivi feature 108 authentic tiger eye gemstones, known as the stone of health. Tiger Eye is believed to extract negative energy from the chakras, soothe tension in relationships, and enhance commitment. They are also said to attract devotion, warmth, and understanding from others.
Tiger Eye may also help reduce anxiety, loneliness, and feelings of inadequacy. In addition, wearing it and using it in spiritual practice can help you overcome or persevere through challenging situations, bringing a sense of calm and order.
You can choose between 6mm or 8mm beads; the former is ideal for people with smaller-than-average hands. It weighs around 95 grams, and the total length is 86.4cm (34 inches). It can be worn as a necklace or a bracelet, wrapping around your wrist approximately 3 to 4 times.
The stones are smoothed, rounded, polished, and threaded onto a durable stretch-proof elastic cord, ensuring they will last a long time.
The Anzhongli prayer beads feature 108 8mm natural sandalwood beads threaded on a high-quality elastic cord. It is designed to be worn as a multi-layer bracelet, wrapping approximately 4 to 5 times around the wrist.
You can choose between Vietnamese sandalwood or blood sandalwood. Vietnamese sandalwood is Vietnamese Nha Trang incense wood and has a lighter color than blood sandalwood, which is Zambian rosewood.
It has a simple, earthy, and beautiful design and looks great as a fashion accessory with any outfit. Moreover, as the beads are smoothly rounded, it feels comfortable for all-day wear on your wrist.
The beads can withstand light rain and sweat but should not be soaked in water as this may remove their gloss coating and, thus, make them appear dull. To keep them in top condition, wiping them daily using a soft cotton cloth is recommended.
While prayer beads are traditionally made from wood or gemstones, lava rock stones are popular. Their porous quality makes them perfect for absorbing and diffusing essential oils. In addition, lava rock stones carry the fiery energy of the earth's core, promoting transformation and aiding in emotional healing.
The Jovivi natural lava rock stone prayer beads are high-quality, beautifully polished black stones threaded onto a durable elastic cord. You can choose between 6mm or 8mm beads; the 8mm beads have a 34-inch diameter, while the 6mm ones are shorter (26-inch diameter).
You can wear this mala as a necklace or a multi-wrapped bracelet. In addition, you can add a few drops of your favorite essential oil to add additional healing properties.
Whether you're into energy healing or are looking for an eye-catching piece of jewelry, you'll surely love these chakra gemstone beads. These handmade prayer beads have 108 gemstone beads threaded and knotted between each to keep them separate. You can choose between 6 or 8-mm beads.
Seven crystals are used, corresponding to the chakras and resulting in seven colors. However, they are split into 14 groups of 7 so that each side of the prayer rope has all seven chakras.
The crystals used are:
All gemstones are 100% natural with no dye or color enhancement. The beads have a gold-colored tree of life pendant attached, and the mala comes in a pretty gift box.
The Muslim Tasbih prayer beads have 99 beads, all of which have ALLAH and Muhammad Arabic names engraved on them, along with Shahada carved at the bead end. The dark brown polished wood beads are 8 mm, and the non-stretchy thread feels solid and durable.
They are designed to be used as you pray rather than wearing. However, it also looks lovely as a hanging decorative ornament. They are also incredibly lightweight and feature two divider beads, allowing you to do three sets of 33 repetitions.
The Different Types Of Prayer Beads
Prayer beads have been used in many religions, including Christianity, Buddhism, Hinduism, and Islam. However, the structure and purpose of prayer beads differ depending on their origin. Let's explore the differences between the most common types of prayer beads.
Christian Prayer Beads
It is believed that prayer beads have been used in Christianity since the 3rd to 5th centuries, when they used pebbles or knotted ropes to count prayers, such as the Jesus Prayer: "Lord Jesus Christ, Son of God, have mercy on me, a sinner."
The oldest set of prayer beads in Western Christianity is the Pater Noster cord, which traditionally consisted of 150 beads for the 150 Psalms in the Bible.
Roman Catholics developed the Dominican rosary with strings of 59 beads, the origin of the popular rosary beads. The term rosary comes from the Latin rosarium, "rose garden," a traditional Catholic church devotion.
The most modern style of Christian prayer beads is the Anglican prayer beads, developed in the Protestant Episcopal Church in the United States in the mid-1980s. They consist of 33 beads (5 large and 28 small beads), representing the 33 years of the life of Christ.
The smaller beads are divided into four groups of different significance, with the larger beads separating them.
The groups are called "weeks," as each contains 7 beads signifying the seven days in a week and the 7 seasons in the church calendar. Then, each large bead between them is called a cruciform bead, and the small bead closest to the cross is called the invitatory bead.
Buddhist Prayer Beads
Buddhists use prayer beads to count repetitions of mantras during meditation. Buddhist mala beads have 108 beads, one for each of the delusions (worries) afflicting human life. However, the number of beads and the symbolism varies between the schools of Buddhism.
For example, in Tibetan Buddhism, malas have 108 beads, but only 100 are used for counting mantras; the eight extra are dedicated to all sentient beings. Shorter 27-bead malas are common in Pure Land Buddhism. There is also usually a guru bead that is not used for counting.
Buddhist prayer beads traditionally consist of semi-precious stones like carnelian and amethyst or wood, stone, seeds, or bone. However, nowadays, many are made from synthetic materials like plastic or glass beads.
Hindu Prayer Beads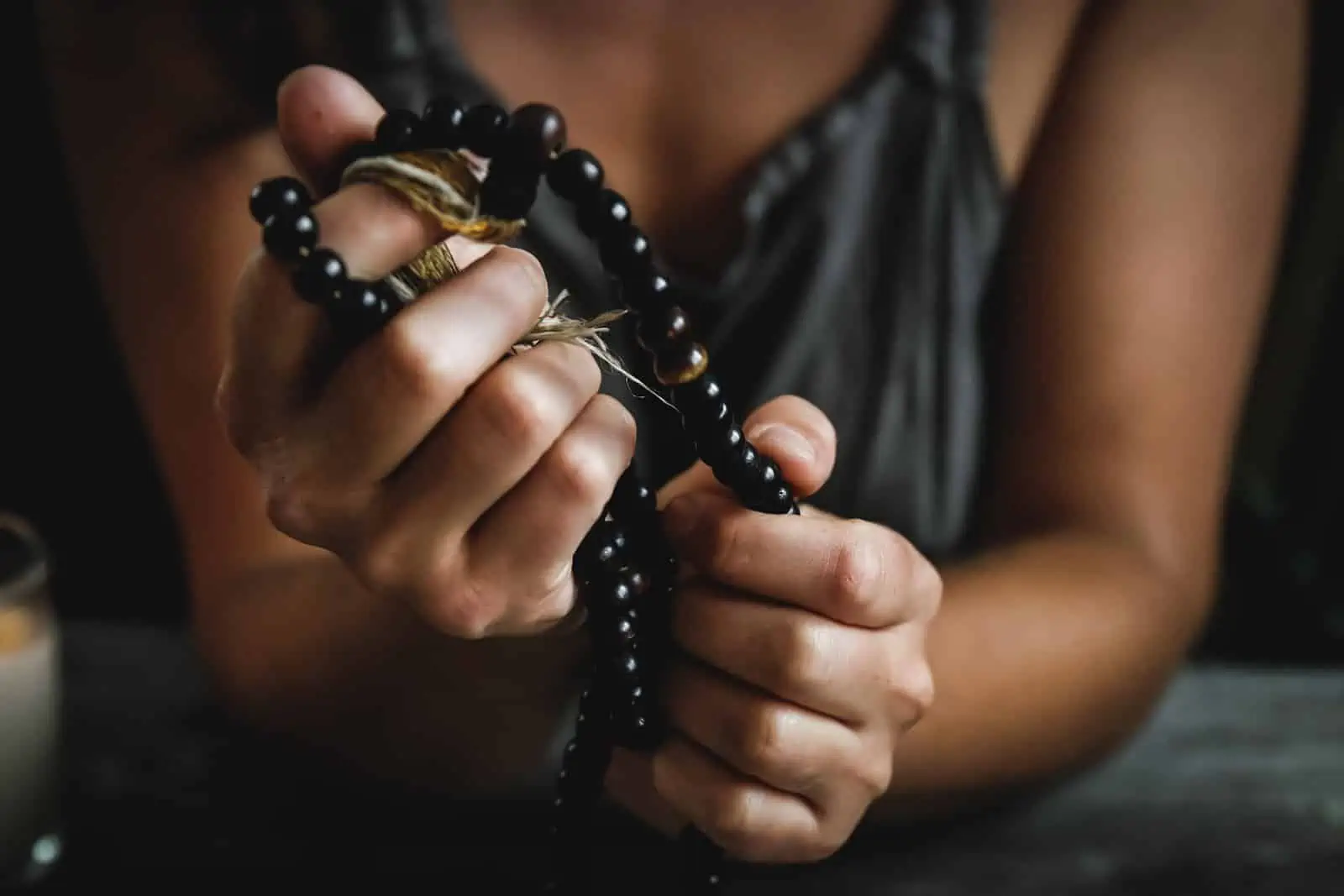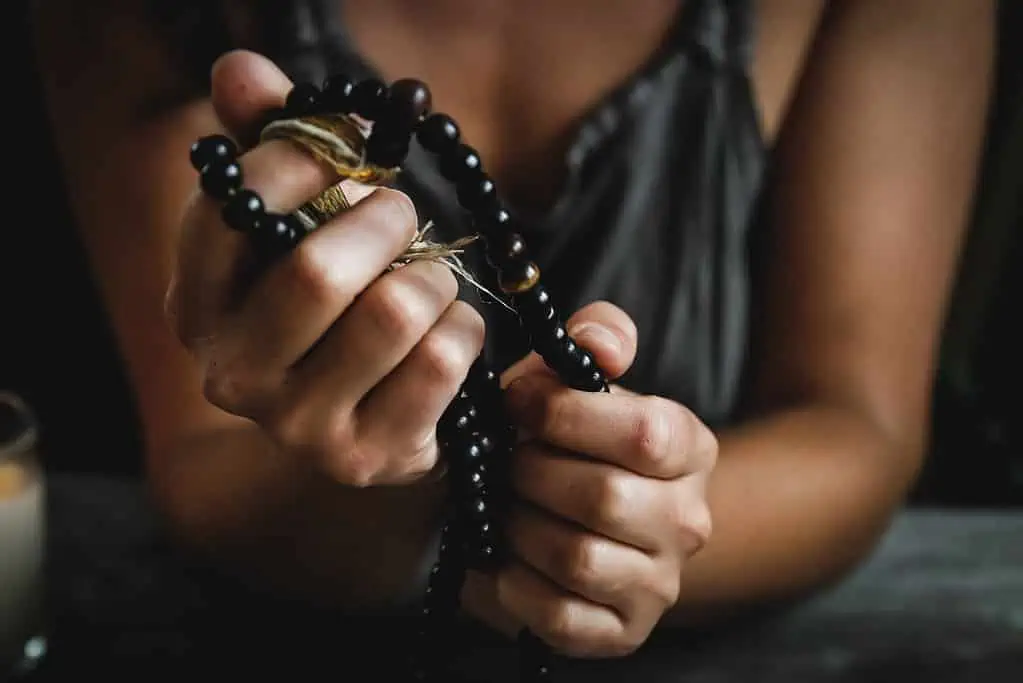 Hindu Prayer beads are known as Japa Mala, which are believed to have originated in India during the 8th century BC. Japa means repetition of a mantra or deity name, and mala means "garland" or "wreath." They are used in mantra meditation and other sādhanā (spiritual exercises). Like Buddhist prayer beads, they typically have 108 beads.
Japa mala beads are traditionally made from Rudraksha seeds (the fruit stones of the rudraksha tree), considered sacred by Saivas, devotees of Siva. In contrast, Vaishnavas, followers of Vishnu, wear malas with beads made from the wood of the tulsi plant. Hindu malas are also usually made with a small knot tied between each bead.
108 is a sacred number in Hinduism, representing the universe and all its creation. Therefore, every mantra is repeated 108 times.
Islamic Prayer Beads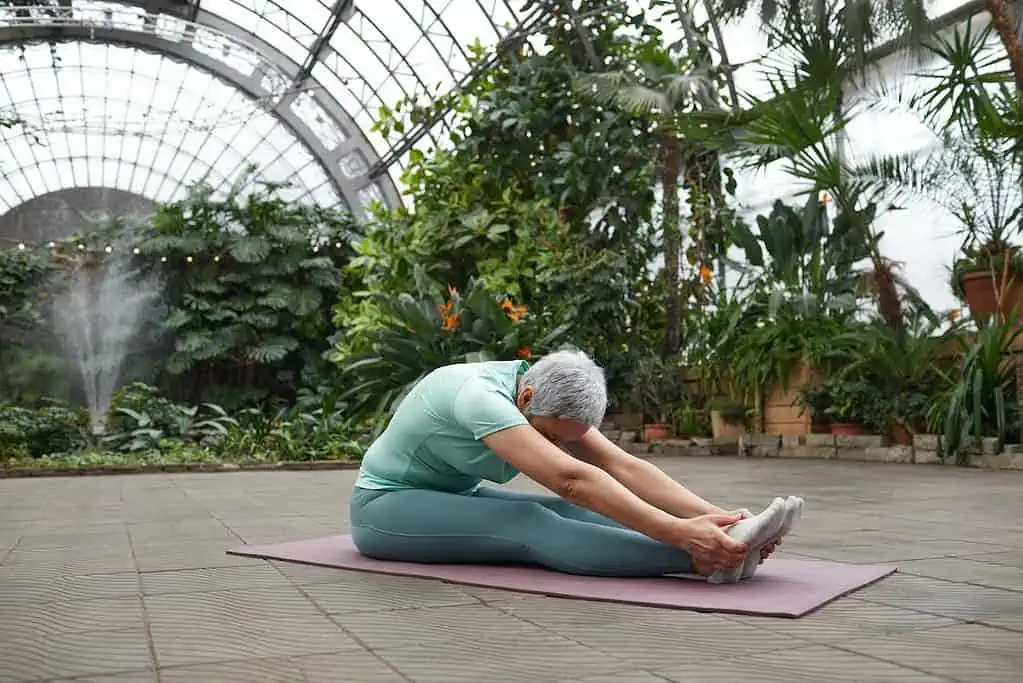 In Islam, prayer beads are used to keep count when praying, as the Islam prayer involves the repetitive utterances of short sentences. Islamic prayer beads typically consist of 99 beads, which correspond to the Names of God in Islam, and two smaller beads separating every 33 beads. Smaller versions are also available with 33 beads, which are used three times to complete one cycle.
In Islam and most other religions, the prayer beads are held in one hand, commonly the right hand, and are used by moving each bead through the fingers.
Worry Beads
Worry beads (also known as Kompoloi) are a non-religious form of prayer beads. They originate from Greek and Cypriot cultures, where they were used to relax, pass the time, and create a sense of calm.
Unlike religious prayer beads, worry beads have no ceremonial purpose. However, in ancient Greece, they were also used as a mark of power and social prestige. Thus, the most prominent Greeks often wore them, including former Prime Minister Andreas Papandreou.
Worry beads have also been used as amulets to guard the user against bad luck. However, today they are mainly used as a self-therapy aid and relaxing activity. Any materials can be used in worry beads, but amber and coral are popular choices.
Greek worry beads have an odd number of beads, usually 17, 19, or 23, making them smaller than prayer beads. There will also be a head composed of a fixed bead, a shield, and a tassel.
Final Thoughts On Prayer Beads
While rosaries and malas are valuable tools for praying, you don't need to have a specific faith to use them. Prayer beads can help you find calm and relieve stress in everyday life. Moreover, if you're getting into meditation, you may find they help you remain focused and present.