Travel planning is stressful. It takes time. It's often overwhelming.
The first trip is the hardest, but it does get easier.
After 3 extended travel preparation periods, I finally decided to create a pre travel checklist and I feel confident in the process. No more running around like a chicken with my head cut off!
Note: This was created for longer term travel. If you're getting ready for a 2 week vacation, you can disregard some sections.
Here's an overview of the required tasks. Below I explain each step and share my best tips!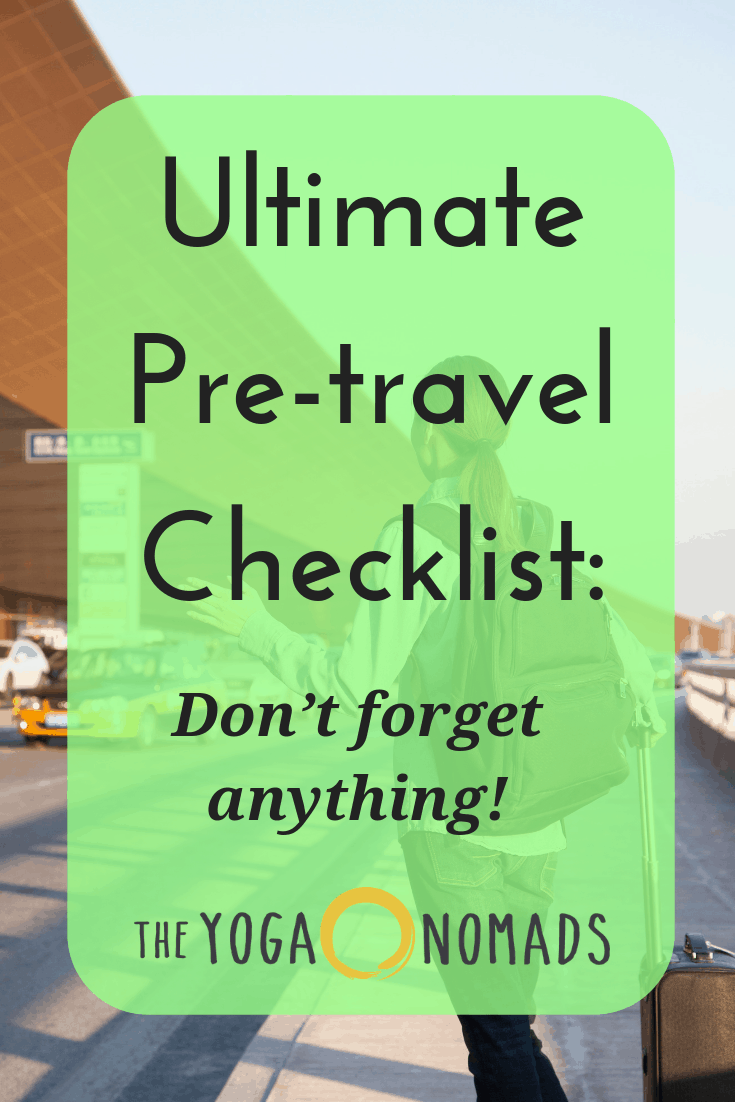 Pre Travel Checklist Overview
3-6 months before leaving
Start saving your money
Cut your expenses
Ensure passport is in order
Preliminary travel planning
Move out, sublease, or rent your home
Downsize your possessions
Last minute health checkup
1 month before leaving
Buy big ticket items
Sort out travel credit cards/ATM cards
Cancel cell phone plan
Where will you store your car?
Book accommodation for your first couple nights
Apply for Visas (if required)
2-weeks before leaving
Cancel auto insurance
Submit your 2-week notice at work
Forward your postal mail
Test run with your backpack
Last minute purchases
Inform your banks about upcoming travel
Buy travel insurance
Email yourself important documents
Transfer money into travel bank accounts
Add $10 to your Skype account
24 hours before freedom:
Decide how you will manage your expenses
Cancel cell phone plan
Cancel health insurance
Cancel car insurance
Print flight itinerary.
3-6 months before leaving….
Alright it's time to get serious. These short months will come and go before you know it. Time to get organized. Create a plan and stick to it. Some sacrifice may be necessary in order to maximize your travel experience.
Start saving your money
It's much easier to earn money in your own country than by picking up odd jobs on the road. Use your ability to secure a high(er) paying job to build up your travel fund.
"Take half as much clothing and twice as much money"
If you're running out of time and haven't hit your goals yet – get a second form of income. Become a server, bartender, shovel snow, mow your neighbors lawns, browse cash paying jobs on Craigslist, etc.
Here is our full strategy for managing money while traveling.
Ruthlessly cut down your expenses
I fully understand how hard it is to cut back on your luxuries when you're already so used to them. This time it's different, you have an end game and a reason to save the money.
Every time you consider going out to eat – consider how else you could spend that money while traveling.
We could either go out to eat in Minneapolis tonight or… snorkel with whale sharks in the Philippines next month. Easy decision.
Make sure your passport is in order
Not having your passport ready to go will quickly end your trip. Make sure your passport is valid for 6 months MORE than your anticipated return date. Most countries won't let you in if they think there is a chance your passport will expire while stuck in their country.
Renew it, get additional pages added, or apply for your first one! Do it yesterday, our lovely governments take their sweet time making these invaluable little pieces of paper.
Preliminary travel planning
Think high level here. What time of year will you be traveling? For how long? What will the weather be in the regions you're interested in? How much money will you need to save? Which airports can you fly into?
Weather: Don't visit Thailand in rainy season if you're hoping to laze on the beach all day.
Tips for purchasing Long Haul Flights (ie: From USA to Bangkok)
Stopovers

– a free extended layover. For example, when flying from USA to Bangkok, some airlines layover in Tokyo for a few hours. With a Stopover you turn that 2 hour layover into a free 5 day trip to Tokyo – before boarding your final leg to Bangkok. Anne and I did this in 2014 and fell in love with Tokyo. Here is a list of Stopover cities.

Flying into a nearby airport

– Often times your desired destination is not always the cheapest to fly into. If you're heading to Myanmar for example – it's often cheaper to fly into Bangkok, Sinagpore, or KL first and then buy a short flight into Myanmar.

Hit the sweet spot

– best prices are usually between 2-3 months before your desired travel period

Use Kayak.com or Google flights and be flexible

with the dates you're searching (+/- 3 days from your desired travel date at a minimum)

Set flight price alerts

on your favorite booking sites so you don't miss dips in the price
Move out, sublease, or rent out your home
If you're planning to travel for an extended period of time, you'll want to make a smart decision about your current living conditions.
If you own a house, consider renting it out fully furnished while gone (often times you can charge more than your mortgage)

Stuck in a lease? Find a sub leaser

Timed it perfectly? Good for you!
Another option is to put your house/apartment up on Airbnb. You can hire someone local to do the cleaning and to pass off the keys. If you've never used Airbnb before, here is a free $20 credit.
Downsize your stuff – sell, donate, toss it
Stuff. It weighs us down. We work so hard to acquire stuff because we think stuff makes us happy. After we finally acquire said stuff, we then spend our life protecting our stuff. Oh shit, we don't have enough space in our house to fit all our stuff! Better get a bigger house so we can store all our stuff. [paraphrased from the George Carlin clip below]
Minimalism is not always easy, but it has provided tremendous freedom in my life. Have you ever thrown away or donated a few bags of old clothes? Did you notice that light feeling, the relief of getting rid of clutter? You've tasted freedom and it only gets easier as you go.
If you're at all curious about minimalism – check out Everything That Remains, I recommend this book constantly. It's entertaining and highly effective at introducing minimalism.
Minimalism is not always easy, but it has provided tremendous freedom in my life.
Selling your stuff takes time and the sooner you start the easier it will go. Consider using Craiglist, eBay, and even your social networks. Say goodbye to stuff and hello to freedom (and a larger travel fund).
When you've paired down to the essentials, try to find a friend/family member who has space to store what remains. Worst case scenario, rent a cheap storage unit in the countryside – much cheaper than in the city.
Get your health in order
Time to squeeze in one last checkup. Make sure you're in good health, your teeth are clean, and you have enough contacts to make it through you trip.
It's always wise to check into which countries require immunizations. Get your shots and malaria meds as needed.
Protip: If you're from the USA do not stock up on medicine before leaving. Pills in the US are by far the most expensive in the entire world (thanks big pharma and a spineless government). Everything you think you need will be significantly cheaper abroad.
1 Month Before Leaving….
Alright, your big day is a month away! Hopefully you worked diligently through the list above. If not, time to step it up!
Buy your big ticket items
This includes a carry-on sized backpack, a smaller daypack, laptop (if needed), travel sized camera, etc.
These items cost a bit of money so shop wisely.
Here is a list of "stuff we love" to get some more ideas.
Sort out your credit cards / ATM cards
Managing your money while traveling is not the same as in your home country. If you put in a little effort on the front end, your travels and bank account will thank you.
3 card required to bank abroad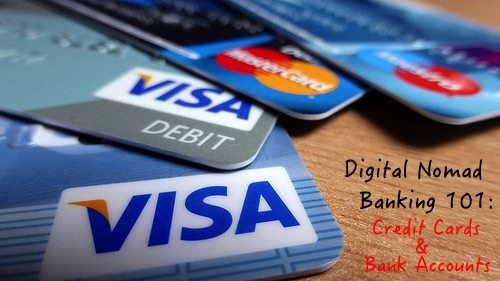 Decide your cell phone plan strategy
There are tons of options here and they greatly vary based on your home country, length of travel, and type of travel.
A smart phone without a service plan is still quite valuable on the road. With WIFI you can do nearly everything. It's also a music player, note taker, calculator, and camera.
A few good options:
Less than 1 month travel = keep paying your current service and get a local SIM upon arrival. Consider an international plan.

1-6 months travel = Pause your service and get a local SIM upon arrival. I use Verizon in the US and they allow me to pause my account for up to 6 months for free. Other US providers charge small fees. This avoids costly cancellation and reactivation fees.

More than 6 months travel = Google Voice. You switch your service over to google for a one time $20 fee. Your phone works as normal as long as you're within WIFI range. Anne and I did this in 2014, and it was so slick. Don't worry you won't lose your number. When you return home you can transfer your old number to the service provider of your choice.
Matt from Expert Vagabond has a great guide on cell phone services while traveling.
Protip #1: Google maps works (with GPS) even when you're not connected. Lost? Just pop open Google maps! This little easter egg has gotten Anne and I out of trouble on more than one occasion.
Protip #2: Unlock your cell phone before hitting the road. Most countries offer cheap sim cards and cheap cell phone plans. This comes in handy as a hotspot if you work online, great for calling taxis, and interacting with friends you meet on the road.
Local SIM card example (Costa Rica): Pay $2 for a SIM card, and can buy 2GB data for $20. This data also allows calls and text. Incoming calls (no matter the country) are always free. You can set this up in 10 mins in the airport upon arriving. Not bad.
Where will you be leaving your car?
If you're taking off for some extended travel, you'll have to store your car somewhere. Thankfully Anne and I have family with room to store our cars. Wherever you store it, make sure take the necessary steps to store your car. I don't do everything in that guide – but I probably should :/
Protip: Use your car as your storage unit! I put all my worldly possessions in my Jeep Grand Cherokee whenever we're traveling.
Book your first couple nights accommodation
The last thing you want to do after a long travel day is walk around with your bags looking for accommodation. Book a few nights in the first city you'll visit. The best accommodation fills up early, plan ahead.
We prefer Airbnb as they're more comfortable than hostels and cheaper than hotels. (Free $20 credit for Airbnb)
If you're looking for a hotel / guesthouse, we use booking.com or Agoda.com
Get a visa if applicable for your first country
Some countries offer visas on arrival (VOA) however other countries require you to apply ahead of time. Some countries like India often take 3-6 weeks to get approved. Others, like Vietnam take 24-48 hours. Do your homework on the countries you're planning to visit and plan ahead!
2 weeks before leaving….
Alright it's the final stretch. If you're like me, you've left everything to the last minute.
Ever wonder why before leaving on a vacation you end up getting so much much accomplished? "Work expands to fill the time available for it's completion." Meaning no matter how much time you left before traveling, your pre travel checklist will take that amount of time.
Work expands to fill the time available for its completion
It's called Parkinson's law and it's time to use it to your advantage.
Cancel auto insurance
Yep, you won't be needing this one while your car sits idle somewhere. Make a call and cut the chord. Reminder: don't prepay your car insurance for periods of time you won't use it!
Give your two-weeks notice to your employer
Ohh this is an exhilarating step. Potentially scary in our minds, but usually fulfilling when complete. Like a band-aid, it's better to just rip it off in a quick and clean manner. Whether you plan on returning or not, it's best to leave on good terms.
Thank your manager for everything they taught you, be helpful during your transition period, and take some time to talk with all your coworkers that you hold dear. You never know when these people will come back into your life.
Forward your postal mail
You can do this online in the USA. Or just have a friend stop over to pick up your mail every couple days.
Do a test run with your backpack
Make sure everything fits in your pack. Now pack way less. That thing you might use sometime maybe? Ditch it.
Here is my travel packing list for men and Anne's packing list for women to get you started. We've been on the road for nearly 2 years and our packing list has been refined over and over.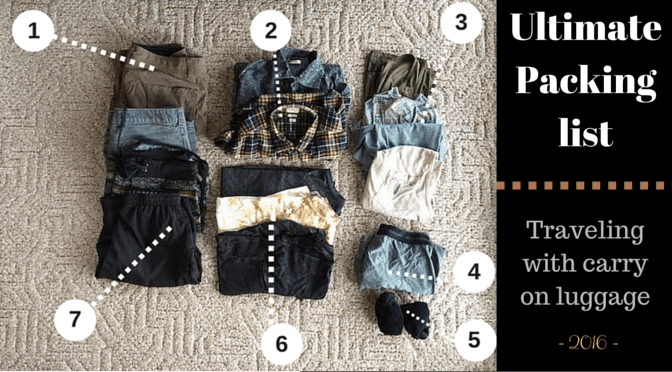 Make your last minute purchases
For me, The last two weeks before traveling feels like Christmas because I receive so many packages in the mail. I always end up ordering a few last minute items before we take off. Thankfully Amazon Prime has free shipping on 2-day delivery! (includes video streaming)
Are you climbing mountains? Walking through cities? Heading to nice clubs? Make sure you match your footwear with the needs of your travels.
The universal adapter, travel pillow, and eye mask always seem to be last minute purchases.
Inform your credit card companies of your travel plans
I hate this step. Every banking institute has their own system. Some require phone calls every month because their pathetic systems can only hold travel notes for 30 day periods. Others are simple and can be done in 2 minutes online (thank you).
Alas, it must be done. Last thing you want it is to be stuck in rural Indonesia with a bunch of blocked credit cards from "potential travel fraud."
Protip: create a memo in Evernote with all your banks with their phone numbers and email addresses. This way you can quickly contact them in case of a banking emergency (Evernote works without wifi).
This is one of the most important bits of advice on the checklist. Travel insurance covers lost/stolen gear, medical bills, travel delays, flights home in case of an emergency, and much much more.
When Anne got hit by a motorbike in Bali, we spent a lot of time in hospitals and clinics around Asia. When it was all said and done she spent nearly $2,000 USD. Luckily World Nomads covered the entire bill.
We use and highly recommend World Nomads. We wrote an entire blog post about travel insurance and why we are huge fans of World Nomads.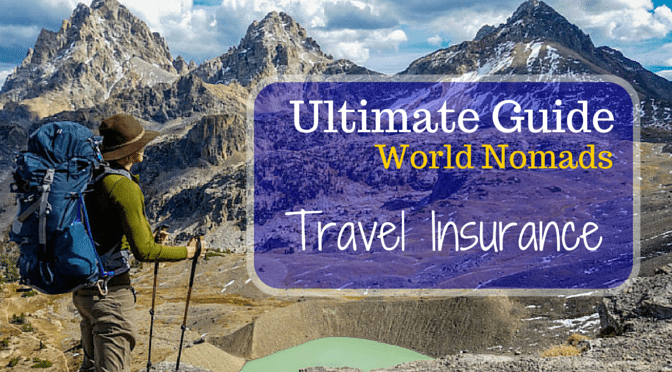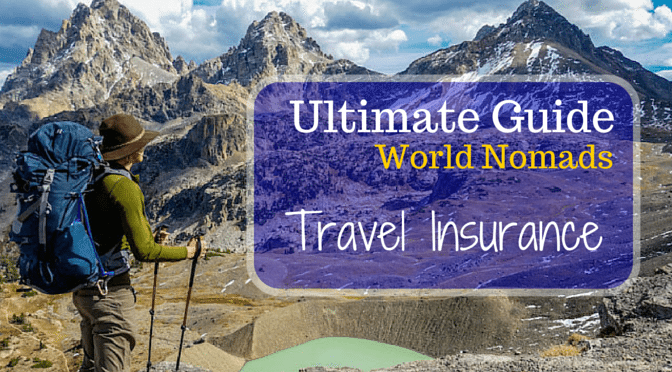 Email yourself important documents
Scan/email yourself a copy of all relevant documents.
Protip: email copies to your family back home.
Transfer money into your travel bank accounts
You will need money in your account that you plan to draw money from an ATM. When you arrive in that first country, you can easily take out some money in the airport.
If you missed it above, here is the best banking strategy for travel.
Put $10 on your Skype account
Skype offers competitive rates for making international calls through the internet. We use this feature often. Need to call a bank back home? Issues with an airline? Call a hotel to book a room? Wish your grandma a Happy Birthday?
Put $10 on your Skype account – you'll be surprised how long it lasts.
The final 24 hours before travel freedom….
It's the FINAL COUNT DOOOOOOOWN.
Decide how you'll track your expenses while traveling
It's challenging tracking your expenses while traveling – often changing currencies, almost always using cash, and forgetting to track expenses while on the go. Tracking our spending helps us determine how to be more efficient with our money on the road.
Most travelers (including us) use Trail Wallet, a beautiful App created by Simon from Never Ending Voyage. After spending almost 2 years trying to manage overly complicated spreadsheets, we finally converted to the gold standard. Only available for iOS.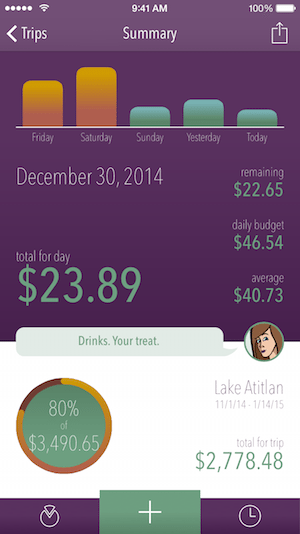 Cancel phone services
For Verizon, all I need to do is call them from the Airport and they instantly put my account on hold. Be sure to check with your provider beforehand on their specific process.
Cancel your old health insurance (replace it with travel insurance)
You won't be needing your old health insurance as travel insurance is cheaper and provides better coverage abroad. Do yourself a favor, buy World Nomads and travel with peace of mind. We've been using it for 2+ years and have been reimbursed for every medical bill we've ever had on the road ($3,500+).
Cancel car insurance
Of course your dormant vehicle doesn't need to be insured! Make a quick call and cancel it!
Print your flight itinerary
Either print it on paper, or better yet, get a copy on your cell phone.
Example: Spirit Airlines requires you to print your boarding pass ahead of time otherwise they charge you $10 per person. WTF.
Protip: Forward your travel plans to a couple friends/relatives. In case something happens they will be informed of your plans.