Puerto Viejo is a unique destination in Costa Rica because it appeals to so many different types of people. It's home to countless beaches to explore (many of which are deserted), tons of surfing, thumping nightlife, and beautiful yoga studios all surrounded by a lush rainforest! However at the end of the day, it's all about the people and Puerto Viejo attracts the best people!
We spent a month in Puerto Viejo and really enjoyed our time.
Here is everything you need to know to plan your stay in this beautiful little corner of Costa Rica!
Where is Puerto Viejo?
Located on the southern Caribbean coast, right by the Panama border. Until recently, Puerto Viejo was isolated from the rest of Costa Rica. It's roughly a 5-hour bus ride from the capital, San Jose.
When should you travel to Puerto Viejo?
Puerto Viejo is home to some of the most unpredictable weather we've ever experienced. We were there in February which is right in the middle of both the "dry" and "surf" seasons. During our month we experienced a week of pure sunshine + no swells, 3 days of non-stop rain, and a week of sunny days with misty nights + massive swells. Go figure.
In general…
Best surfing is between December – March
Dry seasons between February-May & August-October
Rainy seasons between June-July & November-December
How much does Puerto Viejo cost? ($35/day or $1000/month)
We were surprised to see how expensive Costa Rica was, especially the food. Maybe we're just used to eating delicious Vietnamese food for $1-2 per meal.
Plan on spending $30-70 per day depending on your accommodation requirements and how often you go out to eat.
Accommodation – Dorms can be had for $8-15 USD, privates are generally $30+ per night. Monthly rentals start around $300-$500 per month – which usually includes WIFI, kitchen, etc. La Ruka is our hostel of choice.
Food – Local meals run $4-7 USD which generally consists of rice, beans, plantains, a small salad, and some form of protein. Western/specialty food costs $8-$13 USD per meal.
Tips for saving money:
Stay for a month or more – private rooms cost around $30 USD, monthly rentals go for $400/month which includes a kitchen
Cook your own food! Some hostels have shared kitchens, most monthly rentals have kitchens as well
Buy ½ off produce from the big red grocery store on Saturday/Sunday
Eat at Sodas – "Sodas" are local restaurants that will cost roughly $5/meal, western food costs $8-13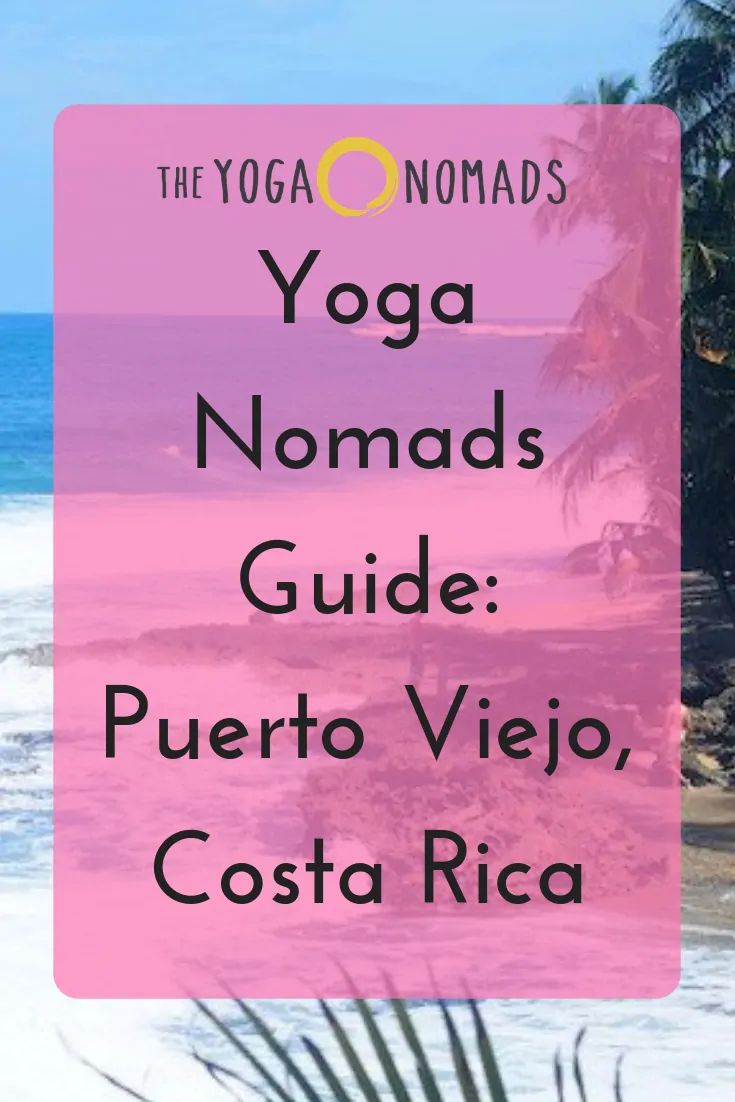 Pin me first? Then keep reading!
Things to do
Life in Puerto Viejo is focused on beaches, surfing, and nightlife. All three are top notch as far as independent travel is concerned. We spent a month here and didn't get to do everything we wanted!
Bike ride to Manzanillo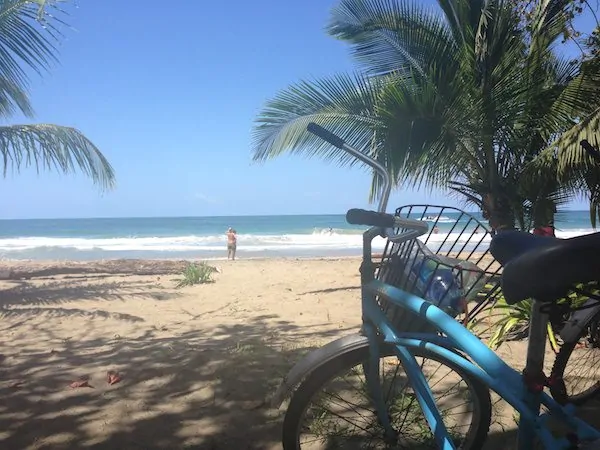 Manzanillo has some amazing beaches, lush jungle, abundant wildlife, and empty beaches to call your own. About a 45-minute bike ride from the town of PV. Pro tip: Go during the week to avoid the local crowds. MUST DO.
Explore the waterfall in Bribri
There is an incredible 120-foot waterfall located about a 2-hour trek into the jungle. Most people catch a ride to Bribri and start their trek. Warning: it's very hilly, and if it rained in the recent past expect tons of mud and slippery paths. We were covered head to toe in mud and it down poured during our trek and it was still WORTH IT!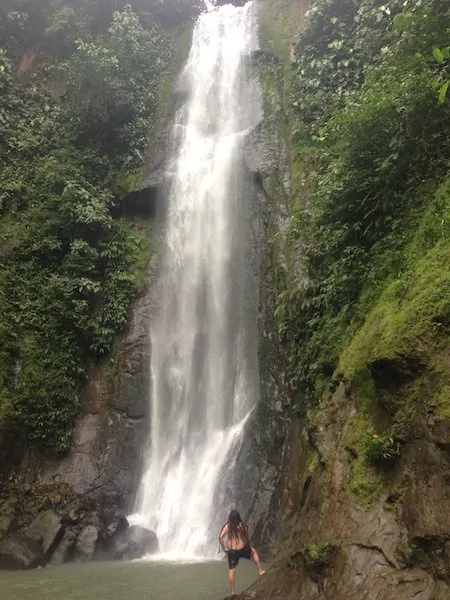 Go Surfing
Your time in Puerto Viejo would not be complete without catching some waves. Or watching the good surfers if that suites you better. In general, Puerto Viejo is not a great place to learn.
The main attraction is the massive Salsa Brava however it's extremely powerful and dangerous for anyone besides expert surfers. Playa Cocles and Playa Grande have beach breaks more suited for beginners. Expect $5/hour board rentals.
Explore the beaches
There are countless beaches in every direction from Puerto Viejo. Just hop on your bike and go explore. Almost every turn off the main road leads you to a secluded beach. Remember to keep an eye on your stuff and lock up your bikes.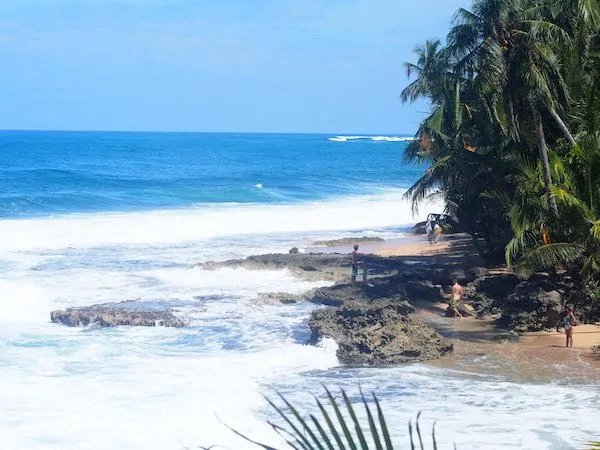 Take a chocolate tour
Puerto Viejo is home to tons of cacao farms who offer tours. Make sure to pick a tour that lets you do some hands on work with the cacao (roasting beans, etc). We're so bummed to say we never went on a tour – next time!
Explore the farmers market
Every Saturday there is a fun local market in town with organic produce and some hard to find items such as salsas, kombucha, organic raw honey, etc.
Hang out with sloths and Howler Monkeys
Puerto Viejo is FULL of wildlife. We saw countless sloths and Howler Monkeys during our month there. Spend a day volunteering at the Jaguar Sanctuary to get up close and personal.
Deep Sea Fishing
Depending on the time of year, the fishing is supposed to be world class. Stop into one of the fishing shops in town to get the daily fishing report.
Do a pipa fast (young coconuts)
Common for people to detox by only consuming young coconuts for 10+ days. Ask Dr. Greg before you do it participate.(Dr. Greg is a local doctor – ask the local expat community how to contact him for more information).
Play basketball or volleyball – Lots of people play pickup basketball in town near the bus station. Playa Cocles has a beach volleyball court if you're looking for a game!
Nightlife
Of course, PV is famous for it's nightlife. Check below for the details.
Where to stay in Puerto Viejo:
Puerto Viejo Town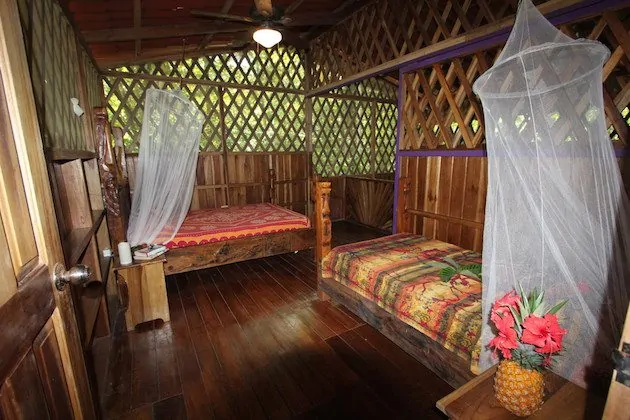 Most people stay in town as that's where the majority of the guesthouses are. It's loud and crazy, yet not very relaxing.
La Ruka – Very social hostel with a great staff, awesome kitchen, good prices, and great vibes. The owner spins fire at Lazy Mon bar. La Ruka is located just outside of Puerto Viejo town (on the way to Cocles).
Cashew Hill – home of Om Yoga. Amazing views up this resort on the hill. Short walk to center of town, however it's secluded in the jungle making it a quiet paradise.
Playa Cocles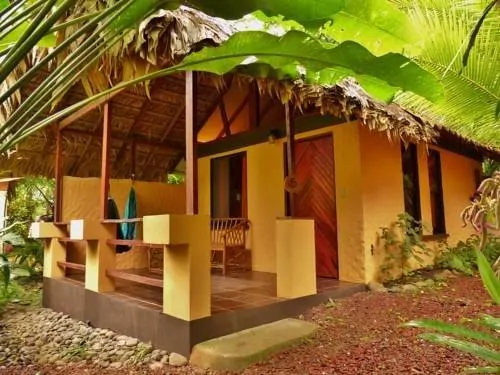 More chilled out and a 10-min bike ride (to town). Has it's own grocery store and it's the best beach to hang out at. Surf, fishing, and volleyball. We stayed here and loved it.
Finca Chica – Rent your own bungalow right next to my favorite beach in the area.
Caribe Town – 5 star boutique resort walking distance to the beach. Rooms come with kitchens, WIFI, and pool access.
Playa Negra
– Black sand beach. Not our favorite. Never any crowds which is nice. Some good deals in the area if you're looking for a longer term rental. Don't walk home back from PV town at night.
Yoga Studios in Puerto Viejo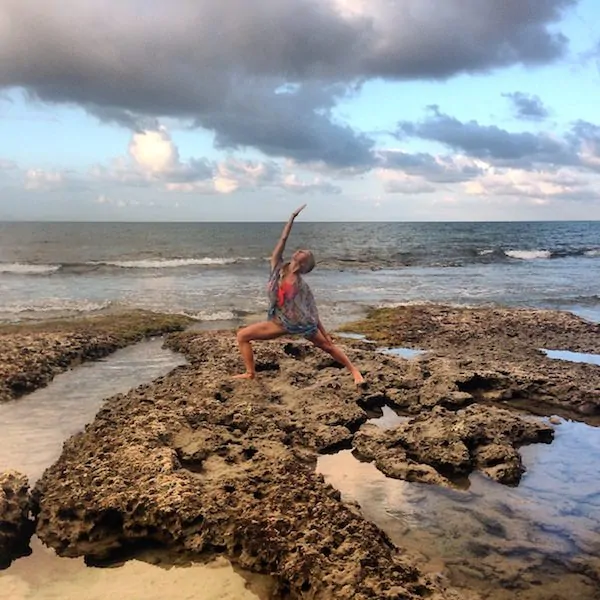 Om Yoga
– The first and most popular yoga studio in Puerto Viejo. Offering about 2 classes per day, 7 days a week. Located near Tasty Waves on the way to Cocles Beach.
Yoga at Cashew Hill – The best view in Puerto Viejo might be from the yoga shala at Cashew Hill. We saw sloths, monkey, and countless birds/butterflies during our yoga class. A cool American surfer/yogi teaches classes at Cashew Hill. Give Sean a call/text to ask when he is teaching, 50627500001. Sean also teaches at Om Yoga. Cashew Hill is located behind PV town on top of the hill.
*Looking for a similar destination? Ubud is the yoga capital of the world!
Restaurants and Vegetarian food
For us the food in Costa Rica was uninspiring and overpriced. We ended up cooking 80% of our meals in Puerto Viejo. That being said, here were some of our favorites in town.
Getting around Puerto Viejo
Everyone in Puerto Viejo rents a bike. It's definitely the best way to get around. Rentals can be found all over Puerto Viejo town for $5 per day. If you're planning to stay longer (which you should), you can either buy a bike for $50-100 USD or do a longer term rental for $1-2 per day. If you buy a bike you will have no problem selling it when you're ready to leave.
Café Rico has the best deals for long term rentals. Bring a book and grab breakfast and coffee when you stop there!
Other Travelers in Puerto Viejo: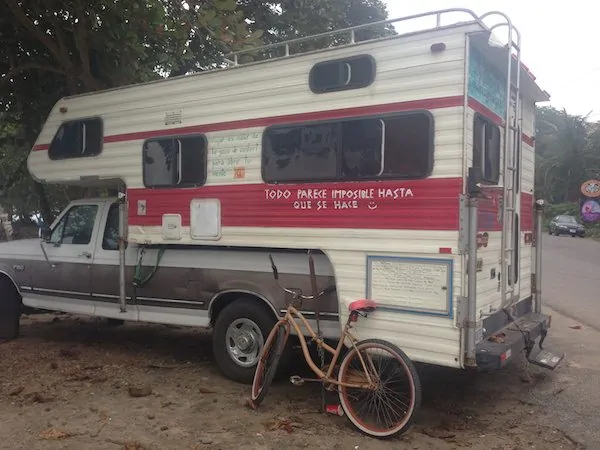 Puerto Viejo is known for it's nightlife, surfing, and laid back Rasta culture. We were surprised to see so many different types of people who called Puerto Viejo their home. Expect to see hippies of all varieties, surfer bros living our of their Volkswagon van, retired couples with big cameras, tons of Rastas, and a few 2-week vacationers.
On the weekends, the locals flock to the beaches from the nearby port city of Limon. Avoid the crowds by hitting the beach during the weekdays.
We met so many wonderful people here (mostly Americans/Canadians) and many of them come back to PV every year. Tons of expats live in the area and run businesses.
Nightlife in Puerto Viejo
Puerto Viejo is famous for it's seedy nightlife. Tons of people stay up all night hopping from bar to bar. Each night at least one bar stays open until 4AM. Lots of reggae music and various forms of electronic music.
Puerto Viejo is not for the faint of heart. The gangsters from Limon are very present and often make travelers (especially solo females) uncomfortable. Don't walk around alone at night and avoid the beach after sunset.
Popular bars in town…
Tasty Waves – A fun bar with a different event each night. Tasty Tuesdays is their big party night. They also host a fun trivia night and even Mario cart racing (N64). Located near Cocles.
Lazy Mon – Famous for their fire show that happens almost nightly between 9-11PM. We were surprised by how much talent the fire shows had. Pool tables and ping pong tables are available to play. Owned by Americans and apparently they have "decent American food." Located just outside PV town.
Salsa Brava – Named after the famous surf wave located 100 meters from the Bar. Salsa Brava is famous for it's Reggae nights. Ask the staff when the next Reggae night is (if you're into that). Located just outside PV town.
Mangos – Trashy late night bar, often open until 4AM. We went once and that was plenty. They do have supersize Jenga inside if that get's you excited. Located in the heart of town.
Grocery Stores
For some reason there are about 5 grocery stores in Puerto Viejo and every little town around it also has their own grocery store. Unfortunately everything is overpriced.
Farmers Market – every Saturday there is a Farmers Market in town that showcases local organic food, kombucha, homemade goods from local expats, coconut oil, and various other goods.
Big red grocery store – Has half-off produce on weekends. We always stocked up on the basic stuff such as onions, limes, garlic, cilantro, peppers, carrots, etc. Located in PV town.
Don't forget your travel insurance!
This may be a no-brainer for most people, but if not here is your warning…
While traveling is generally quite safe, accidents do happen. Wouldn't you rather be covered in case something happens?
I didn't think I would ever need travel insurance and even though it's not very expensive I still didn't want to buy it. I decided to get travel insurance to please my mom and to have a little extra peace of mind. Fast forward a few months and I'm in the hospital in Vietnam after tearing a tendon in my hand! Thank god I had travel insurance – they covered all my hospital bills (totaling over $2,500 USD). We used World Nomads.
We have used World Nomads travel insurance for years and recommend them to any traveler. We've had to file two claims and were fully reimbursed for both, totaling over $3,800 USD.
Here our complete guide to Travel Insurance in case you want to learn more.
Costa Rica Visa Requirements
Most visitors get a free 90-day visa on arrival. Some only receive a free 30-day visa on arrival.
If you've been in Africa or parts of South America you are required to have proof of a Yellow Fever vaccination.
*Note: Technically, travelers should show proof of onward air travel before being admitted to Costa Rica.
Festivals in Puerto Viejo:
Envision Music, Yoga, and Arts Festival
– Takes place each year in February/March near Dominical on the Pacific Coast. We loved Envision and definitely plan to return. Great electronic music, yoga classes, and tons of fascinating workshops. Check out our Ultimate guide to Envision Festival for details.
Puerto Viejo Chocolate Festival – The mission of the Puerto Viejo Chocolate Festival is to unify local organic farmers, chocolate makers, and chocolatiers, while bringing national recognition to the cultural, historical, and economic value of Costa Rican cacao. Takes place in October/November each year. We would LOVE to go as the chocolate growing near Puerto Viejo is amazing.
The Roots Gathering – Very tiny festival focused on permaculture and community. Takes place directly after Envision Festival in Punta Mona (near Puerto Viejo). Polish Ambassador headlined in 2015.
Rainbow Gathering – The Rainbow family has a large piece of land near Pavonis, Costa Rica and traditionally throw a gathering after Envision. Ask around for the details.
Getting to Puerto Viejo:
Puerto Viejo is about a 4-5 hour bus ride from the capital of San Jose. Most people find cheap flights into San Jose, spend one night there, and then take the bus the following morning. Don't forget to double check the bus schedule – it's oddly confusing in San Jose.
Check here for the bus schedule leaving San Jose.
*Protip: Download the PDF bus schedule to your phone so you can access it on the go. It's VERY confusing as there are countless bus companies each with their own terminal scattered all over San Jose.
Leaving Puerto Viejo
Most people either head to Bocas del Toro, Panama or back to San Jose to catch a connecting bus to another part of Costa Rica. Both options are straight forward and can be sorted out in Puerto Viejo town.
Workspaces
We rented a house with WIFI (3MB down) and did most of our work there, however here are a few cool spots to work in the area.
Tasty Waves (4.5MB down) – during the day it's a chilled out spot with delicious chicken wings. At night it's a party. Closed on Wednesdays.
Café Rico – Great coffee, great café vibe, only open in the mornings.
Caribeans – when you're ready for a break you can head to the back and sample some local chocolate, not bad eh? Located below Om Yoga, and Next to Tasty Waves.
Money and ATMs
Costa Rica uses Colones which are roughly 535 Colones per $1 USD. ATMs are found at the bank in Puerto Viejo town.
Staying Safe in Puerto Viejo
Since Puerto Viejo is located near a major drug trafficking port (Limon) there seems to be more crime present than the rest of Costa Rica. We were there for a month and didn't have anything happen to us but have heard lots of horror stories.
Couple tips to stay safe:
Never go to the beach at night – robbers often hide in the jungle and surprise their victims
Only carry the money you need for that day/night
Rent a bike instead of walking around at night
Don't keep your passport on you – leave it locked in your room
Don't walk alone at night, especially if you're female or if you're drunk
Get Travel Insurance before you go – to reimburse your stolen gear
Additional Puerto Viejo Resources:
Have you ever been to Puerto Viejo? Did I miss anything?
PS: Did you enjoy this article? Pin me!