San Juan Del Sur is located in Southwest Nicaragua on the Pacific Coast. The small town sprawls around a small horseshoe bay with rolling hills in every direction.
What was once a tiny fishing village is now a hopping party and surfing tourist hub. After a couple days, you start to feel the small town vibe wrestling with it's new identity. Today SJDS is one the most expensive parts of Nicaragua.
Although SJDS has earned itself a reputation as the #1 party spot in Nicaragua, there is much much more to do than party.
Most visitors use SJDS as their hub to explore nearby beaches, surf, practice yoga, and party at night. There are tons of bars, restaurants, and activities to keep you busy.
After leaving our month long stay in the luscious Puerto Viejo, Costa Rica we made our way to Nicaragua. Our first stop was San Juan Del Sur! After a few days in town, we found jobs at Hulakai Hotel in Playa Maderas. We ended up staying about 2 months in Playa Maderas (located 6km North of SJDS town).
Here is our guide for San Juan Del Sur, Nicaragua! Let us know what you think in the comments below!
Where is San Juan Del Sur?
San Juan Del Sur is located on the Pacific coast in the South Western corner of Nicaragua. Near to both the Costa Rican border and the largest lake in Central America (Lake Nicaragua).
When should you travel to San Juan Del Sur?
San Juan Del Sur has 3 distinct seasons: Dry, Hot, and Rainy.
Best surf season: May – December (however you can surf 300 days/year)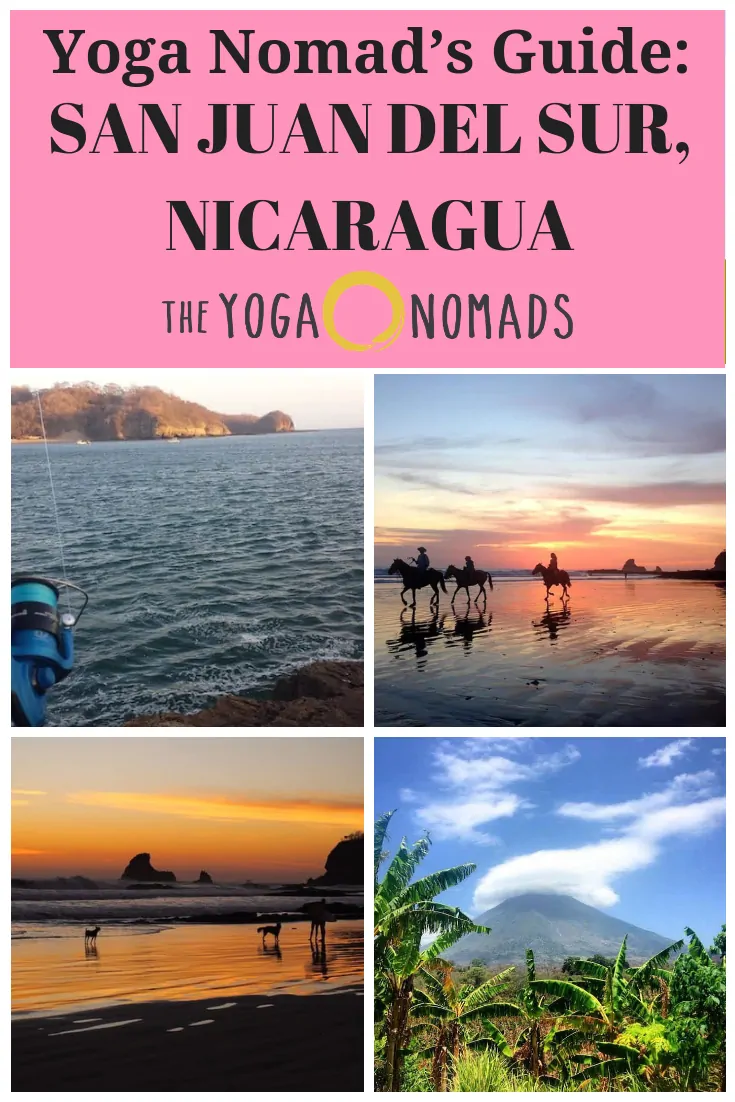 Pin me first? Then keep reading!
How much does San Juan Del Sur cost? ($25+/day or $700/month)
San Juan Del Sur is the most expensive area in Nicaragua and yet it's still much less expensive than Costa Rica.
Plan on spending $20-40 per day depending on your accommodation requirements and how often you go out to eat.
Accommodation ($10-25 per night)
Dorms can be had for $8-15 USD, budget privates are generally $25+ per night. Midrange and luxury options are available as well. You can also camp at Playa Maderas (6k from town) for 0-$5 per night. Monthly rentals start around $150-$300 per month – which usually includes your own kitchen and possibly WIFI. Some places charge $50-80 per month for WIFI.
Budget rooms: We recommend Hostal Brisas y Olas ($24 doubles)
Luxury rooms with a view: Look no further than Pelican Eyes!
Food ($3-10 per meal)
Local meals run $3-5 USD which generally consists of rice, beans, plantains, a small salad, and some form of protein. Western/specialty food costs $5-$10 USD per meal.
Tips for saving money in San Juan Del Sur
Stay longer (at least 1 month) – private rooms start around $25USD per night, monthly rentals start at $150/month which includes a kitchen. You do the math…
Cook your own food! Some hostels have shared kitchens, most monthly rentals have kitchens as well
Buy produce from the local market – perfect for snacking on the go
Eat local when you go out to eat– local restaurants cost $3/meal, western food costs $5-10
Take the shared shuttle to/from beaches around SJDS – shuttles are very inexpensive, taxis are expensive.
Things to do in San Juan Del Sur
San Juan Del Sur is known for it's beaches, consistent surf, deep sea fishing, and nightlife. There are shuttles in town ready to take you to any of the nearby beaches. Playa Maderas is the most popular and convenient.

Kick it in Playa Maderas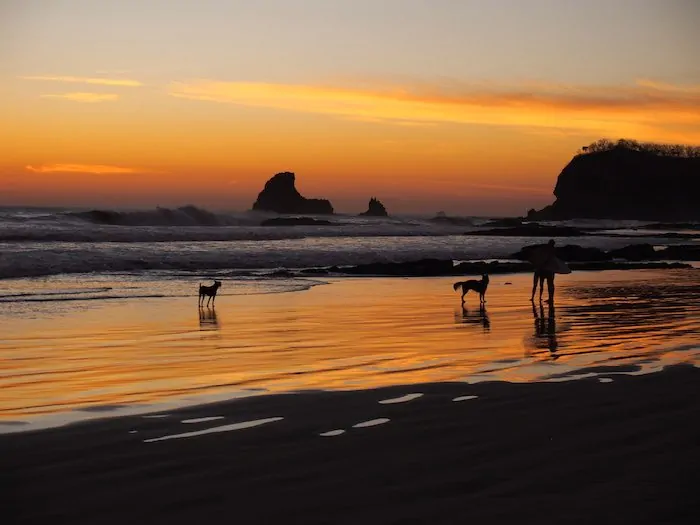 Beautiful little beach with some cool bars/restaurants, surf board rentals, consistent beach breaks, and a slackline. Shuttles leave from Casa Oro several times per day ($3 one way, $5 round trip). Located 6km North of SJDS town.
Accommodation in Maderas: Casa Maderas (get the carrot cake!)
Surfing
No matter the swells or your experience level, you will find waves near San Juan Del Sur. My favorite breaks were at Playa Maderas which is working from 2-feet all the way up to double overhead. Surf lessons and rentals are plentiful, expect to pay around $10/day for rental and roughly $25/lesson. Popular surf breaks include: Maderas, Gigante, Popoyo, Hermosa, Colorado, Yankee, and Panga Drops.
Catamaran Cruise with Nica Sail and Surf
Most people agree that the Catamaran Cruise is their favorite activity (besides surfing) in San Juan Del Sur. They take you and a group out on a nice boat. You'll be served free drinks and fresh caught ceviche. You'll chill out at an empty beach, Playa Blanca. Maybe see some whales or dolphins and do some snorkeling or fishing. Cruises are from 1PM to sunset most days. $75/person
Horseback riding on the beach for sunset with Rancho Chilamate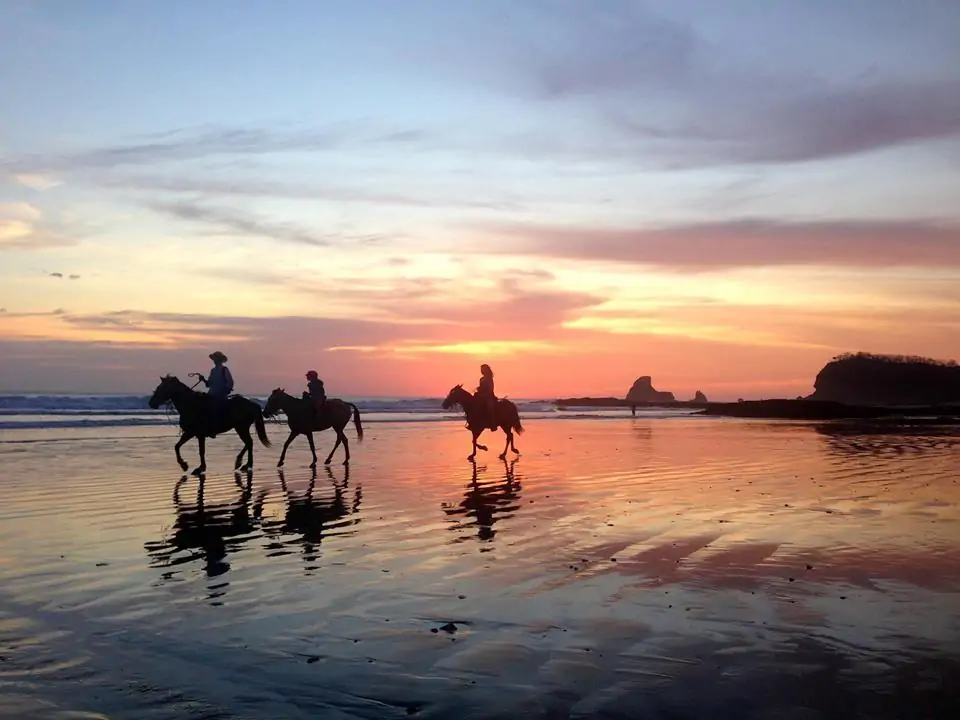 Enjoy a romantic ride along the beaches near SJDS. You can go anytime of day, most people recommend the sunset trip. $69-79 per person.
Shop at the surfer inspired clothing store Auric
If you've spent any time in SJDS or Maderas then you definitely know about Auric. It's a surf inspired clothing store located in town. All the local expats where the gear and for good reason… it's rad.
Sample local craft beers at La Cerveceria
Owned by two laid back American Expats, La Cerveceria is a great place to catch some live music, sample delicious beers, and eat some monster nachos. The first craft brewery in the area.
Explore nearby beaches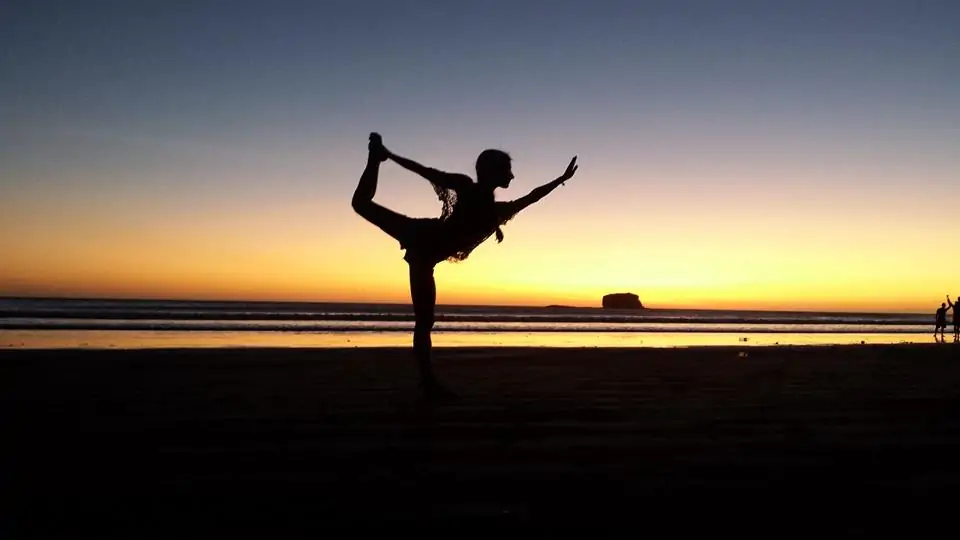 Top beaches nearby include: Maderas, Gigante, Popoyo, Hermosa. Gordon and Elisha from In Nica Now have a great guide on the beaches of San Juan Del Sur.
Every Saturday the locals and local expats gather to sell food, health supplies, souvenirs, etc. Don't miss the BBQ meat stand! A great little heaven for those of us who haven't had a proper American BBQ in a while.
Go deep Sea Fishing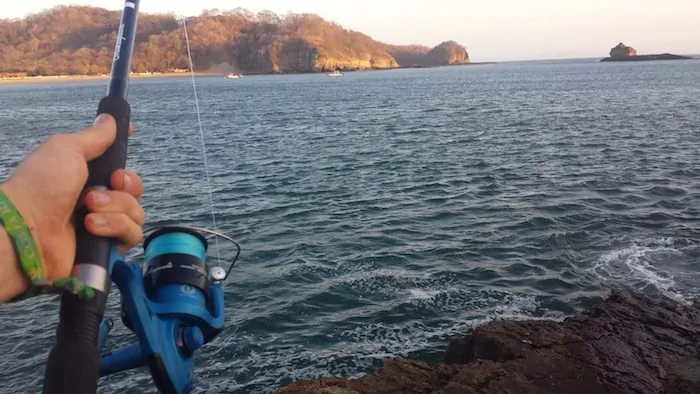 This area of Nicaragua is known for it's off shore fishing. Depending on the time of year you can catch medium game fish all the way up to sailfish, marlin, and tuna. We never got out deep sea fishing but I tried fishing from the rocks at Playa Maderas.
*Do you have a favorite fishing guide company in SJDS? (I'll give you credit/link for the recommendation)
Party until the wee hours
Thanks to the famous Sunday Funday, San Juan Del Sur has reputation for its nightlife. Seems like the 18-22 year old crowd makes up the bulk of the party people. Admittedly we didn't party much in Nicaragua however if that's your M.O. you're coming to the right place. See below for a Nightlife breakdown.
Catch sunset at the Jesus Statue
Located on top of a hill overlooking the San Juan Del Sur bay you will find a Jesus Statue. Probably the most popular attraction in town and a nice place for sunset. Ask around on the best route to the top.
Tuesday nights at 7:30PM for Texas Hold'em. We never played but if you're looking for something different I imagine they get some good games going.
Where to stay in San Juan Del Sur, Nicaragua
San Juan Del Sur Town

Most people opt to stay in SJDS Town which has the most options for food, nightlife, and accommodation. The beach in town is nothing special but you can easily get to nearby beaches.
Budget rooms: We recommend Hostal Brisas y Olas ($24 doubles). Very popular family run guesthouse that is usually booked ahead of time. Located right in town, 2 blocks from the central market, 2 blocks from the beach.
Mid range: We recommend Coco Azul ($50 doubles). It's a clean and nice mid range hotel in SJDS town. Great place for a group of 3-4 people because they offer quad rooms for $50 too!
Luxury rooms with a view: Look no further than Pelican Eyes! This is the nicest place in SJDS town. Great place to watch sunset from one of their many pools. Rooms come with a kitchenette and free WIFI. Spa onsite if you're in the mood to treat yourself.
Playa Maderas

6km North of SJDS town lies a little slice of heaven. Several options for food and accommodation. The restaurants/bars shut down pretty early so if you're looking for a party head to town.
Maderas is becoming very popular and many of the guesthouses are often booked up.
If you can get a room, I recommend Hulakai, Clandestino, and new comer Rapture Camps. Head to their website and send them emails requesting a room. They're often full, good luck!
If you want to book ahead of time, I highly recommend Casa Maderas. They have a great restaurant, nice and clean rooms, yoga classes, free WIFI, and a pool. It's only a 7 minute walk to the beach (or a free shuttle). We stayed here a few times and enjoyed it.
Playa Marsella
5km North of SJDS town lies the quiet cousin of Playa Maderas. Beautiful beach, never any crowds. Ask the shuttle to drop you off at the intersection to Marsella and then walk 5-10 mins to the beach. Not a ton of options over here but if you're for peace and quiet, you found it.
Best accommodation is Marsella Beach Front. They have dorms, privates, and a villa to rent. Restaurant onsite as well as several local restaurants within walking distance.
Rural areas outside town
There are several monthly rentals located on the road between Playa Maderas and SJDS town. You can find great deals out here however you will need a car to get around as there is nothing within walking distance.
Monthly Rentals in San Juan Del Sur?
Check these Facebook groups for monthly rentals in the San Juan Del Sur area…
Yoga Studios near San Juan Del Sur
The main yoga studio in the area. Located in SJDS town. Also has a delicious raw organic café with good food and awesome juices / smoothies! Great teachers, nice view, very welcoming environment.
Our favorite teacher was Duncan Bourke who led us through a great handstand workshop. Check the schedule to see when he's teaching or connect with him on Instagram @divine_masculine
Yoga at Hulakai Hotel in Playa Maderas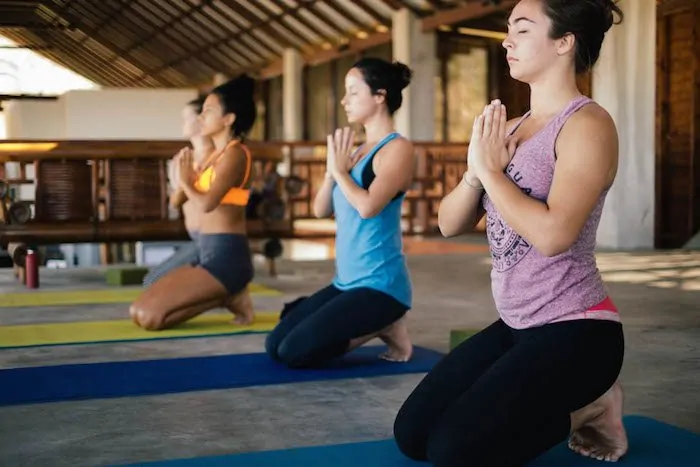 Kelsey teaches 10AM classes every day on the yoga platform. She usually teaches a Vinyasa-Kundalini hybrid class combining breath work and flow. Located on top of the hill overlooking Maderas beach. You cannot beat the view of the sea from Hulakai!
Maderas Village Yoga in Playa Maderas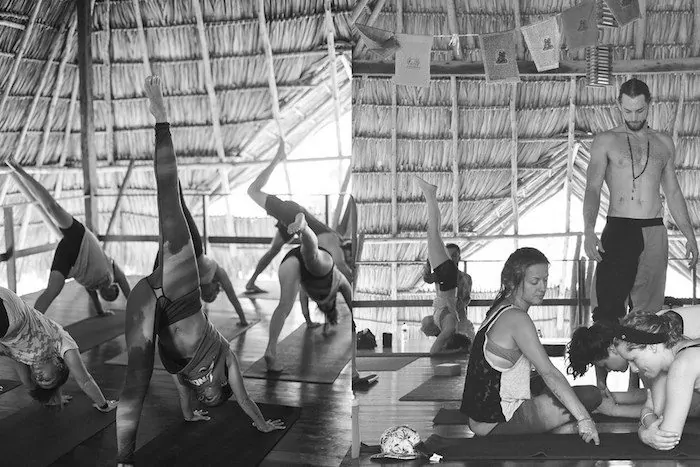 Hands down the best yoga platform in Maderas. If it's the wet season, you're in for a real jungle-vibes treat! Several yoga teachers call Maderas Village their home. Located 5-10 minute walk from Maderas Beach. Check the website to see whose teaching and when.
We had great classes by Alex Bergeron this Spring. Connect with him on Instagram @_theunbound or on his website.
Fitness Centers / Gyms
The main gym in town is called Gymnasio San Juan Del Sur. Located a couple blocks east of the central market in SJDS town. Open Monday – Sunday from 6AM – 8PM. Juice bar and massages on site. We never made it here unfortunately.
Restaurants and Vegetarian food
El Gato Negro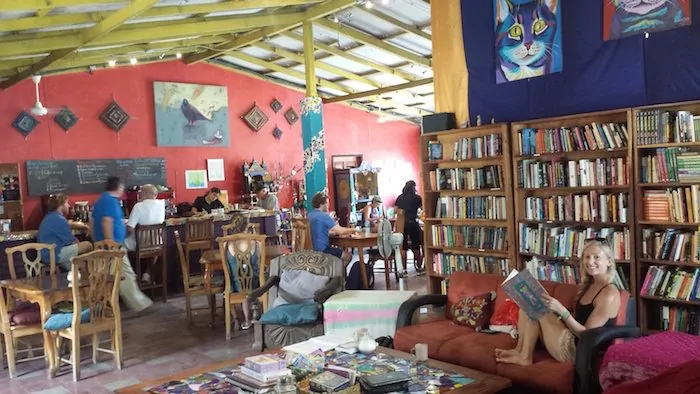 Delicious healthy foods, coffee, and smoothies in a cool café vibe. Come here to read a book and catch up with friends while sipping on their Famous Smoothie Dharma Love! Every time in town we get a couple Dharma Loves!
Zen Yoga's Buddha Garden

Great salads, smoothies, juices, raw foods, etc. Everything is organic. Great vibe and amazing food. Attached to Zen Yoga.
Churangas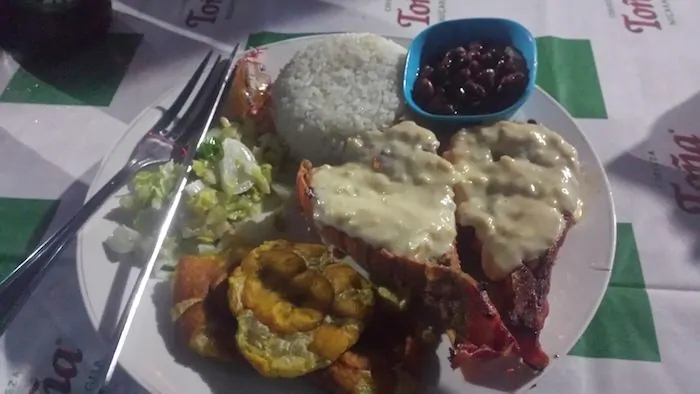 Two local ladies run a small kitchen on the road to Playa Marsella. Their fish and lobster are top notch! Always a fun experience with the local staff. You never know what's going to happen at Churangas! Located on the road to Marsella – ask around if you're lost!
Hulakai's famous family dinners!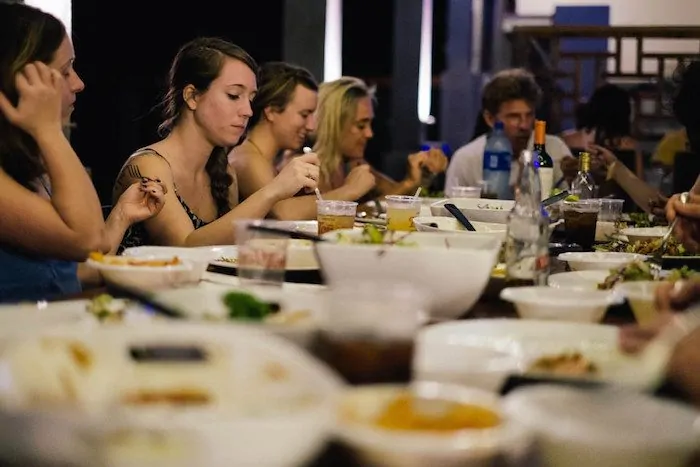 Hulakai offers world class amenities with a backpacker vibe. Every night at 7:30PM they host an all you can eat family style dinner for $13. Dinners typically come with either steak, fish, or chicken, 1-2 salads, potatoes or rice, and TONS of veggies!
Homemade Kombucha from Stef – Mi Mar Kombucha
If you're looking to satisfy your probiotic fix – reach out to Stef who takes weekly kombucha orders in various sizes. She makes tons of flavors; our favorites were anything with ginger! You can also email her at [email protected] to place your order!
Healthy Tip: Add in your own chia that you can buy at the Farmer's Market for an added health benefit.
Local restaurants in the local market
Generally your cheapest option. Not the biggest portions but the food is decent and the price is right. Located inside the local market in town under the red awning.
ChaChaCha
Wide range of food and everything is 90 Cords ($3.30 USD). Located in town. Great value and a laid back atmosphere.
Pelican Eyes
Nice spot for sunset, upscale vibe and prices. Located just outside SJDS town.
Get travel insurance before arriving?
This may be a no brainer for most people, but if not here is your warning…
While traveling is generally quite safe, accidents do happen. Wouldn't you rather be covered in case something happens?
I didn't think I would ever need travel insurance and even though it's not very expensive I still didn't want to buy it. I decided to get travel insurance to please my mom and to have a little extra peace of mind. Fast forward a few months and I'm in the hospital in Vietnam after tearing a tendon in my hand! Thank god I had travel insurance – they covered all my hospital bills (totaling over $2,500 USD). We used World Nomads. We've had to file two claims and were fully reimbursed for both totaling over $3,800 USD.
Getting around San Juan Del Sur
The town of SJDS is very walk-able. If you plan to explore the surrounding beaches (which you should) start at Casa Oro to check the shuttle schedules. Any surf/fishing shop can organize a ride to check some waves or fish.
Taxi's can be found all over town but they are generally pretty expensive. For example a shuttle ride to Playa Maderas costs $3 where as a taxi is $15-20. Last shuttles run around 5PM so plan accordingly or you'll have to order a taxi.
Some taxi services have huge trucks that can fit 10-15 people which comes out to be a very reasonable price between Maderas and San Juan Del Sur.
Other Travelers in San Juan Del Sur
San Juan Del Sur attracts tons of tourists each year. You will find travelers of all shapes and sizes but the three main groups you will find: Surfers, young party seeking backpackers, and American/Canadian expats.
Surfing it the main attraction and there are tons of breaks to choose from. Check Magicseaweed.com to get your surf forecast.
The party scene is concentrated in SJDS town. Everyone knows about the wild and crazy Sunday Fundy pool party that goes all night. The Loose Moose also hosts a pub crawl for young backpackers.
Expats have purchased tons of land for homes, hotels, and restaurants in the area.
Maderas vs San Juan Del Sur?
San Juan Del Sur is the one of the most well known stops in Nicaragua – popular and accessible. Lots of accommodation, cheap food, and bars. If you're only stopping in the area for a couple days I would recommend staying in SJDS town and taking a day trip to Maderas. Most people get bored of town if they stay longer term – if that's you, head to Maderas!
Maderas is like if the cool kids in Brooklyn had a demented love child with the conscious & outdoorsy BC cats. Located 10 minutes north of San Juan Del Sur Town you find a community that has their priorities straight. Surf, yoga, sunset, repeat. Meghan Currie chose Maderas as her go to spot for yoga retreats.
We spent 2 months working/volunteering at Hulakai Hotel in Maderas and had an excellent time. Don't be fooled by this small beach town – Maderas attracts some serious movers and shakers. Besides surfing, everyone seems to have a few side hustles… photographer, yoga teacher, permaculturist, online business, surf wear designer, surf camp owner, web designer, blogger, etc.
Nightlife in San Juan Del Sur
Thanks to the infamous Sunday Funday, San Juan Del Sur has built quite a reputation as #1 party spot in Nicaragua and maybe even Central America.
Tom and Annabel from AllFourCorners.com discuss is Sunday Funday worth it?
To be honest we spent almost two months in the area and never even made it to Sunday Funday. We're not your local party guide. Thankfully, SJDS and Maderas have SO much more to offer than the party scene.
Here are some of the favorite party spots in SJDS…
La Cerveceria
Great spot to catch some live music while sipping a local craft beer (you WILL get sick of Tona/Victoria). A favorite amongst the local expat scene.
Loose Moose
Runs Pub Crawls through town a few times per week. Canadian owned and always filled with party people!
Naked Tiger Hostel
The crowning jewel of the infamous Sunday Funday, 'nuff said.
Grocery Stores in San Juan Del Sur
There are a few options for groceries in town: The Saturday Farmers Market, local market, and Pali Grocery chain. We prefer buying whatever we can from the local market in town instead of Pali which is owned by Wal-Mart the devil.
Local Market
Open daily in the center of San Juan Del Sur town. You can find cheap local produce, chia seeds, cacao, beans, meats, etc. There are also shops selling clothes, souveniers, and local food. We stocked up with mostly produce here each week.
Farmers Market
Every Saturday there is a Farmers Market at Big Waves Dave in SJDS town showcasing local food, health products, hard to find western comforts, and local artisanal crafts.
Pali
Typical grocery store chain with all the basics you would expect at a Nicaraguan grocery store. We stopped here a few times to get hard to find items, but I cannot recommend shopping here since it's owned by Wal-mart. Located just outside the city center.
Nicaragua Visa Requirements
Most nationalities receive a free 90-day visa on arrival. Confirm your situation here.
Remember:
All visitors are required to purchase a tourist card for $10 upon arrival
All travelers need a passport valid for at least 90 days following your Nicaraguan Departure date
You need at least 2 blank pages in your passport for the required stamps
Hospitals and Clinics in San Juan Del Sur
Luckily we didn't have any health issues during our 2 month stint in San Juan Del Sur.
According to San Juan Del Sur Guide,"San Juan del Sur is equipped with a Health Clinic (Centro de Salud) that can address minor medical problems. The closest major hospital is in Rivas, but we highly recommend going to Managua if you are in need of serious medical attention. The most modern and reputable hospital in Managua is Hospital Metropolitano Vivian Pellas, providing excellent medical care in a state of the art facility. There are a number of pharmacies in San Juan del Sur that sell a wide variety of medications, first aid products, and toiletries."
Festivals in San Juan Del Sur
Semana Santa
This is definitely the biggest holiday in Nicaragua and across Central America. The entire country has some time off work. Families get together and (generally) head to the beach for food, drinks, and dancing. SJDS and Maderas get pretty insane during this week and most local expats either hide or plan some travel to avoid the crowds. Takes place around the end of March / early April each year. If you're in town, there is a huge party with live music in SJDS town.
Envision Music, Yoga, and Arts Festival
Takes place each year in February/March near Domincal on the Pacific Coast of Costa Rica. We loved Envision and definitely plan to return. Great electronic music, yoga classes, and tons of fascinating workshops. Here's our Envision 2016 guide!
Local music, sustainability, and arts festival that takes place on the full moon in either February or March in Playa Hermosa. This one day event has a surf competition and volleyball tournament during the day, and music, dancing, art, and food all night long. Shuttles run from town, or taxis are an option if you aren't pinching pennies. Usually takes place in March.
Arriving in San Juan Del Sur from Costa Rica:
You will probably take one of the private bus companies which will either drop you off at the boarder or after a 30 minute drive in the city of Rivas. Taxis will be waiting for you at both stops. Typically they will charge $15-25 for a cab ride to SJDS town. If you have 4 people it's a great deal. If you're alone I recommend going to Rivas and jumping on a local bus to SJDS. Buses don't run late so if it's dark you're stuck with the taxi.
Things to do nearby in Nicaragua
There are tons of things to do and see in Nicaragua. Here are a couple of my favorite spots that are all accessible from SJDS as a day trip. However, I would highly recommend staying longer!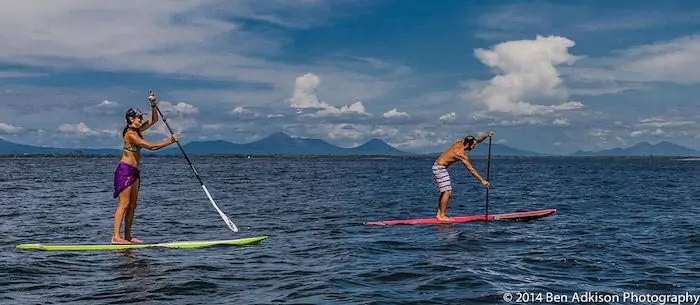 Granada is located a short drive away from Lake Nicaragua. There is a small company that takes people on Stand-up Paddle board (SUP) tours of the islands. We heard it's an excellent way to explore the lake while staying active!
Chill out on Ometepe
In the center of Lake Nicaragua there are two volcanoes that together form an island most commonly called Ometepe. On the island there are tons of nature reserves, volcano hikes, amazing views, and a laid back pace of life. Great place to chill out after a party in SJDS or volunteer at a permaculture farm.
Surf the famous Popoyo Break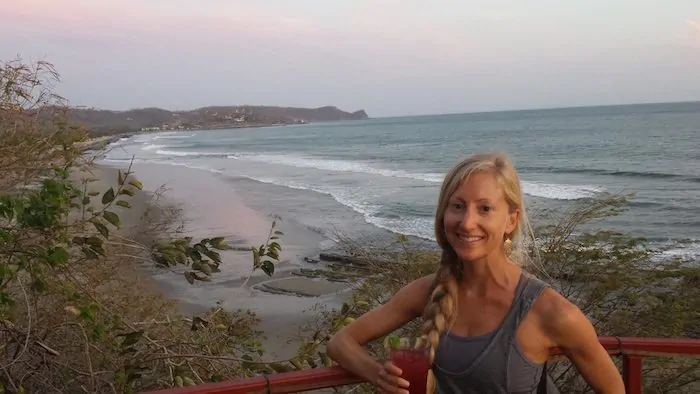 Popoyo is a remote surf destination a couple hours north of San Juan Del Sur. It's a famous reef break and a section of it can hold swells over 20 feet high. Don't worry there are several breaks in the area for beginners/intermediate surfers.
We spent Anne's birthday here in 2015 and enjoyed our stay at Mag Rock. We had our own seaside villa, and had delicious food/cocktails at their onsite restaurant.
If you want to be close to the breaks, Hotel Popoyo is as close as it goes! Wake up, look our your window to check the waves, walk 100 feet and start surfing.
Kayak in Ojo de Agua
A giant lake formed inside a volcano crater. Beautiful views, lots of locals. Cheap accommodation. Sunset kayak rides in a volcanic lake anyone?
Walk the street of colonial Granada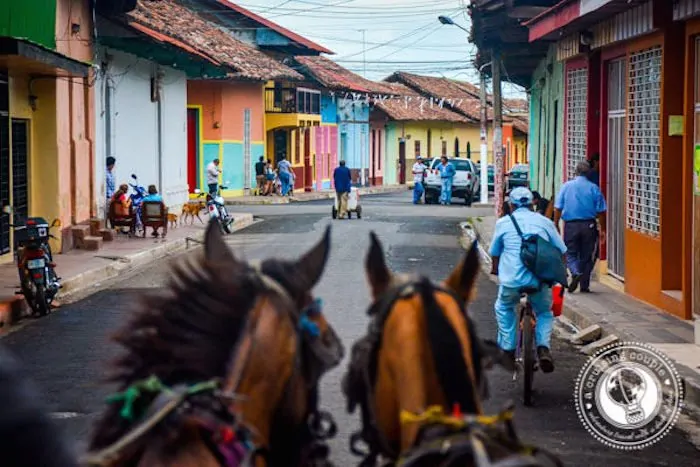 Granada is probably the place most tourists visit. Colorful streets, vibrant city life, shopping, and tons of restaurants and bars to choose from. We enjoyed our time overall and would recommend it to anyone in Nica but to be honest we didn't love it. Dan and Casey from A Cruising Couple share everything you need to know about Granada.
Where to stay in Granada? La Islita Boutique Hotel has it going on!
Workspaces near San Juan Del Sur
Nicaragua doesn't have the best WIFI around. It will get the job done 90% of the time, but don't expect blazing speeds. The one concern is the scheduled (or unscheduled) power outages. During our 2 months in Nicaragua, I would guess around 1 day/week we didn't have power. The country doesn't produce enough power for the whole country so they ration it off via planned power outages. You could let this frustrate you, or you could go hang out at the beach J
We spent the majority of our working time at Hulakai boutique hotel located in Playa Maderas. We had excellent WIFI, decent food, fresh juices, a pool, and a beautiful view.
Gato Negro (SJDS Town)
Trendy café with healthy juices, local kombucha, strong coffee and below average WIFI. Don't come here to suck down the WIFI nectar, instead use it as a place to get creative. Write that book you've been talking about, a new blog post, or some sales copy for a client. Located in town next to Big Waves Daves. Indoor and outdoor seating.
Hulakai Hotel (Playa Maderas)
Not always open to the public but if you're staying in Maderas it's definitely worth checking out. It has the best view in the area, the strongest WIFI, pool access, and food specials. Located on top the hill overlooking Playa Maderas.
Money and ATMs in San Juan Del Sur
In San Juan Del Sur and pretty much all of Nicaragua you can use either US Dollars or the Nicaraguan Cordoba. Depending on the situation you can get better rates with both. Know the conversion rates (which have scheduled raises) before arriving.
27.27 Nicaraguan Cordoba = 1 USD (as of July 2105)
ATMs can be found in San Juan Del Sur town. Unfortunately Playa Maderas still doesn't have an ATM.
Staying Safe in San Juan Del Sur
Nicaragua in general is a pretty safe country. Not quite as safe as Costa Rica but they have come a long way in recent years. If you play it safe and smart, odds are that nothing will happen to you.
That being said, we've heard tons of stories about backpacks being stolen on chicken busses, or late night robberies on the beach, etc. Locals earn very little money and are known to steal things opportunistically.
Here are a couple of tips to stay safe
Never go to the beach at night – robbers often hide and then surprise their victims when the time is right
Only carry the money you need for that day/night
Don't walk alone at night, especially if you're female or if you're drunk. Theft happens at night often.
Don't trust local girls. Especially if they are coming on to you and you didn't earn it. They often prey on drunk guys and steal wallets right out of their pockets.
Additional San Juan Del Sur Resources
This guide took a tremendous amount of work. Please share this with someone who might like it 🙂 Thank you!!
Brandon
PS: Did you enjoy this article? Pin me!