Yoga is a popular practice that promotes mental and physical well-being. There are about 300 million yoga practitioners around the world with 36 million being in the United States. With the growing awareness of caring for mental health with physical fitness, yoga, which promotes a sound mind and body, has only become more popular among adults. If you're thinking about starting your own yoga business, now is the right time to do it. Of course, it's easier said than done. To take your yoga career somewhere, you need to commit to meeting all the requirements of operating a successful yoga business. You can start off by keeping in mind these tips.
Pin me first? Then keep reading!
Get a Yoga Teacher Certification
Many professionals need a license or certificate to prove that they are professionals at what they do. If you're planning to start your own yoga business, open a studio, or similar then you need to prove that you're qualified to teach it. Get yoga training and certification from a reputed yoga institution or organization. Certification is important to legitimize your role as a yoga instructor.
Create a Business Plan
A plan is vital for starting any type of business. It helps clarify your goals, strategies, and other details of starting and running your business. One important part that should be included in any business plan is the working capital needed to start the business. Your plan should also determine how much you will charge for each session or class and other possible services.If you're renting a place, you should also include your rent and utility expenses in the plan. In other words, all financial aspects need to be clearly summarized in your plan. Aside from that, you should include your marketing and sales plan and operations. Check out this guide on how to craft a business plan to get started.
Find a Studio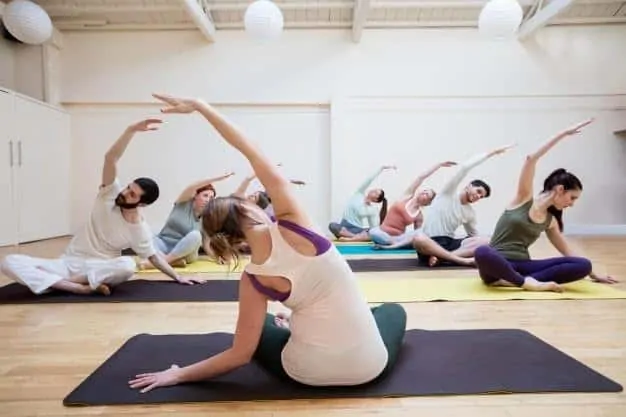 You can't operate a fitness business without a proper studio. The environment is especially important when it comes to yoga. The practice promotes mental and physical well-being, so it's vital to find a venue that is quiet and peaceful, as well as close to nature or natural elements. It can be difficult to find such places in big cities. If you do find one, the rent may be sky-high.While your yoga business is still starting, a spacious room with a lobby is a good place to start. You can redecorate the interior and update the lighting to make it more conducive to yoga. Later, you can change to a bigger and better space when your business and customer base grows.
Build a Website
Having a business website makes it easier for customers to find more about your business and reach you. It's a gateway to build your client base. A website is also a place where existing customers or clients can get updates about your products or services, events, and more. You can also share your knowledge and expertise by creating quality yoga-related content to attract a readership and to engage your audience.Aside from having a business website, it's also important to create social media accounts for your yoga studio. People are constantly on their phones and on social media. Many of them will search for a business's social media account to get more information before they decide to buy its products or avail of its services. Moreover, social media platforms offer several avenues to market your business.
Market Your Business
Marketing is vital to building your customer base. If you want to grow your business, you need to continuously promote your studio, even when you have a loyal following. Through marketing, you can gain new clients to support your business. Getting new clients is essential to ensure you have a constant flow of business, even when old customers decide to quit. Traditional marketing methods, like TV and newspaper ads, can be very pricey. Fortunately, there are digital marketing counterparts that offer more affordable prices with nearly as much reach. Explore your options to know which type of digital marketing methods is the best fit for your business and budget.
Let's Wrap Up
Starting any business is a challenge that requires a lot of commitment and resources. If you're determined to launch your own yoga studio, you should be ready for all the preparations and sacrifices you will make. Most of all, you should be patient and cautious about the decisions you make, especially when it comes to finances. That said, many have succeeded before, and you can too with the right planning and preparation, as well as a whole lot of hard work and perseverance.
PS: Did you enjoy this article? Pin me!