If you're looking for a yoga prop that's sort of like a resistance band, yoga strap, and yoga wheel all-in-one, then you need to try a yoga ring. Hailing from the world of pilates, yoga rings (also known as "zen rings", "stretch rings", or a "magic circle") are essentially flexible silicone tools that help with stretching, massaging, and toning your muscles. Whether you're trying to add a challenge or get a deeper release from your practice, yoga rings can complement any asana practice with their versatility.
Available in a range of different sizes and shapes, these pliable yet elastic pilates rings can be used in a variety of poses to deepen your flexibility and strengthen smaller muscle groups. Because they are designed to follow the curvature of the body, they're a great prop for beginners to aid in mobility and reducing your risk of injury.
Here we'll explore the top 5 yoga rings and how exactly to use them for some pretty impressive benefits.
What is a Yoga Ring?
A yoga ring, pilates ring, or fitness circle is a contoured stretching tool that can be circular or pear-shaped. It is a prop that can be used in yoga, pilates, or physical therapy to deepen stretches, perform resistance workouts, or to massage sore muscles.
Yoga rings are typically made of a flexible, yet durable material such as silicon, pliable plastic, or rubber.
As a stretching tool, yoga rings are somewhat like a yoga strap, but they are easier to grip and more firm than their fabric counterparts.
For toning muscles and HIIT workouts, yoga rings can be added to a diverse range of poses and used like a resistance band to tone your arms, legs, and abs. Pilates rings help to target and tighten difficult-to-reach areas like the inner thighs, abdominal obliques, and hip muscles.
Similar to a foam roller or yoga wheel, yoga rings can also provide myofascial release that helps soothe stiff muscles while restoring alignment and mobility. However, unlike a yoga wheel, you can't balance on the yoga ring. Instead, you can use it to roll over or rock back and forth on top of it for a nice massage.
You can also hold some types of rings behind the neck, over the legs, or under the tailbone for a soothing contoured massage experience. Yoga rings are excellent for back pain, neck pain, and post-workout muscle relaxation.
Yoga Rings, Compared
Product's Name
Size
Shape
Material
More Info

Best Overall

Yoga Rings Set from Everyday Yoga
8.75" x 4.5" x 3"
Ergonomic Pear-shaped with Massage Bumps
Silicon
See Latest Price

Best for Resistance Training


ProBody Pilates Ring Circle, Fitness Ring Magic Circle, Pilates Ring 14...
14" diameter
Circular
Plastic laminate with foam handles
See latest price

Best for Massage


Haujile Yoga Ring Calf Pilates Ring Fitness Circle for Back Stretch Neck...
9" x 3" x .5"
Ergonomic Pear-Shaped with Massage Bumps
Plastic
See latest price

Best for Resistance Training


Pilates Ring Circle Yoga Ring, 12 Inch Magic Circle Pilates Ring, Pilates...
12" diameter
Circular
Fiberglass and silicon
See latest price

Best Yoga Ring Set


Fitness EZ Pilates Ring + Yoga Resistance Ring - Exercise Resistance...
14" diameter pilates ring and 8" yoga ring
Both Circular and Ergonomic Pear-Shaped (No Massage Bumps)
Rigid plastic and silicon with foam padded handles
See latest price
Top Yoga Rings for You
This relatively new prop comes in a range of shapes, sizes, and materials. The best yoga rings are multi functional and contoured to the natural curves of the body. When deciding which yoga ring will be best for your practice, consider the uses of yoga rings and the challenges you may have in your yoga practice.
Do you need more flexibility or improved mobility? Do you want to tone smaller muscle groups and lean out your body? Or do you simply crave a deep stretching release that you can't quite get on your own? A pilates ring or yoga ring can help with all of this and more.
Whether you're working on new binds in Cow Face or Warrior II poses, or you're craving a nice neck or calf massage, this yoga ring set is the perfect prop for expanding your flexibility and relaxing your muscles. The raised dots act as a superior grip surface while simultaneously releasing small knots during massage. The flexible 100% silicone material has a reasonable amount of resistance that tones lean muscle increasing your range of motion.
Because of their contoured shape and flexibility, these yoga rings are extremely versatile in different asanas. You can loop your foot through the yoga ring and pull toward you to release your hamstrings. You can hold on each side of the ring to work towards binds. You can also sit both rings under your tailbone for a tremendous lower back pain relief.
Pros
Very affordable
Altered "pear" shape for sitting on, massage, or deep stretches
Raised dots for grip and massage
Easier than using a strap
Quickly increase range of motion
Small and portable
Durable plastic silicone construction
Cons
Less stretchy
More rigid
Raised parts may be uncomfortable
Best for Resistance Training
ProBody Pilates Ring Circle, Fitness Ring Magic Circle, Pilates Ring 14 Inch for Thigh Workout, Yoga...
See latest price
For the fitness minded yogis, this pilates ring or "magic circle" is designed to firm and tone stubborn areas like your inner and outer thighs, upper arms, hips, and abs. Similar to a thigh master, the ProBody Pilates Ring is circular shaped and flexible with a moderate level of resistance. It can be incorporated into full body workouts while simultaneously improving posture, mobility, muscle tone, shaping, and strength.
These workout rings are ideal for yogis on-the-go who don't want to carry around a lot of props. You can use the pilates ring for stretching as well as resistance training and HIIT workouts. The composite plastic laminate is flexible and easy to clean, yet grippy with a soft foam cover. The padding and shape is designed to mold against your body for maximum comfort during your workout.
Pros
14" loop
Circle-shaped for looping over different parts of body
Foam-molded comfortable handles
Moderate to high resistance to add challenge to your practice
Versatile for legs, arms, and abs
Lightweight and portable (lays flat)
Includes carrying pouch
Low odor, phthalate-free
Cons
May be too much resistance for some people
Pads are thinner than other brands
Best for Massage
Haujile Yoga Ring Calf Pilates Ring Fitness Circle for Back Stretch Neck Massage Leg Exercise, 2...
See latest price
When it comes to neck, calf, or low back massage with a yoga ring, you definitely want something that includes massage bumps. The ergonomics of this yoga ring set make them perfect for pain relief on pretty much any part of your body. The firm plastic construction is flexible yet hard enough to do deep muscle massage. They hold their shape even after sitting or rolling on top of them. If the bumps are too much, you can use a towel to pad the yoga rings.
In physical therapy, these rings are used to help with lumbar disc herniation, kyphosis, and neck or shoulder pain. They can also be moved along the calf, maneuvered around your neck, or rolled under the lower back for a really nice massage.
Pros
Perfect sized massage bumps
Ergonomic design matches curvature of body
Extremely lightweight and portable for travel
Durable yet flexible plastic material
Hold their shape
Easy to clean
Pack of 2 to train arms, calves, feet, or legs
Cons
May be too hard for some people
Larger than other brands
Most Durable
Pilates Ring Circle Yoga Ring, 12 Inch Magic Circle Pilates Ring, Pilates Equipment for Toning...
See latest price
For the most durable and versatile yoga ring experience, this circular shaped pilates ring can be used in over 10,000 exercises. The fiberglass and silicon construction have proven the most durable of any yoga rings out there. The Trideer can resist massive amounts of pressure without breaking.
These pilates circles have non-slip extra padded handles, exceptional resistance for targeting thighs or arms, and the perfect size for traveling ab workouts as well. The Trideer can be used in yoga, pilates, or physical rehabilitation. It stretches and bends with your body.
Pros
Extremely durable
Resists large quantities of pressure
Versatile for toning workouts
Easy grip, padded handles
Fiberglass construction
Great for home workouts
Cons
Not very useful for massage
Best Yoga Ring Set
Fitness EZ Pilates Ring + Yoga Resistance Ring - Exercise Resistance Pilates Circle for Core Muscle...
See latest price
If you want the best of both worlds, this circle-shaped pilates ring and pear-shaped yoga ring combo allows for a more diverse practice to improve your range-of-motion and tone up your muscles. You can truly get a full body workout with these two simple tools and the included workout guide. Both tools are great for sculpting or relaxing.
They are made of soft elastic plastic that is durable and resistant to pressure. The pilates ring has dual foam padded handles on the inside and outside to provide a firm grip and pad your hands or thighs. This lightweight, portable set even includes a carrying bag and exercise guide.
Pros
Yoga ring is firm yet flexible
Perfect level of resistance
Pilates ring with excellent padded grips
Enjoy massage, flexibility, and toning benefits
Includes workout guide
Includes carrying case
Cons
No massage bumps on yoga ring
More expensive
Benefits of a Yoga Ring
The benefits of a yoga ring comes down to three main categories: flexibility, toning workouts, and self-massage. The best yoga rings can be used for all three, but certain shapes and materials may cater to one practice more than the others.
Improve flexibility
Similar to a yoga strap (but easier to grip), you can deepen stretches with a yoga ring simply by looping it under your foot or between your hands as you work towards deepening different asanas. In a forward fold, the yoga ring adds distance and resistance between you and your toes so you can maintain proper alignment as you seek to open up your hamstrings. For binds, yoga rings shorten the space between your fingertips and are especially useful for improving shoulder mobility. Follow along with a yoga ring flexibility practice to get a feel for how to lengthen and strengthen simultaneously.
Build and Tone Lean Muscle
Though they are a slightly different shape than the smaller pear-style yoga rings, the pilates ring or "magic fitness circle" serves a similar purpose. It is like a more rigid resistance band with far more uses. Often popularized as the "thigh master" or fitness ring, these types of yoga rings tend to be about 12" in diameter and include handles for pressing against with your hands or feet.
Great for looping around thighs, calves, ankles, wrists, or even for ab workouts, this type of yoga ring gives you a major workout on the mat, even without a home gym.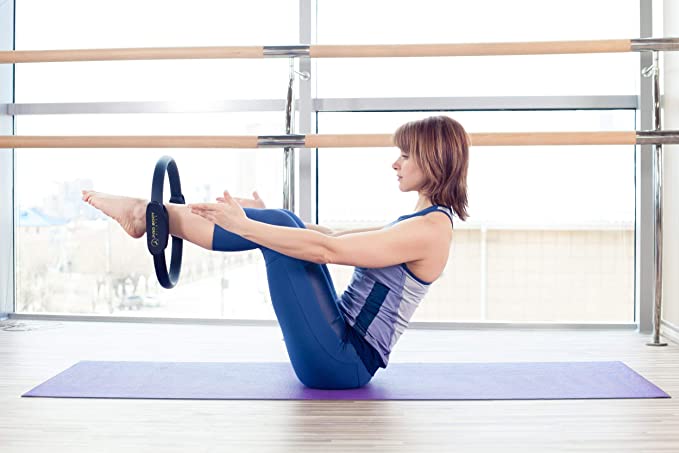 Use for Massage
While they might not look like much, yoga rings with massage bumps can provide some serious back pain relief. The firmness of the silicon or plastic combined with the ergonomic design target certain pressure points and relax tense micro fascia. The pear-shaped rings are best for this purpose because they can mold to curved areas of the body like your neck, calves, and lower back.
There are several great guided yoga ring massage videos on YouTube to help you explore the relieving possibilities of this simple, unassuming tool:
Closing Thoughts
With all the yoga props available on the market today, it's nice to have a tool that can act like an all-in-one solution. When you are simultaneously seeking deeper flexibility, more muscle, and post-yoga massage relief, a yoga ring could really come in handy. The crossovers between fitness, pilates, and yoga have proved to be quite beneficial to deepening our practices and simplifying our yoga gear.
Namaste!