Sometimes your mat just isn't supportive enough. Do you ever wish you could just release a little bit more during yoga class? What if you could take pressure off your low back or add some more height and comfort to your favorite asanas?
A yoga pillow or bolster is the ultimate support for a regular yoga practice, and one of my favorite yoga accessories. Bolsters help open up the heart in restorative poses. They can be used as a cushion for your tailbone or knees.
They can add height that improves stretching and helps you relax into specific asanas. As a bonus, they make excellent meditation pillows or cushions if you are staying seated for a long period of time.
So here are our best picks, plus our tips to help you choose the right one for you.
What is a Yoga Bolster?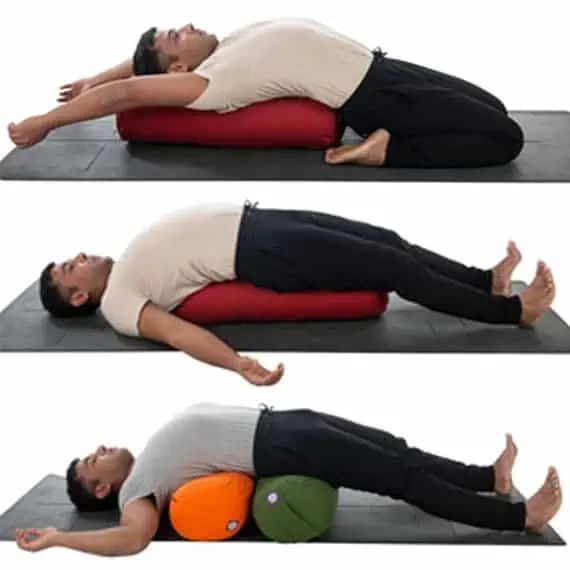 Yoga bolsters are firm pillows that come in a range of sizes and shapes. They can be rectangular, round, thick, or thin, and made of a variety of materials (the best are reviewed below).
You will find bolsters commonly used in Yin yoga and restorative yoga classes. They are common props in studios thanks to the extra support and cushion they provide for beginners, pregnant yogis, or yogis with joint, back or knee pain.
What's the Best Yoga Bolster? Quick Picks
Why Use a Yoga Bolster?
Yoga bolsters are feel-good props similar to body pillows, but firmer and typically rectangular. They take the strain off the body by adding height and/or support in restorative yoga poses.
If you are seeking a cozy, rejuvenating yoga session, these top-rated yoga pillows are the most popular among yoga instructors and studios. We reviewed them to help you find the best yoga bolster for taking a deep breath and getting the release you crave.
Top 8 Yoga Bolsters Comparison Chart
Product's name
Size
Material
More Info

Top Pick


Manduka Enlight Rectangular Bolster
28" x 11.75" x 5"
Soft, plush, absorbent eQua micro-fiber fabric cover with 30% recycled polyester fiber core
See latest price

Luxury Option


Brentwood Home Crystal Cove Yoga Bolster, Buckwheat Fill Rectangular...
25" x 11" x 6"
GOTS certified organic cotton and buckwheat fill
See latest price

Budget Option


Simian Yoga Bolster Pillow Premium Meditation Bolsters Supportive...
27.6" x 9.8" x 4.5"
Firm PP foam fill and microfiber cover
See latest price

Round Option 


Gaiam Sol Studio Select Round Yoga Bolster - Supportive Cotton Yoga Pillow...
25.5" x 9" x 4"
Cotton fill and microfiber cover
See Latest Price

Most Versatile 


Hugger Mugger Standard Yoga Bolster (Black) | Rectangular Restorative...
25" x 11" x 5"
Foam core, cotton batting, and cotton cover
See latest price

Eco-Friendly Option


Bean Products Yoga Bolster - Handcrafted In The USA With Eco Friendly...
25" x 12" x 6"
Commercial grade foam and hemp, cotton, OR organic cotton cover
See latest price

Yin Yoga


Waterglider International Rectangular Pranamaya bolster, ORGANIC COTTON...
27" x 8" x 5"
Organic cotton fill and cover
See latest price

Smaller Yogis


YogaAccessories Pranayama Cotton Yoga Bolster, Off White
25" x 6" x 3"
100% cotton filling and cover
See latest price
The Best Yoga Bolsters Reviewed
Best Overall
Manduka Enlight Yoga Bolster
Firm back support, silky soft removable cover, and oh so cozy? This rectangular yoga bolster from Manduka is everything you could want in a yoga accessory. It is rectangular shaped to provide support along the spine or head while also saving space in storage.
The fabric is absorbent, smooth, and easy to remove for washing. The core is 30% recycled polyester and the perfect amount of firmness for support and comfortable medium cushioning – not too hard, but not too squishy and pillowy either.
Manduka is highly regarded in the yoga community for its super high quality products and dedication to sustainability. These bolsters last forever and are so easy to clean. Simply pull off the microfiber cover, machine wash cold, and hang to dry.
The bolster core is absorbent yet water-resistant and thoroughly protected from sweat by the thick, durable cover. The well-stitched handle makes it easy to move around and transport to/from classes.
Pros
Soft microfiber cover is removable and washable
Perfect size for most body types (28" x 11.75" x 5")
Helps relieve back pain
Excellent for lifting the pelvis during meditation
Lightweight for transport
Rectangular size is modular and easy to store
Perfect for restorative yoga or back pain relief
Cons
It does compress a little bit under pressure (medium firmness)
Fabric is not great for hot yoga
SPECS
Type: Rectangular Yoga Bolster
Size: 28" x 11.75" x 5"
Weight: 2.5 lbs.
Material: Micro-fiber
Filling: 30% recycled fiber-fill
If you'd rather proudly display your yoga bolster instead of stashing it away with old mats, the Brentwood Home Crystal Cove bolster is decorative and luxurious. The certified organic cotton lining and buckwheat fill are ultra-sustainable and non-toxic.
You can even open the organic liner to remove buckwheat (customize the firmness) or replace the fill after a few years. The elaborately stitched outer cover is removable and washable for easy clean up.
Every detail of this bolster is thoughtfully designed. The shell-like patterned stitching is soft and stunning, making this pillow not only functional for yoga but also as home decor. The interior is 100% sustainable buckwheat fill that is sturdy, firm, and durable.
This unique fill makes the Brentwood Home yoga pillow denser and heavier (12 lbs) than other bolsters. The carrying handle is extra tough, double stitched, and embroidered with lovely tree emblems.
Pros
100% natural materials
Customizable firmness (can add or remove buckwheat hull filling)
Organic inner liner
Beautiful stitching and design
Can be used for decor
Extremely sturdy
Does not compress when pressure is applied (very firm)
Excellent support for meditation or yin yoga
Cons
Best for home use; may be too heavy to transport to/from classes
Higher price point
SPECS
Type: Rectangular Yoga Bolster
Size: 25 x 11 x 6 inches
Weight: 12 lbs.
Material: Micro-fiber
Filling: Natural buckwheat fill
Simian's more affordable bolster is available at a great price point and very functional design. The bolster is rectangular and ergonomic for chest opening, back support, or knee supportive poses.
It has a synthetic fill and removable cover. The fabric is absorbent microfiber to keep you dry and sweat-free. It is machine-washable and very comfortable to sit or lay on.
Despite the cheaper price point, the Simian does not compress or squish down beneath your body weight. It is a travel-friendly size yet still great for studio use. There is a double-sewn handle and hidden zipper to make it easy to transport.
Pros
Ergonomic shape is lovely for back or chest opening poses
4 color options
Very firm (does not compress or squish down)
Soft outer texture
Easily removable and washable cover
Great size and weight for travel (27.6" x 9.8" x 4.5")
Cons
May be too small for some yogis
Synthetic materials
Microfiber cover may be sweaty for some people
SPECS
Type: Rectangular Yoga Bolster
Size: 27.56 x 9.84 x 5.51 inches
Weight: 12 lbs.
Material: Suede cover
Filling: 35D PU fill
A rounded bolster is the most versatile of yoga cushions because it can be used as a roller, under-spine support, or shoulder support. This bolster is filled with cotton batting and a super stable center to keep you grounded.
It has a microfiber cover that is machine washable, as well as a sturdy carrying handle. At about 5 lbs, it's easy to transport to and from the studio or keep as a cozy support at home.
Pros
Super comfortable and sturdy without being too hard (medium firmness)
Removable and washable cover
Soft microfiber surface
Lightweight and great for travel
Only ways about 5 lbs
Cons
Rounded shape may compress more under heavier body weight
Cotton fill may absorb scents or moisture
SPECS
Type: Round Yoga Bolster
Size: 25.5″L x 9″
Weight: 5 lbs.
Material: Cotton
Filling: Cotton batting
Hugger Mugger doesn't ever disappoint with their solid, high-rated, made-in-the-USA yoga gear. This bolster is no different! It comes in 7 different colors, all with upholstery-grade super comfortable fabrics. The pillow has a firm foam core, cotton batting, and a cotton cover. It is a fairly standard size (25" x 11" x 5") and lightweight (5 lbs).
I especially love that this bolster is so thick and firm beneath you. It is not like a memory-foam or cushiony pillow; it provides real support and extra firmness. The only downside is that the cover is difficult to remove and replace for washing.
Pros
Very solid and thick bolster (extra firmness)
Ultra supportive
100% cotton and foam
Soft cotton cover
Made in the USA
Multiple color options
Rectangular shape is ideal for sitting and laying positions
Great size for most people
Soft surface
Very durable and lasts a long time
Cons
Cover may shrink with washing
Difficult to remove and replace cover for washing
May have chemical smell
SPECS
Type: Rectangular Yoga Bolster
Size: 25 x 12 x 6 inches
Weight: 4.4 lbs.
Bean Products is unique in that they let you choose a hemp, regular cotton, or organic cotton cover in a variety of colors. Their premium natural materials are non-toxic, super soft, and have no chemical smells. These bolsters are made in the USA by a family business using sustainably sourced materials.
The Bean Products yoga pillow is wider at the top and lower in height for deeper supported bends and gentler chest opening poses. The foam core is very firm, thick and sturdy. These bolsters are built to last and include a 1-year warranty.
Pros
Made in USA with eco-friendly materials
Non-toxic and no chemical smell
Cover options of your choice (hemp, conventional cotton, or organic cotton)
Studio-grade quality
Very firm and durable
1 year warranty
Super supportive
Cons
Cover may be difficult to remove for washing
Lower height isn't great for all body types
Higher price point
SPECS
Type: Rectangular Yoga Bolster
Size: 24″x12″x6″
Weight: 4.5 lbs.
Material: Cotton
Filling: Cotton batting
With a longer, thinner, oblong shape, the Waterglider bolster is the most comfortable for yin yoga or holding any poses for extended time periods. Somewhere between a body pillow and a yoga bolster, this bolster is made with 100% organic cotton batting that is firm yet somewhat cushiony.
They are stuffed very thick and still stiff enough for tremendous support. The narrow design of this bolster is very popular amongst pregnant yogis and large chested women.
Pros
100% organic cotton fill
Very comfortable for holding long poses
Not too hard (medium to hard firmness, slight cushion)
Narrow, longer design great for pregnant and large-chested yogis
Removable and washable cover
Vibrant saffron orange color
High quality soft exterior
Cons
Elongated shape may be awkward for some body types
Too stiff for some individuals
SPECS
Type: Rectangular Yoga Bolster
Size: 27 X 8 X 5
Weight: 3.8 lbs.
Material: Cotton
Filling: Cotton batting
Best for Small Yogis
YogaAccessories Pranayama Cotton Yoga Bolster
See latest price
At 25" x 6" x 3", this bolster is significantly smaller than standard size bolsters and much cheaper! It is a lovely as travel yoga pillow or for smaller body types. The 100% cotton cover and fill are eco-friendly and fluffy-firm. You can add and remove the batting to adjust the firmness.
I would rate this bolster at medium firmness with a little bit of give. The shape is oblong and thin, great for extending along the entire spine and melting into the floor. It is also excellent for restorative breathing exercises to open up the chest and provide comfortable support for the expanding lungs.
Pros
100% cotton fill
Super cozy for holding long poses
Medium firmness (slightly fluffy)
Adjustable firmness by removing or adding batting
Removable and washable cover
Small and lightweight for travel or smaller body types
Great for head, neck, or knees
Longer oblong style bolster best for spinal support
High quality canvas and well-sewn
Very affordable
Cons
Some products may be too lumpy for your liking
Too firm for some individuals
SPECS
Type: Rectangular Yoga Bolster
Size: 25.25 x 6.5 x 6 inches
Weight: 2.6 lbs.
Material: Cotton
Filling: Cotton batting
Benefits of a Yoga Bolster (aka Yoga Pillow)
Yoga bolsters enhance and support your practice with firm cushioning. They bring the floor closer to your body by adding height and improving stretches. Other benefits of a yoga bolster include:
Chest and back opening
Greater relaxation
Softening of asanas
Cushion for joints or bones against the floor
Aid in opening up the body
Improve posture
Support and cushion the spine
Add height to improve stretching
Improve breathwork
Improve circulation in legs and upper body when placed beneath you
Add elevation to poses
Can be used as a meditation cushion
How to Use a Yoga Bolster
If you've never used a yoga bolster in a studio before, it may be confusing to understand how to integrate a pillow into your traditional postures. Here are a few bolster-supported asanas to get you started and help you enjoy the added support of a yoga pillow.
Supported Seated Forward Fold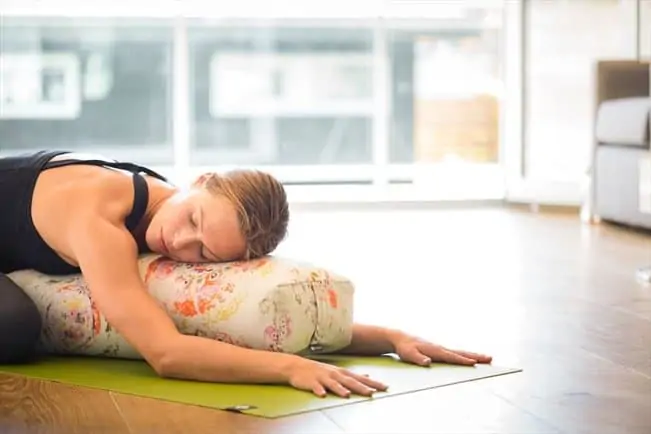 Sit on your knees and place the pillow long-ways on your lap
Fold forward as if into child's pose, resting your chest on the bolster
Let your hips sink toward the floor
Turn your head to one side and release the upper body
Feel the stretch through your lower back and thighs
Take deep breaths and relax
Supported Fish Back Bend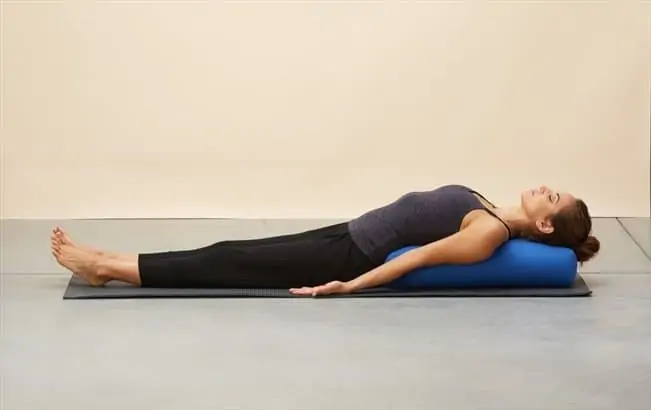 For an incredible chest opening and upper back relief, position a yoga bolster length-wise on your mat
Place your hips and lumbar spine at the base of the bolster
Lay back over the bolster, letting your arms drop to the side
Relax and breathe your chest open, feeling the upper back release into the pillow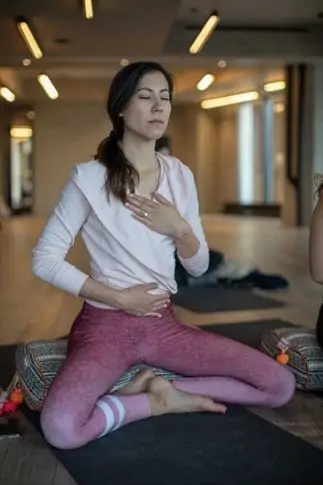 Supported Seated Meditation
For less stress on your low back during meditation, try placing a bolster sideways on your mat
Place your sit bones on the bolster, crossing the legs and letting your knees fold off the bolster
Keep your spine straight and feel the yoga pillow support your back through added elevation and raising up the floor
Breathe and enter your meditation
How to Choose the Right Yoga Bolster
Bolsters come in a wide range of shapes, sizes, materials, and levels of firmness. It is important to ask yourself what you will be using the bolster for and what goals you hope to achieve. Do you want deeper stretches? More comfortable meditations? Longer yin yoga and restorative asanas? Support for pregnant yoga? Talking with a yoga instructor or trying a bolster in a studio class may help you dive deeper into which style of yoga bolsters is best for you.
Material and Filling
Most bolsters are made of cotton, foam, or synthetic fabrics. There are two main parts of a bolster: the core and the cover. Some also contain batting that cushions around the core, and a few bolsters contain only batting with no core.
Cotton batting can be more lumpy, but is also easy to remove or add for changing the firmness. A foam core may have more chemicals or smell to it, but provides more cushiony support. The newly popular buckwheat fill is an ideal happy medium for those seeking eco-friendly, non-toxic materials that are still very firm and adjustable (can be added or removed from the bolster).
Comfort and Firmness
Whether we're talking about mattresses, pillows, or yoga bolsters, everyone has a different preference for comfort. Yoga bolsters can range from cushiony pillows to medium firmness to ultra dense thick support.
The type of filling you choose will drastically affect the firmness of your bolster. When in doubt, it is better to opt for something a little firmer than a bolster that isn't firm enough. Too much "give" or "squishiness" will decrease the functionality and support of the bolster during your yoga practice.
Shape
The main bolster shapes are:
Rectangular
Oblong (thinner rectangular)
Round
While rectangular bolsters are the most common, oblong bolsters are the best for spinal support. Round bolsters are excellent for behind the neck, low back, or knees. It is best to try out some bolsters from a friend or at a local yoga studio to figure out which shape best suits your body type and yoga goals.
Price
Quality yoga bolsters range from $30 to $100, depending on the materials, size, and brand name. Cheap yoga pillows tend to lose their shape and compress down under your body weight. They may also have a chemical or toxic smell due to the type of synthetic materials used. It's best to opt for something that is eco-friendly, sustainable, and built to last.
How To Care For Your Yoga Bolster
Most yoga bolsters come with a removable cover. It is recommended to wash a bolster cover on a cold gentle cycle and hang to dry to prevent shrinking or damaging the material. Trust me, shrinking your yoga pillow cover and trying to put it back on is a massive headache.
To care for the core and filling of a bolster, simply wipe it down with diluted vinegar or a towel if moisture enters the inner liner. You can also let it dry out in the sun or an aerated place. The bolsters we've reviewed are super high quality and don't seem to have any problems withstanding the tests of time and regular use. Avoid drenching your yoga bolster (nobody wants a moldy yoga pillow) or using it outside.
Enjoy a Supported Practice!
Have you tried any of these yoga bolsters? We'd love to hear about your experience.
Namaste!
What shape of yoga bolster is best?
The best shape of yoga bolster depends on the individual's needs and preferences. Standard rectangular bolsters are versatile and provide good support for various poses. Round bolsters are useful for more specific positions and can offer better comfort during deep stretches. Cylindrical and Pranayama bolsters are great for breathing exercises and relaxation.
Are yoga bolsters worth it?
Yoga bolsters can be worth the investment for those who practice yoga regularly, especially for restorative and gentle styles. Bolsters offer support and comfort, help deepen stretches and improve alignment, and aid in relaxation and meditation. They can also provide modifications for those with injuries or limited flexibility.