Here we will focus on Walmart yoga pants, using descriptions from the website and reviews from buyers. Our top preference is the FITTOO Women Yoga Pants With Pockets. These sleek yoga pants are made of a soft, breathable material, feature phone pockets, and an affordable price for the budget-conscious yogi.
Whether you are looking for a way to strengthen your body, improve your balance, or lower your stress levels, yoga is an excellent option. Most people don't realize that choosing the right yoga clothing is key to getting the most out of your time on the mat. It is important to select comfortable, activewear.
Top 5 Best Walmart Yoga Pants
Walmart carries a wide variety of yoga pants, from capris to wide legs. Many of the alternatives listed on the website are from third-party vendors who list with Walmart. Because of this, we will also list a link for a comparable choice on Amazon.
FITTOO Women Yoga Pants With Pockets
These high-waisted, tummy-control yoga pants are the perfect choice for the workout enthusiast. The mesh sides allow for extra breathability, and the moisture-wicking material will make sure you stay dry through even the most difficult yoga sessions. The twin side pockets ensure that you can carry your phone, keys, driver's license, and credit cards. The tight fit with just enough give means you will not only look great but feel good too! Available in various colors and sizes, the FITTOO Women's Yoga Pants With Pockets range from $16.99 to $21.99. Check out this similar product on Amazon:
Athletic Works Women's Dri-More Core Athleisure Relaxed Fit Yoga Pants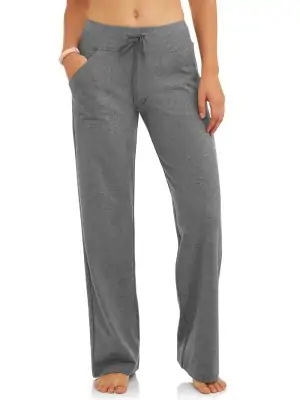 This relaxed-fit yoga pant is an excellent solution for exercise time and leisure time. With a drawstring waistband and two front slit pockets, these pants will be your new favorites. The moisture-wicking fabric is functional yet comfortable for that gentle yoga class or a trip to the coffee shop. Pick black, navy, or heather or all three, in sizes from small to extra large, and petite sizes for just $15.96 each. Amazon sells the same yoga pants but in more of a variety of sizes:
Women Solid Color Elastic High Waist Wide Leg Yoga Pants
Silky polyester gives these yoga pants a plush feel. With a flattering white high-waist and a pop of color down the rest of the wide legs, you can wear these from a yoga session to dinner with flats or heels. A drawstring waist makes for easy on and off. Choose from a rich blue, sensual black, perky purple, or gorgeous gray. Sizes range from small to XXL with a cost of $10.23 to $15.99. Amazon offers the same pants from another manufacturer here:
Spawn Fitness Yoga Workout Pants Tiktok Leggings for Women Scrunch Butt Lift
Looking for something that enhances your appearance? Spawn Fitness Yoga pants provide support for problem areas, so you can feel more confident while attending yoga class. Offering a stretchy yet smooth fit, you can rest assured you will be able to bend and stretch every way you need to. The Spawn Yoga pant is only available in black with sizes extra small to extra large for $16.95. You can find a similar product on Amazon:
High-Waisted Bootcut Yoga Pants with Pockets Tummy Control Workout Pants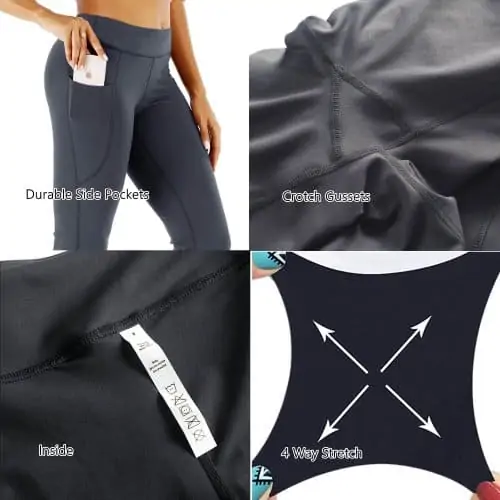 Bootcut yoga pants are a nice cross between too tight and too loose. The top of the pants are comfortable but not baggy and the bottoms taper down the leg to a wider bottom. Made of a cotton, polyester, spandex blend, these yoga pants are lightweight, moisture-wicking, and feature a 4-way stretch fabric. Versatile enough for yoga practice at home, in the studio, or on the beach. Colors include black, blue, deep blue, red, heather gray, and gray and sizes go from small to extra large. Amazon offers this comparable product:
How To Find The Best Yoga Pants For You At Walmart
Comfort is vital as you need to be able to move and stay in one position for long periods.
Durability matters because who wants to have to replace your yoga pants too often?
Length is a factor when doing yoga outdoors in cold or extremely warm weather. Capri yoga pants are more suited for hot days, while full-length yoga pants are best for colder times.
Fabrics that are moisture-wicking are important for heavy yoga workouts where sweating is involved. A lightweight soft material ensures that the wearer is comfortable at all times.
Fit and style influence how you feel when you are wearing the item and the effectiveness of your workout. If your yoga pants are too big and you are constantly pulling them up, you aren't going to have a good yoga session. Performance is affected by fit and style.
Design impacts fitness through comfort, breathability, and range of motion. Clothing should be designed in such a way that all of these needs are met.
Price is a major factor for many people. Not everyone can afford to spend $75 on a pair of yoga pants. While this may seem extreme, it really depends on your personal preference and ability for spending.
FAQ
What is the difference between yoga pants and leggings?
Although the lines between yoga pants and leggings are often blurred, there is a difference. Traditionally, leggings were meant to wear under other clothing to establish layers for colder weather. They are typically thinner. Yoga pants are sometimes made like leggings but not always. They can be straight-legged and form fitting like leggings but also come in wide-legged or loose versions.
How tight should yoga pants fit?
Fit is personal preference except for instances where loose fitting or large legged pants may become cumbersome during sessions. Tight yoga pants that are too restrictive and can lead to inability to hold yoga poses for long lengths of time or may compress blood flow. It is best to pick something that is not too tight and not too loose to allow for freedom of movement and comfort.
Are yoga pants still in 2022?
Fashion trends come and go and yoga pants are no exception. Although yoga pants aren't a fashion faux pas in 2022, the style of this classic look is changing. In 2022, we are seeing more flared yoga pants make a come back along with high-waists, ribbing, and capri lengths. Celebrities are content to wear these looks with turtlenecks, sweatshirts, and chunky white sneakers. Belly shirts and sports bras are also often paired with yoga pants for warmer weather.
Conclusion
FITTOO Women Yoga Pants With Pockets are the favorite for this writer. The high waist fits the bill for a fashion trend while the side pockets make carrying your phone and keys convenient. For a more relaxed fit, the runner-up would have to be the Athletic Works Women's Dri-More Core Athleisure Relaxed Fit Yoga Pants.
With a versatile drawstring and front slit pockets, these yoga pants are also great for everyday wear. Regardless of your yogi tastes, you are sure to find pants that works just right for you!