Offering a yoga teacher training is an incredible way to share your passion with a new generation of teachers and increase your income.
But it's also a huge commitment, and one you want to be sure you're ready to take on.
Yoga International speaks about the pressure placed on studios to survive, saying "Teacher trainings have become so prevalent that studios are practically expected to offer them, and many studio owners aren't quite prepared to step into "teacher of teachers" shoes, but feel financially pressured to do so."
The pressure yoga studios are under to survive and turn a profit are real. But that leads us to our first point, which is: check in with your reasons why.
Read on to find out more things to consider when deciding if offering a yoga teacher training is right for you.
[Related: 25 Ways to Diversify Your Income As a Yoga Teacher]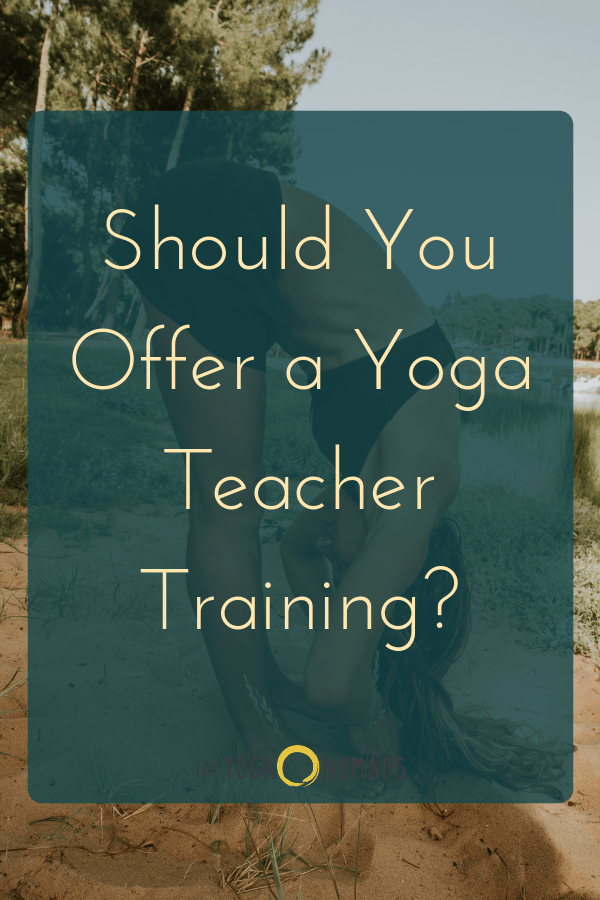 Check in with your reasons why
Why do you want to offer a yoga teacher training? Is it stemming from a genuine desire to teach and share your knowledge of yoga? Is it because you want to make money? It it something else, or a little of both?
Be honest with yourself. If your desire to offer a teacher training is coming from a lot of fear, it may be a good idea to think about expert teachers you can host for trainings instead, or expert teachers you can incorporate into your own training to help it be as quality as you'd like it to be.
Remember, students catch onto energy. Deciding to take on leading teacher trainings simply for financial gain, can be felt negatively. Deeply understand and portray your "why" and all will go well!
Consider what you have to offer in a YTT
Write a list!
Ask yourself: What do I have to offer your potential students that's unique to me? What gaps have you seen or experienced in other yoga teacher trainings that you could fill? What differentiates you from other teachers?
Of course industry standards exist if you're putting on a yoga teacher training program. Yoga Alliance will require you to include some things in your training. But think outside the box a bit with this one… With all the YTT programs popping up, the landscape is competitive. You want to ensure you're offering a sound training experience, but with something that sets you apart from the rest.
What experience do you have?
You don't have to have been teaching yoga for 30 years to offer a teacher training. But you should have some depth of experience and knowledge in the form of plenty of experience teaching classes. Some advanced yoga teacher trainings and workshops under your belt will help too (although advanced yoga teacher trainings are not totally necessary!).
Teaching yoga is a gift. Sharing information and knowledge happens in each and every class you teach. But leading a teacher training is a serious job and not to be taken lightly. More experience will not only help you feel more prepared, but also help raise your confidence that you can do it…!
Do you have the necessary skills?
There are a few really important skills for holding a teacher training, including:
A deep understanding of the content you're teaching and the ability to transform it into clear, digestible information for your students.

A strong ability to hold space for your students.

The ability to engage and motivate your students.

Great listening skills.
If you don't have all that it takes at this moment, that's okay! Just spend some more time learning and developing your skills, awareness and knowledge.
Here are some ways to continue developing and educating yourself:
When it comes down to it, only you can know if you're ready to teach teachers. Check in with your motivations, ask yourself what you bring to the table in terms of experience, skills, and heart, and check in with your gut.
Yoga teachers who offer yoga teacher trainings: how did you know you were ready? Comment below and share.
PS: Did you like this article? Pin me!