More than 14,700 new teachers registered with Yoga Alliance last year. (source)
That means there are WAY more yoga teachers than yoga teaching jobs. In order to find solid teaching gigs, we need to stand out from the crowd.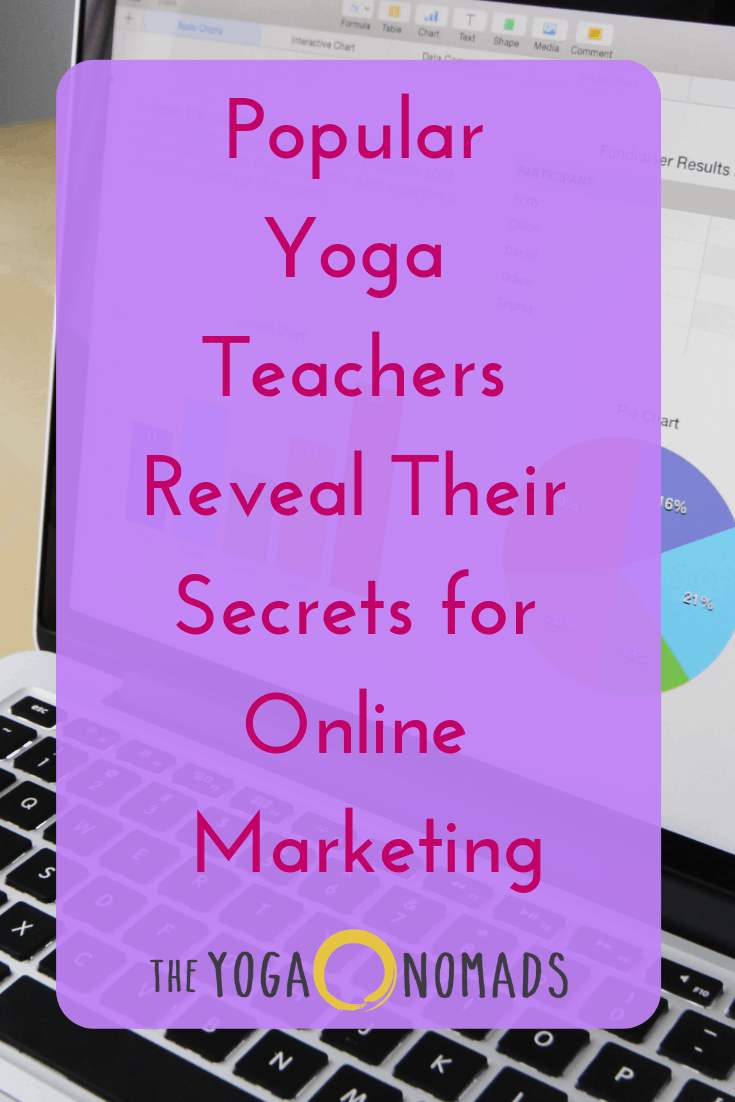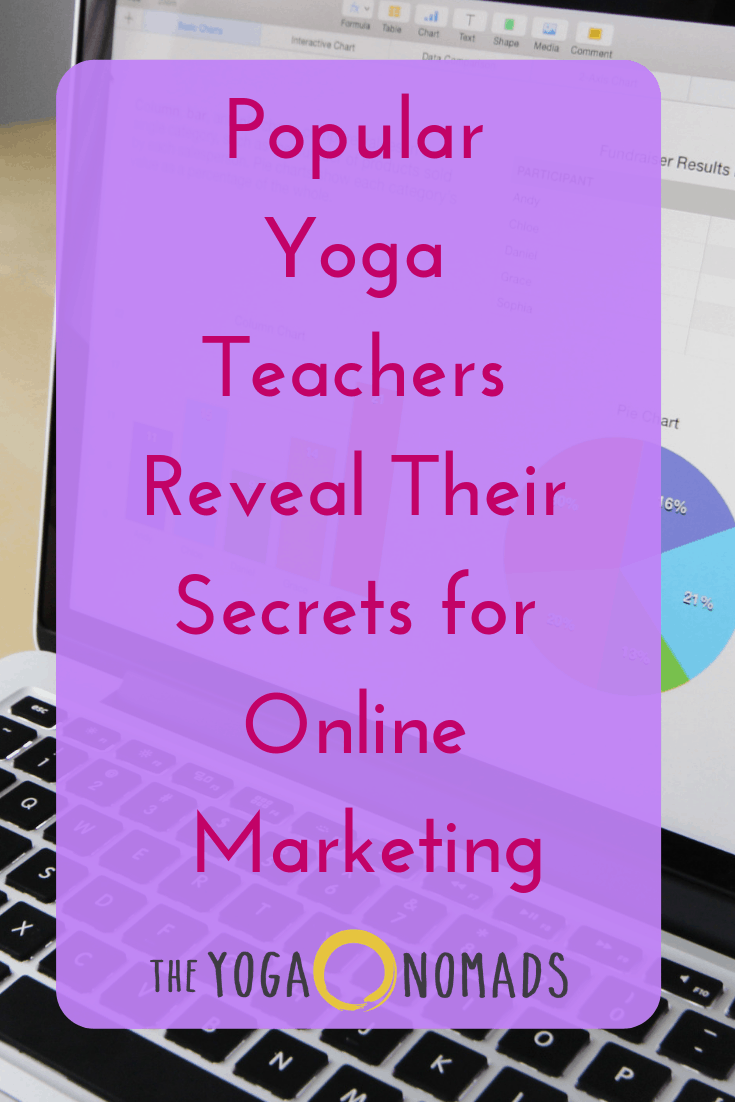 Pin me first? Then keep reading!
Marketing yourself online is the best way to stand out.
But where do I start?
Instead of feeding you to the wolves, we asked 14 popular yoga instructors for their best online marketing tips.
Alright, before we get started, be sure to download your free guide: 5 Simple Online Marketing Strategies to Skyrocket Your Yoga Career.
Sofiah Thom @ SofiahThom.com
1) Stand out in the most authentic way!
As a yogi in this day in age with an influx of new teachers, its important to find ways to make yourself stand out in the most authentic and creative way!
Beautiful photos with a powerful message work well to inspire people to follow you and come and study with you!
Have a clear message in your marketing… this will be your underlying values as a teacher. What inspires you to teach, why should people come and study with you?
[color-box]Step #1 to standing out as a yoga teacher is to discover your unique niche.
Here are "100 yoga niche ideas" to get you started.[/color-box]
2) Focus on Engagement!
Once you have a message for what you stand for, use hashtags to access others who have the same values as you. Get your followers to engage with your posts by asking them a question or having them join in a challenge or invitation…
For instance…my message is to inspire people to: #LiveYourYES
… and so, I love to get people inspired to share a post of them doing something that fills them up every day, something that every cell of their body says YES to!
Sometimes I create a challenge where I will choose somebody at random who posted every day for a certain amount of time.
I love the responses from people who have participated in this movement… they say that it simply inspired them to do what they love!
So, have something fun and creative to inspire people to engage in!
Another great way to market online and for people to experience you as a teacher is through a video webinar.
I like to offer free webinars on different themes, this is a great way to build your list on line and have people experience you live! I hope this helps get you inspired!
Marina De Lima @ MarinaDeLima.com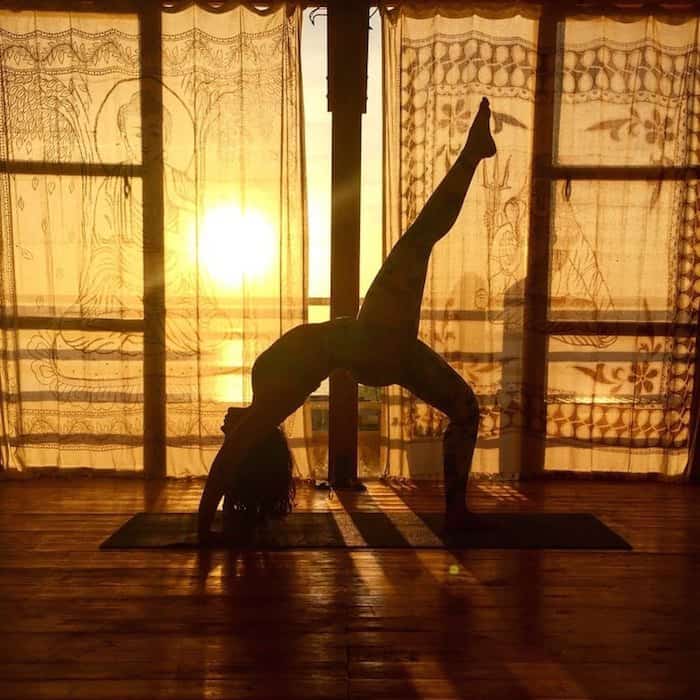 3) Share your WHOLE Journey
Whenever I give people insight to my feelings and emotions, whether I'm going through something emotional or good or bad, I find that it's when I have the greatest response on my posts. I'm a very open book and often times I will post about my relationship, the trials and tribulations of travel, and the struggles I have not only as a yoga teacher but to continuously be the best yoga student I can be. When you are authentic, honest and raw people know it and appreciate it. Everyone wants to know that they're not the only ones who feel a certain way or struggle with certain things. I believe being honest and sharing builds connections.
4) Connect with those that connect with you
I try to make it a point to like connect with people that comment and constantly like my posts via Facebook and Instagram. I take the time to see who they are and what their page is about. Are they a new yogi or someone who is a traveler and who is doing interesting things.
Steph Gongora @ Casa-Colibri.com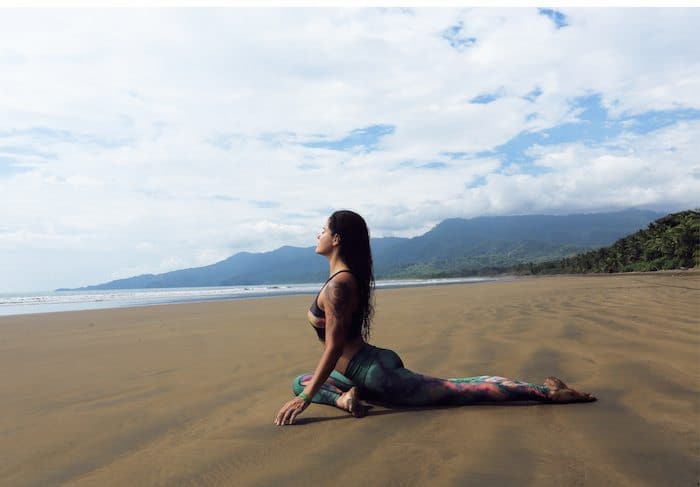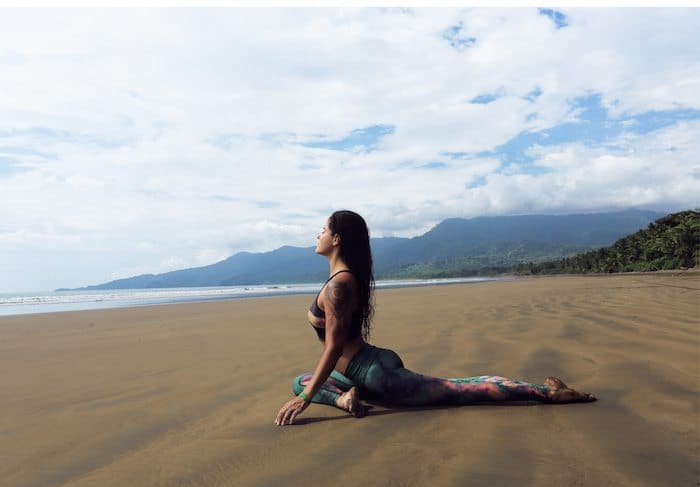 5) Be genuine
That is the key, and I mean be genuine in all senses of the word.
6) Be genuine in your connections
If you're commenting on people's posts (whether they are from a challenge you are hosting or participating in), actually take the time to read their caption, and say something specific and individualistic. "Wow, I struggle with the same thing!" or "So inspiring! I can't wait until that asana is part of my practice!" You may not be able to make as many comments (if you're going for a work/life/social media balance), but the connections you make will be of higher quality.
7) Be genuine in your practice
If you post a beautiful king dancer pose that gets ALL the likes, don't be afraid to post the video afterward that is 2 minutes of you wiggling and wobbling to get into the deepest expression of the pose for 3 seconds so you could snap a picture. People like to hear that every handstand isn't perfect, that I fall constantly, that I neglect my weak side (hence one of my first tags – #weaksidewednesday). Genuinely express your struggle and people will appreciate your success more.
8) Be genuine with your posts
My page might look like 90% yoga, but if you read my profile bio, you'll see I also love posting about pole, lyra, my 3 dogs, and tidbits of my life in Austin. I never want to be afraid to post those, and I've found that showing little glimpses of my life outside of yoga actually makes people happy and relate to me more. I'm also genuine in what I post about, regardless of whether or not certain people or groups will be disagree with or unfollow me. I am not a Vegan or Vegetarian, and I don't pretend to be. Sometimes, I have a beer or two. Sometimes I miss a practice because I want to watch Netflix all night with my husband. And that's ok. More than ok. It's human, and if you're trying to be something else, it will eventually overwhelm you and come crashing down.
9) Be genuine with your associations
There are a myriad of small businesses on social media, especially in the world of yoga. Only represent products and brands that you believe in and would personally buy items from, whether the items were gifted to you or you actually purchased them. Accepting any and all free handouts in exchange for posts will swiftly turn your account into an infomercial. Purchase a few things that you love from companies you support for your own reasons, and then post some high quality pictures wearing the gear on your account. If you tag them, most companies will return the favor with a repost down the line. But always make sure it's something you want to be associated with. And if you're not into colorful yoga pants, all the fancy mats, and a mala bracelet to match every outfit, then no big deal. Don't post about it.
10) Be yourself, and share what you like
Not everyone will respond to it, but they have to respect you for it.
Daniel Scott @ DanielScottYoga.com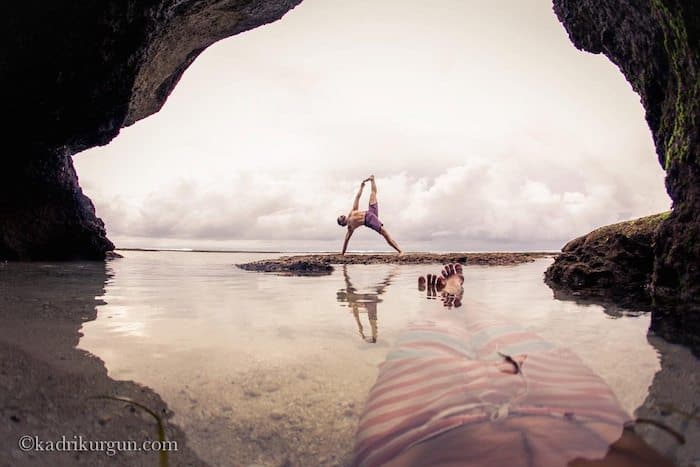 11) Be Yourself
Failing that, believe in whatever Self you want to be.
Erica Hartnick @ YogaTrade.com
"5 Simple Online Marketing Strategies to Skyrocket Your Yoga Career"
Any tips to add? Join the discussion below!
Namaste,
-Anne
PS: Did you enjoy this article? Pin me!