In today's "yoga economy," it is not easy to support yourself from teaching group yoga classes alone.
If fact, those who try risk "over-teaching" which often leads to burnout. Not to mention barely having enough time for your personal practice which can leave you feeling uninspired and unmotivated.
Becoming a yoga teacher seems so glamorous to those on the outside. Many people quit their day jobs in order to teach yoga full-time as a result!
It's easy to get blinded with excitement. The reality is… if your only source of income is group yoga classes at the studio, then you're going to struggle.
Consider this: how much time goes into designing your classes? How much time and gas money does it cost to travel from studio to studio? Let's not even bring up crucial marketing efforts such as creating a website or learning some basic marketing skills.
So what's the antidote?
Taking your yoga off the mat.
Let me explain a bit…
Your job as a yoga teacher does not stop when you step off your mat and outside of the studio. As a yoga teacher you're an entrepreneur too! Yoga is a lifestyle, so why shouldn't your business reflect that? When you offer more than just teaching studio classes, you better serve your niche, you validate yourself, your name, and your brand in the yoga community. All of this impacts your bottom line.
So what does this mean? What do I do?
Diversify your income.
This article is for you wherever you're at in your yoga teaching career, and especially if you're looking to build a sustainable business teaching yoga. Read on to understand the following:
Why it's important to have multiple revenue streams
Ideas beyond teaching at studios
How to diversify your income
Why Diversify Your Income as a Yoga Teacher?
1) Diversifying your income allows you to better serve your students. Teaching group yoga classes at the studio doesn't satisfy the needs of ALL your students. How could it? Think about all the students who are potentially under served…
Some students cannot afford the studio, others don't live near the studios you teach at. What about the students who want more personal attention? Or the students who really want to learn about the breathing exercises you shared at the end of class? Maybe it's time to create a program that serves a subset of your students in a deeper, more involved matter. Better service, more income. Win-win.
2) You don't have a choice. If you want to live a balanced life as a yoga teacher, you don't have a choice… you MUST diversify your income. The yoga studio simply cannot pay you enough from teaching group classes alone. Not to mention all the costs associated with being a yoga teacher…
Being a yoga teacher isn't just about showing up to the studio to teach a class and collect a paycheck. You have to consider the other elements that go into it, which can be expensive and ultimately lower your hourly wage significantly. i.e. annual insurance, travel expenses, CPR, Yoga Alliance registration, continuing education, etc. Then of course there's the fact that your paycheck may not be consistent if you're getting paid from multiple different studios at different times. This can make it difficult to manage your personal finances.
As yoga teachers, I think it's safe to say we all want to make a little more money. Diversifying your income might even mean you get paid when you're sleeping. You're more in control of your income when you have multiple streams coming in each month. And who doesn't want to get paid more?! (I know I do).
Teaching classes in a studio setting is just one way to earn an income. Unfortunately, it's just not financially or personally sustainable to teach full-time to earn enough to support your lifestyle.
When you diversify your income as a yoga teacher, you're in control.
That being said, the studio classes serve a very important purpose in our teaching careers. Those classes help us build a foundation from which to grow. We get experience, get exposure and gain a following.
When you diversify your income as a yoga teacher, you're in control. By offering several different options, you're serving your audience in a more impactful way. Creating more value for your students leads to an increase in income!
3) Develop a stronger sense of purpose. Offering "unique programs" based on your strengths often leads to a stronger sense of purpose. A sense of purpose provides lasting benefits to all areas of life.
You'll feel more fulfilled every day. You'll work harder to hone your craft. Your students, friends, and family will notice your increase vigor. Living A Purpose Driven Life is one of the keys to success as a human. 🙂
How to Diversify Your Income as a Yoga Teacher
Pin me first? Then keep reading!
To diversify your income, consider what other ways you can provide value.
What else can you provide to your students?
Your students are unique individuals, each wanting and needing different things. Not every student resonates with the teachings in a studio class setting. Being able to offer related teachings outside of the studio, will allow you to serve your students even better. By creating strategic programs to fit their various needs, you both gain something.
Are you really competent with one aspect of asana and think you have what it takes to lead a workshop? Maybe you're even ready to lead a mini weekend retreat. The sky is the limit!
Because yoga is a mind-body practice, also begin to consider other related practices you could offer that would fit well with yoga. I'll get into specific ideas for you to ponder below, but for now, what other related industries have something you could offer?
Is there something you've been thinking about tapping into but you aren't sure where to start? Perhaps it's Reiki, designing yoga clothes or selling essential oils? Whatever it is, there may be a way to incorporate it into your "portfolio of offerings."
Pro-tip: Be sure to focus your offerings on serving a similar audience. If you are offering two completely different services, you'll have to double your marketing efforts to reach two different audiences. Make sense?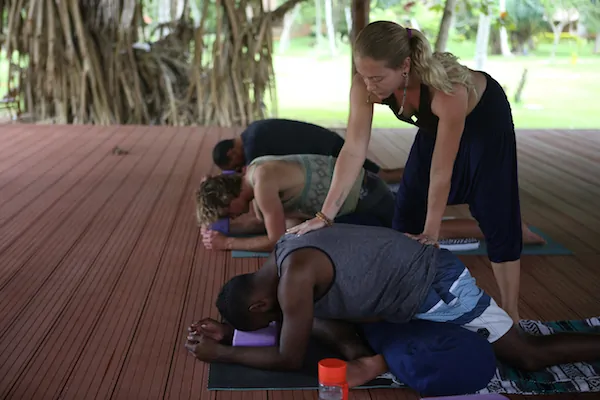 Now let's discuss some ideas for you to consider.
Effective ways to diversify your income as a yoga teacher
Teach private lessons
Teach virtual lessons
Design and lead a teacher training program or continuing education for yoga teachers
Design online content such as webinars or interactive packages including meditations, worksheets, videos, and audio content
Write yoga articles or start your own blog
Write an eBook
Sell yoga videos through an online subscription service
Monetize your YouTube channel
Start a Patreon page
Lead retreats
Offer Reiki, Massage Therapy, Acupuncture
Graphic Design freelance work for yoga teachers (logos, business cards)
Web Design for yoga teachers
Life Coaching
Writing
Additional certifications in other related practices: pilates, barre, personal training, etc.
Be sure to download these 25 ways to create sustainable income for your yoga business!
Let's be real for a second.
Teaching yoga in a studio is simply not enough. Having taught from Florida to California, I haven't found a single studio that pays enough to live a balanced life. Even studios in the San Francisco Bay Area don't pay any more, and it's one of the most expensive areas in the United States! How is anyone supposed to make a living this way?
From my experience, most yoga teachers can benefit from teaching FEWER classes. Fewer classes means your teaching quality will be better and you'll have more time to work on your website, acquire 1×1 clients, develop a program, lead a workshop, etc.
How many classes should we teach each week?
6-12 classes per week seems to work for me. But income from those 6-12 classes each week just isn't enough to live a comfortable lifestyle.
I have been there and done that with teaching too many classes and taking every subbing opportunity I could get just to make ends meet. Let's just say that did not last long and I ultimately left my 'dream job' to live my 'dream life' as a traveling yogini.
Instead we need to diversify our income as yoga teachers. There is really no limit to your creativity when it comes to what you can do with yoga. It does not all have to be about the teaching. You may just have to change your mindset about it! Write a book, develop an online course, or study a healing modality that can compliment your yoga offerings.
Teaching yoga person-to-person takes a lot of energy. Having other projects outside of your yoga classes can also be very fulfilling and creatively stimulating. And besides, who doesn't want to earn more money?!
Thanks for reading! Drop me a line in the comments or come visit me at my website.
~ Lindsay
PS: Did you enjoy this article? Pin me!