Yoga is no longer constrained by a mat on the ground. Aerial yoga is an artistic way to relieve compression in the spine, help with back pain, and de-stress. With use of a suspension yoga trapeze or yoga hammock, you can achieve new heights in your yoga practice while getting stronger and more flexible.
Flying around and hanging upside down on a piece of silky fabric is a beautiful creative practice with numerous health benefits. But you've got to trust that soft piece of fabric with your entire body weight.
Finding the best yoga hammock or trapeze for aerial yoga is no small feat: you need an aerial yoga swing that can be safely installed in your home or outdoors and help you meet your new flying yoga goals.
Here we'll review the top yoga trapeze stands and aerial yoga hammocks available on the market, including the pros and cons of each and where to buy them.
What is an Aerial Yoga Hammock?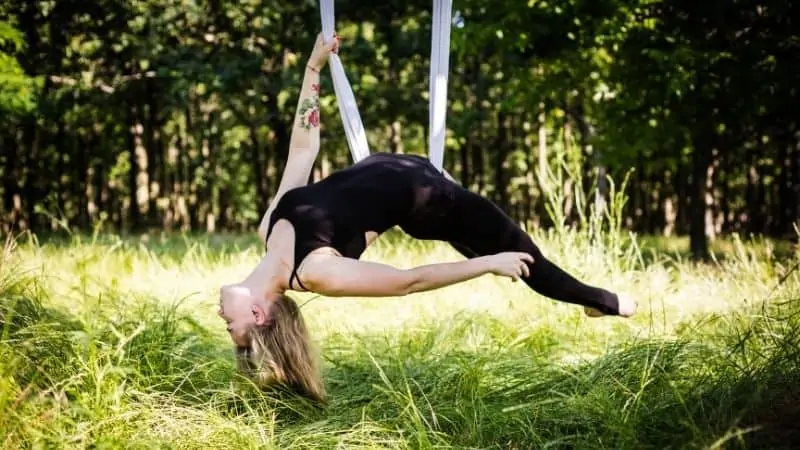 A yoga trapeze, yoga swing, or aerial yoga hammock are all essentially the same thing: suspended pieces of silk-like fabric designed for practicing yoga up in the air.
Yoga swings are sometimes differentiated from aerial yoga hammocks because they have handles and thinner silks, whereas the hammocks are thicker and more simply designed without any bells and whistles. A yoga swing can also be called trapeze (similar to a gymnastic trapeze) because of the handles.
All complicated jargon aside, these gravity-defying yoga accessories are growing in popularity around the world. They can be free-standing, hung on trees, suspended from doorways, or hung from hooks in the ceiling.
Yoga hammocks and swings allow you to perform asanas up in the air. This helps improve core strength, flexibility, and spinal release. The practice is complementary to a grounded yoga practice and offers more creativity for graceful acrobatic flows. And honestly, it's just really fun!
Top 6 Best Aerial Yoga Hammocks and Swings
We reviewed the top aerial yoga hammocks and yoga swings available online to help you make the best decision for progressing on your anti-gravity yoga journey.
Product's name
Fabric Material and Handles
Weight Limit
More Info

Beginners


YOGABODY Yoga Trapeze Pro – Yoga Inversion Swing with Free Video Series...
Nylon (parachute-grade) and foam-padded handles at 3 lengths
600 lb
See latest price

Traditional aerial yoga


Aum Active Aerial Yoga Hammock - Durable Aerial Silk with Extension Straps,...
Silk tricot polyester fabric (13 feet long, 9 feet wide), no handles
500 lb
See latest price

Intermediate or advanced aerialists


F.Life Aerial Silks Standard Kit Pilates Yoga Flying Swing Aerial Yoga...
100% Nylon (33 feet long, 108 inches wide), no handles
2600 lb
See latest price

Ceiling mount


UpCircleSeven Aerial Yoga Swing Set Ceiling Mount Accessories, Black
100% Nylon, foam-padded handles
550 lb
See latest price

Multiple installation options


Aerial Yoga Swing Set - Yoga Hammock Aerial Swing - Aerial Sling Inversion...
Silk Nylon, foam-padded handles
600 lb
See latest price

Aesthetics and performance


HEALTHYMODELLIFE PINC Active Silk Aerial Yoga Swing & Hammock Kit for...
Nylon/silk blend (12.5 feet long, 9.2 feet wide), no handles
440 lb
See latest price
The YogaBody trapeze swing is the best choice for beginners because it is super easy to set up from an exposed beam, tree, or optional trapeze mount bar. These yoga swings are used in YOGABODY studios around the world. The handles are gym-grade and make it easy for beginner aerialists to feel safe and secure in their poses. They also guarantee a 10 year warranty for all parts of this yoga trapeze.
Pros
Simple setup if hanging from a beam, chin-up bar, or tree
Comfortable easy-grip rubber handles at 3 different lengths
Machine washable
Lightweight
Daisy chain straps included
Safety tested up to 600 lbs
Includes free DVD for beginners
Includes carrying bag
Cons
Ceiling hooks or stand hardware not included
Need an exposed beam or free-standing chin up bar
Not ideal for use in a doorway
This beautiful aerial yoga hammock comes in a variety of colors and includes extension straps, carabiners, and daisy chains for adjusting the installation height, but the core mounting rig is not included. The Tricot (polyester) silk-like fabric has a natural stretch and feels smooth on the skin. There are 6 different loops on the extension strap to allow easy adjustments in the height of the hammock. No handles are included, meaning this is a traditional-style aerial hammock best for holding poses for long periods and lounging.
Pros
Wide silks great for lounging or relaxing in a pose for extended periods
Extension straps, carabiners, and daisy chains included
Pre-knotted and easy to use right away on an exposed beam or tree branch
Hanging instructions and yoga swing pose guides included
Cons
Mounting rig not included, must be purchased separately
No handles (traditional aerial style)
This 11 yard aerial silk hammock has low-to-medium stretch and is best for more advanced aerialists. It is a true silks setup, meaning it isn't necessarily only for yoga. This studio-grade silk set includes heavy duty suspension hardware and a Nylon weave fabric that is 11 yards long and 108 inches wide. It can be set up as classic silks or hammock-style.
Pros
Certified high strength hardware rigging is included (carabiners, descender, mountaineering swivel, and nylon daisy chains)
Extra long, soft silk fabrics
Can be used as aerial silks or aerial yoga hammock
Heavy duty fabric
Beautiful color and aesthetics
Cons
No handles
May be more difficult for beginners
If you're looking for a ceiling-mounted aerial yoga swing, this is your product! The UpCircleSeven includes all ceiling mount accessories to safely install and hang the yoga swing from wood or concrete ceilings. It has a 550 pound load capacity and super strong 100% nylon fabric. The seat design is large and comfortable with thick padded handles and triple stitching.
Pros
Ceiling mount accessories and instructions (eBook) included
Multiple colors available
3 heights of handles great for beginners
Two hooks can be installed at width right for you
Super wide seat is comfortable for all body types
Cons
Not great for renters or those without proper ceiling studs
May need to be modified for certain suspension setups
Lower quality handles than other brands
If you're looking to use your yoga hammock in multiple places, this is the set for you! This hammock is affordable, portable, and versatile for both indoor and outdoor use. It does not include mounting hardware.
Pros
Broad range of installation options (straps, beam, ceiling, tree branch, or doorway)
Ultra wide hammock-style seat for maximum comfort (98" x 59")
Double layered material
eBook with hanging instructions and starter poses included
3 layers of foam-padded handles
Storage bag
Can be mounted in doorway or on exposed beam
Machine washable
Cons
Only carabiners and extension straps included
Mounting hardware (suspension ceiling hooks) not included
Fabric is not silky; it is a parachute-type material
The Healthy Model Life silk yoga swing is by far the most aesthetically pleasing and silky smooth product we reviewed. It is a true aerial silk setup without handles and is great for aerial performance or an aesthetically-pleasing aerial setup in your home. This silk swing can be easily moved around for indoor or outdoor use. It is also very wide for lounging, relaxing, and extra support in inverted poses.
Pros
Complete yoga kit includes hardware; ready to setup as soon as you receive it (if you have a beam, branch, or solid pipe to swing from)
Softest silk material
Stretchy silks make it easier to transition between poses
Ultra wide cocoon-like silk swing
1 year guarantee on all swings
Cons
Not for concrete ceilings
No handles (may be more difficult for beginners)
Health Benefits of Aerial Yoga
There are so many surprising health benefits to hanging upside down and practicing yoga off the floor. The main benefits include:
What to Look for in a Yoga Trapeze
The best yoga trapeze or hammock is going to be different for everyone. Do you want to practice outdoors or in your home? Do you have a structural beam in your room ceiling or do you rent and need something more temporary? These are just a few of the things to consider before buying your first yoga hammock.
Weight Load
Most modern aerial yoga sets are designed to hold weights of 200 to 600 pounds or more. Parachute-grade nylon tends to be the strongest, but silk and taffeta materials are also very great at weight bearing. Aside from the fabric, you also need to consider the weight bearing capacity of the suspension itself. The frame/ceiling supports, carabiners, ropes, and/or O-rings need to be able to support more than your body weight.
Fabric Width and Length
As mentioned above, the main difference between hammocks and swings is the length and width of the fabric. The yoga hammocks tend to have a wider seat-like silk to sit on. On the other hand, yoga swings are longer and thinner pieces of fabric to wrap around your body and hang. Depending on your body type and practice style, pay attention to the measurements of the yoga silks themselves. Longer silks allow for more freedom with aerial play and complex movements like aerial silk rolls. Shorter silks are easier for beginners.
Type of Fabric
Most yoga trapeze sets are made from parachute-grade nylon, silk, taffeta, or a combination blend of these fabrics. Silk is the most flexible, whereas nylon tends to be less stretchy. It is best to attend an aerial yoga class to figure out what type of trapeze feels the best for you before buying.
Handles or No Handles?
Most yoga swings and trapezes are equipped with handles, while traditional yoga hammocks are handle-free. Handles are definitely easier for beginner aerial yogis, however they are not necessary to perform standard poses. If you prefer handles, make sure they are padded for comfort.
Suspension Method
Pay close attention to whether or not a new yoga hammock includes hardware. Many require you to install an existing suspension system (these are described more below). Get very clear on where you want to practice: freestanding, hanging from a strong tree branch, hanging from a doorway, or suspended from a ceiling beam.
How to Hang your New Aerial Yoga Swing
Most yoga swings can be rigged to hang from a variety of indoor and outdoor suspensions, however some may require modification. Be sure to check the hardware kit (if included) of your yoga swing to make sure it can be used for your hanging preference.
Door Frame Bar
Hanging from a door frame is the easiest, quickest, and cheapest way to hang a yoga swing. It is great for renters or people without construction skills.
The YOGABODY Naturals Trapeze Door Frame Bar makes installation a breeze in most all standard door frames. It is typically recommended that your yoga hammock is secured roughly shoulder width apart, so some doors may not be wide enough for comfort. You will also be constrained when it comes to sideways movements.
Suspension Hooks
If you prefer more open space to practice, ceiling suspension hooks include brackets and carabiners to install your yoga swing in the middle of a room. You need to have an accessible wooden beam and may need to use a wall stud finder to ensure that there is a support in the ceiling before drilling in. If properly installed, suspension hooks are very safe, but they do require some handy work. This is the best long-term solution for avid aerialists.
Exposed Beam
In an ideal world, we would all have glorious hardwood exposed beams in our home or studios. You can simply loop your daisy chain straps over the beam, add yoga swing carabiners, and start practicing right away!
Tree Limb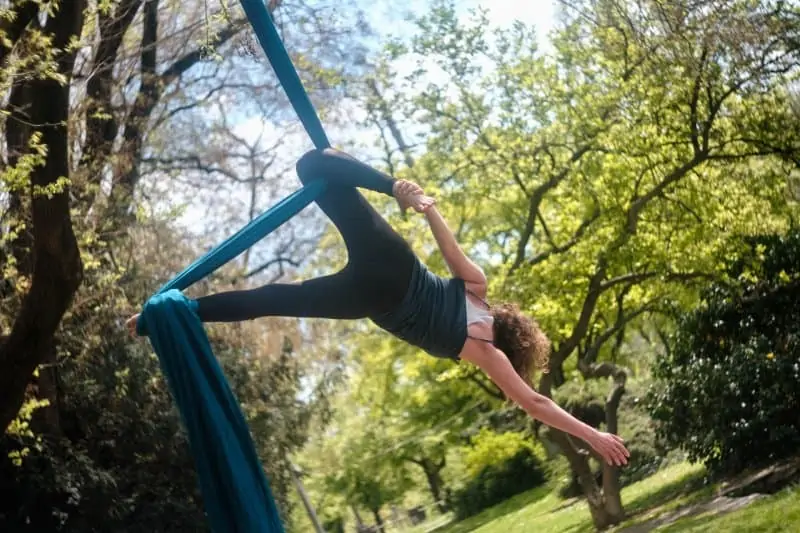 A sturdy tree limb is the most natural choice for hanging on a nice day. Outdoor aerial yoga is a beautiful experience and the mounting is fairly simple if the branch is of the right thickness, sturdiness, and height off the ground. Most trees that can support a regular hammock are fine for hanging a yoga hammock, just be sure to test the flexibility of the limb before trying any inversions.
Freestanding Yoga Trapeze Stand or Aerial Rig/Frame
If you prefer not to do any hanging from the ceiling, doorway, or a tree branch, then a freestanding trapeze stand is the choice for you. This is a metal A-frame that can support your yoga silks basically anywhere. This option is significantly more expensive than the others and won't allow you as much height as ceiling-mounted options.
Defy Gravity and Enjoy the Release!
Have you tried any of these yoga swings or hammocks? Have they helped you with back pain or improving your yoga practice? We'd love to know.
Namaste!