Atmosphere is everything when it comes to yoga studio design. Given the price of yoga memberships these days, most people want their experience to be top notch.
Certain studios have that special something it's hard to put your finger on… they're clean, minimalist, zen, earthy, inspiring, like a breath of fresh air. Maybe it's the yoga instructor or membership perks that attract people to sign up, but it is the vibe that keeps them coming back.
Here are the top tips I've learned after visiting dozens of yoga studios around the world. Take these ideas and principles, mix them with your own unique flair, and you just might strike gold with your new yoga studio design.
Design Themes
The first step to designing an inspirational and inviting studio space is to consider your theme. A theme should be built around your studio's mission, branding, and key offerings to your members.
You want people to feel a certain way in the space
How to Find Your Theme:
Write your studio's mission statement
Pinpoint your studio's color palette (often based on your brand's logo design)
Choose 5 words that describe your studio's core values
Choose 3 words that describe how you want people to feel in the space
Make a mood board including all above elements and use it to pinpoint
Inspirational Theme Ideas:
Move Studio in London has a chic industrial theme with lots of natural light and botanical accents. This speaks perfectly to their modern, hip clientele in the affluent Fulham area of London.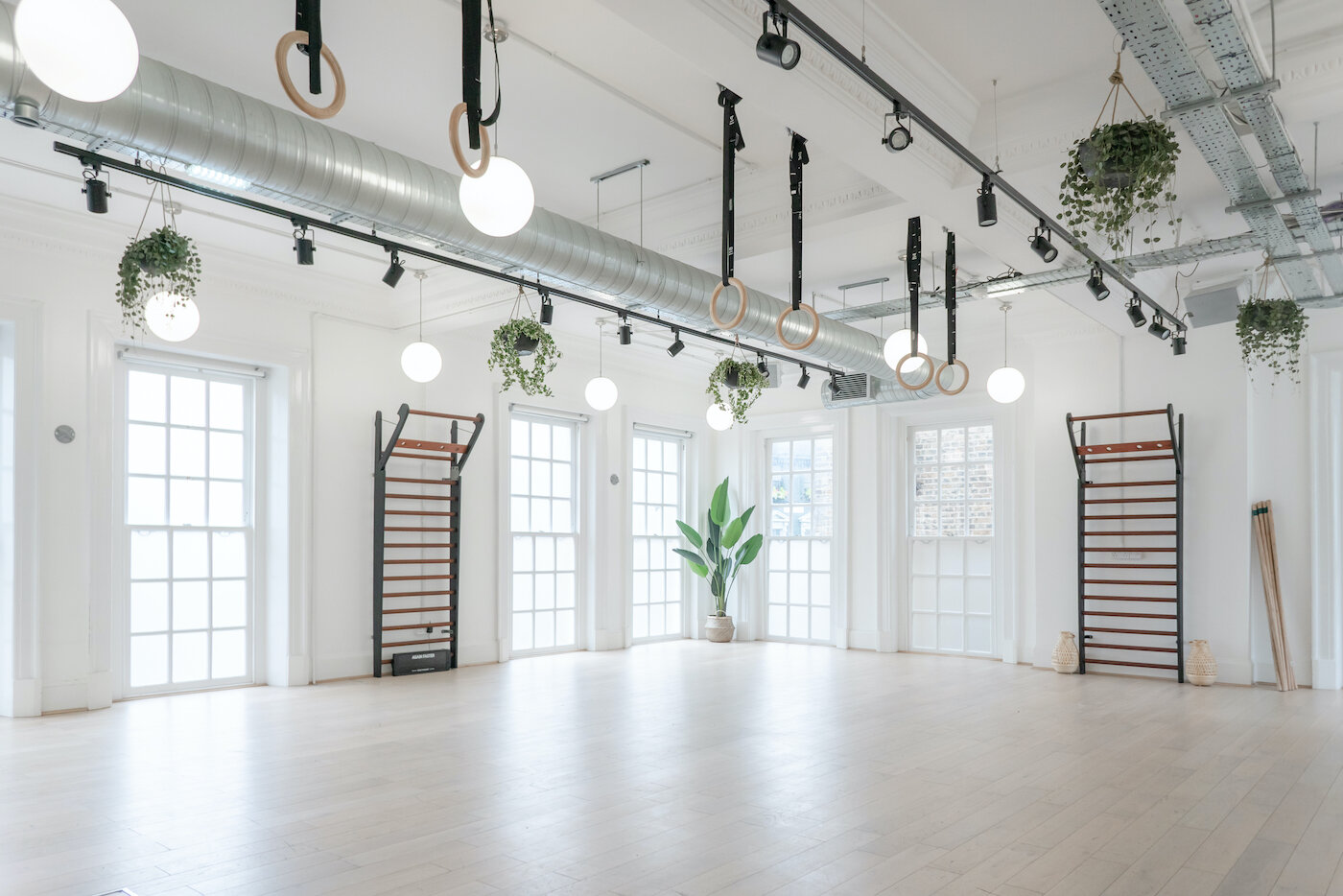 Vybe5 in Frisco, Texas has a minimalist fitness and gym theme. This an infrared studio that combines yoga, strength training, and cardio. The space reflects their "intensity meets serenity" motto with minimalism, organized weight racks, flat screen TVs (with timers), and a large wall mirror.
River Yoga in Denver, Colorado has a boho earthy theme with natural wood, eclectic lighting, and rustic flooring. This appeals perfectly to their target demographic.
Budget Tips
A hot yoga studio in downtown NYC is obviously going to cost a lot more than a small town zen yoga studio. The budget for a new studio design can range from $15,000 to $100,000 depending on location, size, amenities, and upgrades (remodeling, soundproofing, ventilation, heating/cooling, plumbing etc.) To keep your budget low, pay close attention to existing infrastructure like bathrooms, office space, and HVAC systems before renting a space.
Main Design Elements
You can use marketing psychology to adapt these 9 key design elements to your specific goals and context. Be sure to clarify and rank your most important design elements before you start searching for rentals.
Space Consideration
You want to make sure you can accommodate guests of all shapes, sizes, and comfort levels. Many studios found that the 2020 pandemic added a crucial space consideration to their studios, leading to larger rooms, smaller classes and/or wider spacing between mats.
When designing your studio space, clearly define the maximum number of students per room. Take into account the size of a standard yoga mat (24" x 68"), the types of classes, and the amount of space between guests.
Circulation
The best studio layouts are wide open and have a certain flow of movement. Students should have a clear path from the parking lot to the front desk, lockers, bathrooms, and their mat in the main room. Draw out a map of the building with arrows of how you want people to move between spaces.
Air quality
A high quality air purifier and ventilation system is a must for any yoga studio. Air needs to be continuously circulated throughout the rooms to maintain a fresh smell and an oxygenated environment. Windows, doors, fans, and advanced HVAC systems can be combined depending on your location.
Acoustics
There's nothing worse than hearing bumping bar music beneath you as you try to focus on savasana (trust me, I've tried). Perhaps it should go without saying: don't start a yoga studio above a bar or in high-traffic noisy areas.
Soundproofing and acoustics can make or break your studio, so make sure you get them right. Natural soundproofing materials include cork, bamboo, sheep wool, coconut husk, and compressed cotton panels. Some studios also use fabric panels as an additional layer on the ceiling for acoustics and aesthetics.
Flooring material
Yoga studio flooring should be firm and easily cleanable, but not too hard or too soft. The best flooring materials are wood, cork, bamboo, or laminate. All carpet, tile, linoleum, and concrete should be avoided.
Ceiling Height
The height of your studio's ceiling should be at least 8 feet or more. Even the tallest student should be able to reach their arms far up above their heads in any pose. Higher ceilings also create more airspace and a more open feeling to the room.
Privacy
Big windows overlooking a busy street are not ideal for any yoga studio. Most people want the freedom to relax and not feel that they are being watched. Ensure that you have curtains and strategically placed walls that keep classes away from public viewing.
The Outdoor Area
Outdoor yoga studios are becoming increasingly popular. If you have the right location, consider designing an earthy covered deck or rooftop patio where you can host classes as well as events. Lots of plants, privacy, and shelter from the elements is a must. An epic view is a bonus!
The Reception Area
This is the very first impression people have when they walk into your studio; make it count! The reception area should be
Style and Décor
Yoga is inherently relaxing and inspiring. A studio should feel like an escape from the stress of the outside world. Reinvigorate your students with a style that bridges back to the theme brainstorming exercise you did above. Consider every element of decor a key part of your message as a business.
Colors
Emotions and perceptions are highly impacted by color. Color psychology shows us that cool colors evoke feelings of energy and coziness, whereas warm colors feel more serene and relaxed. Research color theory and determine the types of emotions you want inside your yoga studio. Pastels are very popular for yin and vinyasa style studios. Brighter colors with contrasting black or grey tones are great for higher-impact ashtanga style or hot yoga studios.
Greenery
Plants, plants, and more plants! Greenery is always growing in popularity amongst yoga studios because of their natural tendency to attract earthy people. House plants, open windows, gardens, and even vertical "living" walls set apart a mediocre studio from an extravagant one. Just keep in mind that these will require a high level of maintenance, watering, and adequate light. Some studios opt for fake plants, but I wouldn't recommend it.
Decor
It's best to keep yoga studio decor to a minimum to avoid a cluttered appearance. Most decor will be concentrated in the reception area and maybe in the bathrooms or locker rooms.
The classic Buddha statues and zen wall hangings will be great for traditional themes, however more modern industrial studios may opt for sleek pipe shelving and Edison lighting fixtures. Choose your decorations wisely so you don't overwhelm the setting.
Lighting and Ambiance
Use eye-catching central lighting fixtures that fit your theme, such as round lantern lights for a bohemian theme, a vintage chandelier for a classy European theme, or dangling string lights for a cafe style. Accent lighting should be dimmable and abundant along walls and in spaces in the ceiling. Color-changing lights are a versatile way to change the ambiance for different classes.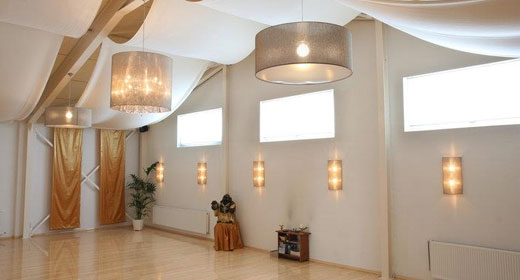 Plants and Trees
Botanical decor makes a space more welcoming, calming, and natural. They also purify the air. Just keep in mind that plants and small trees will need care to keep them lively and healthy. Some easy low-maintenance indoor plants include snake plant, spider plant, rubber plant, philodendron, and the coveted vining pathos.
Accessories
It's important to have yoga mats and other accessories available for people to rent or borrow. This will make your class more accessible to beginners and also offer another opportunity for aesthetic appeal. Tall shelving and stacked items are appealing to the eye and make it easy for guests to return accessories when they're done.
Scent
Scents awaken our attention and associate with feelings in our brain, which determines how we think about certain places. An essential oil diffuser is a must. This sleek cold air diffuser is one of the best on the market, with soft LED lighting and timer scheduling.
Choose your EO combinations based on the mood you seek to invoke, for example, cedar and rosemary are grounding whereas lemon is refreshing and rose is confident and strong.
Music
I've found that yoga studios have really diversified their music tastes in recent years and it is a great opportunity to attract new demographics. Workout-focused studios should opt for up-beat and even hip hop music. Meditation and yin style studios can use soft traditional Indian music. Modern and urban studios may opt for soothing singer-songwriter music.
Choose a high quality bluetooth speaker system that evenly distributes music throughout the space. Create playlists ahead of time on an ad-free platform like Spotify to make sure flows aren't interrupted by annoying commercials. You may also want a PA system that can link to the instructor's microphone headset.
Walls and Mirrors
Mirrors make a space feel bigger than it is and allow students to check their form during practice. The best yoga studios have an entire large wall of mirrors. Gym and dance studio glass suppliers are a great place to source wall-covering mirrors. Other walls should be simple and single-colored to avoid distractions.
Facilities and Amenities
Not every studio has a lot of amenities, but I can assure you that the ones who do have always been my favorite. Facilities make your guests feel like they're getting the most bang for their buck and enjoying a more luxury experience.
Showers
Showers are most important for hot yoga studios. They will incur a large additional water, heating, and cleaning cost, so be sure to adjust your membership rates accordingly. For a small studio, 1-3 showers will do. A larger studio may opt for a gym-like setup.
Locker Rooms
Nobody wants clanky loud gym lockers disrupting their studio practice. But yoga guests still need a place to safely store their belongings during class. The Zen Den Yoga School has an exquisite example of wooden lockers, private showers, and mirrors. A smaller studio can source pre-made lockers or shelving online. Don't forget benches, shoe storage, and a changing space to make your guests feel extra cared for.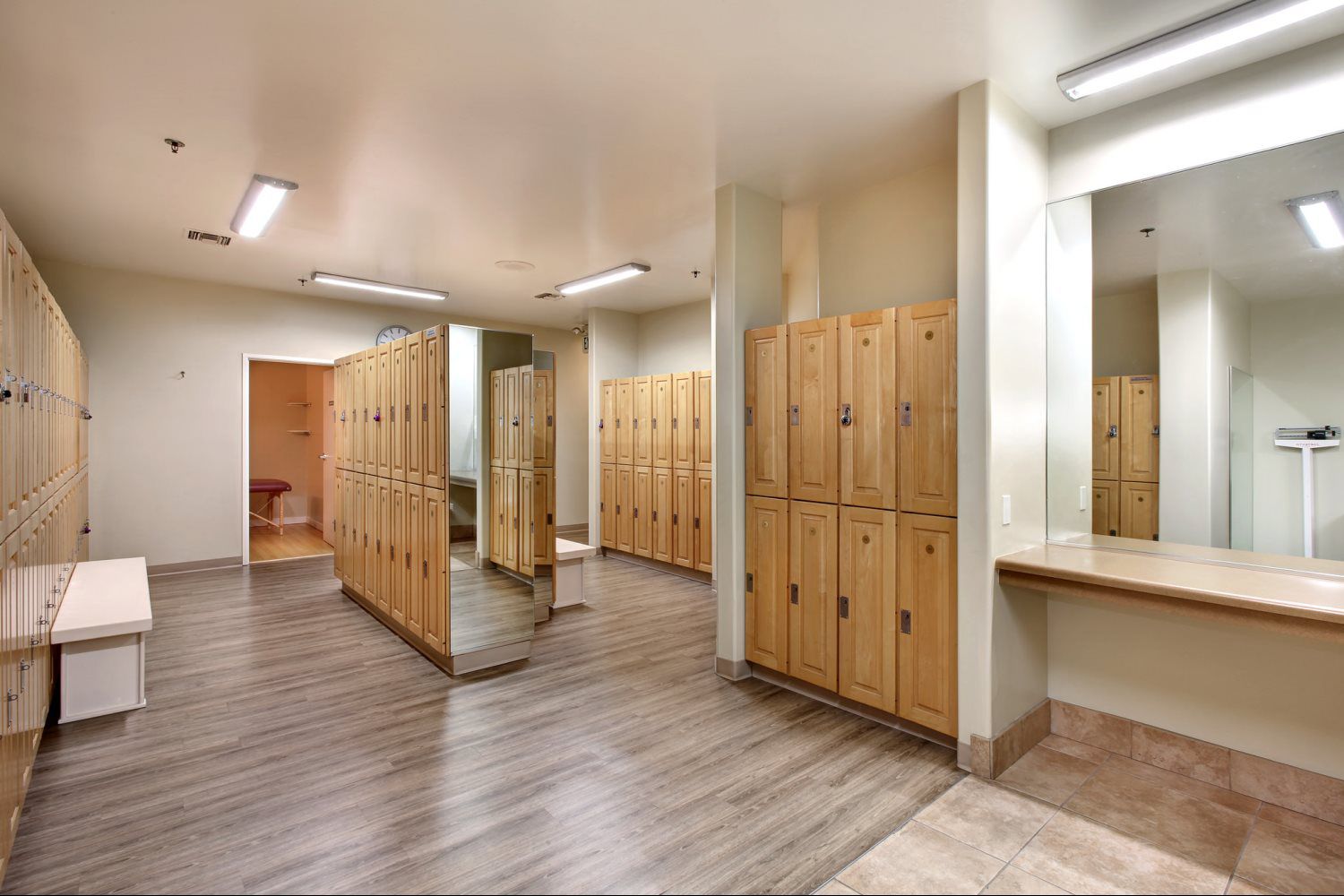 Retail Merchandise
Merchandise such as branded shirts and apparel, as well as yoga gear, books, supplements, healthy snacks, kombucha, local artistry, jewelry, candles, incense, and meditation gear are all great options for additional revenue in your studio.
Use your retail items as another opportunity to decorate with sleek displays and a very organized aesthetic.
Lounge Area
If you want to build a community around your yoga studio, a lounge area is a must. Strategically select fabrics and pillows for a seating area that welcomes people in to socialize before and after classes. Consider offering hot tea or kombucha for sale as an extra revenue stream.
Design With Intention
In conclusion, the most thriving yoga studios have thought through every detail of their customer experience. If people are paying for a high-end yoga membership, they want to feel like they are entering a relaxed, inspirational, and grounding space that is both trendy and functional.
Think about your overall intention for the studio every step of the way. Each detail matters and they all work together to create a peaceful and invigorating escape from the stress of the outside world. Invite your guests onto the mat with intentional design that reflects your core ethos.
Have you used any of these design ideas in your yoga studio? Share with us in the comments!
Namaste!