If your dream is to make a living out of teaching yoga, promoting your offering is part of the job description.
Yep. Self-promotion. I said it.
Hmmph. I know. (Cue eye roll).
Along with the words "self-promotion," follows the stigma it carries as salesy, annoying and tacky. To some, it may not feel "yogic" to promote a spiritual practice so many hold as something sacred.
But if we are to spread the yoga love to the masses, promotion (be it "self" or otherwise) comes with the territory. How else will you get the word out?
Let's learn together why promotion is necessary and how to do it gracefully so that you, too, can make it as a yoga teacher.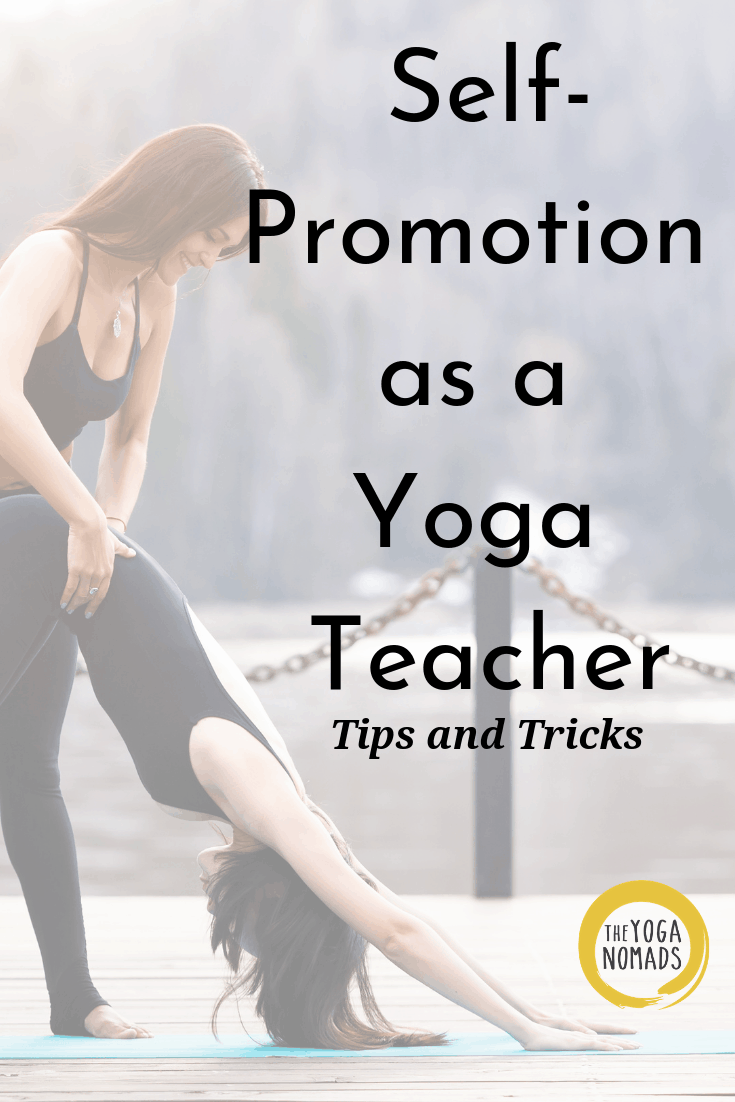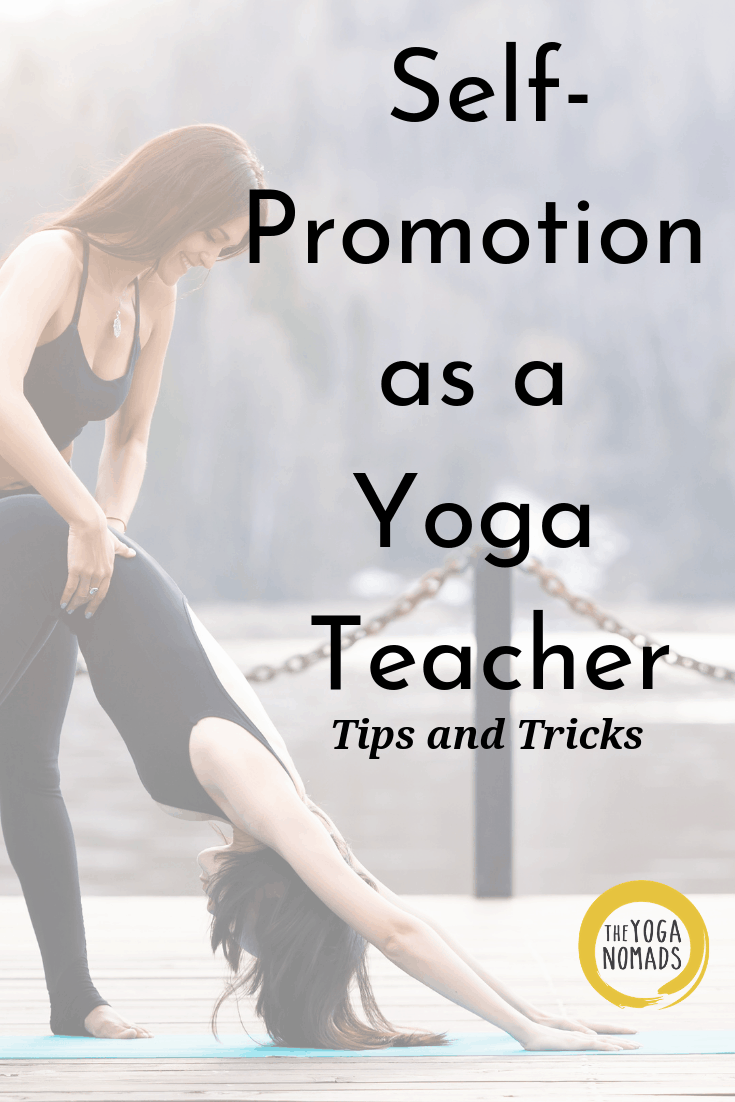 Pin me first? Then keep reading! 🙂
In a sea of yoga teachers chomping at the bit to make themselves known, standing out is becoming more difficult and more important than ever before. Whether or not said yoga teachers are trying to quit their jobs to teach yoga full-time, it's still important to claim your spot in the yogiverse and make yourself known.
Along with learning how to market yourself as a yoga teacher, learning how to tastefully self-promote your offerings doesn't always come naturally.
The idea of self-promotion may send a quiver down your spine… I understand because in some ways it does the same for me. However, learning that self-promotion is really more about promoting your unique offering than it is selling your soul, is important to clarify.
We've all seen the yogis who may or may not show a lot of skin as they twist their bodies into poses that are more accessible for a gymnast than your average yoga practitioner. Perhaps you can call that self-promotion, sure, but is it that how you want to attract students?
With the ways technology influences brand promotion and overall awareness, we are strapped with the vehicles needed to get our own offering to the masses. I imagine you are reading this from your phone or laptop, right? If so, you have half the equation to self-promotion.
But learning how to do this in a way that resonates with you can be challenging as you sift through the "same-same-but-different" yogis all over Instagram.
Here are a few tips to consider as you implement self-promotion into your marketing strategy as a yoga teacher.
Know your niche.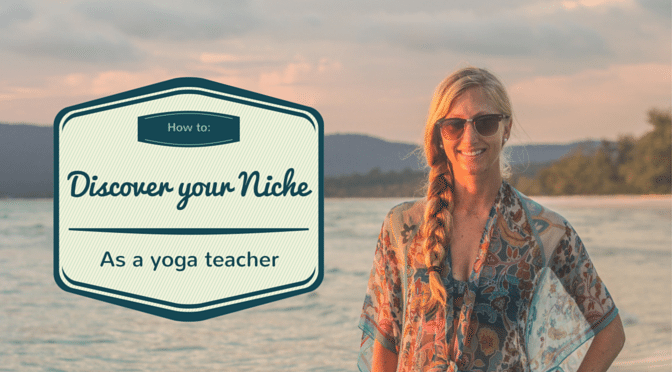 Here at The Yoga Nomads, we talk A LOT about honing in on a specific niche, and really owning it. That's because your niche is the foundation in which your entire marketing strategy lies upon. Without a clear niche, you won't have a clear strategy of who you are trying to reach.
Now, if contorting your body into crazy shapes while wearing a swimsuit resonates with your niche, by all means – go for it! For some reason, I'm sure that won't work for all of you. 😉 For instance, if you're targeting yoga for seniors, chances are they don't spend as much time as millennials on social media so Instagram is probably not the best use of your time. Knowing your niche goes hand in hand with knowing your audience. Know it, own it and go from there.
Be clear about what you want and what you're asking for

.
If you aren't 100% clear on what it is exactly that you want or are asking for, your message will come across weak and even dishonest. If you aren't sure about what you want, how will you go about asking for it?
You're not going around tooting your own horn, you're simply asking for what it is you want, with confidence and a sense of complete knowing. Clarity about what you want can help ease your mind about the stigma around self-promotion. Create goals about what you want and set a plan to achieve them.
Serve. Don't sell.
I know right? No selling in self-promotion?! Hallelujah! As yoga teachers, we are in service to our students. This act of service doesn't stop outside the studio. Whew! Rather than selling your soul, let your actions be your sales pitch.
You are a hard-working yoga teacher – if you are committed to delivering great classes, continue to deliver great classes. Your vibe will undoubtedly attract your tribe. Continue to act as the yogi you want to be, and the "selling" will take care of itself. Done and done!
Strive to be the best at your craft.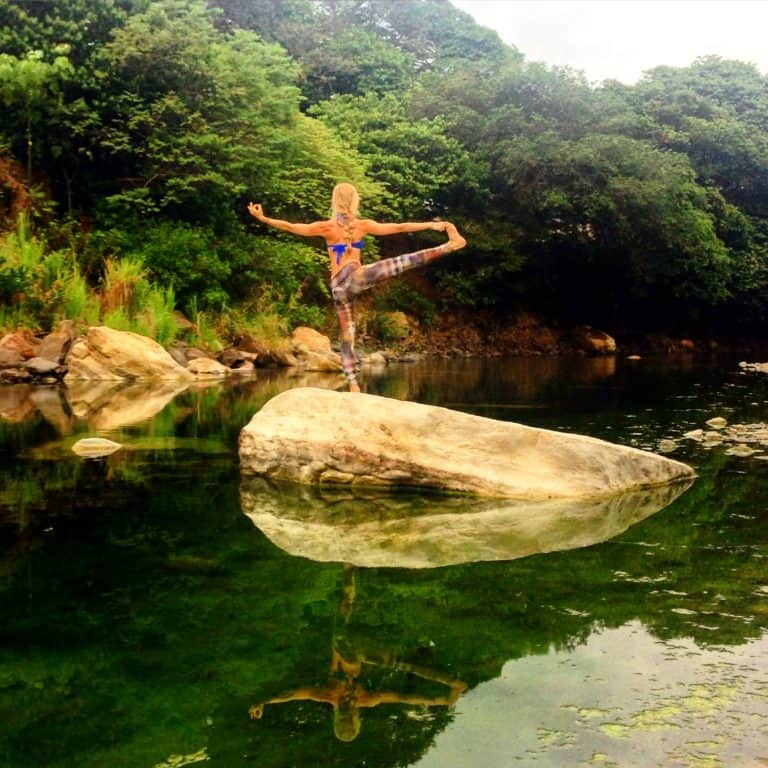 This starts with believing in yourself! If you're omitting mediocrity, you'll get mediocrity in return. If you're the best at what you specifically do (your niche!!), the self-promotion becomes easy. People want to learn from the best, so do your best at being the best. Is that clear? 🙂
Be proud and honest about your credentials.
Toot toot. Go ahead and toot it. 🙂 Be proud of all the training and certificates and more training that you've experienced. After countless hours dedicated to learning (not to mention thousands of dollars too!), it's not just encouraged but necessary you include your credentials on your website and other marketing media. This doesn't mean you need to shout it from the rooftops, but listing out your credentials on your resume or website is beneficial when getting your name and brand out in the market.
Be authentic.
If you're going to do ANY of these suggestions to self-promote, do this one! Something tells me you've already got this covered…! Probably the most important tip of all, which can be included on any and all lists I create for The Yoga Nomads readers. 🙂 If you're not genuine in your efforts, it will definitely come across that way to your audience.
Being authentic is included in your recipe for success as a yoga teacher and really in anything you do in this lifetime. If you're not being you, who will you be?
Let's wrap up.
Self promotion as a yoga teacher doesn't have to be a scary process. But I understand the hesitation. I really do. If you can adopt the mentality that you are serving your students, clients and the people who have yet to discover yoga, it may feel a bit easier to do. Implement a few of these tips and suggestions and go from there.
Still have questions? I'd love to hear from you. Drop me a line: theyoganomads@gmail.com or leave a comment below.
Until next time,
Anne
PS: Did you enjoy this article? Pin me! 🙂