Pricing your online offerings is an art form. It takes time, attention and a fair assessment. You want the price to match the value you're giving.
And what you offer IS valuable. Undervaluing your services does both you and your potential clients a disservice.
Setting a price all begins with your money story. We all carry some sort of baggage around money. My hope is that this post will share a few ideas and resources for shifting your money mindset in addition to providing useful tips to help you price your offerings accordingly.
I sense a bit of an online culture of "charge as much as you possibly can if you want to be truly abundant." My thoughts on this issue align more along the lines of: find the balance where the energetic exchange is equal overall.
Note that I said 'overall' — meaning that if you choose to, you can still have free offerings or sliding scale work. So for each individual exchange, the value doesn't need to be equal. But overall, the exchange (the value of what you offer with the value people receive) should be equal. If not, you're likely headed towards burnout, disillusionment, and giving up entirely on your business.
First, let's begin with understanding how your money mindset plays a role in how you'll price your offerings.
Shift Your Money Mindset
We all have a money story. This narrative is run subconsciously and dictates how we interact with and think about money. When we implement subtle mindset shifts, overtime we can change how we engage with it. Shifting your money mindset has a lot to do with understanding the limiting beliefs you have around money.
Some good questions to ask to get started are:
What did my parents teach me about money (not just with their words, but with their behavior)?

How do I feel about spending money?

How do I feel about saving money?

What are some things I regularly say about money? Some common ones are "I'm broke," "That's too expensive," and "I can't afford it."
Some of my favorite resources for shifting your money mindset are this video, 6 Little Money Mindset Shifts That Pay Off Huge, from Marie Forleo and this post, 7 Ways to Transform Your Money Mindset, from Elyse Santilli.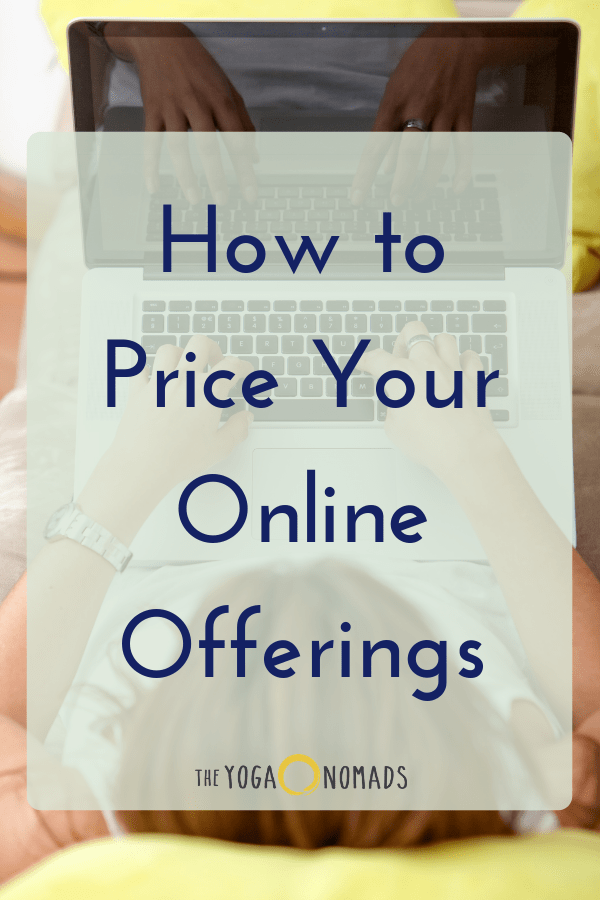 Pin me first? Then keep reading!
How to Price Your Online Offerings
First of all, what are "online offerings"? For the purposes of this article, let's focus on two things: courses and private sessions (like coaching).
Ensure you do the necessary research to see who else is offering something similar. Another way to say this: do your market research. From here, you'll get a ballpark of how to price your stuff. If your competitors have years more or less experience than you, price accordingly. It's a delicate balance.
Here are some important questions to ask yourself as you price your online offerings:
What is your baseline? What is the minimum you feel comfortable charging? You can use this as your starting point, knowing that you won't charge any less than this. (Hint: You'll be able to trust your baseline a lot more if you do the money mindset work above!)
What benefits will this person receive from your offering? Will they learn how to have their own at-home yoga or meditation practice? Will they gain increased confidence, peace, or self-awareness? Will they learn how to connect with their creativity? List out every benefit, and don't sell yourself short!
What do you think those benefits are worth to them? Benefits don't have to be directly financial. You may be teaching something like How to Meditate for Beginners, rather than certifying students to teach yoga. That's okay! There are still benefits, as you well know, that students will gain from learning how to meditate. What is it worth to be less reactive and more accepting? What is it worth to learn to love yourself more? What value do you place on those non-monetary benefits?
But in terms of financial benefits, remember to consider money saved (on things like studio yoga classes and health costs) as well as money they may make.
What are you hoping to make from your offering? Let's say you're hoping to make $2,000 from the online course you're launching. Some simple math will help you break it down:
Goal = Number of Customers x Price
You have your goal number ($2,000). You want to solve for price. So it comes down to how many customers you think you'll have. Consider:
If this isn't your first course, how many people purchased your last course?

How many email subscribers do you have, and what's your average conversion rate? If you're not sure or you haven't sold to your email list, use the standard rate of 2%. Assuming you have an email list of 1,000 people, you can expect about 20 people to buy.
You can use the answers to the two questions above to estimate the number of people who will buy.
Using the example of 20 people, we can see that you would want to charge $100 to make $2,000 from your offering, assuming that 20 people buy.
This is a simple estimation, but it can help you get closer to the answer you're looking for.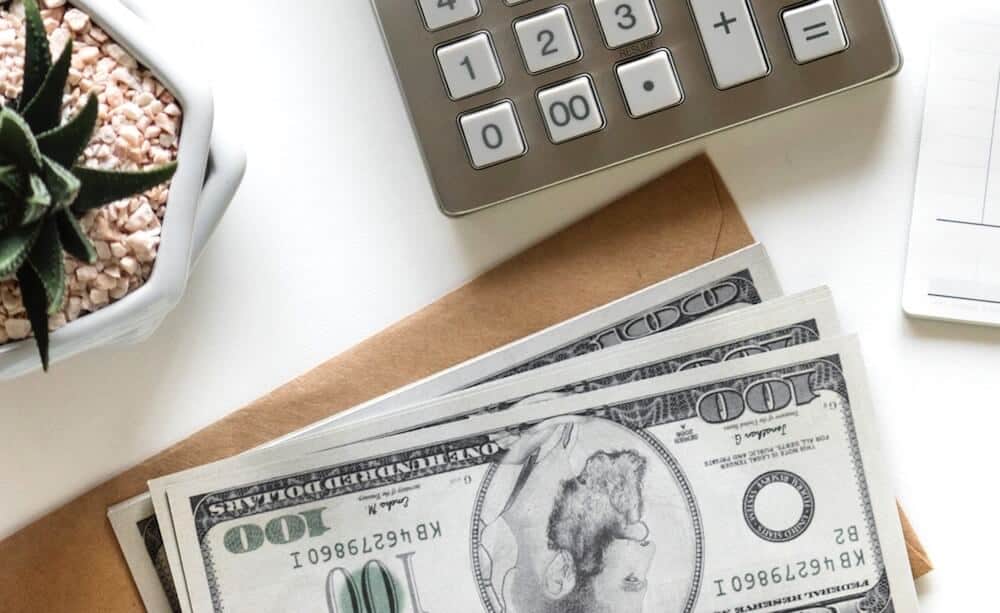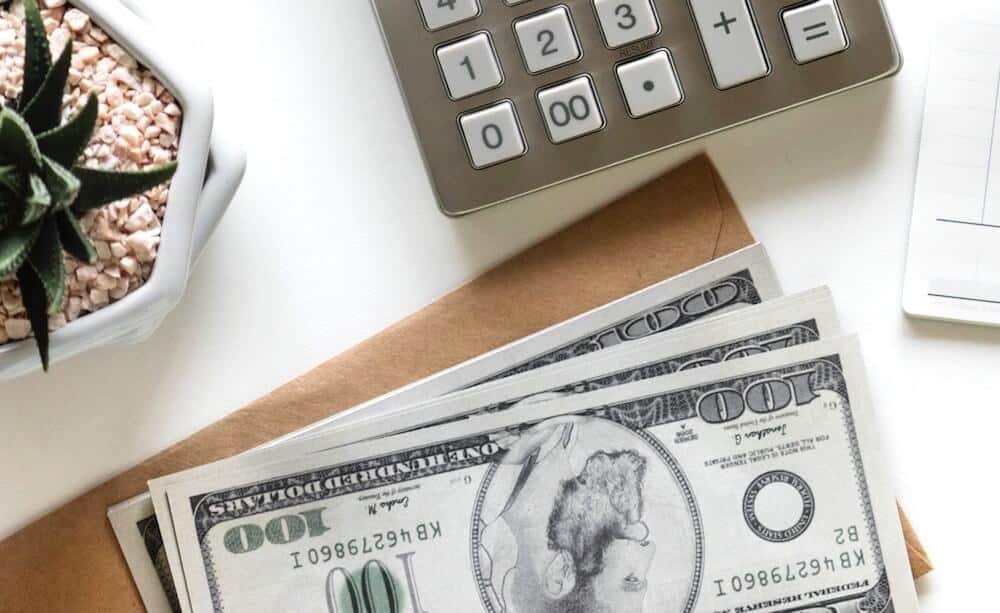 Make Offerings Accessible
Like me, you may be passionate about making your healing work accessible (read: affordable) to more people. But at the same time, you still want to be well compensated for your work. Here are some tips to help you find that balance:
1. Consider using sliding scale. Here's how it works: you set a price range you feel comfortable with (say, $30-$50) and let people self-select their price within that range. Those who have less money at the moment have the option to pay less, and those who have more money have the option to pay more (to help support you in offering lower cost sessions or entry to those who need them).
2. Offer a limited number of free or low cost private sessions for marginalized peoples. The key here is limited number. This is an amazing thing to do if you're able, but remember not to burn yourself out offering free sessions.
Check out some teachers who are doing this below:
Liana Naima

(pay what you can private sessions available for struggling women of color)

Alexandra Roxo

(2 free private sessions per month for anyone in need)
3. Give a limited number of need-based scholarships for your course. Create an application form asking any questions you feel are relevant, like:
Why are you interested in this course?

Tell us what you hope to get out of the course

Why do you feel like you need this scholarship?
It's okay to ask why they want to win a scholarship– but be careful about creating shame around their need for free entry. I invite you to allow candidates to self-select here, just like with sliding scale. Trust that people who are asking for help need it, rather than making them prove their need with an income requirement.
Let's Wrap Up
Know your worth so you know your value. If you don't believe in yourself, you will undoubtedly undervalue your services. Have an honest conversation with yourself about your money mindset, then take the necessary steps to change it into one that serves you.
As you begin to implement these subtle mindset shifts, you can then figure out how to price your online offerings. Make sure to do your market research, then consider what you need to make from what you're offering. Allowing your services to be accessible to everyone, will also mean you'll need to think about the ways to do so, that I've mentioned above.
Overall, don't charge less than what you're worth. You're WORTH IT!
Looking for additional resources? Check out some of our other articles:
Of course, before you start selling your online offerings you need to have a killer website. If you don't have a website yet or know that yours could use a refresh, click below to download our free 3-part video training on creating your yoga website!
What are your biggest struggles when it comes to money mindset and pricing your offerings? Comment below and let us know– you might inspire our next article!
PS: Did you enjoy this article? Pin me!