All successful people have certain things in common. They walk confidently with their head held high, pick themselves up after setbacks, and are not scared to go after what they want. How do they have such confidence and fearlessness? Because they genuinely believe in themselves and their abilities.
Self-esteem and self-worth are vital qualities to cultivate if you want to achieve your goals. However, self-confidence is not a trait that a person is or isn't born with; it is a quality that has to be developed. Many practices and tools can help you develop greater self-worth, one of which is repeating self-esteem affirmations.
To help you build rock-solid self-esteem and break free from negative thoughts once and for all, I'm sharing the eight best self-confidence affirmations cards on the market. These innovative decks feature powerful affirmations for self-worth to help direct you to the right path and become a better version of yourself.
Best Self-Esteem Affirmations Cards
Top 8 Self-Worth Affirmations Cards
Product's Name
Number of cards
Features
More Info

Everyone including beginners


100 Affirmation Cards for Women and Men With 150+ Thought-Provoking...
100
Double sided - affirmations on the front and self-reflection questions on the back, Pocket size, Unisex design
See latest price

Women of all ages, Yogis


Positive Affirmations Cards for Women | Motivational Cards with...
45
Double sided with longer guidance on the back, Beautiful artwork, Unique square design
See latest price

New Mothers


New Mama Affirmations - A Warm and Vibrant Deck of 20 Uplifting Postpartum...
20
Specifcally written just for new moms, Double sided for double the guidance, Durable & waterproof
See latest price

Children aged 6 to 12


Mal Paper Kids Affirmation Card Deck - 52 Pack | Great for Mindfulness...
52
Simple affirmations that children can understand, Eye catching orange design
See latest price

Anyone skeptical about affirmations, Anyone who needs more humor in their life


Affirmators! Original: 50 Affirmation Cards Deck Affirmators Original Cards...
50
Written by a comedian, funny statement and artwork
See latest price

Women, manifesters, entrepreneurs, spiritual seekers


I Know Collection Affirmation Cards – Positive Affirmations Cards with...
40
Assists in the manifestation process, Stylish feminine design,
See latest price

Women of all ages, mums, business women


Affirmation Cards for Women Balance — 52 Positive and Motivational Cards...
52
Double sided: affirmations on the front and empowering questions on the back, Includes downloadable guidebook
See latest price

Anxiety sufferers


Sunny Present Less Anxiety Affirmation Cards - 45 Beautifully Illustrated...
45
Affirmations based on principles of mindfulness, Calming colorful illustration, Pocket size
See latest price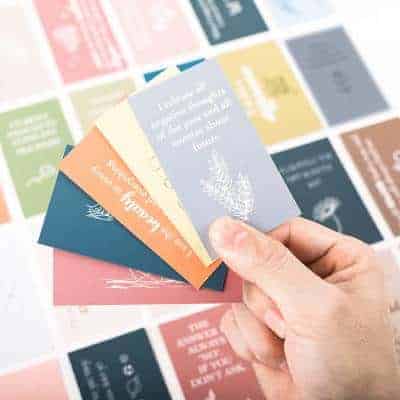 Best Unisex Affirmation Deck:
100 Affirmation Cards for Women and Men With 150+ Thought-Provoking Questions, Unique Affirmation...
See latest price
While many affirmation cards are designed for women, the Brytefy affirmation deck features a simple minimalist style with neutral colors and self-worth affirmations that are not gender-specific. The deck contains 100 cards with a powerful declaration on the front and 1 to 3 thought-provoking questions on the back relating to that affirmation.
The deck includes affirmations for self-worth and self-confidence, helping to stop negative self-talk and silence our inner critics. You'll find statements like "I find ways to love and overcome challenges," "I trust myself in making great decisions," and "I am living in alignment with my purpose."
Another great thing about these cards is their size. Each card measures 2 x 3.5 inches, so you can easily fit them in a wallet, purse, or pocket, allowing you to practice affirmations on the go.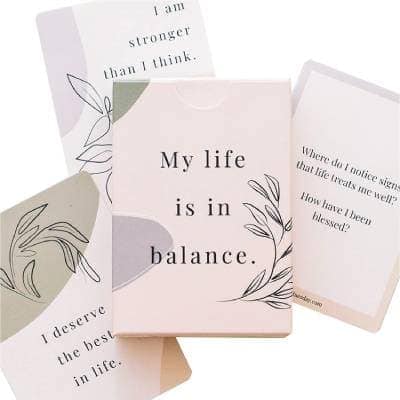 Best Affirmation Deck For Women:
Positive Affirmations Cards for Women | Motivational Cards with Thought-Provoking Questions, Daily...
See latest price
The Ariond positive affirmations deck is one of the most beautiful set of cards aimed at women. The cards are a unique square shape, measuring 4.5 x 4.5, and with rounded corners. The beautiful artwork accompanying the positive statements adds to this original, eye-catching design.
These affirmation cards are also double-sided. There is a short but powerful affirmation on the front and an insightful message on the back to help you reflect and take action aligned with your true self. Examples of self-esteem affirmations found in this deck are "the power to change my world lies within me," "I choose to let go of fear," and "I am grateful for all that I have and all that I am."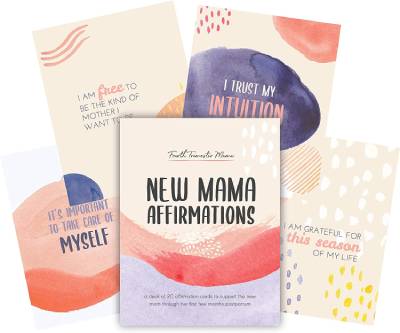 Best Affirmation Deck For New Mothers:
New Mama Affirmations - A Warm and Vibrant Deck of 20 Uplifting Postpartum Affirmation Cards to...
See latest price
There are certain times in our lives when our self-esteem is particularly vulnerable. One of these times is becoming a mum. That's why Fourth Trimester Mama created this deck of self-esteem affirmation cards, especially for new mothers.
The uplifting statements on the cards help new mothers navigate postpartum and face this learning curve with positivity and self-confidence. Place these cards somewhere you will see them in the morning, such as on your nightstand, so that you can start the day with a cheerful "can-do" mindset. You can also place cards all over your home to get multiple doses of inspiration and support throughout the day.
Affirmations include "I am grateful for this season of my life," "I am free to be the kind of mother I want to be," and "When I feel overwhelmed, I take a breath to center myself." The cards have a soothing watercolor design and are water and rip-resistant, with rounded edges.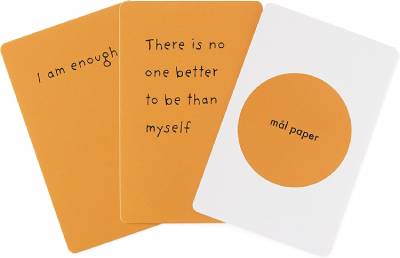 Best Affirmation Deck For Children:
Mal Paper Kids Affirmation Card Deck - 52 Pack | Great for Mindfulness Challenge, Mantras,...
See latest price
Positive affirmations are not just for adults, and thanks to this kid's affirmation deck by Mal Paper, your child can boost their self-confidence too. The deck of 52 affirmation cards is aimed at children aged 6 – 12.
The cards have a simple orange design with affirmations in a handwritten style. Statements include "I am perfect just the way I am," "my challenges help me grow," and "all of my problems have solutions."
The deck provides a fun and easy way to teach your child about self-care and self-love and help them practice mindfulness. In addition, you can create a morning ritual with them where your child picks a card before they go to school, setting them up for a happy and joyous day.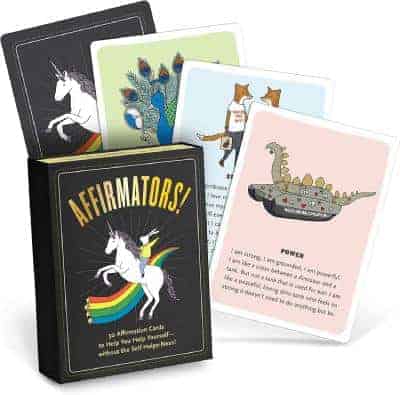 Best Humorous Affirmation Deck:
Affirmators! Original: 50 Affirmation Cards Deck Affirmators Original Cards to Help You Help...
See latest price
This hilarious deck by Affirmators is ideal for anyone skeptical about affirmations and spirituality, along with self-proclaimed pessimists. The deck was created by comedian Suzi Barrett who calls them "inspirational-but-not-cheesy affirmation cards."
Barrett found the perfect balance between inspiration and humor as you will laugh out loud at the affirmations and artwork, yet there is still a powerful message to take away from each one. The deck makes a fantastic gift, but be warned, if you buy one for someone else, you'll likely want your own set too.
This deck contains 50 cards with positive affirmations covering all aspects of life, like connection, authenticity, power, and self-love. However, Affirmators also sell other decks on specific subjects like relationships, family, or creativity.
Best Affirmation Deck For Manifestation:
I Know Collection Affirmation Cards – Positive Affirmations Cards with Self-Empowering Quotes –...
See latest price
Affirmations help to raise our vibration, which in turn, increases our manifestation power. If you want to co-create with the universe, the dreamer's deck by I Know Collection is for you. The deck contains 40 cards with positive affirmations for tapping into the power of manifestation.
Each card has an affirmation split in two; a longer sentence at the top and a short, to-the-point statement at the bottom. The middle of the card features beautiful artwork relating to that specific message.
You'll find affirmations like "I am letting go," "I am ready to receive," and "I know that my deepest desires are the pathways to my dreams." The deck has a feminine design and is ideal as a gift for the manifesting goddess in your life.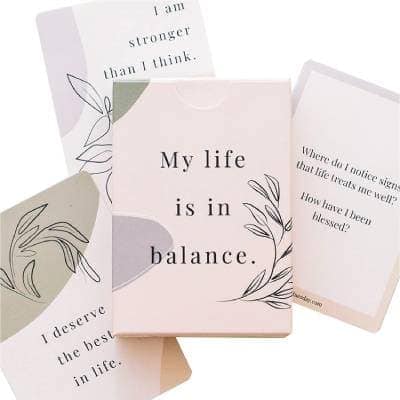 Best Affirmation Deck For Empowerment:
Affirmation Cards for Women Balance — 52 Positive and Motivational Cards | Daily Empowering...
See latest price
This affirmation deck by Bold Tuesday is an excellent self-care tool for women seeking to boost low self-esteem and increase self-confidence. The deck features 52 cards with thought-provoking, transformational affirmations that will empower you to step into the best version of yourself.
On the front of the card is a calming yet inspiring affirmation; on the back, you will find empowering questions to reflect on. The deck is ideal for your morning ritual, yoga or meditation practice, or as a journaling prompt.
Affirmations in this deck include "I feel empowered, in control, and confident," "I create harmony around myself," and "I give myself permission to rest, relax, and take time off." The deck is sustainably made in Europe, and a portion of your purchase goes towards school costs for African children through the NGO Mondo Brilliant Fund. It also has a downloadable guide to help you get the most from your new affirmation cards.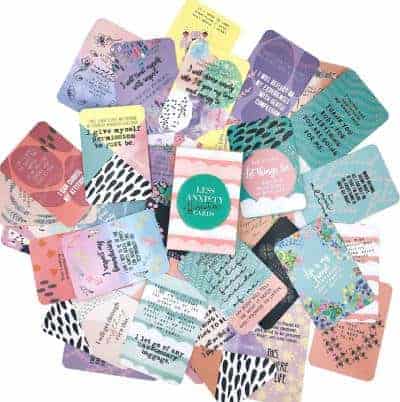 Best Affirmation Deck For Anti-Anxiety:
Sunny Present Less Anxiety Affirmation Cards - 45 Beautifully Illustrated Cards to Help Stress &...
See latest price
Lack of self-esteem and self-worth is often accompanied by anxious thoughts and feelings. This deck by Sunny Present is designed to help ease your worries while promoting self-love and confidence.
The deck contains 45 beautifully illustrated, colorful cards with calming, positive phrases. These self-love affirmations can help you redirect your mind and focus on what truly matters in stressful, challenging, and chaotic situations.
The affirmations in this deck are two or three sentences long, making you return to the present moment to take the powerful words in. One example is, " The world will be healed one step at a time, with kindness, love, and compassion. So I'll start with feeling those feelings towards myself."
What I particularly love about this deck is that the unique, colorful illustrations are just as soothing as the words of affirmation. Each card is like a piece of art, so if you are someone that finds art therapeutic, you will absolutely love this deck.
How Do Positive Affirmations Work?
Affirmations work by accessing the subconscious mind, the part of the mind where all your memories of previous experiences are stored. All our past events make up our beliefs and perceptions, which can be harmful and self-sabotaging for many of us.
Therefore, practicing affirmations is a way to clean out the bad stuff from the unconscious mind and plant seeds of self-worth and self-love. By repeating positive statements regularly (multiple times a day), you can slowly release the limiting beliefs holding you back from reaching your potential and living your dream life.
In addition, repeating positive affirmations takes you from a pessimistic mindset to an optimistic one, which raises your vibrational energy. The more you focus on the positive, the higher your vibration rises.
This is important as negative emotions like fear and anger only exist on low frequencies. Once you raise your vibration, you'll experience more positive emotions, like love, gratitude, and joy.
The Science Behind Positive Affirmations
While yogis and spiritual seekers swear by the power of positive affirmations, it is undoubtedly not all woo-woo. Several scientific studies have been done on the effects of positive statements on the brain.
For example, one study found that repeating affirmations activates the "reward center." This is the same part of the brain that lights up when we experience something pleasurable, like eating our favorite food or receiving a compliment or great feedback from someone. Thus, science agrees that affirmations are great for our self-esteem and general happiness.
Benefits Of Using Positive Affirmations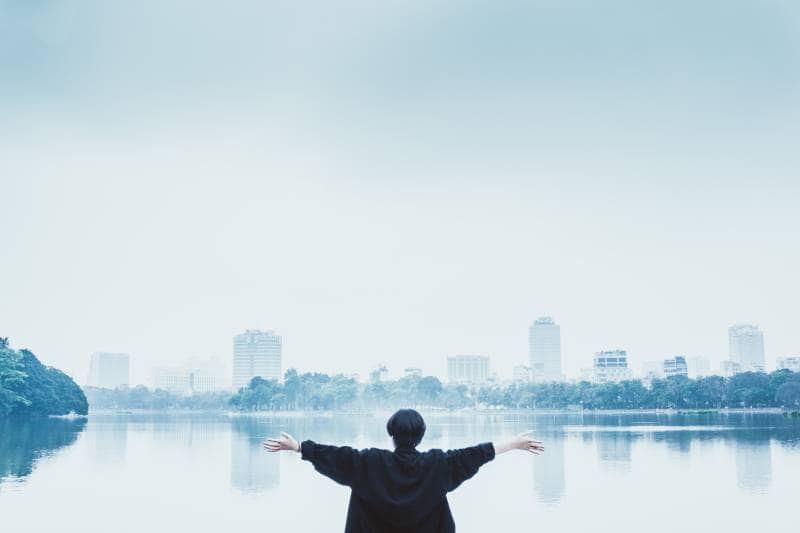 Now you know how affirmations work, here is a quick overview of the benefits of regular affirmation practice.
Better self-image and self-respect
Increased confidence and self-belief
Reduced negative self-talk (and increased positive thoughts)
Reduced feelings of anxiety and fear
Lower stress levels
Heightened courage and motivation
A sense of inner peace and happiness
Inspiration to follow your dreams
More self-awareness
A more grateful mindset – the ability to see and appreciate the good things in life
Improved overall mental health
How To Use Affirmations For Low Self-Esteem
What is so great about a self-esteem affirmations deck is that there are multiple ways to use it. Here are three ways I use self-esteem affirmations.
As a short morning ritual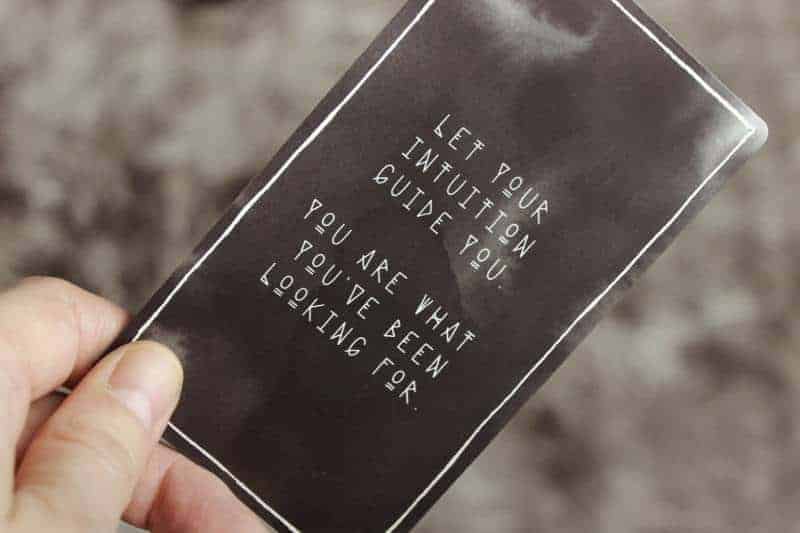 Picking a card each morning is a quick yet powerful way to improve feelings of low self-worth. I suggest creating a short ritual around this. For example, make a cup of tea, light a candle or some incense, and sit on your favorite cushion.
If time permits, take a few minutes in a meditative position with your eyes closed as you shuffle and hold the cards. Notice how you feel in that moment and if any thoughts or emotions arise.
When ready, spread the cards and pick the one you intuitively feel drawn to. This card will hold the message you need to experience wonderful things that day. Repeat it to yourself either silently or aloud at least three times, then put it in your pocket, bag, or purse so you can revisit it throughout the day when you need to feel confident.
In meditation practice
If you have more time to spare, combine the card pull with a more extended mediation practice. Follow the method above, but once you choose your card, return to a meditative state. Chant or repeat your chosen affirmation and notice how you feel when you do this.
Observe any change in your body, thoughts, or energy levels. For example, you might feel a lightness or a sense of inner peace or unconditional love. Stay for 5 to 10 minutes in this meditation, repeating your affirmation in the present tense, allowing the empowering thought to enter the subconscious part of your mind.
As a journalling prompt
An alternative way to work with self-esteem affirmations is by journaling. Many self-confidence affirmations decks have self-reflection questions on the back of the cards, which serve as handy journaling prompts. However, if your deck doesn't have this feature, write down your affirmation three times, along with any feelings that come up as you do it.
Final Thoughts On Self-Esteem Affirmations Cards
Positive affirmations are a powerful tool for improving our self-image. Changing the way we view ourselves is the first step to taking full control of our lives and building toward a bright future. Regular affirmation practice can help us develop self-esteem and self-confidence so that we feel empowered and motivated to take action toward our dreams.