Is it possible to promote your classes on Instagram while staying true and genuine?When you started teacher training, you expected to learn how to connect with students, how to sequence a class, basic anatomy, and physical alignment. You planned to show your inner light and to help students along their yogic journey.
Did you ever expect to care about likes and follows when you started your yoga teacher career? I didn't.
Being a yoga teacher today means we have easy ways to connect with the yoga community outside the studio. As a teacher, you can use social media to gain connections, new students, teaching jobs, and more.
With a little strategy behind your posts, you will start to see your following grow. However, it's important to remember who you are and why you're posting along the way. It can be easy to get caught up in gaining followers and seeing how many likes a post gets.
Regardless if your photo gets 6 likes or 106 likes – do
you
like what you're posting?
How to stay authentic when posting about your yoga classes:
Be genuine in everything you do. Not only should everything you type be authentic and truthful, but the images you post should be genuine as well.

Have a good day? Post it. Have a bad day? Post it. Explain what's happening in your life/yoga practice and your followers will see that you are human (just like them!). This makes you relatable and approachable.
Post what you want to post. That probably means posting content that isn't yoga-focused. Your followers will want to see that you have real-life relationships and other hobbies. Love to cook? Take a beautiful photo of your meal and 'gram it!
Stop caring about metrics and numbers – this only serves the ego. While it's fun to Instagram a picture and wait for the likes to accumulate, stop. Instead, choose to share content that you and your community will love. Work to connect with people in an impactful and meaningful way.
Social media is a place for conversations. A place to gather and talk about interests. It is NOT a megaphone – do not try to hard sell via social media. Instead, engage and have real conversations. Find fellow yogis to follow and ask them questions, comment on their posts, and reach out. You may make a new friend!
Most importantly, show the truth and break barriers. There are so many yogi Instagram accounts that show picture-perfect scenes, incredible postures, and unrealistic body types. These photos might be beautiful, but they often scare potential students away from yoga. Let your feed show that anyone and everyone can practice yoga. Celebrate this diversity and spread the love!
Now you know how and why to post authentic and genuine content to your Instagram feed. Next, mix in at least a little bit of a strategy to grow your following and class attendance.
Growing your yoga teaching business online requires a blend of strategy and authenticity.
Consider social media as an extension of your teachings in the studio. You can use technology to positively impact MORE people than you ever could in a single location. Stay true to your teaching philosophy and the essence of yoga so your message is consistent everywhere.
Here are a few marketing tips to consider when you post to social media:
Only post information that is relevant, useful, and adds value.

Be genuine across the board: we've covered this. No one wants to follow an unrealistic account.

Tag others in your posts, including brands of clothing you are wearing in photos. You may be re-posted by the clothing brand!

Use (relevant) hashtags to grow your exposure. Examples: #ChicagoYoga #CrowPose #HandstandJourney #MandukaLove

Try not to post more than once a day. Posting more than that can annoy your followers. However, posting less than once a week is too sporadic.

Not sure what to post? Share other people's content. There's nothing wrong with sharing your favorite smoothie recipe or a quote from another user's account. Just be sure to give credit where due.

If you do want to promote your classes via social media, use the 'ol PS trick. Instead of just asking people to come to your class all the time, try posting a really valuable update and at the bottom say "PS check out my classes this week!" This will work much better than yelling at everyone about your schedule each week.

Only choose 1 or 2 platforms to be on and dominate them. It's not worth your time to try to be everywhere. Find out where your core community is and focus there. For yogis that is Instagram + another one of your choice.

PROTIP: Post a URL in your bio that directs followers to a landing page where they can download a free gift in exchange for signing up to your email newsletter. Then take these emails and connect, connect, connect!
Here's an example of our free gift… We share some creative ways that yoga teachers can improve their lives by diversifying their income.
Download your FREE PDF: 25 Ways Yoga Teachers Can Earn More Money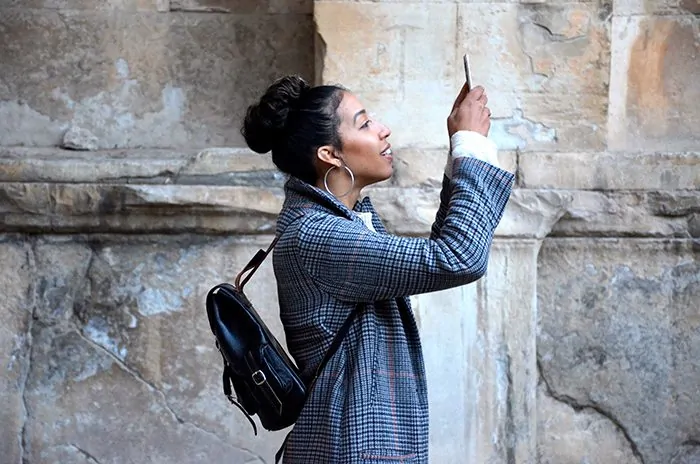 At the end of the day, yoga isn't about holding a posture for 10 seconds. Yoga isn't about the brands you're wearing. Yoga isn't about likes and follows. Yoga isn't about an image or photo.
Remember this: you are a wonderful teacher and your yoga practice is exactly what it needs to be (with or without 10,000 likes).
If there's one thing your social media posts should demonstrate, it's that yoga is an accepting practice for people of all shapes, sizes, and backgrounds. Show your love and light!
PS: Did you enjoy this article? Pin me!