It's no secret that our "modern lifestyles" have become increasingly busy and chaotic. As a society we prioritize convenience over health – rarely cooking our own food or taking time to practice mindfulness. Luckily, online yoga services like YogaDownload.com have been popping up so we can squeeze in our yoga in between our "busy lives."
What is Yoga Download?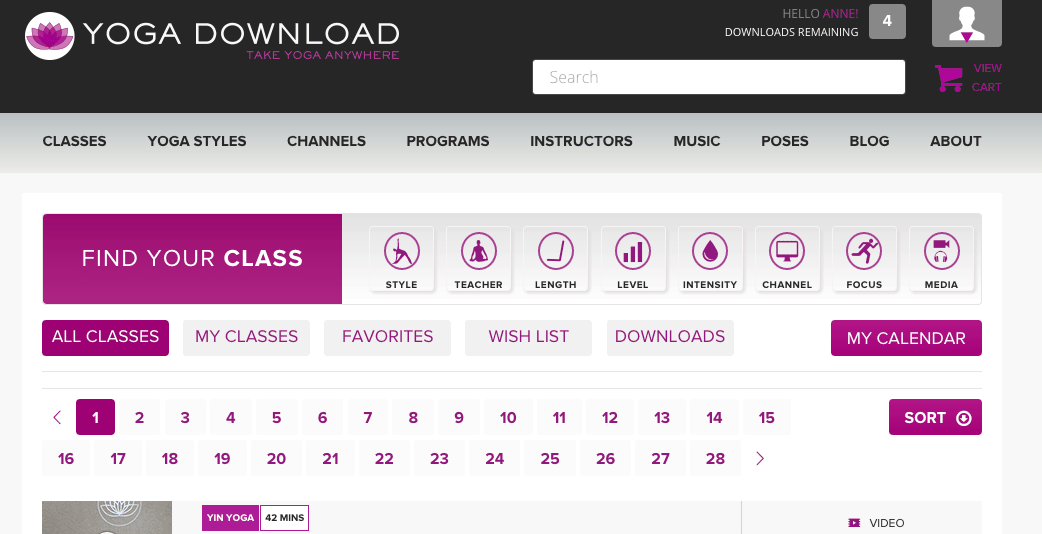 Yoga Download is an online portal that provides yoga classes at the touch of your fingertips. With 26 different class types and over 600 classes, there really IS something for everybody – whether you are a new practitioner or a seasoned yogi. It features new and veteran instructors from around the world to help diversify your experience. It was created for yoga to be accessible to the masses, at an affordable cost (starting at $10/month). It's a great compliment to finding yoga on the road when you are traveling.
How does YogaDownload.com work?
Monthly memberships allow you to stream any classes at any time, or you can order a one-time download for a minimal price. The subscription options are 1, 3, 6 and 12 months and are a fraction of what a studio membership costs. Free downloads are available with every membership so you're able to keep the classes forever. The number of free downloads depends on your membership type.
Once on the site, you can choose your class by filtering through the following options:

From there, you can choose to stream, download or play the audio file. If you like it, save it to your favorites. For added convenience, you can even add it to your calendar so you can remind yourself to practice.
Our experience with Yoga Download
We had a very positive experience with Yoga Download. The interface is incredibly easy to use and very intuitive.
To be honest, neither of us thought that using yoga "videos" would suffice for our daily practice. We were pleasantly surprised! The simple fact that this site was so robust definitely helped change our minds. I was personally excited to try styles I have been curious about, but unable to find a studio offering nearby.
We used this platform morning, day and night and even while traveling. Anne uses all Apple products and found it easy to download from any device.
It was nice to be able to filter by class type, difficulty, instructor and even length of the class. There was a class to fit my every yoga "mood" and the quality was great. Each instructor had their own unique style and voice. We enjoyed finding our favorite instructors and being "regulars" at their class just like our home studio!
Unique Features
Yoga Download has several features adding to your overall experience in a positive way. These unique features elevate the website from being good to outstanding. We feel these added pieces are helpful for both instructors and practitioners alike, allowing you to personalize your entire experience.
6 Features of Yoga Download that we loved
Group classes together based on your interests
YD gives you the chance to create your own category of classes by individually selecting the classes you like to be in a group together, showing up in the class listings section.
Read reviews before you take a class!
We found the reviews of the classes to be really helpful.
Jot notes down after each class in the "My Notes" page
You can jot down notes after the class in the notes section. This was extremely beneficial for me as an instructor as I found inspiration, but also as a practitioner, to remind myself what to expect in the class.
Keep track of all previous class in the "My Classes" section
This section shows you all classes you've taken before. This is also where you find "My Categories."
Schedule upcoming online classes in the "My Calendar" feature
The calendar gives you a glimpse of the classes you've taken and when. You're also able to add classes to the calendar for future practices. This is such a benefit to be able to see your practice over the course of a few weeks or months!
Yoga Classes can be grouped by "Channel" – allowing you follow a specific yoga theme
Yoga Download has several "yoga channels" that feature specific styles of yoga and also specific instructors. For instance, Les Leventhal (the instructor who's class we took in Bali), has a channel that has all of his classes listed, in addition to his bio and explanation of the channel. Also, there is an exclusive Ana Forest channel.
Anne's Favorite Parts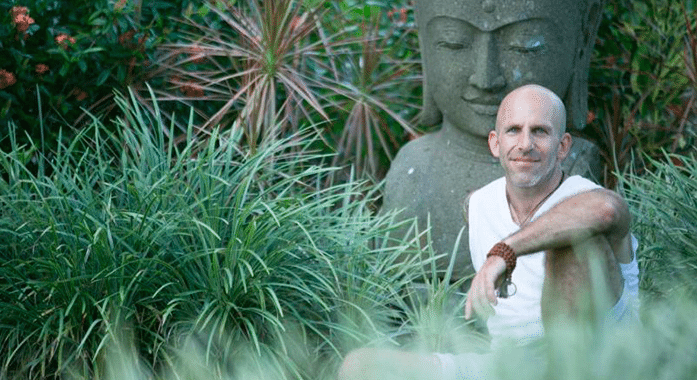 Stumbling upon a Les Leventhal class was pretty awesome. We took his class at The Yoga Barn in Ubud, Bali last year and loved it! He still carried his spunky personality which I appreciated.
Meditation classes were an added bonus. After beginning a steady meditation practice, Brandon and I are always interested in learning new techniques to keep our practice interesting. We were pleasantly surprised to find a number of different meditations to follow on Yoga Download.
Music section is awesome! We are always looking to add new music to our repertoire, and this houses tons of great playlists and songs for yoga. You can even purchase single tracks!
YogaDownload.com is ideal for…
On the go yogis, travelers, and people who don't have access to a local studio. But really, anyone who leads a fast paced life or who appreciates conveniences will appreciate Yoga Download! We all know how busy life gets. Thankfully, Yoga Download allows you to stream or download classes from anywhere in the world!
 Final Thoughts
Yoga Download has been a wonderful compliment to our nomadic and busy lifestyle. Even when we're not on the road traveling, it was great to have downloaded classes on our devices. I would recommend this site to anyone and everyone. It's accessible to all levels and engaging for even the most advanced of practitioners.
Additional Resources

Your turn… Have you tried Yoga Download? Please share your experience below or privately at TheYogaNomads@gmail.com