The recipe to becoming a successful yoga teacher starts with your yoga website.
By now, you've learned all yoga teachers need a website because it's the foundation of your yoga business.
Your website helps you stand out from the crowd and showcases your unique offerings. It's your 24/7 marketing machine and is often the first point of contact for students and clients.
For these reasons (and more), it's imperative to make your website look and feel great!
After helping countless yoga teachers create their website, it's clear that WordPress is the best option.
(and we've been using WordPress for more than 4 years!)
WordPress it's easy to use, it does everything yoga teachers need, and it's inexpensive!
Almost every "popular" yoga teacher uses WordPress and we're here to share several of those with you.
So sit back, grab a cup of tea, take some notes and get inspired!
Here are 6 well-known yoga teachers who use WordPress!

If you use Instagram, chances are you've heard of Yoga Girl, or should I say, Rachel Brathen. An international traveling yoga teacher, she now runs her own studio in Aruba which is her home base for the Swedish native.
Offerings showcased on her website: Podcast, Workshops, Retreats, Online Classes, Books she wrote, SUP Yoga
***We appreciate her use of beautiful imagery. Although, it isn't hard when your backdrop is Aruba 😉
Elena Brower has influenced the yoga teaching landscape since she began teaching in 1999. People near and far seek out her trainings as her teachings are profound yet accessible. She has expanded her teachings off the mat and they are equally as profound. Check out her easy to navigate site to get a sense of who she is and what she's all about.
Offerings showcased on her website: online courses and classes, books, mentorship programs, guided meditations, and essential oils.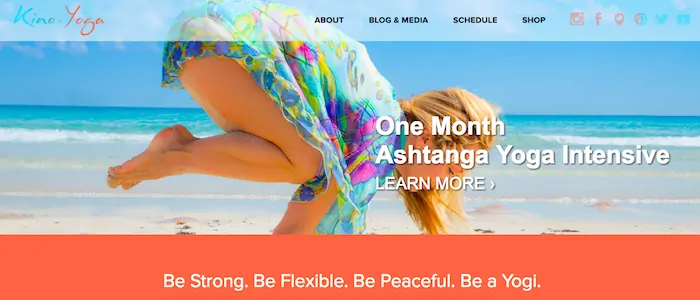 You may recognize Kino as the ultra bendy yogi who often contorts her body into wild shapes and poses! An Ashtanga trained internationally known yoga teacher, Kino has been traveling and teaching for over a decade. She brings 18 years of experience teaching to her students and has also designed her own clothing and accessories, created yoga DVDs, and authored several books.
Offerings showcased on her website: workshops, yoga and meditation videos, books and yoga clothes and accessories.
(We recommend her book: Sacred Fire).
Go explore her site and learn something new along the way!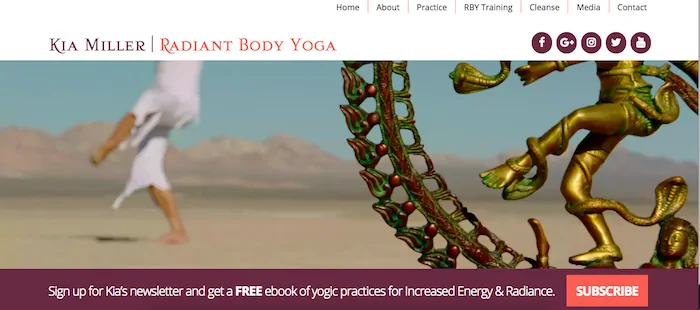 Kia Miller is an athletic yogi who like many, was drawn to the practice for the physical benefits but became interested in the more subtle aspects as well. She is certified in both Ashtanga Vinyasa and Kundalini practices. Her teachings stem from all of her experiences traveling the world and learning from her teachers in India.
Kia created Radiant Body Yoga as a way to blend her knowledge of the physical and mental aspects of yoga and gift it to the world.
Offerings showcased on her website: workshops, trainings, cleanses, DVDs and videos.
Beginning a regular yoga practice at the young age of 14, Noah is no stranger to it's benefits on our body, mind and spirit. Noah has been running trainings for years, imparting his wisdom to every student who is lucky enough to learn from him. He and his wife co-founded his yoga school, YOGAMAZE, and offer trainings both in-person and online.
Offerings showcased on his website: online courses, trainings, workshops, and retreats.
An international yoga teacher, Tiffany Cruikshank brings knowledge and experience to her students that dates back to her teenage years when she began the practice of yoga. She is also a trained Acupuncturist and was the head yoga teacher and acupuncturist at Nike headquarters in Portland. She's been running Yoga Alliance trainings since 2008 and leads both 200-hour and 500-hour sessions.
She is known for bridging the gap between Eastern and Western modalities of yoga and started Yoga Medicine as a way for health practitioners to use yoga as a therapy for their patients.
Offerings showcased on her website: training, online courses, books, and apparel.
Let's wrap up!
As we've stated before, WordPress is hands down the best website creation platform to building your yoga website. Almost every internationally recognized yoga teacher uses WordPress!
Do we have you convinced yet?!
If so, take action today. Choose your domain and hosting today!
As a reminder, we recommend using Bluehost for hosting and Divi by Elegant Themes for your WordPress theme.
Let us know any questions you have along the way. Drop us a line here or at theyoganomads@gmail.com
Until next time,
Anne
PS: Don't leave without downloading our step-by-step beginners guide to creating a yoga website. We take you through each step required to get your WordPress website online.
PS: Did you enjoy this article? Pin me!