We spent a month in Bali last year and it made an impact on us. The majority of our time was spent in Ubud, the epi-center for yoga. When it was time to go, we left the island feeling refreshed, rejuvenated and inspired.
The same goes for Chad, the founder of Yoga Design Lab. After sitting through a yoga class at the ever popular Yoga Barn, he felt an urge to design a yoga mat that was not only aesthetically beautiful, but highly functional for all the various styles of yoga. Not long after he returned back home, he packed up his bags and moved to Bali to follow his dream.
And man, are we glad he did! We've had the opportunity to practice on this yoga mat and towel set during hot yoga and it's been a great experience.
Without further ado, here is our Yoga Design Lab review!
What is the Yoga Design Lab Combo Mat?
This mat is the ultimate travel companion. It's a yoga mat and towel in one, eliminating the need to bring both a towel and mat to practice. The top layer is made from microfiber, while the bottom is made from natural tree rubber. Designed specifically for hot practice, this mat/towel combination gets sticky once wet.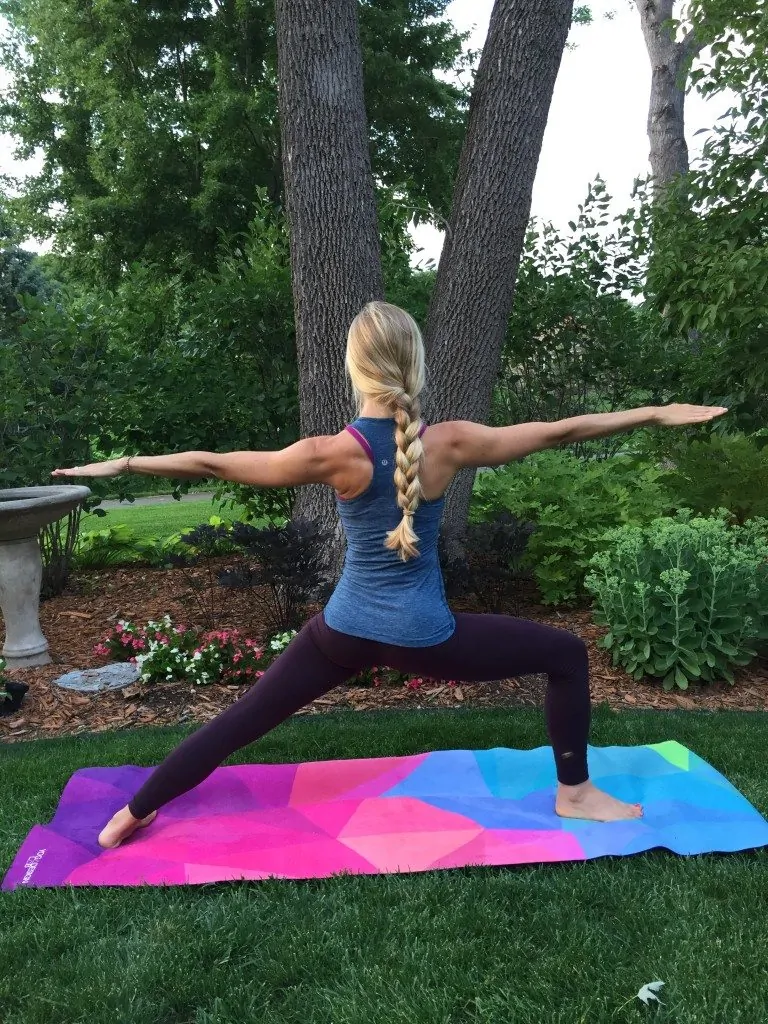 Our experience with the Combo mat
Brandon and I find ourselves in hot vinyasa flows more often than not, so we've had plenty of opportunities to spend some quality time with our new mats. We also had a chance to commute via bike with these mats, giving us a good feel for how they travel. Lightweight and compact, they travel well! The straps that came with it were perfect to use and adjust on our backs while getting from point A to point B.
Beautiful designs
On multiple occasions, we've received compliments from others about these beautiful mats! In a sea of standard solid-colored yoga mats, these stand out in such a positive way. I genuinely look forward to rolling it out at the studio.
My favorite colors are Tribal and Tribeca Love!
Does the Combo mat perform well?
We love that using these mats eliminates the need to bring a mat and towel to practice. The tree rubber bottom sticks well to the floor so there is barely any movement at all when you're transitioning in and out of postures. It's quite slippery unless it's bone dry, so we've found that spraying it lightly with water before class begins works best. Light weight and great for commuting by bike. However, with a light mat comes less padding. It wasn't as comfortable as my everyday mat that's a bit thicker. It's also long enough for Brandon's height.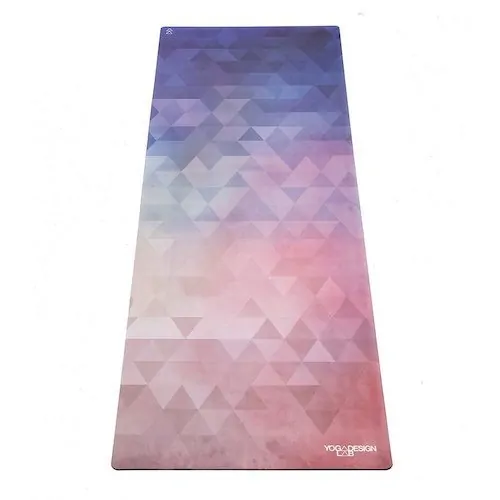 How durable is the combo mat?
This mat seems to hold up well. After multiple practices without washing it, it has stayed like new. The bottom remains just as sticky to the floor as it was the first time.
Price vs Value
The price ($68 via Amazon) for this mat is fair considering you don't have to purchase an additional accessory (yoga towel) for your hot practice. However, this mat performs best in heated practices. If you do choose to use it for a non-heated class that you won't be sweating a lot in, make sure to wet it down to prevent slipping.
Any other Yoga Mat and Towel sets?
We whole heartedly believe in Yoga Design Lab's products. That being said, there are a few competitors trying to make a similar product. We have not used any of the competitors, but they are often cheaper.
Overall thoughts:
The Yoga Design Lab Combo Mat is great for what we use it for – traveling and hot yoga. If you use this mat there is no need to buy a yoga towel. It's machine washable, it performs well, and it comes with a free carry strap. If you're looking for a new yoga mat, this is a solid choice. Seems like Yoga Design Lab is going to get really popular soon. It's beautiful designs are sure to grab the attention of others, and it's fun to look down on during your practice.
If you're looking for a mat for travel only, here are our top 5 yoga mats for traveling.

Details
70 x 24 x 3.5mm
2.9 pounds
Comes with a carrying strap (free)
Contains NO latex, silicone, toxic glue and phthalates
Eco-friendly, biodegradable and recyclable
Machine washable!
Where can I buy a Yoga Design Lab Mat?
Currently, the only place to buy one is via Amazon ($68)
Thanks,
Anne
*Disclosure: I received this mat for free however, as always, the opinions are my own.