Keeping all your yoga gear together should not be stressful or messy. Grabbing a clunky unrolled yoga mat on your way out the door isn't ideal. Nobody wants a disheveled mat rolling all over the place as you drive to the gym or walk to a yoga class.
Truth be told, most of us aren't minimalistic enough to just carry a yoga mat anyways. What about your water bottle, yoga towel, yoga blocks, phone, wallet, keys, and the rest? A purse only holds the small stuff, but a gym bag doesn't usually have room to squeeze in a mat or tie it to the side.
Thankfully, a yoga bag can serve all these purposes and more. These bags are perfectly designed with yogis in mind. We've reviewed the top 8 yoga mat bags to help you stay organized off the mat.
8 Best Yoga Mat Bags, Reviewed and Approved By a Yoga Instructor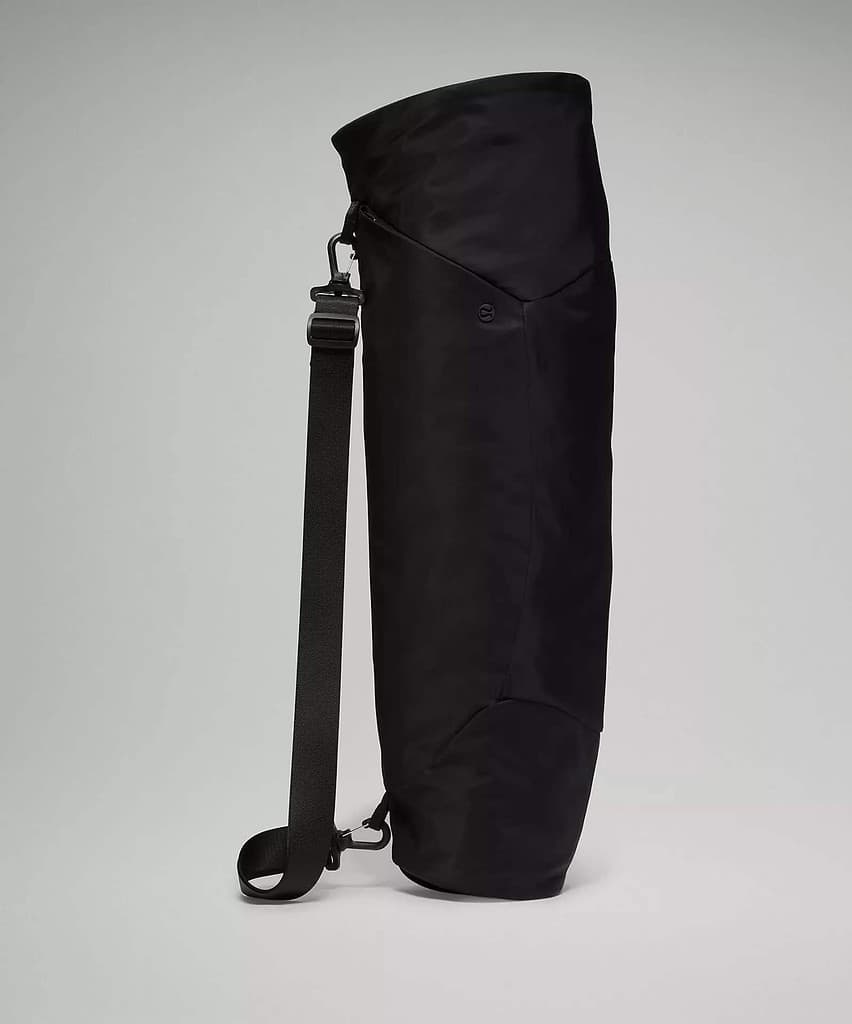 This yoga mat bag is cream of the crop. Made of durable water-repellent fabric, lululemon's yoga bag is super high quality and aesthetic. It has an exterior water bottle holder and easy-access exterior pocket for keys and wallet. The adjustable shoulder strap is removable and comfortable on your arm.
You won't have to struggle to get your mat in because the mat opening is extra wide and easy to open. It will hold lululemon's The Big Mat or any other extra wide and long mat. It includes a simple drawstring that holds the mat in place.
Overall, we are really impressed with this yoga bag because of how easy it is to use. It has enough room for all the essentials without being too bulky. Once again, Lulu does not disappoint!
Pros
Easy access water bottle compartment
Exterior pockets for keys and wallet
Wide opening for a big yoga mat
Adjustable shoulder strap feels comfortable to carry
100% nylon exterior is water-repellent
Polyester liner is easy to clean
Cons
Medium-high price point
Only one color option (black)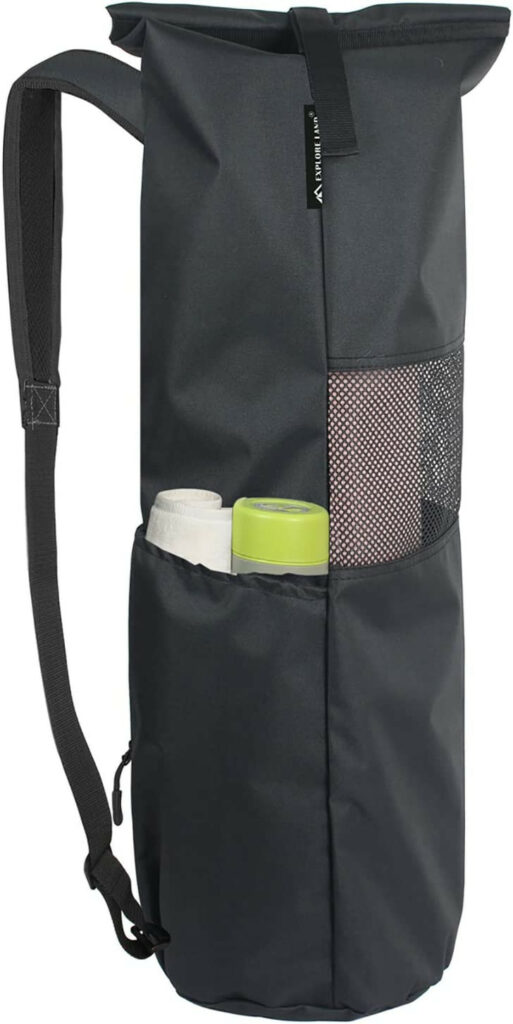 This yoga bag offers professional grade storage space at a bargain price. It is available in two sizes for different mat thicknesses. The durable canvas material is tear-resistant and reinforced with double stitching. For yogis who like to practice outside or at the beach, this is the bag for you!
The adjustable padded strap makes it super comfortable to carry on your shoulder or as a crossbody yoga bag. The top access means you can access your mat effortlessly. Plus, your water bottle, towels, and other gear are within hands-reach! The external pop-out pocket is so roomy and has a mesh window to provide air circulation. There is a hidden zip pocket to hold the important valuables.
We love the vertical design that makes carrying your yoga mat effortless. The water-resistant material is also perfect for rainy days. The only downside is that this mat has trouble supporting the heavy weight of ultra thick mats.
Pros
Very affordable
Fits large and wide mats
Breathable mesh material
Easy-access outer pocket for water bottle, towels, flip flops, and/or yoga accessories
Yoga block can fit in outside pocket
Secure hidden zipper pocket
Comfortable over-shoulder strap or crossbody wear
Durable tear-resistant material
Buckle closure is easy to open/close from the top
Cons
Not great for heavy mats
Some quality control issues (but excellent customer service)
The studio-street smart bag is minimalist, stylish, and comfy. The soft shoulder strap is fully adjustable and the top handle makes it easy to carry the bag by your side. Unlike other bags, the yoga mat is inserted from a long slot on the side, which means no struggling to shove it in the top. There are three separate zipper pockets: one for your yoga mat and two side pockets for securing smaller items. These exterior pockets are secure and breathable. There is even a carabiner hook for attaching your keys!
We love the bungee straps for extra storage space. You can easily strap on a yoga towel, blanket, or block. The bag is spacious without appearing bulky or awkward. It is sleek and complimentary to any yoga outfit! And the best part? It's durable enough to support heavy mats without digging into your shoulder or ripping the material over time.
Pros
Great for heavy mats
Very durable material
Sleek, trendy design
Matches any Alo Yoga bag or outfit
3 zippered pockets
Easy to insert and remove yoga mat from the side zipper
Very roomy mat bag
Breathable mesh storage for sweaty gear
Cons
High price point
Only one color available
If you love eco-friendly cork yoga mats, you will absolutely adore this cork yoga mat bag. It has an earthy look, yet is still minimalist and soft. Yoloha's cork bag features sustainably harvested cork that is toxin-free, easy to clean, and extremely durable. The bag can hold a standard or XL yoga mat, plus extra gear like a water bottle, block, and towel. There are two separate outside pockets for keeping your valuables safe on-the-go.
The unique "J-zipper" ensures that you can quickly remove your mat from the bag without having to fully unzip it. No more noisy zippers when you sneak into a yoga class late! We also love the fully adjustable shoulder strap made of cotton for maximum comfort. The bottom of the bag has secure grommet holes to allow your mat to air out and breathe after a sweaty hot yoga class.
One of our favorite things about this bag is that it is made WITHOUT any latex, PVCs, or harsh chemicals. It's ideal for anyone with chemical sensitivities, asthma, or allergies. The cork is 100% natural and renewable, which means you can carry your yoga mat while knowing you are doing right by Mother Earth.
Pros
100% natural materials are sustainable and eco-friendly
Breathable, renewable, and non-toxic
Roomy mat bag with space for water bottle, towels, and yoga accessories
Two exterior pockets
Comfy cotton carrying strap
Two sizes for a standard and extra large yoga mat
Lightweight yoga mat bag
Amazing customer service
Cons
Mid-high price point
Be careful with the zipper
If you have problems with stinky gear after hot yoga, you're not the only one! A wet rolled up mat that is shoved in a bag can quickly develop a damp, icky smell. Fortunately, Manduka has solved that problem with this light yoga mat bag. It is portable, breathable, and lightweight with a slim, minimalist design. Of all the mat bags we reviewed, this one dries out a sweaty mat the quickest.
The main compartment fits all small to medium size yoga mats. The breathable synthetic mesh promotes air flow and the contoured zipper creates easy ins and outs. We love the top carrying handle as well as the sturdy strap to carry as a yoga mat sling.
Pros
Best for hot yoga classes
Budget-friendly
Synthetic mesh airs out your mat very quickly
Very durable and rip-proof
Smell proof- never stinks!
Lightweight and minimalist
Super lightweight
Cons
No small pockets
Not machine washable
Somewhere between a yoga mat bag and a yoga mat sling, this option acts like a yoga mat strap with the added storage for small essentials. If you don't want to carry a whole yoga mat bag, this option is a happy medium. You can easily strap in your mat, but it won't be protected from the elements. It keeps the mat completely breathable and secures your valuables on the way to the yoga studio.
We love how simple, light, and affordable this mat carrier is. Manduka is a reputable brand known for its durability and dependability.
Pros
Oeko-TEK certified 100% polyester
Perfect upgrade to a regular yoga mat strap
Super lightweight
Suitable for most yoga mats
Very minimalist and simple
Large zippered storage pocket holds
Weather and water-resistant fabric
You can strap yoga towels in with the mat
Cons
Does not cover the full mat
Cannot hold a water bottle, gym essentials, or extra gear
Not as bulky as duffle bags or full mat bags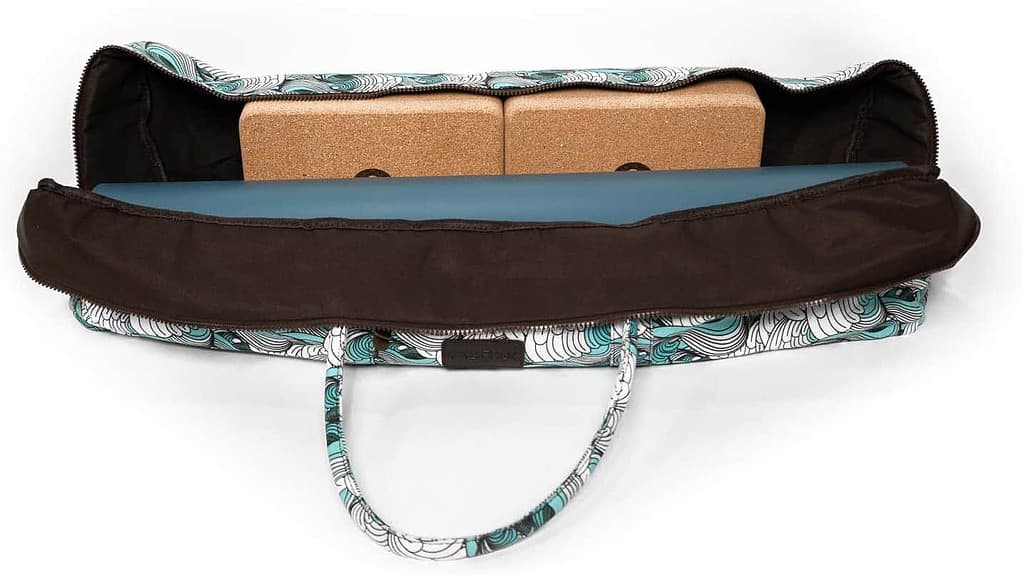 If you're the yogi that hauls a whole suitcase with you to class, this duffle bag is a lifesaver! It has SO MUCH ROOM, so you won't need to stuff your gear in an unorganized tote bag any longer. The Kindfolk duffle bag is made with high quality canvas and synthetic leather. It is super durable and eco-friendly. We love the cute design options and robust zipper.
This yoga bag fits both standard size and thick yoga mats. It can even fit two yoga mats or a combination of blocks, towels, straps, and other accessories. The outer zipper pocket can hold your keys, cell phone, and other small essentials. You can carry the two straps by hand or over your shoulder.
Pros
The best yoga bag for teachers or yogis with a lot of gear
Holds any size yoga mat
Strong enough to support a heavy yoga mat
Made of durable canvas and leather
One exterior zipper pocket
Fits blocks, towels, and workout gear
Afforadable price point
Cons
No adjustable straps
No breathable mesh
Only two color/design options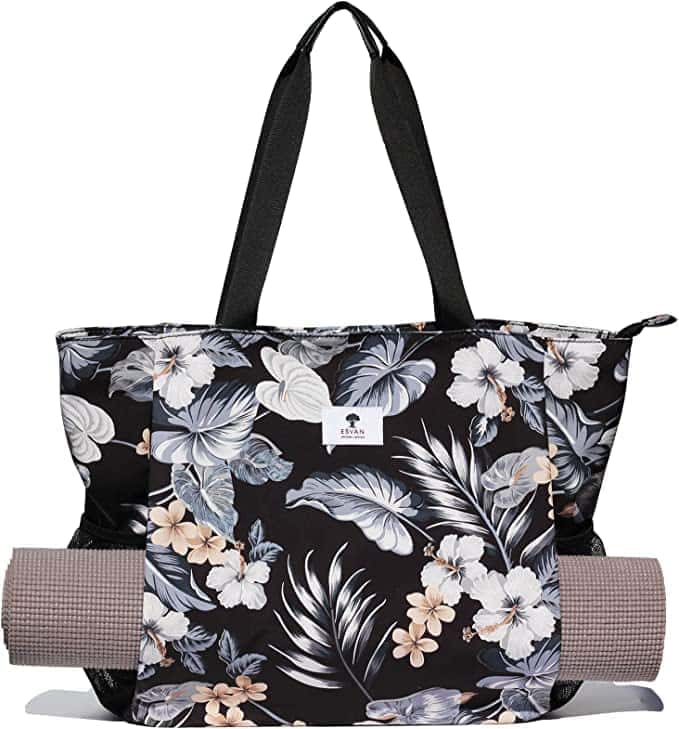 For tremendous storage capacity, this extra large yoga mat bag features a huge interior pocket (18″ x 15″ x 6″) with a zipper, plus 2 side zipper pockets for your yoga mat to slip through AND side mesh pockets for your water bottle. There are so many compartments in this tote bag, it's hard to know where to start! You have room for just about anything you'll need on or off the mat.
The thick nylon fabric is lightweight, durable, and water-resistant. The weight won't burden your shoulder and the stylish prints won't dampen your style. If you are dying to get organized, this is the tote bag for you! It only takes a few minutes to get everything in place and adjusted. You can fit a towel, two yoga blocks, a mat, wallet, keys, and a water bottle all-in-one! The only downside is that your yoga mat won't be fully enclosed.
Pros
Waterproof nylon material
Multi-functional (not just for yoga)
Lots of pockets for organization!
Stylish design
Can dual-function as a gym bag, beach bag, or office tote bag
Extra large capacity can support lots of gear and extra thick mats
Easy-access exterior yoga mat carrier
Cons
Yoga mat is strapped to the outside (not fully enclosed)
How to Choose the Best Yoga Mat Bag
When you're picking the best yoga bag for stashing your mat on-the-go, it can be difficult to sort through all the options. There are a thousand different yoga mat bag designs, but the best one for you is going to match your practice, style, and gear. Ask yourself:
The best yoga mat bags fit all your gear in one place without feeling bulky or uncomfortable to carry. Moreover, they ensure plenty of airflow and easy cleaning after hot yoga sessions.
Key Takeaways: A Yoga Mat Bag Can Transform Your Studio Experience
Nobody wants a smelly gear bag, a loud velcro yoga mat carrier, or a bag that has all your stuff spilling out of it. Yoga is supposed to help us de-stress, but that can be difficult to do when your gear is scattered all over the place. Investing in a quality yoga bag that fits your yoga mat size and carries your yoga accessories could completely transform your yoga practice. Just grab-and-go so you can spend more time on the mat!
Namaste!