Getting to know local people while traveling is perhaps the best way to understand a country and it's unique culture. We often crave authentic interactions with locals, but that can be difficult when following the tourist trail. We were so excited to learn about a new service called Withlocals, which is essentially like Airbnb for eating out. Being the foodies that we are, we couldn't wait to sign up for a dinner with a local during our week in one of the biggest foodie places in the world, Ho Chi Minh City/Saigon.
*Check out our top 30 meals in Vietnam
Withlocals helps bridge that gap for travelers looking to experience life like a local. The service connects travelers with local people for fun activities, meals and unique experiences. They offer things like cooking classes, street food tours, family meals in their home, bike rides and photography tours. Travelers simply search the database for what they want to do and book everything online.
We opted for a homemade meal with Tuan in the centrally located and trendy District 1 in Saigon.
We particularly enjoyed that we could interact and send messages with our host prior to our planned date. We were able to express our enthusiasm for new foods, and tell him of any specific food requirements as well.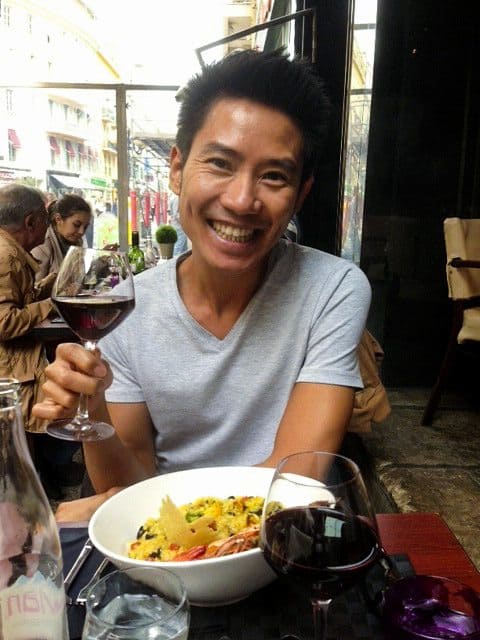 We were convenintally enough staying in District 1, so it was a short cab ride away to Tuan's flat. After a few minutes of figuring out where his front door was (through the spa on the first floor!), we were warmly welcomed by Tuan inside. We sat in the living room and he offered us drinks. Brandon chose red wine, and I chose an apricot water. Tuan made the apricot water himself by soaking the fruit in sugar for an entire year!
Through our exchange on the Withlocals site, Tuan learned how we love to try new and different foreign dishes. He presented us with a 7 course meal (plus dessert and tea!) that showcased the best of Vietnamese home cuisine, including dishes we've never tried before. It was beyond amazing and one of our most favorite meals of our entire year of traveling!
The first dish he put out for us was made from sandworms. There are only a few weeks a year where locals search for these worms near the Mekong Delta. We felt privileged to try such a special food and the flavors of the patty were amazing! It was made with vermicelli noodles, egg, dill, onion and garlic.
All Tuan's dishes blew our minds! I don't know if we could choose a favorite!
Tuan even surprised us with a dessert "from home" – carrot cake! We enjoyed the cake with tea and great conversation. During our conversation, Tuan told us about a restaurant in town that he owns with his sister. He gave us recommendations from the menu and we went the following night. Another great night of dining!
Overall we give Withlocals two thumbs way up! We couldn't have had a more pleasant experience and are so grateful for the time spent with Tuan. We highly recommend this service to anyone traveling through Asia. The experience will no doubt be unforgettable!
Check out Tuan's experience on Withlocals here!
Your turn, have you ever tried Withlocals? What was your experience like?
PS: HCMC is one of our 5 top cities in Asia for living a healthy lifestyle